For April 2022, we are asking "What is easier to make now because of technology?"
Please send your submissions to Judy Steinke (judy@bjminis.com) and be sure to include your full name and current mailing address so that Create can send you a little "thank you for sharing" gift.
___________________________________
From Create's Terry Unnold:
Me and my Xyron: A Low Tech Adventure
In 1997 at my first National Convention in Kansas City with my entire Club, I fell in love with sticker technology for miniatures in a Toy Theatre Workshop taught by Lori Ann Potts. The 1/144th scale project came together quickly because all of the beautifully designed artwork was on a sticky backing. No need to paint, no mess, no warping! I was so envious that Lori Ann had the ability to turn prints into stickers. She explained that she did this where she worked -- at an architectural firm, I believe.
A few years later fellow NAME club member, the late Marilyn Ford, introduced me to the Xyron Machine she used -- not only on paper but also fabric and trim -- to turn them into stickers! I felt as though my dream had finally come true. And, of course, I began collecting Xyron machines -- they came in several sizes and at the time were widely available in craft stores for scrapbooking. The Xyron Machine is very low tech compared to the newer tech of Cricut and Silhouette and doesn't need a computer or software to operate. Simply place a sheet of wallpaper or well ironed fabric or flat trims on the platform of the device face up and turn the handle to run your material through the rollers to add an adhesive backing to your material. You have the option of cutting out patterns in advance or after the backing has been applied.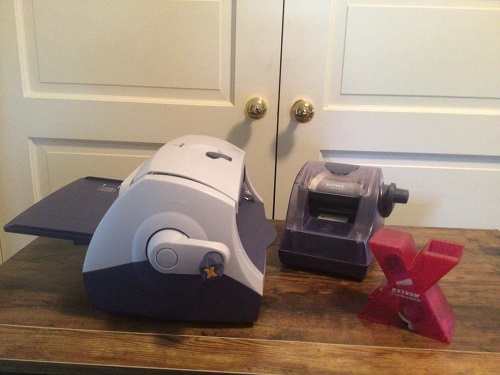 3 Xyrons – 9", 2 ½" and 1 ½"
This little Debbie Young microscale house -- a gift during Create's December 2021 Shopping Days -- was easily wallpapered. Actually, the paper for the floors, rugs, ceilings and walls were all run through my Xyron and stuck to the surfaces of the kit after it was assembled.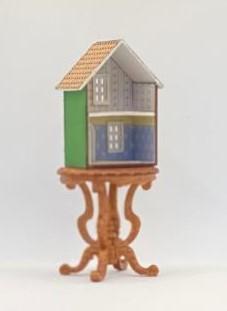 This half scale bed was dressed with silk fabric and trim backed by adhesive on my Xyron machine over fifteen years ago and as you can see there are no glue stains or yellowing after sitting in a dollhouse on display all those years. To dress the bed, I made patterns for the fabric out of paper towel, inserted a piece of silk large enough for the patterns into my Xyron and ran it through and then cut out the patterns and glued the silk to the bed. The canopy is silk over card to stiffen it.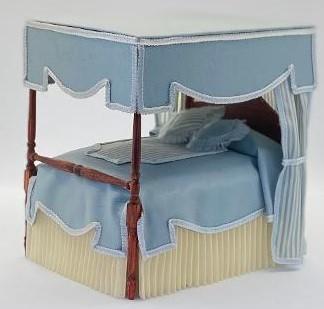 I use my Xyron machines all the time for almost every miniature scale and find it is most useful in small scales. Wallpaper for one inch scale dollhouses is sometimes just a bit too wide for my 9" machine.  
The Xyron machines and refills have become a little more difficult to find in craft stores with the current supply chain issues but they are still available and work just fine even if they are not exactly high tech.
Final Note: I have been cautioned that, as with all glues, you need to be aware of environmental conditions. I live in Connecticut by the shore and have not had any difficulty with the Xyron Permanent Adhesive (that's all I use) but that might not be the case if you live in an area with a very different climate, e.g. heat and humidity!