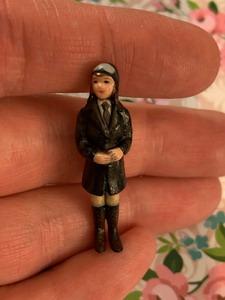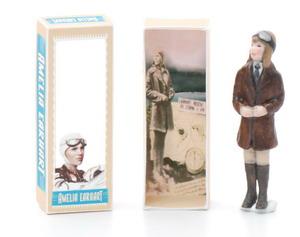 This tiny and detailed replica of Amelia Earhart was made for the Come Fly with Me Houseparty by Chris Okubo.  It could be used as a person in a 1/4" scene by itself.  But it comes in a box so could be a collectable doll in a 1" scale scene.  The box was made by Angelika Oeckl.    
The cost for this Amelia Earhart doll is $65, plus $3 shipping in the US. 
For those outside the US, we will contact you about any additional shipping required. For those ordering three or more souvenirs of any combination, we will refund any excess shipping money collected.   
Here is some info about Chris:  
Chris Okubo began showing her work exclusively at miniature shows circa 1986.  Before finding miniature collectors, she would sell her tiny sculptures at arts and craft fairs.  Once she discovered the world of true miniature enthusiasts, she felt like she found a home for her creations.  The miniature community has truly been a blessing and a joy in her life as a miniature artist.  It's pure heaven to be able to do what she loves and find other like-minded souls that love her work too.  She gains inspiration for her creations from children's books, greeting cards, vintage collections and nature.  There is never enough time in a day, week, month, or year for her to create all the ideas floating around in her head.  Even so she has been a prolific creator of tiny sculptures, and, over the years she and many of her fans have accumulated pretty sizable collections.  It's fun to see the progression of change in her tiny works of art from the beginning to the present.  She wants to thank all the wonderful customers over the years for their continued support of her work.  Its been quite a ride for many years.