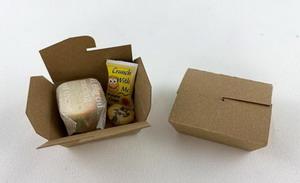 When you're on a long flight and you need a little something to eat, reach for this lunch from Pat Richmond.  Includes a sandwich, complete with lettuce, tomato and onion, a bag of potato chips, and a chocolate chip cookie which is sure to bring a smile to your face.  
The cost for this 1" scale meal is just $18, plus $3 shipping in the US. 
For those outside the US, we will contact you about any additional shipping required. For those ordering three or more souvenirs of any combination, we will refund any excess shipping money collected.   
About the Artisan:
I started collecting miniatures after my mother gave me a miniature red chair at the age of 5, which I have kept to this day.  Then, I started collecting miniature food which was added to the chair to begin my collection.  After college I was not sure what I wanted to do.  
I loved to cook and I opened a restaurant, but after a year, I decided to come to the USA to study art and technology.  After I had my first daughter, I wanted to start my own business based on art, and be able to work at home. 
One day, I made a picture frame for my daughter and put all handmade miniature food around it.  Many of my friends, who saw it, told me that I could sell it.  As soon as I started, I knew this is what I wanted to do as my art and as my business.  My goal was to make my miniatures as realistic as possible.  During one of my first craft shows I was approached by someone who was in the dollhouse world and she asked me to come to a show and I was greeted by immediate success.  I realized that this dollhouse world was the right place for me.  I feel I was so lucky to have found a job that I love and enjoy every moment of doing it.  
Airline Food by Pat Richmond, 1" Scale