In honor of NAME's 50th anniversary in 2022, we're asking
several of our longest serving and influential members of
NAME to share some of their early experiences with us. 
__________________________________________
For November 2022, we are featuring Cat Wingler who shares:
Classes are an important part of miniatures and of NAME -- at shows and online on Create. They're especially important to me. I've participated as a teacher and a student (at shows and online) for a lot of years -- don't even ask! The most surprising thing I've learned from the classes is that the project is just the beginning. You do end up with a great project but that's not all you get. You learn new techniques. You learn about interesting new materials with which to work. Often you discover a new or better way to do familiar things.  You can learn unexpected things -- things entirely unrelated to the class you're taking -- because students share all kinds of information with each other. Some of it even about making miniatures! lol. A huge bonus is that you get a chance to meet and spend time with other people who also love tools, supplies, and making things. What I've learned is that the people who take or teach classes are my tribe, and I can't think of anyone I'd rather spend a day with. 
__________________________________________
For October 2022, we featured Barbara Thornton-Hill who shared:
2009 – That's when it all started. First, the idea for a NAME "Unity" Day came from Jane Payne from Georgia. She envisioned a day where all NAME members around the world could work on the same project on the same day as a way to feel a part of a much bigger group. This would be more than individually working, more than working with a local club, more than enjoying miniatures and friends at Conventions and Houseparties.
…. AND SO, in Indianapolis, 2009, on Monday and Tuesday, after the Annual Convention, at the Regional Coordinator/ State Rep retreat, NAME Day was born. As the Regional Coordinator Liaison on the Board of Trustees, it was my job to hold the retreat and work with our leaders from around the country and world. We all worked on the Quarter Scale NAME House Kit, donated by Debbie Young for this group and while we worked, we discussed ways to give our NAME members more benefits and a sense of belonging to something bigger. As the time passed, we created what has now become a
beloved annual event for NAME ... NAME Day. In 2010, Deborah Willis, from Cleveland, Ohio, became the first NAME Day Chair and Debbie Young, of Nevada City, CA, designed the Hutch that was our first project. Each year we present a new project that all NAME members can work on at the same time (or close to the same time) wherever they are.
The first Saturday in October every year is designated as the official NAME Day although due to regional and area activities, venues, and such, sometimes it happens as close to that time as it can. This year is our 13th year, and the event is still going strong. In those 13 years, various people have chaired each year and I have remained on the committee. I have chaired several different years. The Committee plans a project, someone designs it, the committee critiques it and makes suggestions for changes or alterations and when that is decided a new NAME Day project is ready to be presented.
Until the Create site was developed, I think NAME Day was one of the most unifying activities NAME has developed outside of in-person Houseparties. Since not everyone can travel or afford to attend these conventions, NAME Day has been a relatively low cost tradition and therefore accessible to all members. It is a benefit of NAME membership and, for that reason, it remains available (firsthand) only to NAME members.
I love NAME Day and the concept behind it. Now we are able to connect with others around the world through Zooms and groups on the internet, but NAME Day is still a unifying event and I hope it continues for a long time to come.
__________________________________________
For September, we featured Suzanne Larson Tamburro who shared:
I remember when Georgia Matuschak was President. Well, actually she decided she was the "Queen of NAME". At conventions, she would parade down the hallway, waving, calling out folks names and laughing - that big laugh that made you want to join in! When her reign ended her good friend, LoriAnn Potts, made a miniature scepter and crown! Georgia has many Queenly miniatures given to her during her reign that she displays with joy in her home to this day. 
__________________________________________
For August, we featured Debbie Colombo who shared:
I was scrolling through Facebook many years ago, when I saw a post about a sale for the estate of Jane Haskell. Always one to enjoy a good estate sale, I looked through the pictures and I found that this one contained miniatures, the jackpot of miniatures! There was quite a bit that caught my eye, but one item in particular stood out. It was a 1/2 scale Tudor dollhouse. 1/2 scale is the only scale I had nothing of, and I knew I wanted something in the Tudor style, so I thought I would give it a try.  
This house stayed on my mind over the next few days, so the morning of the sale, I was there and waiting when they opened. I walked in, did a quick scan, and there it was! I walked over, picked it up, and carried it around with me while I continued to shop, until a gentleman came up to me and asked me if I wanted to have him hold on to it for me at the check out table so I had free hands to continue shopping. I really had to pause and think on this for a moment, if I put it down would they sell it to someone else by mistake? I knew nothing at all about this house except that I felt it was very well made and it was mine. I paid $100 for my purchases and went out to the car. At that time I found that there was a folder inside the house with some information and a bill in it. It turns out that my house was made by Trigger Pond and the original purchase price was $3200. Not only did I find a Tudor dollhouse, but the cream of the crop!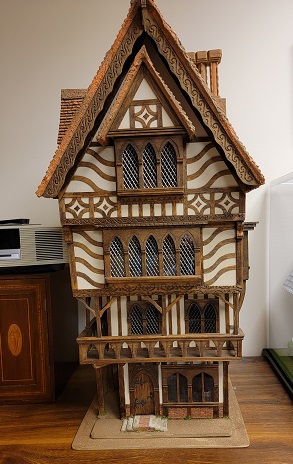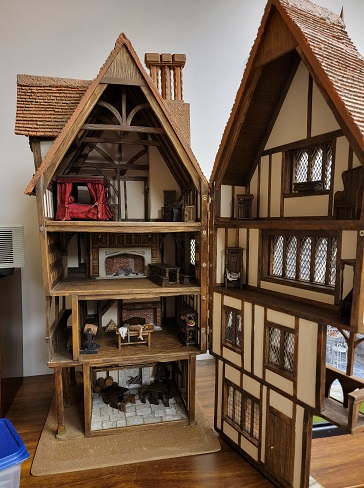 __________________________________________
For July, we featured Debbie Young who shared:
While I have been a member of NAME for 45 years, inside, I still feel like the youngster that I was when I joined. While I absolutely love to see new and exciting dealers, I still hold a tremendous reverence for all those who came before me. I live for the history of NAME, the old souvenirs and centerpieces as well as the miniature items that were far out of the reach of the kid I was when I joined NAME. It is for this reason that I LOVE miniature estate tables. While some dealers see estate tables as taking away sales, I see them as a second chance - an opportunity to finally get to buy things I wished I could have purchased years ago. I stop at them at every show. That is how I found myself in front of the estate table of Bob von Fliss, one of the founders of NAME and the first editor of the Gazette. His table was full of lovely collector pieces (several of which I did purchase), but also lots of antique miniatures (which I also have a fondness for). But there … tucked away in a corner was a Bliss style house that looked very, very familiar. It was not printed, like Bliss houses were, but completely hand drawn and emblazoned with his name over the door. What a treasure. I immediately purchased it. It was not until I got
back to my own table and really looked at it that I realized what a treasure it actually was. The house was covered with Bob's signature curlicues that can be found throughout the early Gazettes. Written under the lower windows was Bob and Dotty and Fullerton, CA and under the upstairs windows was Mott Doll and Miniature Club. This was a club project … from the club that became NAME and … oh my gosh … this was the house that the NAME logo came from. Of course … Bob von Fliss is the one who originally designed and drew the NAME logo! What a treasure indeed!
I owned the house for a little while and even made a miniature version of it for a gift for a Patron Party, but I knew all along that it belonged in the museum at the NAME office. So, in 2019, I let my treasure go and donated it to the NAME museum … where it sits for all to enjoy.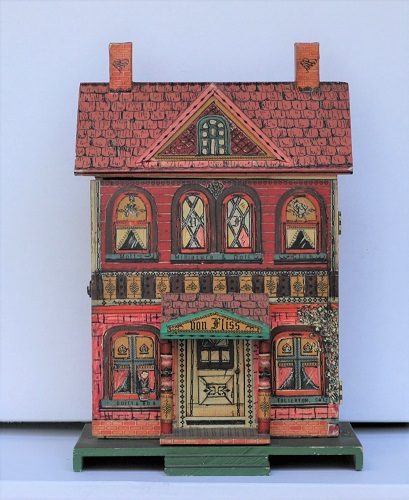 __________________________________________
For June, we featured Janet Smith who shared:
It was 2015 and NAME members from around the world were gathered in Madison, WI for the "NAME County Fair"; a Regional Houseparty. It was Sunday morning and, as often happens at a NAME Houseparty, there were a few centerpieces set aside for auction for those of us who weren't lucky enough to win one. One had caught my eye and I decided to bid on it. I seldom do this, and I'm never the highest bidder, but it's fun and I decided to give it try. There were the usual flurry of bids at the start, but eventually it was just me and someone across the room. After several back and forth bidding sessions, I stood up to see who it was who "dared" to bid against me. At the same time, Colleen Walker jumped up from her chair to see who was bidding against her. We both marched into the middle of the floor, facing off like it was high noon in the old West. Colleen leaned over to me and asked if I would consider sharing the centerpiece. I had no idea what that meant. Cut it down the middle? Ship it back and forth across the country ever month/year? While she and I were fighting through the details, out of nowhere came another bid. The gavel came down and Pat Frost walked away with the prize!
What did I learn? DON'T ever stop bidding if you really want something and next time someone suggests sharing a centerpiece … just say "Yes!" Fortunately, we're all friends and while Pat went home with that prize, I did win a different centerpiece. That one is shown here and was assembled by my very good friend, Luci Hanson, so I will treasure it forever.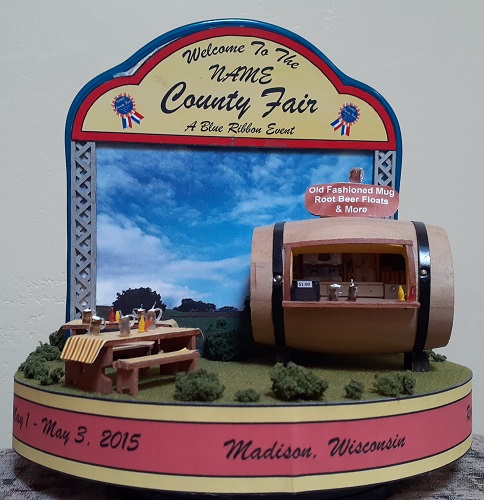 __________________________________________
For April, we featured Bruce Steinke who shared:
Technology and miniatures - a curious path... 
• 1988 I started a new job in SLC as a software engineer. 
• 1988 "Marry me, marry my miniatures" - Judy's steadfast prenuptial requirement. 
• 1990 Gay 90's Centennial Houseparty, First Salt Lake Houseparty! 
• As secretary for the above, I corresponded with Naomi Doss a lot and she was the instigator on recruiting me to the Board. 
• 1991 B J Miniatures was officially born (uh oh - this is getting serious)
• 1993 the World Wide Web went public. Yikes, this is like when you are at the top of that first roller coaster hill, ready to go on a wild ride. 
• 1993 My boss at work calls me into his office to share his discovery of the above. He had found a whopping 3 (that's right, THREE) websites! Had we been really smart we could have snatched up just about any domain (think "google.com" or "ford.com") but, oh well... 
• 1996 (9/5/96) Saw the opportunity for our infant B J Minis and grabbed bjminis.com. As a member of the Board at this point, I also thought this new WWW could help NAME. Tried to get name.com & name.org but both were already taken but did grab miniatures.org (9/30/96). 
From 1996 on we saw new tools coming into play like laser cutting/engraving and then 3D printing which raised the bar in so many ways. 
Technology is now just another aspect in our daily lives. I often wonder what will be around in when our grandkids are my age! May the FORCE be with them. 
Take a look at a snapshot from The Wayback Machine. This link is from March 29, 1997: 
https://web.archive.org/web/19970329150652/http://www.miniatures.org/
__________________________________________
For March, we featured Phil and Lynne Joehnk who shared:
When I bought a "Pepperwood Farm" dollhouse plan book by Jackie Kerr Dieber in the summer of 1976, Phil and I didn't realize how it would change the path of our lives. We met Jean Ellsworth, who had just recently opened a miniature shop and was starting the Miniature Society of Cincinnati Club. She invited us to attend their meetings and as they say "the rest is history". We joined NAME in 1977. We have had so many experiences over our 47 years as members of NAME. One of those is having served as Museum Chairmen. NAME's original headquarters were in California but due to the efforts of Carolyn Terrell, Lisa Rupp and many others, the NAME office was moved to Carmel, IN to the house it occupies today. The first floor was set up to be a Museum and the offices were on the 2nd floor. The purpose of the Museum was and is to maintain the history of NAME. This was done and is still being done through displays of centerpieces including one from the very first NAME Houseparty, souvenirs, Gazettes, workshop projects, and AOH members' work. One of our favorite things was attending Houseparties and being given the centerpiece and souvenirs designated for the Museum. The biggest challenge for us was finding space for everything. If you consider a centerpiece, 2 or 3 souvenirs, maybe a special gift, and in recent years a prototype of the Thursday night preconvention workshop for 50 years that takes a lot of space. But what a history and how fortunate NAME was to have members with the foresight to establish a museum and who continue to maintain it. The one thing we are amazed at is the skill level and creativity of miniaturists over the years. We marvel at the workmanship of the members in the different scales. Being chairmen is one of our favorite memories and we are grateful for all the friends and experiences we had because of it. We encourage everyone to visit the NAME Museum when you have an opportunity. Miniatures and NAME have come a long way in 50 years. 
__________________________________________
For February, we featured Dorothy Hansen who shared:
I became editor for the Miniature Gazette in 1999. I never dreamed I would continue for 19 years. My background is in graphic design. When NAME needed an editor that could also put the publication together I decided to apply. I had worked with lots of editors in the publishing business so maybe I could do this. I was surprised to be chosen as editor, I joked that maybe I was the only one that applied. I tried to do my best for the members of NAME. I took the job very seriously and tried to listen to what members wanted in the Gazette. The best part of the Gazette was meeting so many NAME members, many have become lifelong friends. Being a miniaturist served me well in the job, especially on the work projects. I understand scale and how things are put together. Miniatures have always been a part of my life. I am a life member of NAME joining over 35 years ago, I received the Academy of Honor in 2006 and was a Mell Prescott recipient in 2017. I love going to National Conventions, Regional Houseparties and State Days, putting faces to names, and forming new friendships. It's exciting to celebrate 50 years of NAME.
__________________________________________
For January, we featured Sylvia Rountree who shared:
In 1968, my mother, a lifelong miniature lover, asked my Stanford Geology professor brother who was a hobbyist woodworker, to make a dollhouse for my daughter. It was similar to the one my sister and I played with as children.  Later in 1969, on a family vacation to Mother's in California, she took us to Knotts Berry farm to see Mott's miniatures. I bought a few pieces at their gift shop and returned home eager to decorate and furnish our dollhouse. I also brought my Mother's childhood German bisque doll back to Ohio with me. I went to a local doll hospital for some repairs on the doll and enjoyed the wonderful dollhouse on display in the shop. I began to collect antique dolls also and while on visit to the shop, I heard about the Cleveland miniature show. I attended the show and it was there I heard about the formation of a new organization called the National Association of Miniature Enthusiasts or NAME.  Of course I couldn't wait to join and it's been a wonderful 50 years. Congratulations NAME!! 
__________________________________________