From Julie Stuckmeyer:
For January, we are asking our members to share a memory of how they got started in miniatures. For many this was as simple as a dollhouse growing up. My Great Aunt did have a dollhouse which my mom inherited after she died. But I had forgotten all about it when I was first married. At that point (early in 1992) my husband told me that I "needed to get a hobby". As two engineers without kids money wasn't really an issue so I went to a nearby dollhouse store and bought the biggest kit available, with an addition, and a lot of supplies. Of course, I didn't know to look for sales or anything. About $1000 later I came home. It took me many years to finish that dollhouse but eventually I did. Then I discovered NAME, clubs, roomboxes, and smaller scales and decided to donate my first dollhouse to be auctioned off.
Several years later my husband told me that when he told me to get a hobby, he thought I would "just buy a nice pair of binoculars and take up birdwatching". Almost 30 years later, I'm still playing with my minis and even though it IS a pricey hobby, he has told me that he is very happy I do it because it makes me happy. He's a keeper!
We'd like to hear about everyone's start in miniatures. Please send me an email (julies3333@gmail.com) and I'll post them on this page. If you are comfortable sharing a picture of yourself so that we can get to know one another, please feel free to send that along as well.

____________________________________
From Linda Clark:
My mother, Regina Ruch, was a NAME member in the late 70s and 80s. I used to take her and her houses to shows such as Saratoga in upstate New York. I did a lot of 1" in the 90s to help my mom after she had her stroke.  After I retired in January 2002, I started doing 1/2 inch and I joined my mother's club CATTS, Capital Area Tiny Treasures, in Schenectady, NY. I was introduced to Quarter inch and fell in love with it. Some of the Schenectady club members also belonged to a club in Delmar, NY (La Mini Scala) so I joined that one, too. I moved to South Carolina 7 years ago but still belong to both clubs. In 2010 my beach scene in an eyeglass case was put in the Club Fanfare article of the June 2010 issue of the Miniature Collector Magazine.  It was mentioned that I had used Woodland Scenics people and accessories. Shortly after that  article I received an appreciation letter from Woodland Scenics Marketing Department saying, that it was exceptionally rewarding to see their products used in an "outside of the box" project and would be a welcome addition to their posting of uses for their products. Making minis has always been a rewarding and therapeutic experience for me. Quarter inch is such a great way of trying new ideas an creating things from small items that would be thrown out in most cases and I love seeing and hearing how others create things.
____________________________________
From Susana Eaton:
It was early 1999. The previous year I had gotten the greatest miniature I ever had, my daughter Susana Natasha. I became a stay at home Mom and even though I enjoyed the privilege of spending every day with her, I missed working outside the home. My husband told me that since I liked dollhouses and I had not worked on them after the baby's arrival why didn't I look for something to do miniature related. I started going to dollhouse stores. We had seven in the Atlanta area at that time! I found a NAME leaflet at one of them and called. The nice lady that answered at the NAME office told me a little bit about the organization, encouraged me join and asked if I wanted to go a Houseparty. I had no idea about what she was talking about but said yes. At the end of the call, I was a NAME member and I was registered for the 1999 Texas Houseparty. Two months later, I boarded a plane, landed in Texas and took a taxi to the hotel. When I arrived, I thought I had made a mistake!!! Almost everybody there had white hair and I thought the taxi had taken me to the wrong hotel -- one that had a senior gathering instead. I was in my early 30s with an infant at home. But what a magnificent surprise!!!! All I can say is that everyone at the Houseparty was warm and welcoming. The whole Houseparty was like Christmas morning and I was hooked. While at the airport, waiting at the gate to board my flight back home, I noticed a lady that I had seen at the Houseparty. I introduced myself. She invited me to the next meeting of the Atlanta Miniature Society, which I immediately joined. It has been a fantastic ride ever since. My mother joined NAME too and I was lucky to share the hobby with her. I have made lifelong friends, attended many conventions, shows, fun days, and workshops and enriched my life with wonderful miniatures.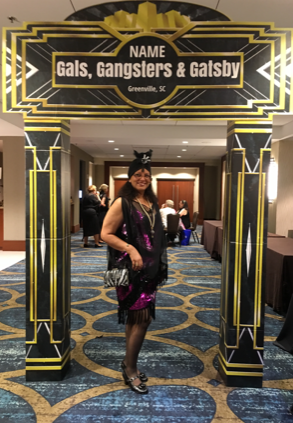 ____________________________________
From Alice Zinn:
If it weren't for NAME I never would have gone into the Miniatures business because I never would have known it existed! I had always collected tiny things and at a certain point my (then) husband offered to build a shelf for them if I would design it. I ended up designing a 13 room contemporary colonial house, flat backed so it could hang on a wall.  
I had never seen an adult with a dollhouse nor did I know this hobby existed. I was a graphic artist at the time. Anyway, one day I was on the way to a doctor's appointment, had trouble finding a parking space and ended up parking in front of an antique store. After my appointment I peeked in the window of the store and I saw these little teeny tiny hand blown martini glasses and I thought I could use those in my new house shaped shelf! Of course by this time it had actually become a doll house and I was making a lot of things for it. It was great because I had a graphic arts studio in my house so I had a place to work and lots of interesting supplies as I was also a crafter for fun. So I went into the store to look and on the shelf above where I had seen these and other miniatures was a postcard that said: " Adult and interested in Miniatures? You Are Not Alone! There is a local chapter forming of a group called The National Association of Miniature Enthusiasts. NAME. I called the phone number and spoke to a woman named Rose London who was forming the club. I went to their first meeting bringing with me, as instructed, something for show and tell. In this case I had taken an egg carton and put 12 of the little things I had made for my doll house in it. After "show and tell" a woman named Peggy Mullooly came over to me and said, "I own a miniature shop called Miniature Manor and I would love for you to make some of these things for my shop, would you be open to doing that? Of course I'd pay you."
To make a long story short, three months later after having researched other miniature stores, something I had heretofore not even known existed, I was out of the Graphics Arts business and servicing 18 shops in New York, New Jersey and Connecticut. That led to an article in Miniature Collector about my innovation of "furry" animals, and invitations to shows all over the country. That was 47 years ago and Miniatures has been my sole support and career ever since.
____________________________________
From Alice Barber:
I have recently returned to my miniature obsession after a 20 year lapse; working, raising a family and other full size hobbies. I am blessed to have a collection of miniatures from classes or shows featuring artisans like Pam Junk, Robin Betterley, Brooke Tucker, Karen Marsh, Sue Herber and Mary Eccher. I was drawn back into my love of miniatures after discovering the Create site, with its wonderful tutorials and classes. This January challenge took me down memory lane to my first NAME houseparties. In 1993, in addition to great classes, I won an incredible Sea Shanty made by Elaine Faulkner in California. In 1996, I won 2 Raffles, a Rabbit House in a Watering Can by Maryland Miniatures and a Conservatory with a Garden from the Miniatures in the Attic, a Virginia Club. If any of those artisans contributed to my gifts, know they are still treasured in my home. I was such a lucky newbie! I am looking forward to my first Houseparty in years, the OLHP next month.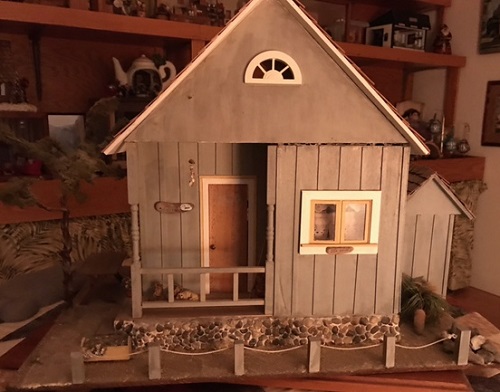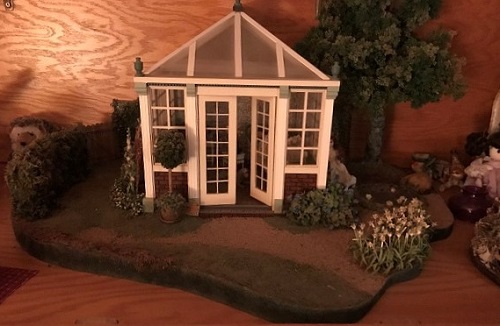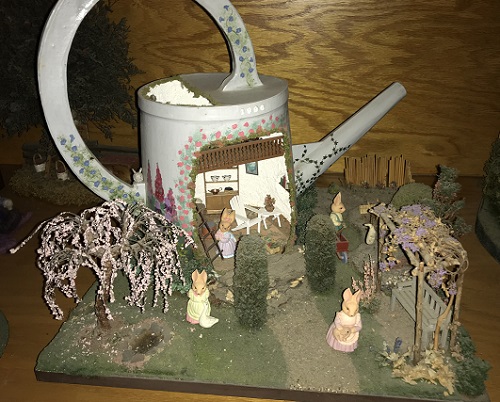 ​____________________________________
From Dolores Kelley:
I very much remember going to the first St. Louis National. I don't remember the year, but I do remember my room mate waking me up in the middle of the night to watch Prince Charles and Lady Diana's wedding. (Editor's Note: It was 1981.) It was my first NAME event and I couldn't have been more excited to see the sales room and all the dealers and the exhibits. I remember the souvenirs being a Victorian fireplace and a chandelier that would have been lit with gas. I can't remember the 3rd one. The theme was Meet Me in St. Louis for the 1904 Fair.
____________________________________
From Jackie Browder:
I was aware that NAME existed, but didn't get around to joining until the pandemic hit. With most of my in person activities canceled, I decided that I needed interaction with other crafters, and that it was time to risk talking to strangers on a live Zoom session. I joined the Mini-Cyber Club a few months into the pandemic, and then joined NAME a few weeks later. 
____________________________________
From Jean Ellsworth:
I knew nothing about miniatures when I attended the Cleveland Miniature Show in 1975. I met Paul Rouleau and his lovely wife, Dolly. I bought his wonderful handmade country Icebox. They were excited about NAME and he told me about the organization. I joined that day. I collected and still have almost all of his beautifully made pieces. Paul and Dolly became lifelong friends and we visited each other over the years. I have so many wonderful memories of my first NAME friends and I miss them a lot.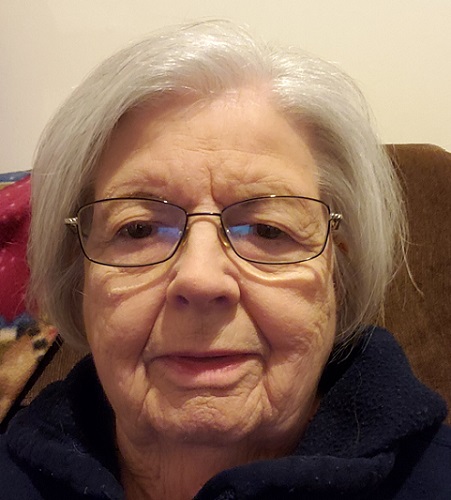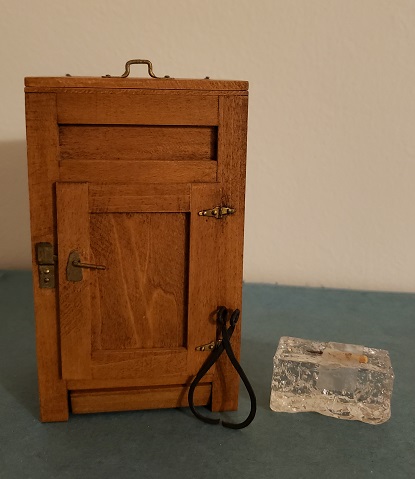 ____________________________________
From Preble McDaniel:
My father is an O gauge train collector. Growing up I was around his trains. I was three when they gave me a tin dollhouse with plastic furniture. Due to subsequent moves, that dollhouse didn't come along with us, but the love of miniatures did. I made several shelf dollhouses with whatever I could get my hands on, including being gifted a couple of pieces of furniture from extended family. I still have those and passed them onto my daughter especially since they are in 1:12 scale. My heart really leaps for 1:48 scale (equal to O gauge). In 2013 my mom began going through slides and photos for a 50th anniversary. She found a pic of me with my first dollhouse and she felt bad enough that I didn't have it all these years later that thanks to eBay she bought a replacement. It now has a proud place on a shelf for my minis.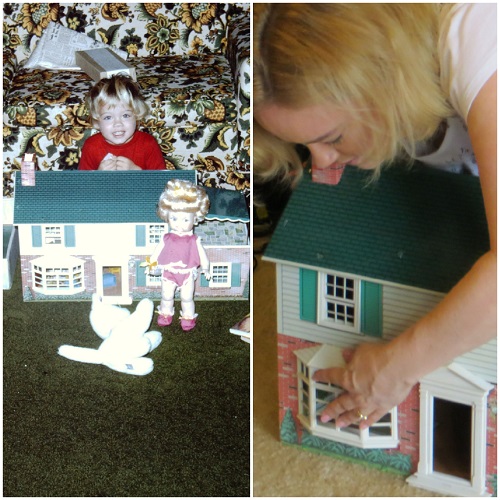 ____________________________________
From Linda Melchior:
My mother said that I always loved little things. When the mini Disneykins came out I had to have them and still have a few. I started collecting some minis but had nowhere to put them. I started getting Nutshell News and saw the ads for a NAME and joined.
In 1992 I got brave and registered for a house party in Philadelphia. I drove from New York City to Philly all by myself. I was thrilled 800+ people that loved miniatures.
I came home with 3 Quarter inch houses from Sue Hoeltge, Sue Herber, and Fred Stephenson. Tote bag goodies and because it was NAME's 30th anniversary a silver candlestick from Pete Acquisto.
And if all of that wasn't enough the banquet entertainment where about 25 Philadelphia Mummers with their music and dancing.
I have many friends I met at that houseparty, and we continue making minis together.
The best fun in my life and here I am 30 years later joining an on-line houseparty I am definitely grateful to be a member of NAME.
____________________________________
From Jackie Williams:
I owned a dollhouse before I was 5 years old. I remember it, and wish I owned it, 71 years later.
Somewhere I had seen a very beautiful skillfully made dollhouse with gorgeous furnishings. It was truly a fabulous wonder and as a tiny tot I fell in love with it. I told my doting mother I wanted a dollhouse for Christmas and she bought me the prevailing tin dollhouse with plastic furniture. I remember being very disappointed when I saw it. It was not the fabulous dollhouse I had seen! Sadly, Mother died, just after my 5th birthday, of cancer, and the dollhouse was given away after I went to live with relatives. I sometimes think this early history is what has made dollhouse miniatures become my prevailing passion in my golden years.
It would be many years before I owned another dollhouse and I would be a mother with a daughter of my own and a grandchild.
In 1988, in my little town in northwest Georgia we had a dollhouse shop. I often went there just looking and one day I bought a front opening 3 story dollhouse kit and my hubby built it. I looked out everywhere for furniture to fit it and discovered Atlanta had miniature shows. I attended one and saw Amy Rauch sitting manning a table for an organization called NAME. The tiny miniatures in front of her captivated me and I quickly joined this organization. Along came the internet and life has never been the same.
____________________________________
From Janet Smith: 
Sometime around the late '90s, I was traveling a LOT for business ... and found myself in Basel, Switzerland one weekend. My college roommate, who lives in Chur, Switzerland, came to visit and we were walking around the town taking in the sites. We came upon a window display of miniatures ... followed by another window display of miniatures ... followed by a door that led into the Puppenhaus museum. WOW!!! Four stories (if memory serves) of antique dollhouses, modern dollhouses, a whole floor of teddy bears and I don't remember what else. I'd always liked small things and my dad had made special miniature display shelves for my bedroom as a child and it all came flooding back. I came back to the US and was telling a friend about how much I LOVED the museum and wanted to make a dollhouse of my own, but wasn't sure where to start. She said, "E-bay ... you can get everything on E-bay." So we went on E-bay and found a dollhouse kit. Thinking it was probably the ONLY dollhouse kit I would EVER see, I put in a big bid and waited. Sure enough ... I got it ... and I still have it. I painted it (didn't know about siding) and used scrap book paper for wallpaper. It's furnished with E-bay finds, antique store finds, and some pretty high end stuff that I found in other shops in other cities in Europe (had no idea at the time that there was a miniatures shop just across the bridge from my home in the Bay area.) My Dad even made a few pieces! (I did finally find Shellie's Miniature Mania in San Mateo, CA, and Shellie told me about NAME, and I joined, and I found a club, and now NAME is quite stuck with me!)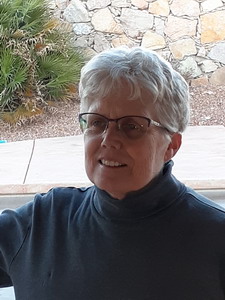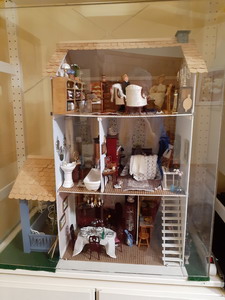 ____________________________________
From Debby Albert:
I joined NAME in 2007. My best friend, Lucy, wanted me to go to a National Convention in Orlando in 2007. I've been a member of NAME ever since.
2022 marks my 15th year of continual membership.
 ____________________________________
    From Cat Wingler:
A good many years ago, at the Christmas season, I made extra Christmas money by decorating windows of quite a few local businesses. Most of the decorations were reverse glass paintings on their windows but the restaurant at which I worked also had a huge area for display that I was allowed to decorate any way I pleased. In different years I built a Victorian street scene, a Santa Workshop, a life sized Madonna and child, and my most elaborate, a four story Queen Anne Victorian, totally furnished, every single thing homemade, right down to the Play-doh food. One of the customers casually remarked to me that there were other people who loved and actually collected stuff like that and I should check it out. Up until then, I thought I was the only one. I had to drive 50 miles to get to the toy store that sold miniatures but I was hooked the second I saw them. And they sold a magazine called Creative Crafts and Miniatures. Of course, I subscribed. It wasn't very long before I saw an article about a group of people who were at a "Houseparty ", having fun playing with miniatures, making things in classes, and, extremely exciting to someone on a tight budget, getting free stuff. They were actually giving attendees good stuff for free -- one of the gifts was a Chrysnbon pitcher and glasses. For FREE! My lifetime goal was formed at that exact moment: I was going to one of those "Houseparties".  About 40 years later, I'm still playing.  
 ____________________________________
From Carol Gill:
I am not sure of my age when I fell in love with tiny things but it was definitely before I began going to school. Anything tiny fascinated me and I would collect tiny pebbles, broken pieces of glass, and other bits and pieces when I was outside playing. Around that same time I was taken to a 5 and 10 cent store (remember them?) and discovered my first "real" mini -- a very tiny pink rubber doll. No idea how much she cost but I begged my mother to buy her for me. She did and a tradition was born. Every time we visited the 5 and 10 cent store after that, I begged for another tiny pink rubber doll. Thus began my miniature collection. To this day, I remember how I treasured those dolls. Over the years, my "collection" disappeared but was not forgotten. Many years later, while attending one of my first miniature shows, I found a dealer who had tiny pink plastic (no longer made from rubber) dolls on her sales table. I bought a few with no idea what I would do with them but that didn't matter. I had to have them. 
 ____________________________________
From Suzie Aguilar (E2):
I have loved tiny things as long as I can remember. I began collecting tiny porcelain dogs in my early teens. I discovered tiny tea sets and started a collection of them also. I eventually discovered dollhouse miniatures and was in LOVE! Fifty plus years later, I am still loving them.
When the NAME National Convention was scheduled to be held in Houston TX in 1999, a friend (Tere Perry) introduced me to N.A.M.E. I joined and served as her helper with the round tables at the convention. We had a blast!
Here is the photo of us in our poodle skirts that was published in the Gazette.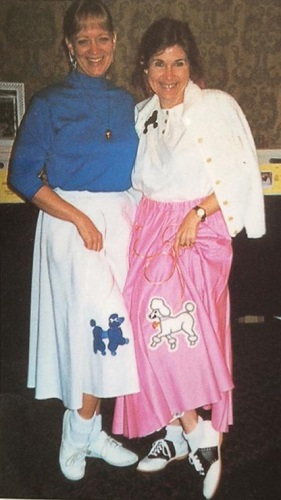 ____________________________________
From Lesia Lennex:
My memories of NAME begin in 1998. My husband and I attended a BrightStar show in Louisville. As a surprise for our anniversary, my husband gave me a NAME membership! I've been a member ever since. What a lovely gift and the beginning of many adventures in mini-ing! I've certainly enjoyed the houseparties, conventions, roundtables, mega roundtables, and special events offered by NAME. It's been wonderful to see folks through CREATE who might not otherwise be able to attend live events!
 ____________________________________
From Julie Jones:
I just started miniatures this last year and one of my first projects is making a z-scale (1:220) replica of my family's home front. My dad has built a few model train sets over his lifetime and a couple of them were z-scale, which I always thought were so neat. One of the things he had done was 3D printed most of the neat buildings and homes from his hometown and he also printed a model of our family home and barn on the property. I wanted to put this models in a diorama so I started my home front project. The 3D print of the house was perfect but I really wanted a little more detail in the barn, not to mention I have wanted a porch on the back (of the real barn) for a while. So I decided to try and build one of my own. It is made entirely of cardstock except the screen on the back porch, which is tulle that I painted black.    
Since starting this project, I have found two dollhouses that my Momma started but didn't finish. So in her memory, I have completed the dollhouse builds and am now turning one of them into a family theme, hand making all the things that remind me of the members of my family. Late last year, I reached out to a local miniature group and have met a beautiful group of ladies! They encouraged me to join NAME and also to attend the E3 conference in January, where I was able to meet even more wonderful people who share my love of littles!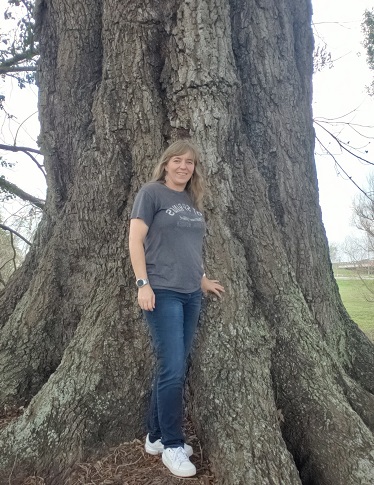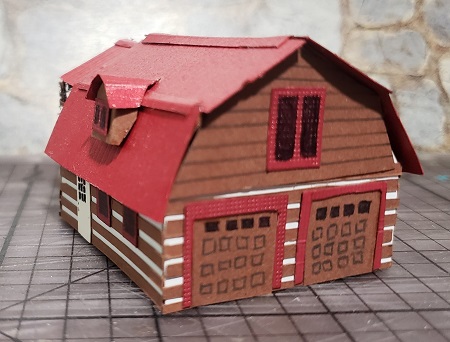 More pictures of the barn are on the January Challenge Submissions page.
 ____________________________________
From Connie Robinson:
My Mom always loved miniatures and we swapped minis to put in our shadow boxes. Around 1995, I bought a dollhouse kit and loved building it. I saw that Asheville, NC had a miniature club so I decided to check it out. I was hooked for sure! Three weeks later I found myself going to a state day in Winston-Salem, NC. Here I was in the with several people in the car that I had just met. (What was I thinking?) But that was a great decision!  A couple of months later, Mom and I went to the National Houseparty in Alexander, VA. It was great. We've been to at least 25 Houseparties since them and several of my friends have gotten into Minis, also. It is an annual trip for all of us. NAME is a great organization and I love living in my "mini" world with all the "mini" friends made along the way!
This picture is Mom and myself celebrating Birthdays with some of our best "mini" friends and a memory box Mom made for a friend.
Thank you NAME! Connie Robinson and Mom, Jeannine Mitchell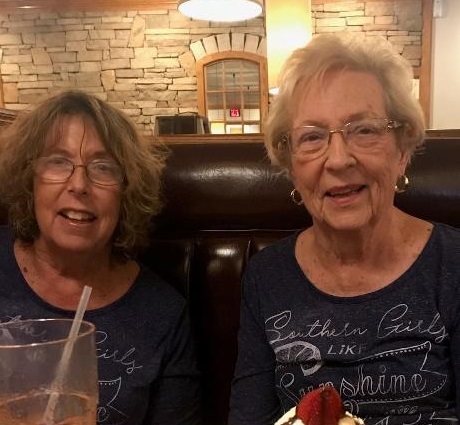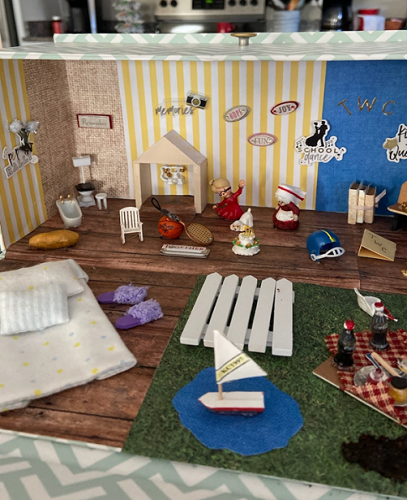 ____________________________________
From Carol Shea:
My miniature adventure started in 1993 with a show Salt City Miniatures had at our local library. At that time the library had cabinets that were 4' tall that they let the Club use to place their miniature projects on display. One member would always be there to answer questions and take names of anyone attending the show. They had enough project/houses on display to cover the tops of 3 rows of those cabinets that were 20' long. There rules were that you could attend 3 meetings and not belong to the club, but after that you had to join. I joined after the 1st meeting I attended. I found the most wonderful people there. They were always lending and giving me materials, tools, and lots of advice on how things were done in making miniatures. The Salt City Miniature Club had 45 members at that time. We are a very small club now due to members ageing and moving away, but we still meet and do projects together once a month.
The club members here in Hutchinson, KS, told me about NAME. I joined NAME in 1996 to be able to attend their Houseparty. That first experience of a Houseparty was in 1997 at NAME'S 25th anniversary Houseparty, held in Kansas City and I had a blast. I was amazed and pretty well lost when I arrived, because there were about 1,500 attendees at that one. One of the regulars from our club finally took me in hand and showed me around and basically 'bear led' me through that Houseparty.
At that time you were required to sign up for workshops at the Houseparty, so standing in line was necessary. I think I might have gotten into one workshop but others filled up way too fast for me. The sales room was an eye opener for me. I was into 1" scale then and came away with so many 'goodies' I had to get an extra bag as my suitcase wouldn't hold them. I have found that NAME members are some of the world's best people. They are always willing to help in any way they can. Staying in the hotel where the Houseparty is held is so much better for me as you get to know all the members a little better. Since then I have been to several Houseparties and enjoyed them very much. I have found that there have been many changes over the years.
Staying up with the times is one of NAME's best services and the people responsible are so good at what they do by staying on top of what is going on. They give their time and efforts to NAME with grace, so a big "Thank You" to all.
 ____________________________________
From Elaine Levine:
It was 1981 and the NAME national convention was to be in St. Louis, where I live. I had never heard of NAME, but a good friend, with whom I did many other crafts, had gotten into miniatures and begged me to come to the convention with her! So I did. Of course I had to join NAME to attend, so I did that as well. We shopped, we dressed up for Saturday night, we shared meals with lots of nice people and, of course, I was hooked! I have been a member for 40 years now and miniatures have been a huge and happy part of my life for all those years. I have learned new skills, met the nicest people in the world and amassed an enormous stash of kits, both finished and not and had hours and hours of fun and satisfaction.
 
PS  My husband is still mad at my friend!
 ____________________________________
From Veronica Risko:
It really started when I was a very young child and received a 'tin' dollhouse and plastic furniture for Christmas (yes, I'm old!).  I was further hooked when I would visit a cousin who had a 'real' wood dollhouse built by her carpenter father.  Fast forward to late 1993 when I was recently retired.  A former co-worker from a northern state was visiting her Florida family for the holidays and we all had lunch together. The discussion turned to a miniature club that they knew of in my hometown.  I checked it out the very next month and the hook was firmly set. I became a member of Les Petits Collecteurs of South Florida just in time for their annual March Dollhouse Miniatures Show and Sale. I was so very impressed that they not only had an annual Show, but the proceeds were donated to local abused children's charities. And that's how I became a NAME member too because every member of the club was required to be a NAME member. Through the years I have tried to contribute by being a Board member, Treasurer and even Show Chairman. Plans are now underway for our 2022 Show in Boca Raton, FL.
 ____________________________________
From Christiane Starks (President, New Mini Bunch ABQ):
In high school, I built model boats (with sails – I raced them in our pool!) and airplanes. I suppose I regarded a dollhouse as a children's toy. In 1991 was introduced to miniatures by my in-laws, who decided this was a good way to keep me busy while I recuperated at their house after a hospital stay. The next year I built my first 1:12 dollhouse and later I took a few classes at various Sturbridge Miniature Shows. I put my hobby on hold when my daughter was born, but once my children were both in school, I was able to devote some time to my minis. Since my 1:12 dollhouse was becoming quite crowded, I started building in 1:24 and 1:48 scale. Facebook was a wonderful way to connect with other mini enthusiasts and to share projects, but I was working on my minis on my own. My friends looked in my dollhouses with interest, remarking "how tiny" and "I could never do that", but did not have any interest in joining me in my playroom! Other than my in-laws, who introduced me to this wonderful world, I did not know any other miniaturists in person.
Fast forward to 2018: My mother-in-law moved across several states to be closer to my family, outside of Albuquerque. I knew Mom missed her old miniatures group. With help from the Facebook community, I found the Albuquerque Mini Makers through the NAME site and contacted Rose Furlong (at that time Secretary of AMM). After a lovely phone call with Rose (whose enthusiasm was quite contagious!) Mom and I went to our first AMM meeting. The Mini Makers, a diverse group of experienced miniaturists, were so welcoming that we were eager to join the group. Both mom and I even taught a class for the Mini Makers in the following year.
I have become very interested in teaching "beginner beginners" (my nickname for a small group of beginners that met at my house, mostly fiber arts artists) the skills needed for making/building basic miniatures. The "Basic Skills" NAME lists as necessary for taking a beginner class are not skills that come easy to some. One of my beginners tell a comical story of her first attempt at improperly using an XActo knife in a class setting. I developed a series of mini-classes, each focusing on a basic skill. I am now president of our small group "New Mini Bunch ABQ" where we continue to focus on learning new skills. Once COVID allows us to meet in larger groups again, I hope to reach out to more people in our community to learn about miniatures. I really believe that there is a place in the miniature world for everyone!
____________________________________
From Mary Chris Schultz: 
Years ago my friend and I joined the miniature club, Tiny Treasures of Elnora, later called Capital Area Tiny Treasures. This NAME club met at that time at the Colonie Community Center, outside Albany, New York. We were so excited to attend our first meeting. When we entered the building I asked a maintenance man where the miniature club met and he replied, "Oh, they meet in the closet down the hall."
____________________________________
From Dia Crissey-Baum:
I can't send in a picture of my first project. I honestly couldn't say what it was, exactly. I've always loved tiny things. I've had my dollhouse dolls as long as I can remember. My dad was stationed in Germany and they bought me one of those German doll families with the goofy looking dad whose eyes never faced the same direction and molded hair, and the females with gradually frizzier hair the more I played with them. We came back to the US with them and a few rooms' worth of German painted furniture in 1972, when I was two. I didn't have a dollhouse but I remember sitting inside my closet using a bookshelf as a dollhouse for hours on end playing with my dolls and their furniture. I played with them until they fell apart. We still have them in the doll hospital, somewhere.
For Christmas 1977 my mom built a dollhouse for me from a kit. Finally, my dolls had a home! She completed the furnishings for it too, and I played with it for years. It's at her house now, and my kids played with it when we visited. I expect it'll be around for my grandkids, should they ever come.
My parents were a little too old to be hippies, but they were, and are, very interested in doing things themselves, and there was no way I could be any different! I didn't have Barbies as a girl, I had the Sunshine Family (my mother didn't approve of Barbie and Ken's relationship, and though she never said it, I'm sure she didn't like the idea of having a million different, single, plastic doll shoes and purses all over the house to step on). One of the things about the Sunshine Family (other than the fact they were MARRIED) was they encouraged kids to play creatively, and to make things for the dolls from odds and ends you find around the house. (No one ever explained to me what "odds and ends" were. I thought they were specific things. One time I did think I found an Odd, but I never could figure out what an End was.)
I was in the Atlanta Miniature Society as a kid and really enjoyed the projects we did. I remember making forsythia branches, and chocolates in a heart-shaped box. I remember Fred Cobb handing out little plastic rulers, and I still have one. I think he was president. I tried a few things myself, like making an aquarium from toothpicks and saran wrap, but I was not happy with the results. One year at the AMS show I made eyeglasses and tried to sell them, but I don't think I had any takers. (I am eternally grateful to the ladies in the club years later, who bought my own kids' things they made, knowing how it felt to not sell a thing myself!) I remember going to the Orange Blossom Hobby Shop when I'd visit my grandparents in Miami in the summer. It was in an old bowling alley. The floor still had the wooden bowling lanes, with the inlaid arrows pointing the way to go (if you were a bowling ball).
I grew up, and I never quit loving small things, buildings, and making things. I studied architecture, and loved building the models, but moved to Historic Preservation for grad school, where I met a friend who got me excited in dollhouses again. During grad school my husband got me a dollhouse kit, which eventually led me to becoming a "serious" miniaturist. ("Serious." Ha. He had no idea.)
Thank you for this opportunity to remember some lovely childhood memories!
____________________________________
From Julia Greenhalf (Pangbourne, UK):
Well done for everything NAME is doing to keep us motivated and inspired with everything is happening.
I think I first moved to 48th scale about eight years ago through an article Pam Junk wrote in Dolls House & Miniature Scene about building a daffodil house in a salt container. That led me to Quarter Connection on-line group who mentioned NAME so I started subscribing to NAME and receiving the gazette. On QC, people were mentioning various fairs they were going to so that they could meet up with other miniaturists. I took a chance and put a posting asking if anyone was going to Miniatura, a twice yearly fair in the UK. Linda Grove replied and we met up at Miniatura and, as they say, the rest is history. We hit it off straight away and we don't live that far from each other and we have been meeting up every 3-4 weeks ever since! It's been the best thing that ever happened. Linda is now a very special friend and then introduced me to the House Parties and Conventions and I've been lucky enough go with her to Charleston and Pittsburgh and plan to go to future ones each year. We both buy most of our accessories and kits from the States and love meeting the traders and others we have "met" online in person.
The NAME team have turned their hands to organizing on-line parties, zoom meetings, challenges and a lot more. I join Jackie's zoom meetings and, again, I am getting to know and put faces to names and a whole group of really welcoming miniaturists.
____________________________________
From Cheryl Polito in NM:
I found a miniature club in the next town over and at the time to join part of your dues was your NAME membership but I was sporadic at best continuing my membership because I did not understand the importance at that time. I had family obligations caring for two of my granddaughters but as they got older and wanted to know about the things "Mimi" always made, I did the only thing I could do and I rejoined. I pray as they get older they will fall in love deeper with miniatures and miniature porcelain dolls so I am continually setting up things for them to make. I will let you know in 10 years when the oldest is 18 if it all worked.
____________________________________