The Challenge for May 2022 is showing a picture of what you would have displayed if you could have attended the Come Fly With Me Houseparty in Portland.
Here are the amazing submissions.
_____________________________________
From Suzie Aguilar:
I would have enjoyed being able to share my 1" scale 1940s kitchen. The inspiration for the front came from a vintage National Biscuit Company counter display. I built the box to fit it for my vignette. The doll reminded me of what my grandmother would have looked like in her younger years. She was made by a lady outside of the US. My stash provided several fantastic pieces: Jane Graber Maysville jug (difficult to see under stove), Bodo Hennig butter churn, hutch and cabinet by GWECHE, metal stove and refrigerator, porcelain sink, a daisy in a milk carton by Sandra Henry Wall (may not be period correct but I love it), a raw chicken made by a young artist I discovered years ago online, and more. I even added some tomatoes I had left over from ones I provided to be used in centerpieces for a previous NAME Houseparty. It was a joy to create! (Note: I should do a better job of keeping record artisan names.)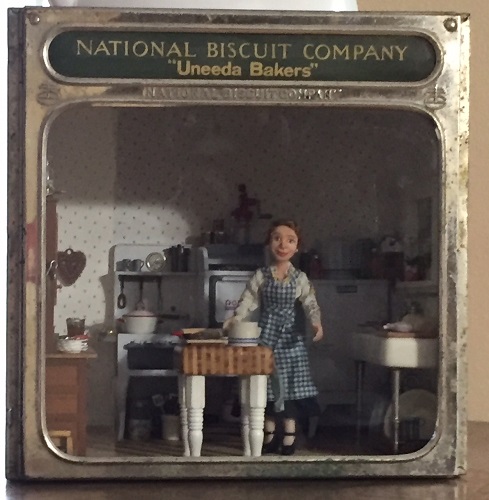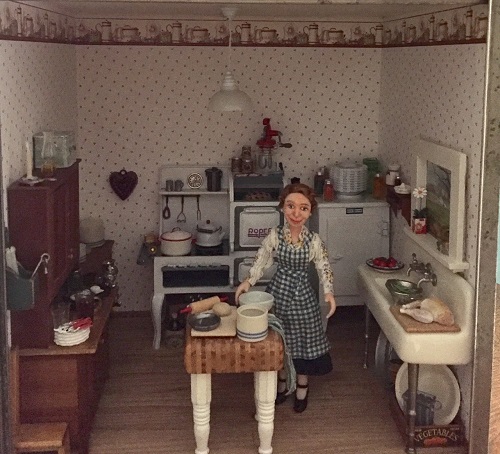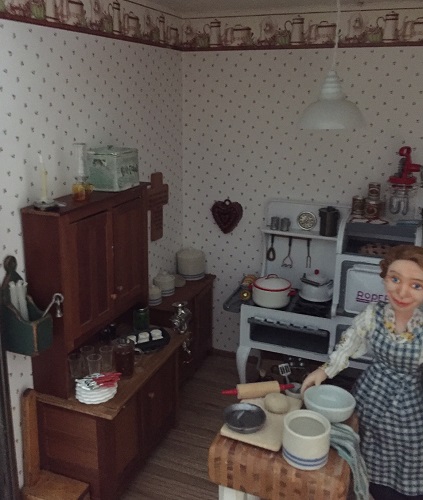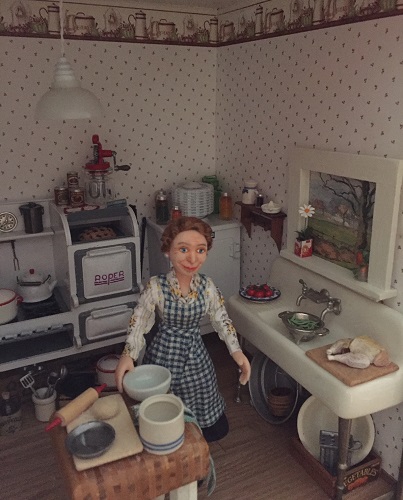 _____________________________________
From Jackie Browder:
While I might display a big dollhouse locally, I just don't think that I would trust the USPS or Airline baggage handlers to deliver one of my precious dollhouses safely. So, I would bring some of my tiny 1/144" dollhouses. Just as impressive (most are even furnished inside!), but easy to pack into a purse or a carry-on piece of luggage.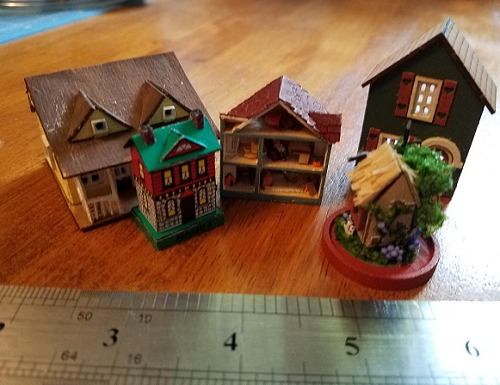 _____________________________________
From Sally Lonn:
I would have loved to have brought my Market Stall from Alpha Stamps that my club, Small World Miniatures of Phoenix, had as a project. Mine is called Holidaze, because of course, many of these holidays are celebrated all around the world. This was a project filled with many treasures collected over the years.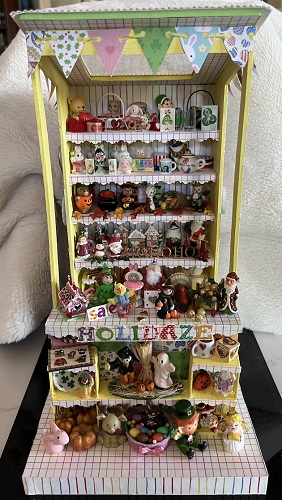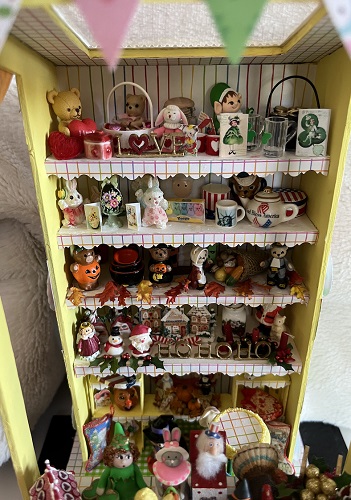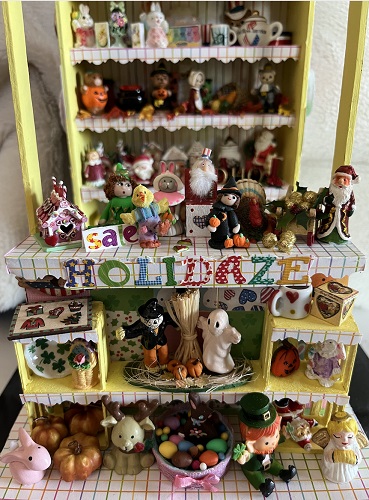 _____________________________________
From Diane Fisher:
This is my African safari exhibit. It brings back memories of an East African safari that I took years ago. The kit was purchased from Ruth Moe, who was scheduled to teach this class. (It was difficult to photograph as
there was much glare from the glass, but the background scene was attached to the glass). It was a great project.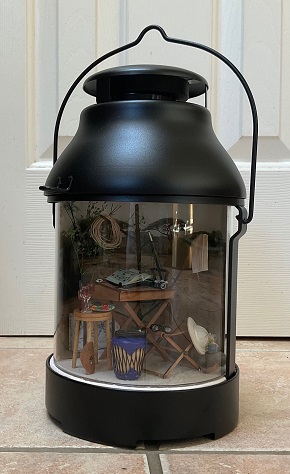 _____________________________________
From Christiane Starks:
Here are pictures of some of the table swaps I made for Come Fly With Me. I am so grateful for the time and effort the Come Fly With Me committee put into this Houseparty, and for the Create team to make the classes and roundtables and photo gallery possible virtually. I just finished building the darling 1:48 version of Robin Betterley's centerpiece - it will be my little memento.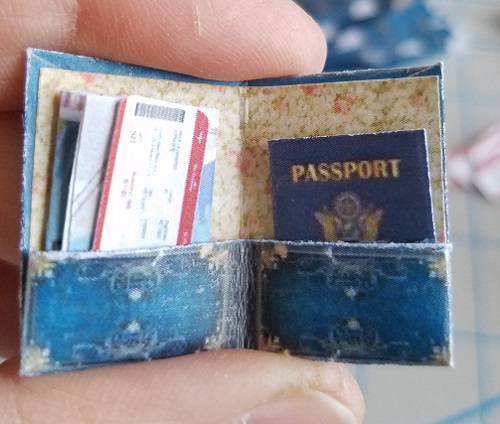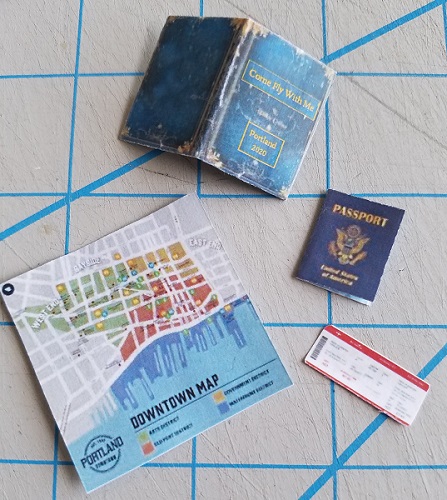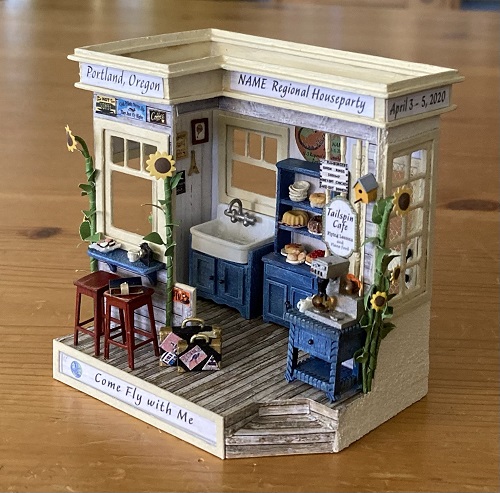 _____________________________________
From Cindy Bottasso:
Here's the start of our Oregon state day in 2023. We are still working on the base and leaves. Sadly the Portland show would have motivated me to finish our project. A tropical paradise in a tree house!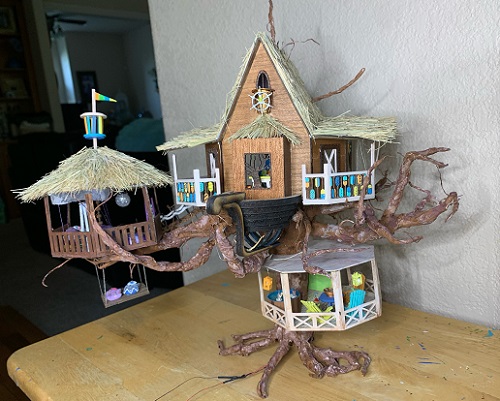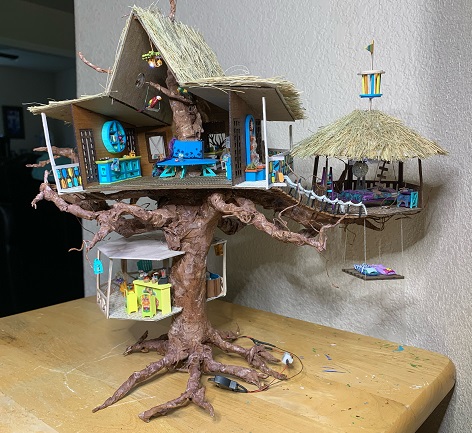 _____________________________________
From Mary Johnson:
A tribute to Dr. Seuss' Green Eggs and Ham.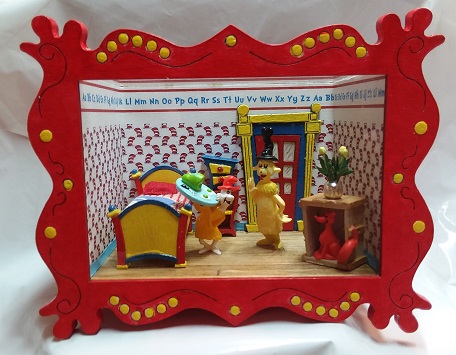 Calvin and Hobbes Snow Goons.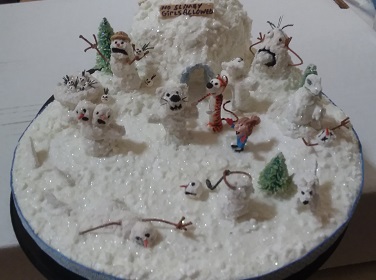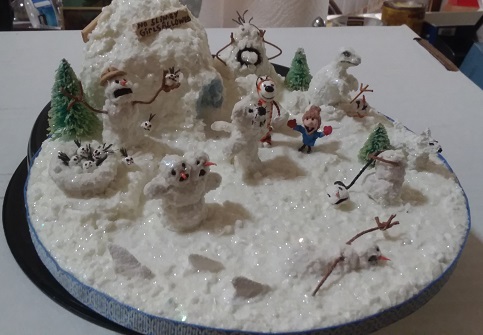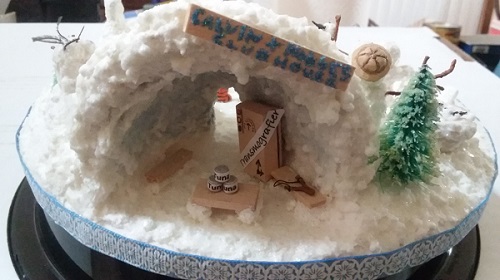 My favorite project I've completed is the Speakeasy "A little Party Never Killed Nobody". I made all the dolls and expanded Debbie Young's kit.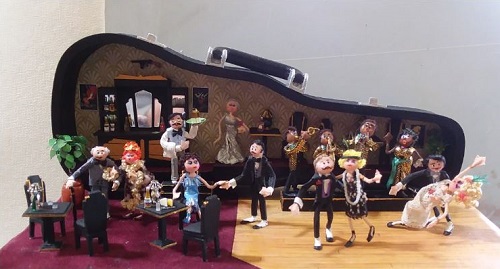 Christmas in a tin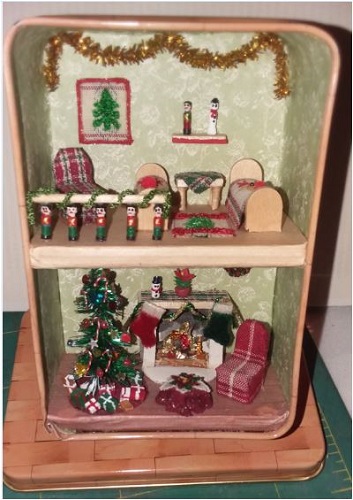 Tropical Treasures shop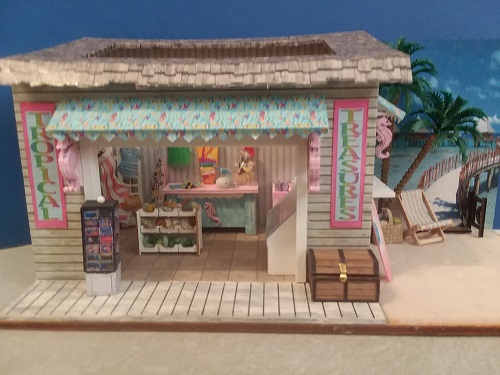 _____________________________________
From Trish Billard:
Normally I would not have displayed anything because I have to fly to get there. But this time I made one of the centerpieces which is usually displayed between meal functions. There is a video of all the centerpieces but I thought I'd send pictures in case you want to display them in the exhibit room too.
Amelia's is a tribute to female aviators. The portraits are all female aviators that were "the first" in some way. The magazines are the newsletters for the 99s, an organization for female pilots. Amelia Earhart was elected as its first president in 1931. This centerpiece also represents my learning to use the Cricut cutting machine. I would never have attempted to design and build the espresso machine without it! Cutting all those cups and photo maps and bags would have been much harder too.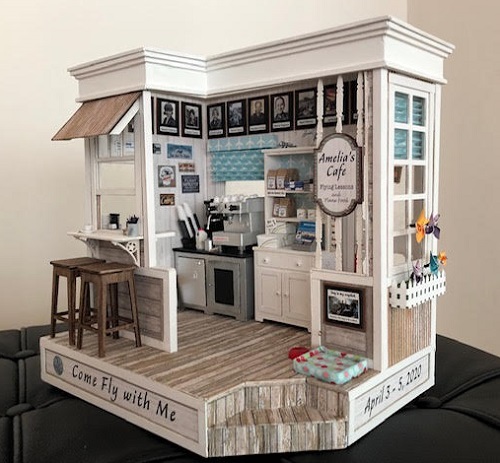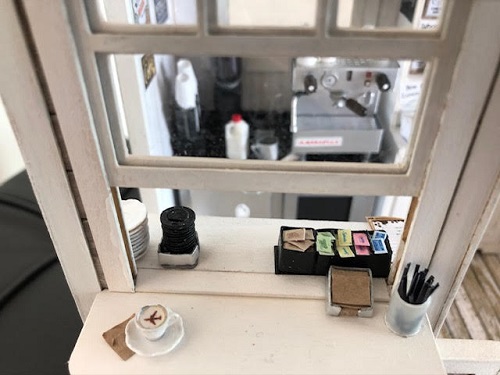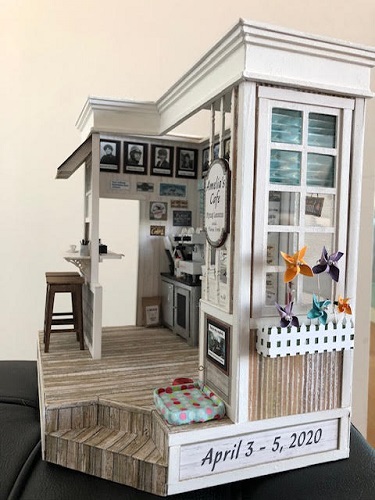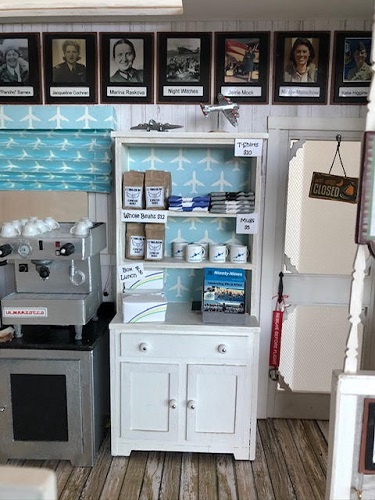 _____________________________________
From Bonnie Cross:
This is my 1/4 scale replica of my brother-in-law's church in Homer, AK.
Notice the photo of the life-size church above.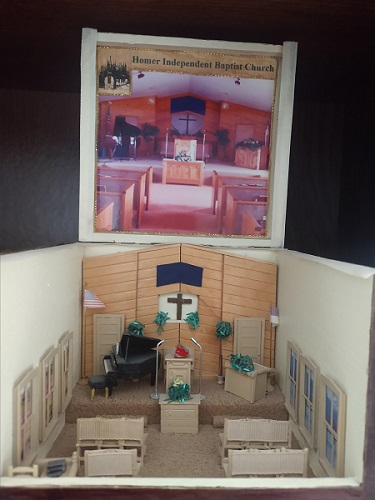 _____________________________________
From Rhonda Williamson:
I made this hors d'oeuvres and Champaign table display in celebration of NAME's 50th anniversary and our local NAME Warren Area Miniature Club's 26th anniversary. At the end our luncheon the centerpiece was dismantled and each member took home a plate of appetizers and a glass of Champaign. I would have enjoyed displaying my centerpiece at Portland in recognition of our local mini club.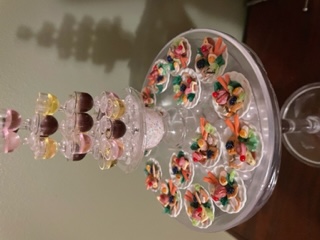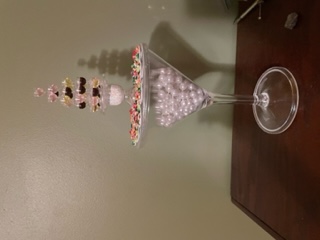 _____________________________________
From Julie Stuckmeyer:
If I could have attended Portland, I would have liked to display my version of "Camp Makamini" which I envisioned as a spot where my mini bestie and I could go to hang out and work on minis. The cabin became so full of supplies and work tables that we would need to put up a tent. But we would still enjoy some time on the water with the canoe and cooking over a campfire.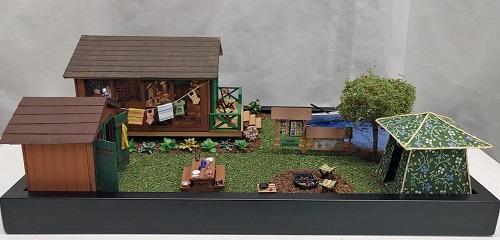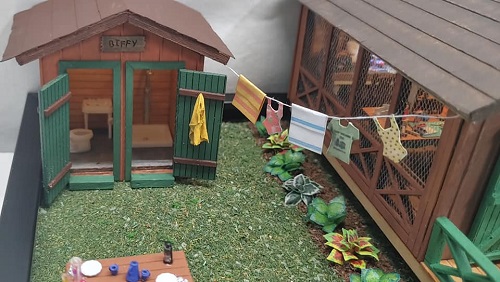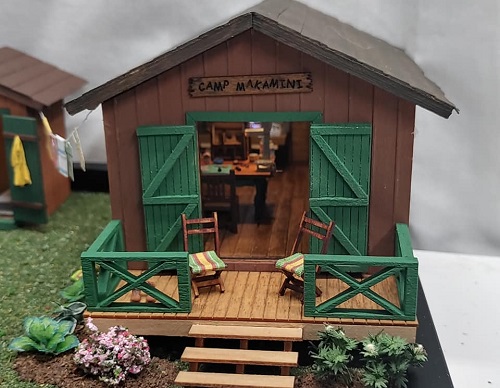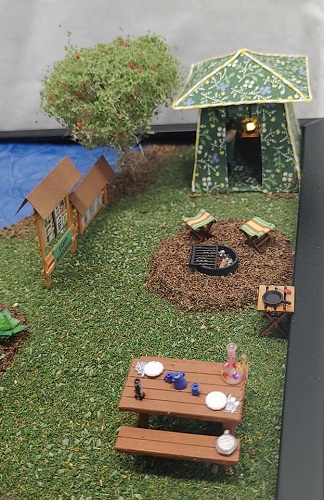 _____________________________________
From Paula Francis:
My submission this month a medieval castle scene. I have always wanted to visit Europe and tour the many outstanding castles so this may be as close as I get. I constructed everything except the King and Queen … they were made by Karen Robertson and as soon as I saw them, I knew the shape my scene would take. Like so many of us, I had so many kits put away in that box labeled "someday, this will come in handy" that I needed very little to complete the project. One of my favorites, but then again, ALL my projects end up being my favorite. So much for downsizing!!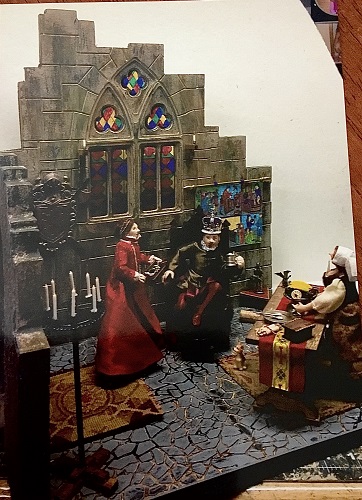 _____________________________________
From Colleen Walker:
The Exhibit I want to share with "Come Fly With Me" ... I would fly you to Paris to 2 Rue duPont Neuf which is the address for Louis Vuitton. Here are photos of specials at the Paris shop.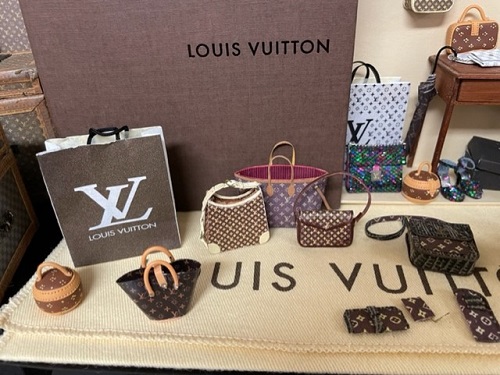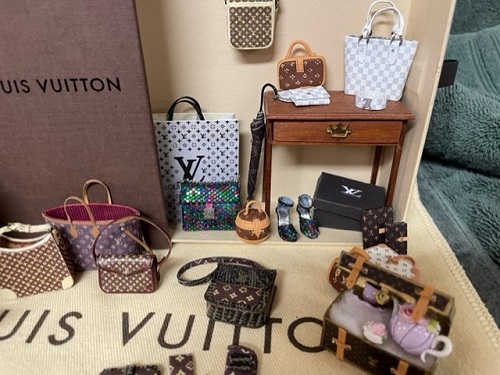 _____________________________________
From Pat Creagh:
Come fly with me to my imaginary street in Paris. I mashed three kits. Poulbot was designed by the Betterley's, Second Hand Rose was designed by B&J and ornate building was designed by Ron from Orlando. All of the dresses in the bridal shop were made by Suzane Herget of Petite n Tiny.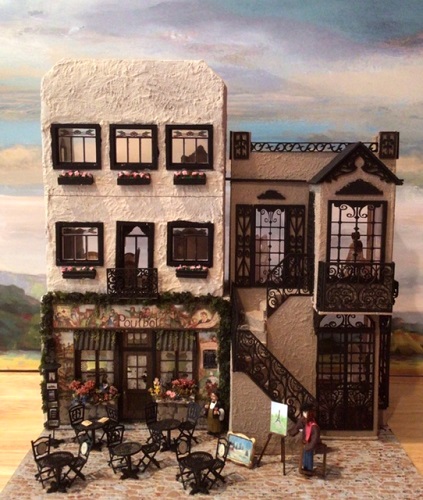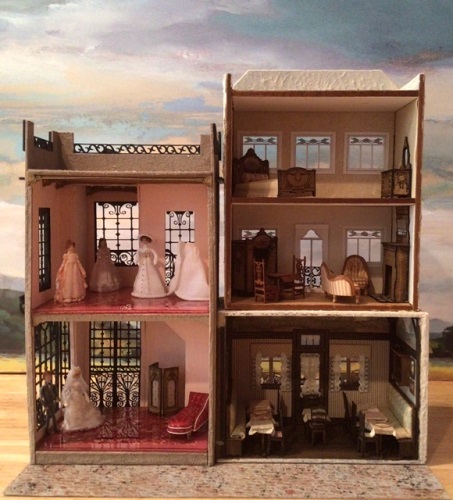 _____________________________________
From Pam McDonald:
These pictures are of  the 1/4" table swaps I had prepared for the Portland House party. The tables and tea sets were kits from Debbie Young. I did not send them in as I live in Canada and the postage to mail them and get a return box would be nearly $50, but hopefully I will be able to use them at a future convention.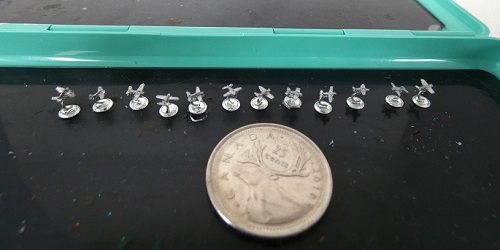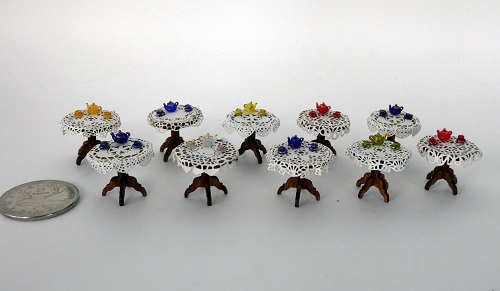 _____________________________________
From Margaret Gordus:
A Christmas Shop -- Snowing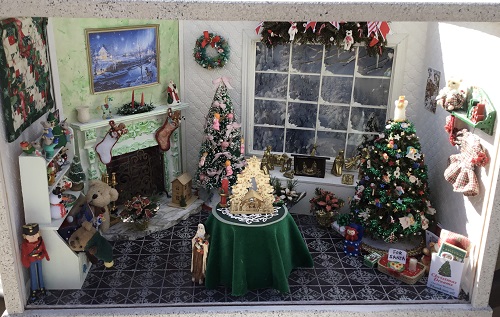 A porch our club made as a project.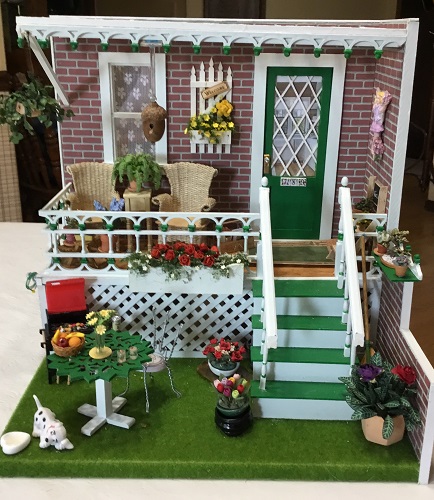 Flower shop made from Zoom classes by Deb Laue of Dragonfly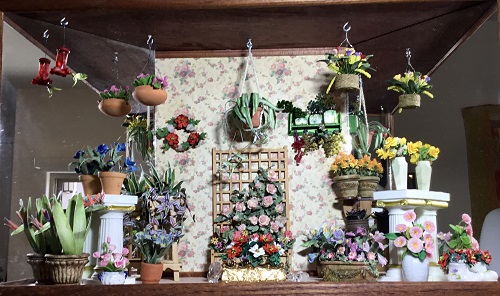 _____________________________________
From Sharon Johnson:
These are my husband's ceramics. We have a very old kiln and very old mini molds.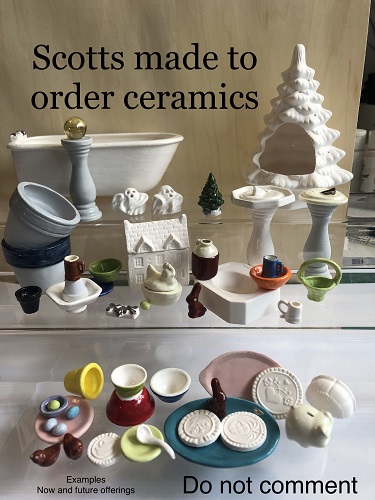 _____________________________________
From Carol Walls:
This is one of my favorite miniatures. I went to NAME Day in Morgan Hill, CA. The club that hosted it was MiniCals. The theme was an antique store. I decided it was a perfect place to use NAME houseparty souvenirs and gifts. I think the oldest souvenir is the TV from Trip to the Fifties in 1994. The newest, from 2016, is the small book from Gals, Gangsters & Gatsby, that holds a drink inside. There is a fairy garden from Lady Bug and a lamp from Phyllis Tucker. I wanted to put something from all the houseparties I have gone to. I think I will rearrange it to include the Emelia Earhart doll from Come Fly with Me. I hope you enjoy looking at my mini and remembering a happy and fun time at a NAME houseparty.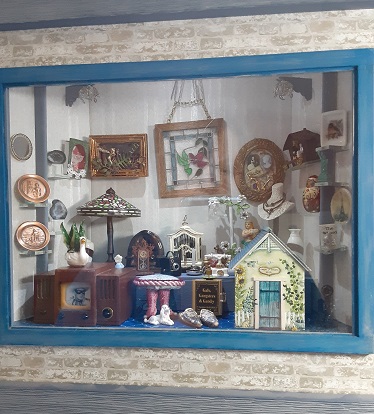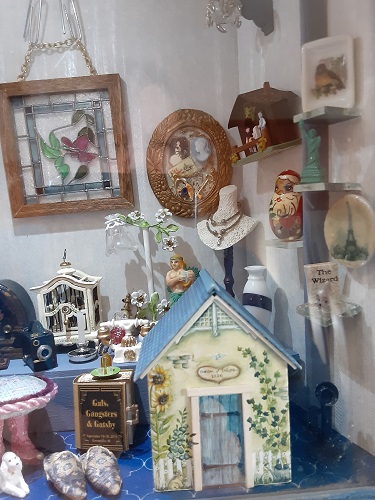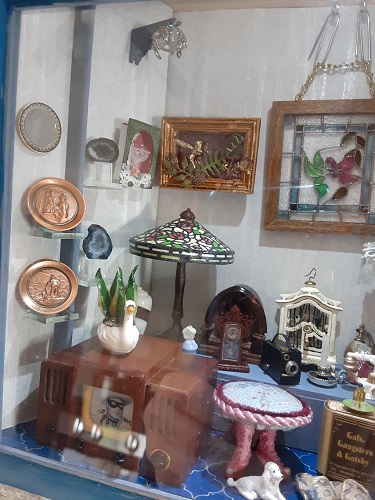 _____________________________________
From Bev Fleming:
This 1/144" scale row houses was made by Nancy Brown and I won it and brought it back from Chicago.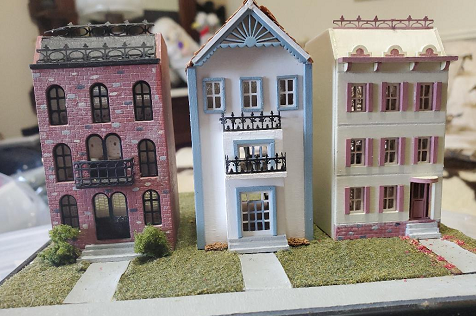 _____________________________________
From Kayanne Yung:
It started with a cabin, which reminded me of a time our miniature club, the Fresno Tinkerbells, would escape for a few days for mini-ing, eating, relaxing and enjoying 'me' time. Covid was rampant so I had to use my imagination to create our get away. I added a deck so we had space to work and then a boat house to run the wires from the cabin lights to the battery pack. The boat house kit was bought in the year 2000 and the cabin in 2022. The project on the deck is Debbie's miniature cabin. Want to play?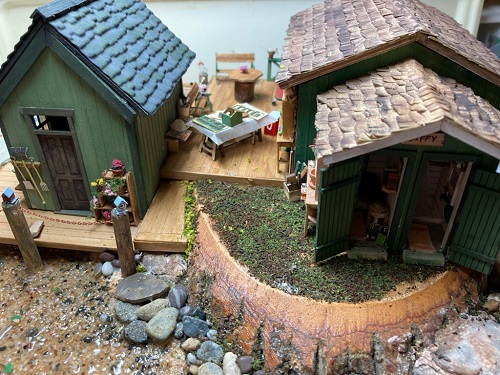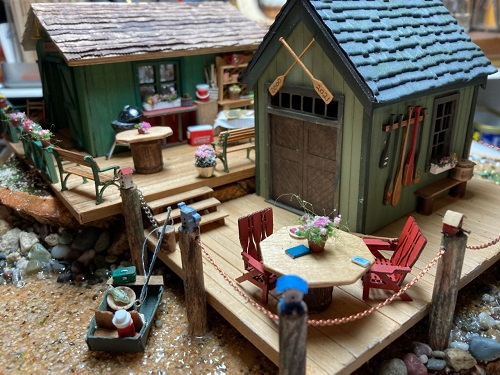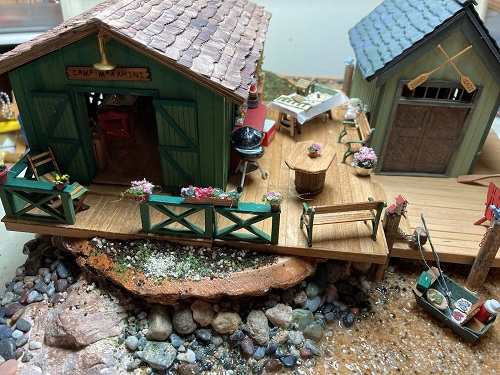 _____________________________________
From Helen Sparks:
This is my version of the 2013 Virginia State Day Project "An Asian Retreat". Mine is 1/2" scale - the project was also offered in 1" scale.
These are of my completed versions of Debbie Young's Around the World in Eight Days shop kits plus the Thursday Night Project and Souvenir Kits from the 2019 Online Houseparty. Finished in only two years due to Covid!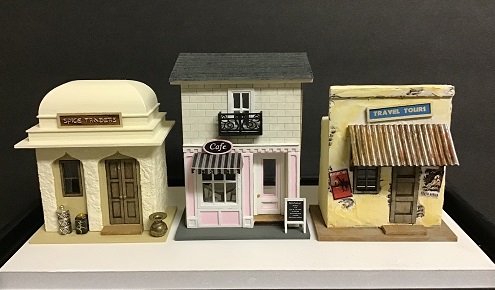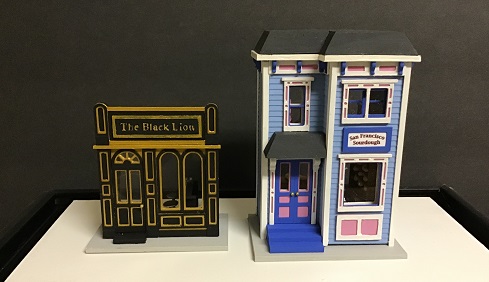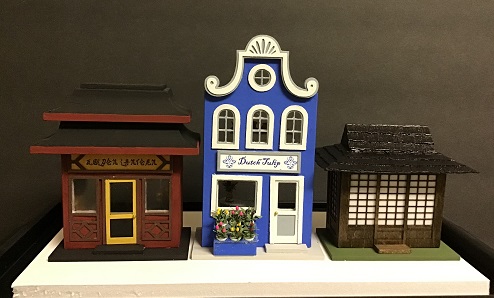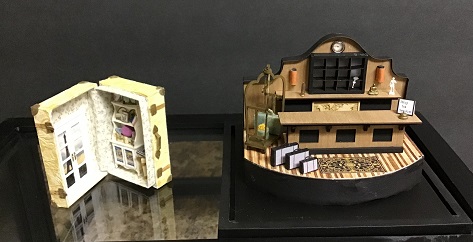 _____________________________________
From Diana DeWalt:
I went around the world also with Debbie Young shops: London and Africa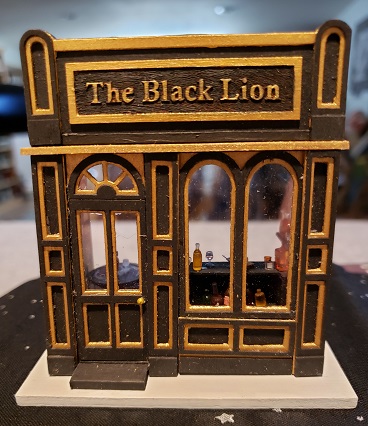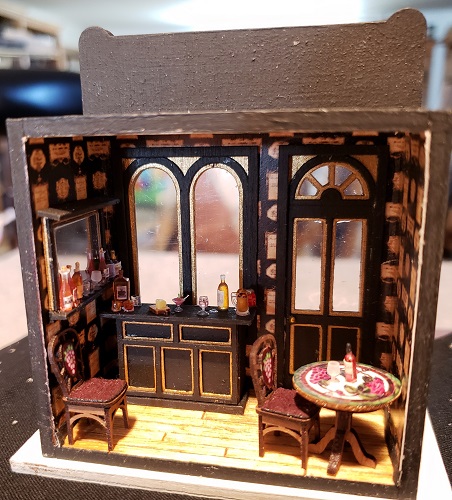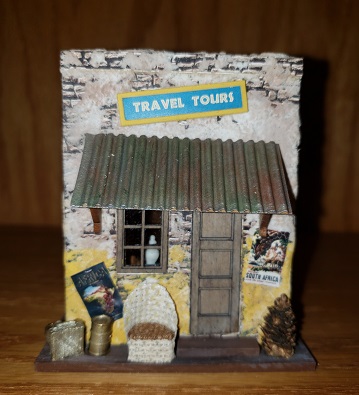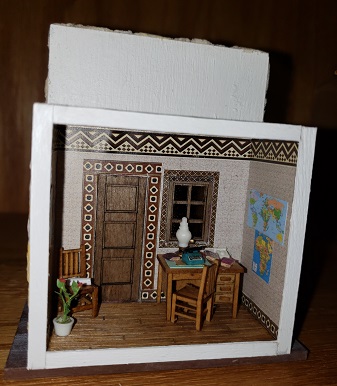 _____________________________________
From Fay Liner:
"Bunnies on Parade" hutch was made by my good friend Janet Oliver and filled with my collection of bunnies and other Easter treats.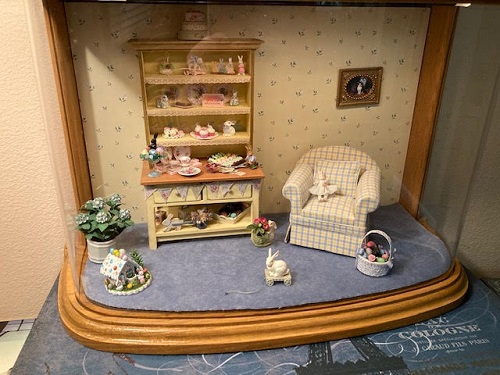 "Tea in the Garden" -- My dear friend Natalie created the lovely Hydrangeas and Dahlias as seen here; other flowers were created in classes and as club projects. They are such fun to make.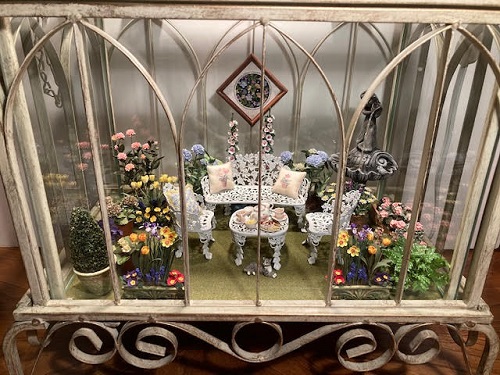 _____________________________________
From Cathy Payne:
This started out as a "she shed" and morphed into a "nik nak" or "what not" shop. I found this kind of shop was ideal for using one-of-a-kind leftover items from other projects. It is 1" scale. The kit for the house came from Hobby Builders.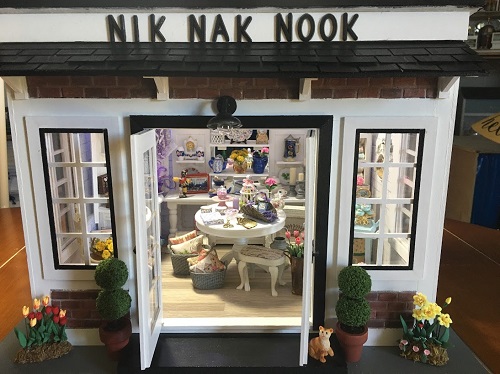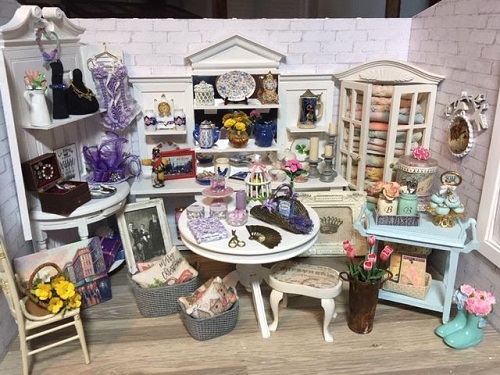 _____________________________________
From Ruth Goodger:
Going to Portland was always a favorite of mine. This is a 1/24 kit that I found on Amazon which I adapted. I used some of my own creations and items from swaps on the halfscale digest to make it my own. I enjoy the crafting
on these kits.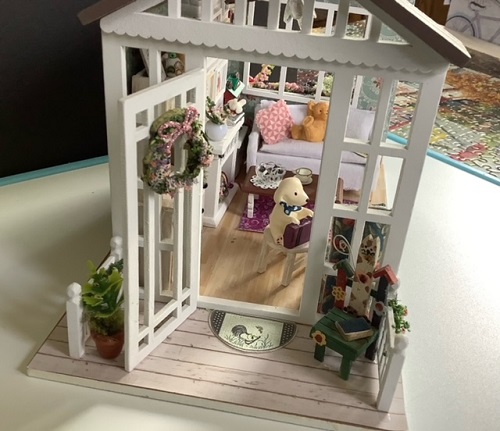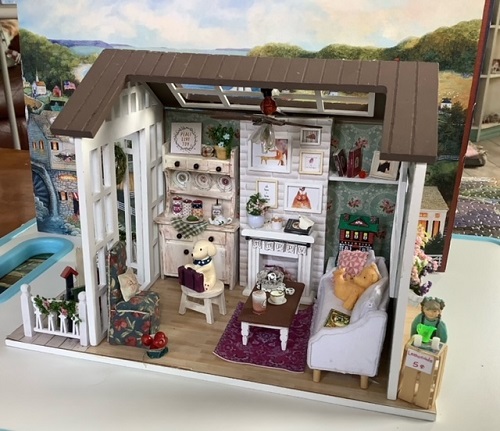 _____________________________________
From Sally Manwell:
This is a quarter scale garden shed from my workshop. I've added grass, a bush, a birdhouse, a wheelbarrow, more tools and a pair of boots. The scene is in a garden themed box.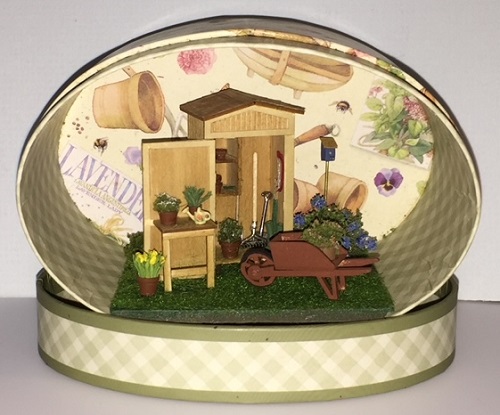 I made this quarter scale scene to fit inside an airplane clock for my daughter's friend who was going though cancer treatments and loves to fly. The figure I made is Bessy Colman.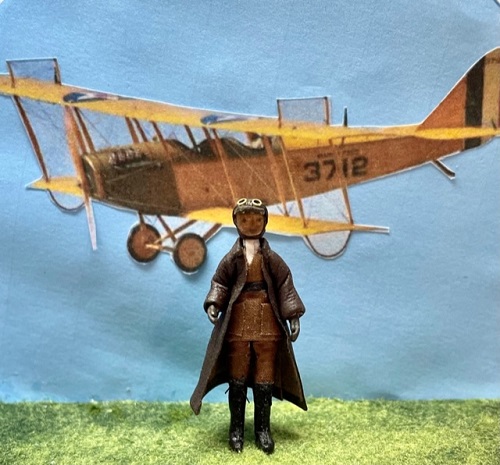 _____________________________________
From Dolly Wyttenberg:
"A French Quarter" -- The front of this half round box has a window with green trim. So I matched the green in the lampshade I made as well as dishes, bottles, vases & napkins in the scene. The bulletin board has pictures, postcards & letters from Paris. Want to go with me? The flowers are real dried plants from a lady I do not remember, sorry. But I loved her arrangements.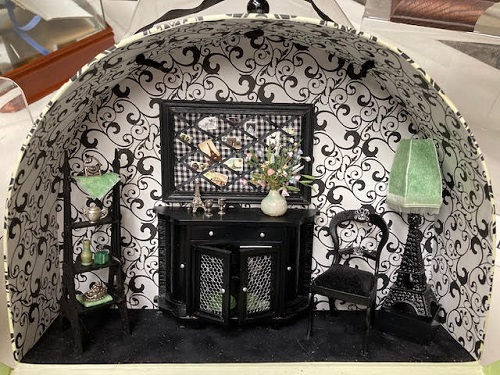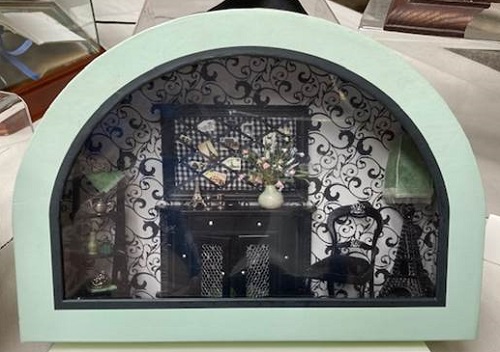 _____________________________________
From Carol Pitman:
Dutch House:  I was supposed to be a Table Hostess at the "Come Fly With Me" Houseparty. Our table "flew" to the Netherlands and did a coordinated gifts exchange on our own when the HP was postponed the first time. We made our own Dutch Houses from identical kits (SCALEBUILDINGSDIY on Etsy), finished the outside however we wanted, decorated with our table gifts, and whatever else we wanted in our dwellings, and were prepared to bring our finished houses to the HP. This is my completed Dutch House, which I electrified and chose to make the roof removable so I could decorate the attic, too. The house numbers on it represent the year of the HP and the year built. The porcelain dolls were made by Pat Boldt, the sterling silver windmills and clog (used as a planter) vintage charms I purchased from eBay (I didn't touch up any blue paint as I wanted them looking old) and the downstairs clog workshop was built from a kit by Jane Harrop. I painted five pairs of 3D printed clogs from Stewart Dollhouse Creations and are on the display bench in the Dutch house, including the one pair on the front step and there is one more pair on the front step of the Dutch Tulip House as well. The Clog shop contents are from a Jane Harrop kit and the clogs were roughed out in the kit, but I had to continue to shape and carve them. Suffice it to say I have no interest in further wood carving, but they were fun to do once I started to get the hang of it. The spinning wheel was a Jane Harrop kit, too. The fireplace upstairs was made by Braxton Payne and the downstairs fireplace was a Debbie Young Charleston kit I made and painted, then did the fireplace lighting in both. Both houses have windmills that turn in the attics because they needed "attic fans"!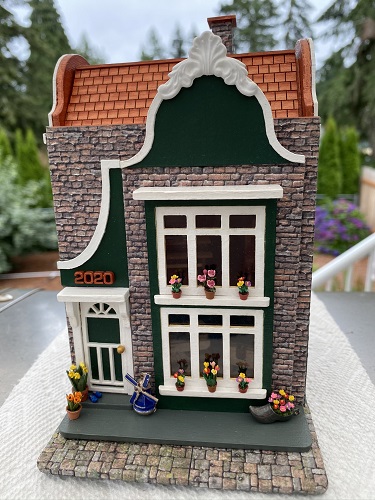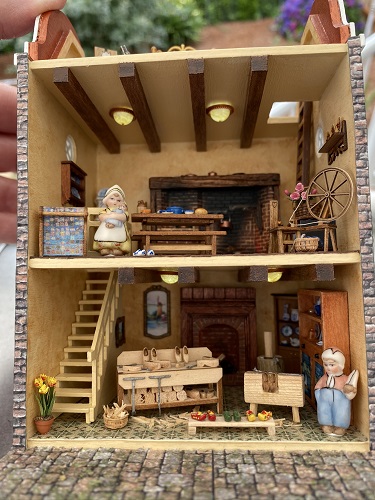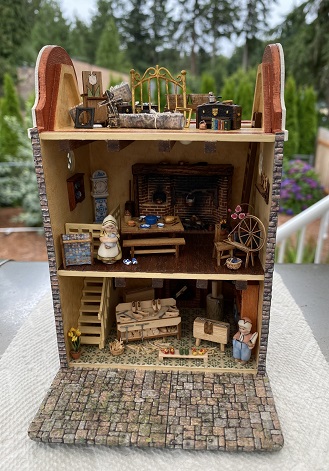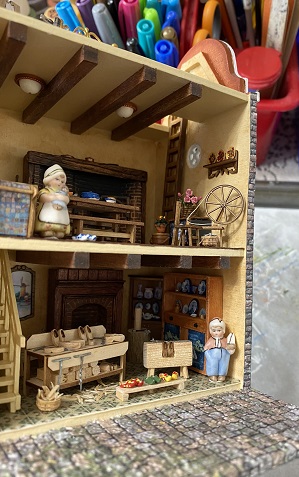 Dutch Tulip House:  I was still in the Netherlands in my mind, and had extra items, so I also made the Dutch Tulip House from a kit by Debbie Young so I could display the two buildings together. Having the two buildings constructed helped me see where I wanted to place my exchange gifts and if I wanted to use them in both dwellings. This kit led into experiments with quarter scale flowers and learning how to make many of them. I used kits from sdk miniatures, Hooked on Miniatures, Grapevine Miniatures and D & K Miniatures as well as my own creations from paper, punches, fine wire, acrylic paint and alcohol permanent markers. The doll was made by Ethel Hicks and a birthday gift to me. I thought she fit perfectly with this shop. For travel to Portland, I kept the two buildings separate for easier packing but I will now look for a display case to house them together, along with the 288th scale Dutch Tulip House Kit, also from Debbie, that I made to go with the 1/4" version. I haven't furnished that one!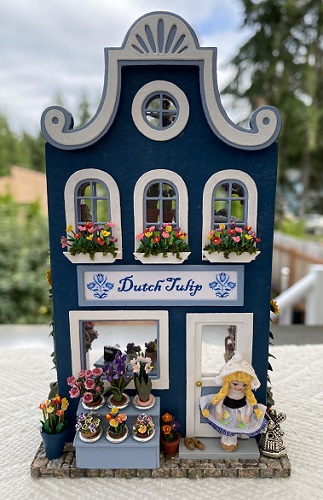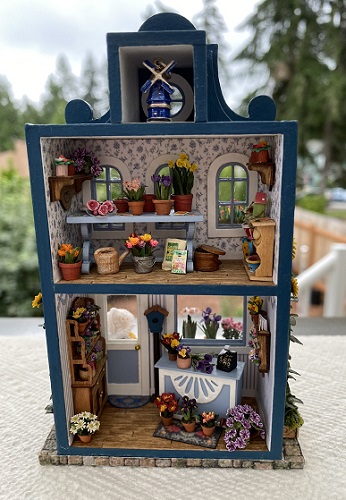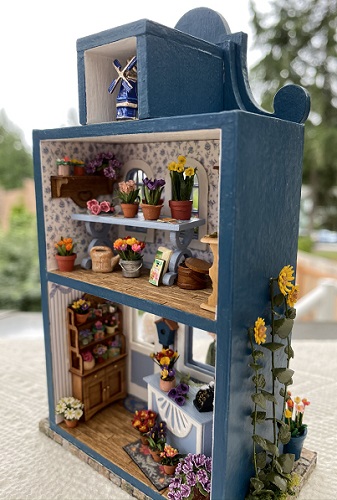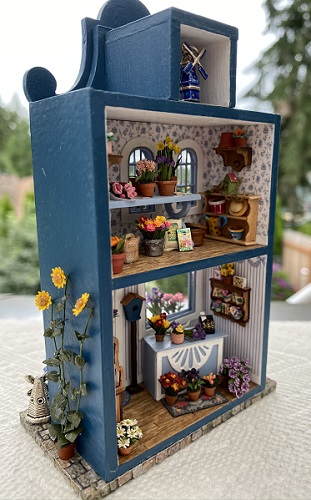 _____________________________________
From Jean Lierman:
This is Petalstone -- a lovely 1/4" scale kit by Robin Betterley Miniatures. It's actually my first Doll HOUSE. I never had a doll house when I was young and I generally do room boxes and vignettes but when I saw this kit, I knew I had to have it. The furniture came a room at a time during the year so when I got the house kit, I had everything finished to go inside. It was so fun moving in and I loved making this kit.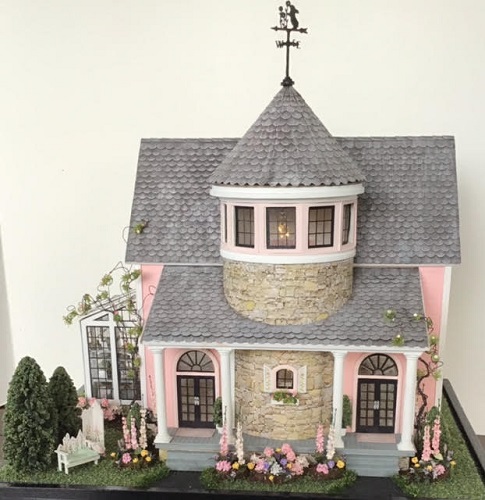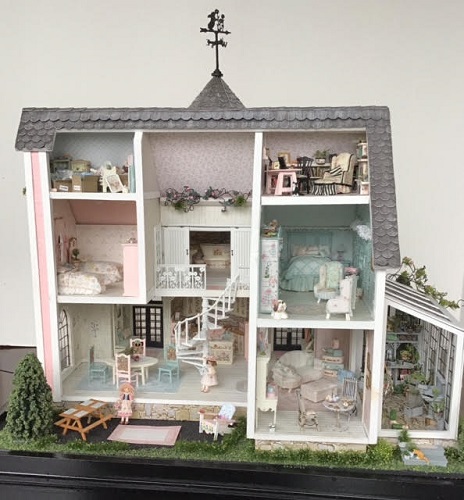 This was such a fun 1/4 inch scale kit from Robin Betterley Miniatures's. It started out just as the Chick Inn; a B&B for tiny chicks. I decided to turn it into a Water Park and made all the accessories from pictures I found on the internet. PLEASE note the rooster life guard. We are so lucky to have miniatures in our lives.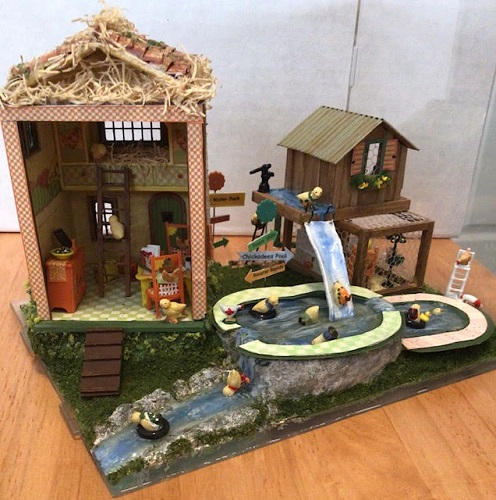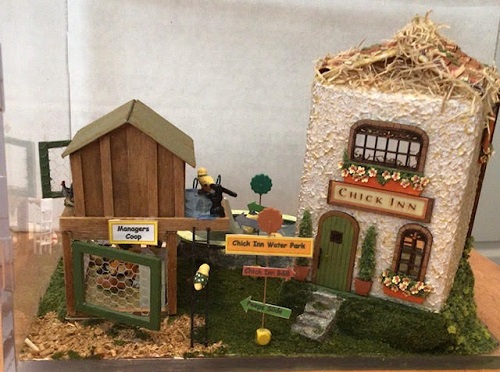 _____________________________________
From Carol J. Shea:
Our club, Salt City Miniatures, had to move a cabinet and removed all the items from it. We came across this house in a magazine that was supposed to be done in 1 inch scale. There was a pattern in this magazine on graph paper that was ideal for quarter scale. Since it was copy written we contacted the designer and got permission to copy it and build the house. We had one of our club members cut it for us. This is my finished one. The 3rd picture is the magazine the plans were in.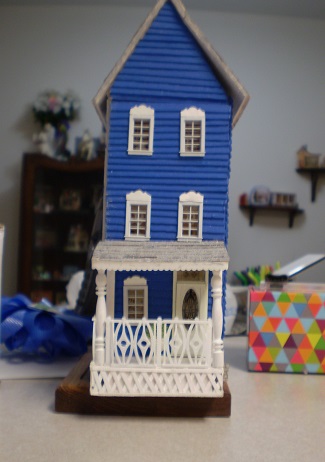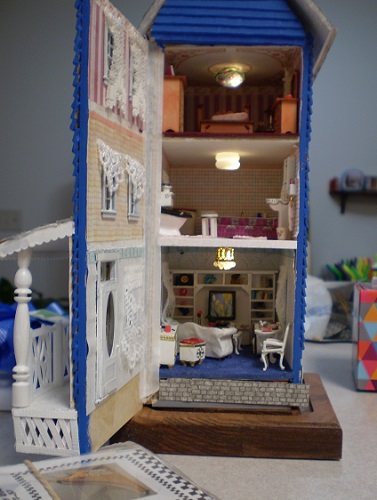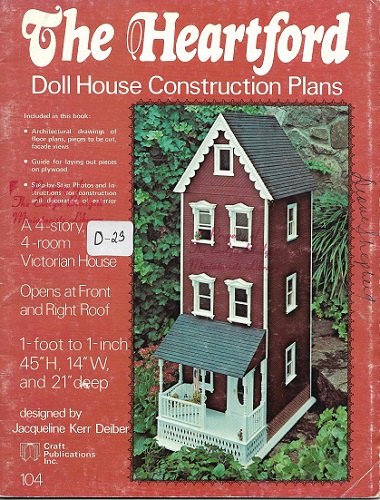 _____________________________________
From Terry Parkin:
The 'Hot Air Balloon' was made by Ethel Snow one of our Vancouver, BC, miniaturists. Given to me as I had just been on a Hot Air Balloon adventure.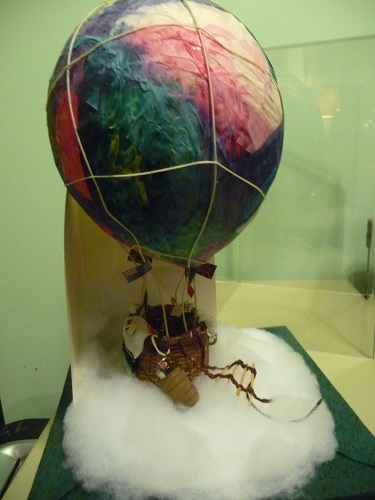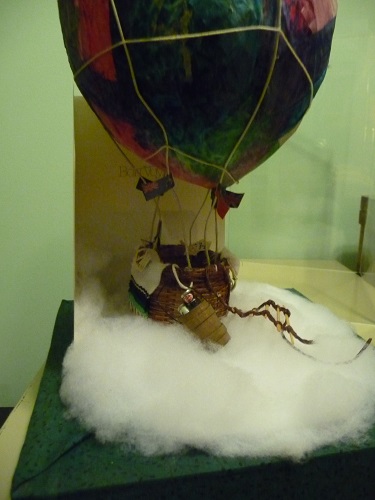 Ready for 'Afternoon Tea' makes an interesting paper weight.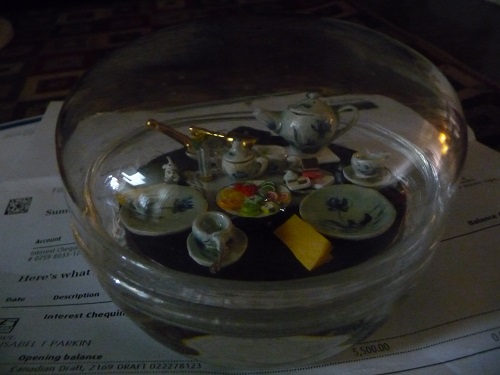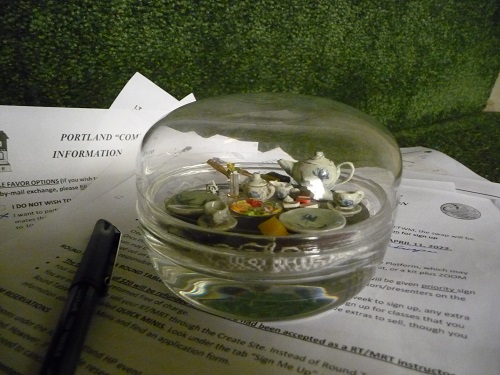 'Kites at the Fair'. All the supplies for a nice windy day.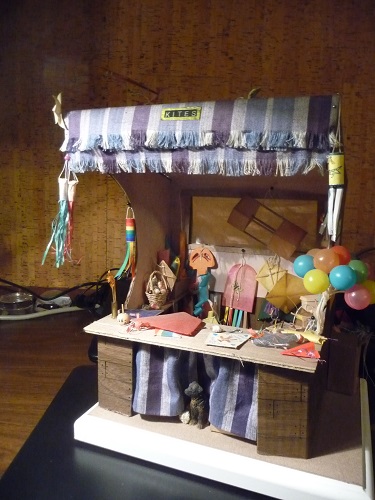 _____________________________________
From Anita Myers:
I would have liked to display this at the "Come Fly With Me" Houseparty. It is my "tongue-in-cheek" version of The Wright Brothers' "Bicycle turned Airplane Shop." I took a lot of artistic license in creating this, and included a touch of humor! Notice the "Flying for Dummies" book on one of the beds. One of the guys is a neatnik (made up bed), and the other is a bit of a slob (unmade bed with a peeled banana). It is in 1:24 scale.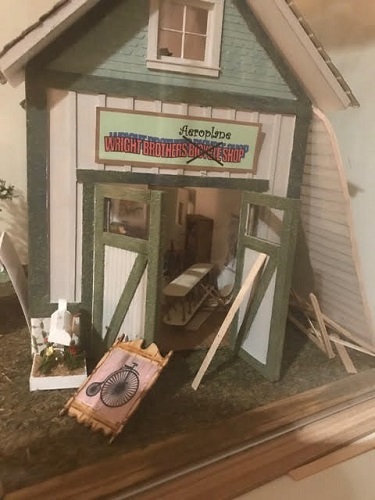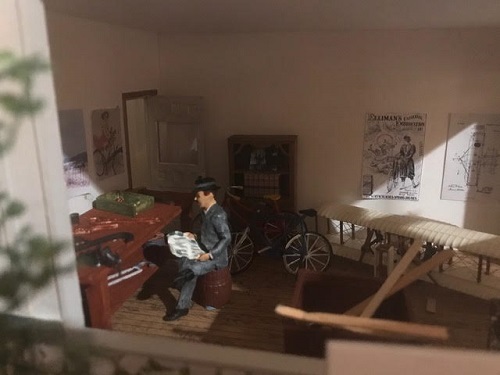 This is a Soapbox Derby car that I did with a "Flying Tigers" theme - in 1:12 scale. (I used to work for Flying Tigers Cargo Airline.)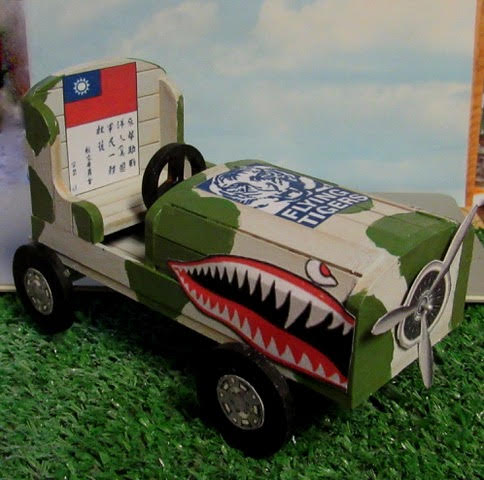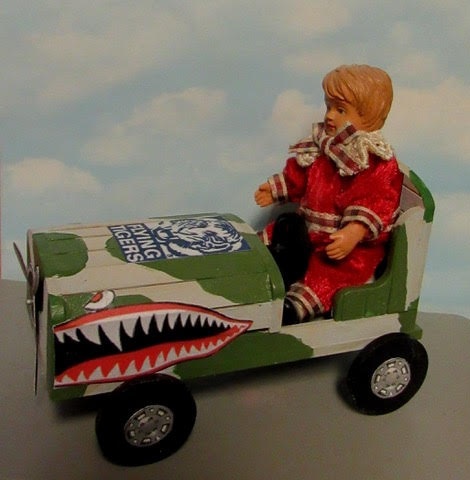 _____________________________________
From Jackie Williams:
Here is my Girls bedroom from 3 years of NAME Day kits. The roombox was a kit from Quarter Connection's NAME Day event.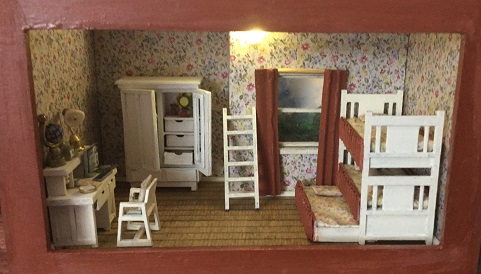 And here are my two Shadowboxes filled with the samples of quarter scale dolls I create to people my quarter scale miniatures. I call them my "Darlings".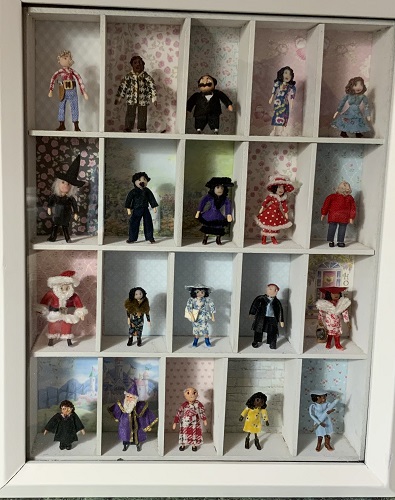 _____________________________________
From Vicki Scidmore:
Come fly with me to outer space! This is my Star Trek lunchbox with Hallmark figures, surrounded by Tribbles (those pesky furballs that reproduce like mad). I also include my costume for the Saturday night banquet. I had it planned when the theme was first announced and now I can wear it! I also did Debbie Young's teeny Around the World shops (roundtables for Portland). I will now enjoy the Houseparty in my mind.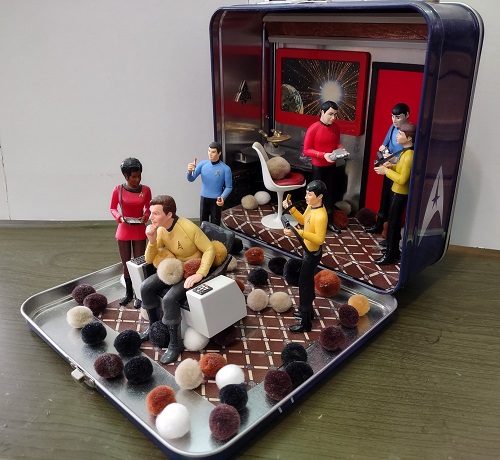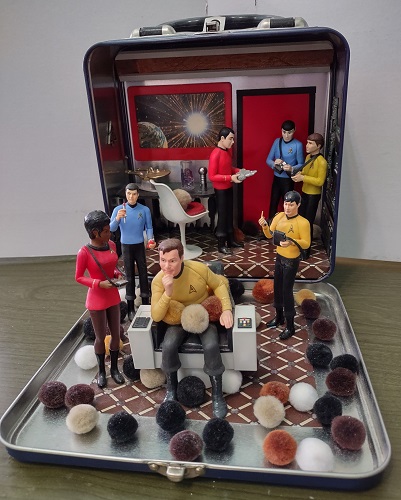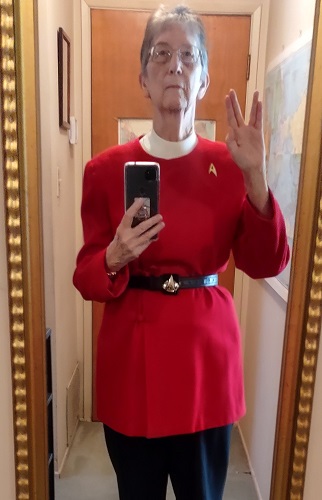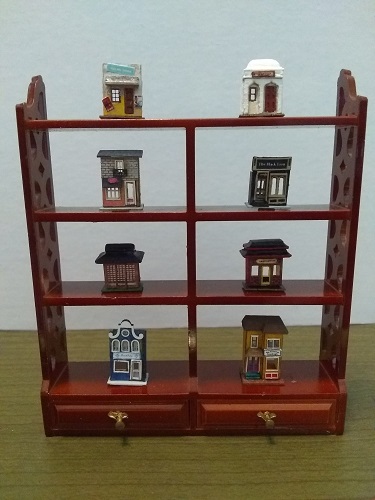 _____________________________________