We asked you to show us your camp pictures and you dusted off the old photo albums and obliged!
___________________________________
___________________________________
From Marty Young:
When I was 4 my parents bought a 1941 GMC school bus to convert to a home made Winnebago many years before Winnebago hit the market. I don't have pictures of those trips as my Dad took the pictures and movies. By the time I was 14 I had been in most of the US, Canada and Mexico. Dad would take his vacation to include July 4th so we would be gone from Ohio for 3 ½ weeks then the bus named See Why because my Dad's initials were CY. The on our return the bus would be parked on Lake Erie and Dad would commute to work. When I was 12 our trip went to Mexico City where we spent a week seeing all the sights. On our return we stopped at a motel where we had a room that Dad could use to empty the toilet. My brother and I were swimming in the pool and there was a band playing. Mom and Dad were talking to Mr. and Mrs. Whitney Bolton who had a column in 145 papers in the US. He wrote a couple of columns about us so our local paper came to take the attached pictures for our paper. They took all the seats out and put linoleum (yellow and grey) on the floor. There was 2 bunk beds in the back over the back wheels, a chemical toilet, icebox. 2 bus seats were put back in with a dropleaf table attached to the side of the bus with metal bands. Dad built 2 boxes and put bus seats on them which could slide into the table  space when it was removed where 2 short people could sleep. There was a 3 burner gas stove for cooking. Dad put a old hot water heater under the bus so we could running water. There was a buffet that help the sink , gas stove, dishes and pantry items. We did not have electricity but had screens on the windows. Light came from a Coleman lantern. The icebox had block ice. We did have airbrakes with airhorn just like the trucks.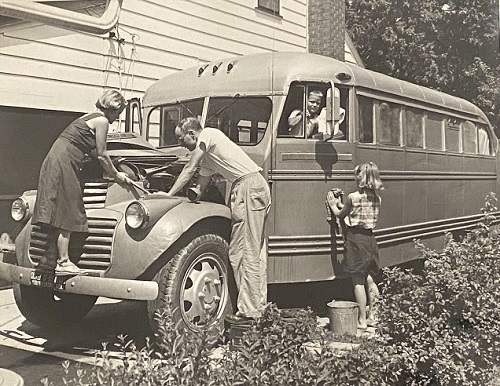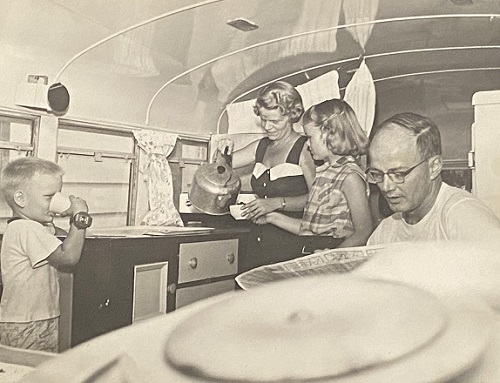 ___________________________________
From Laura Reich:
I did go to Girl Scout Camp Juniper Knoll, but back then we did not go around with our cameras, and if we did, they were not digital.
But we did camp a lot with our 3 kids in our pop-up camper. Here are two pics of our son playing with the prizes from Des Moines Adventureland. We tried to take the kids to one amusement park each year. This one is from 2004.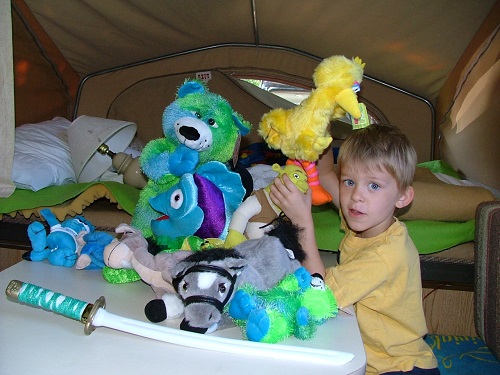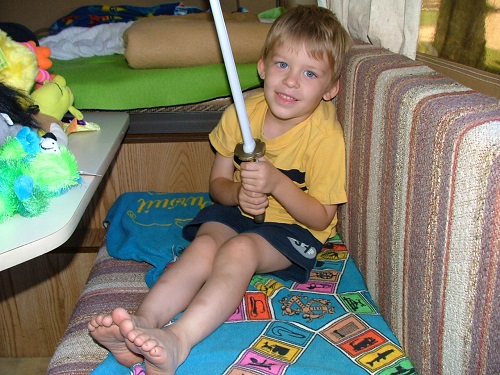 ___________________________________
From Cheryl Polito:
I never went to a camp but until we moved away from California we would go camping with family several times a year. Our big trip was 2 weeks long and it was a blast. In the families there were 10 kids plus other people would join us. It was all tents, no running water and our bathroom was a toilet seat on a wooden box over a hole that was enclosed by blue tarps and continually moved. We would bathe in the American Canal if we camped by there. We also stayed at Salton Sea and were always in the water. Us cousin ran and played and explored so many places. The memories are as fond today as they were all those years ago. My camping now consists of hooking up to our fifth wheel which I have filled with more crafts than I could possibly ever complete and then drive or should I say ride several hours to northern New Mexico to go to the San Juan river so hubby can fish. Last time we were there we spent 8 wonderful days. We need to go again.
___________________________________
From Terry Unnold:
My own camping experience was not at camp but rather camping up and down the east coast in a converted school bus. This is the miniature version I created for my husband's 65th birthday featuring the two of us on a typical adventure. Bob driving and watching tv in the windshield while I struggled to cook a pot of spaghetti without scalding myself. The scene is complete with cigars and maps for him, needlework for me and cheese for the little mouse hanging around and checking for crumbs. And a motorcycle parked next to our bed!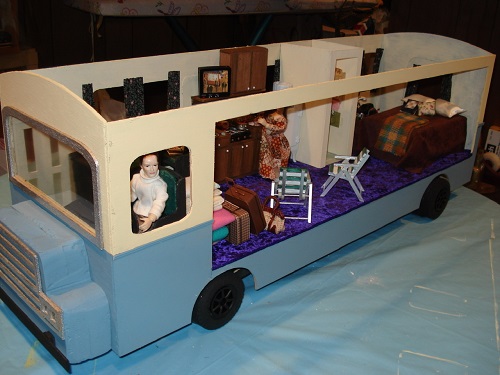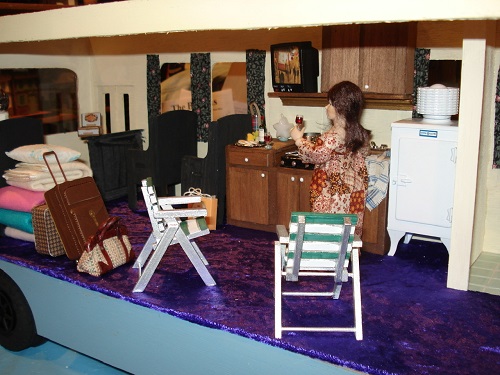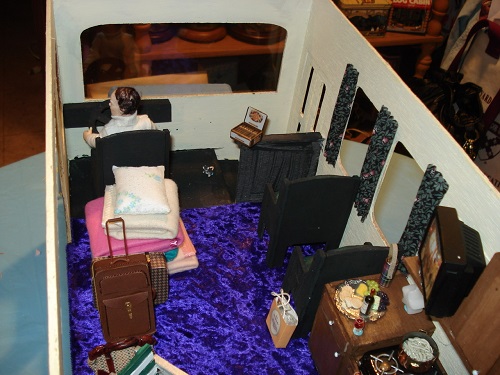 ___________________________________
From Janet Smith:
One thing that many of you don't know about me is that I do things other than miniatures and volunteering for miniature groups like NAME. I also work with a youth bell choir at one of the local churches. In the summer of 2019, we took the kids to Colorado for a Youth Bell Camp at the YMCA Camp near Granby. Amazing few days with lots and lots of ringing. By the end, they were able to play songs that our adult bell ringers shudder to think about (e.g. Pirates of the Caribbean!) They had workshops on rhythm with buckets and sticks and workshops using Maori sticks, sight reading sessions, etc. And, yes, there was time to get out and see some of Colorado.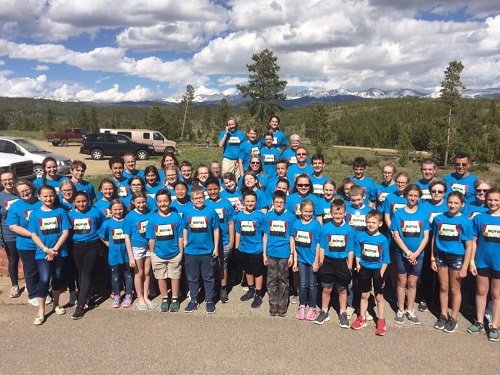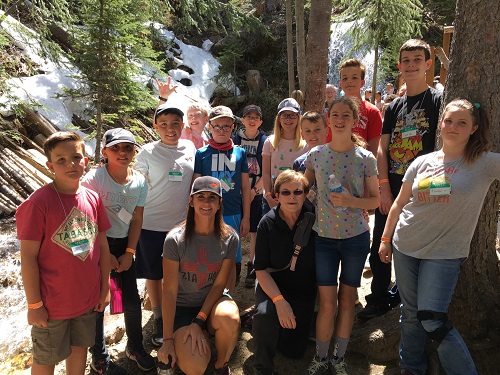 ___________________________________
From Lauren Rein and Erica Driscoll (sisters):
These are pics from two of our many camping trips as a family, including camping across the country from Monterey, CA to Baltimore, MD.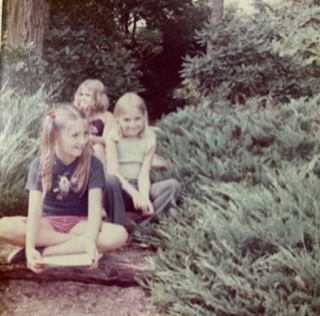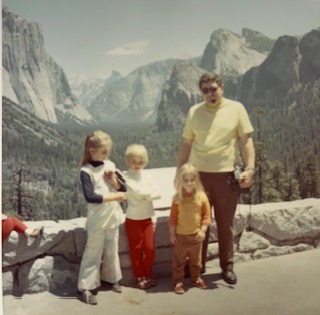 ___________________________________
From Ann-Cary McLain:
Here is a photo from Girl Scout (Brownie) day camp 50 years ago. I am in the middle row, 2nd from left with yarn braids to augment my short hairstyle. My mom (top right) was one of the leaders. I recall we learned a lot about Native American games and crafts, and made our costumes.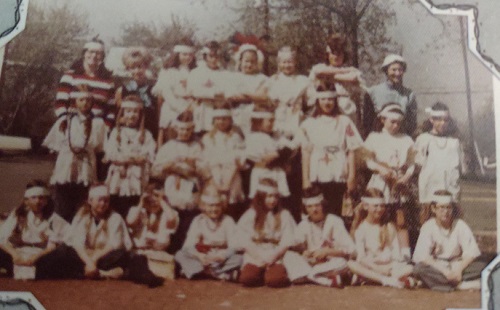 ___________________________________
From Shirley Foisy:
Unfortunately I do not have any pictures of my first camping experience. In my mind I can still picture much of it to this day.
It was about 1960. The road going around the north shore of Lake Superior was just fully opened. Dad got the idea of going camping several hours north of Lake Superior at the end of the road to do some fishing. It was true outpost camping on the shore of Lake Nipigon. There was a water pump and outhouse for modern convenience. Our neighbor loaned us his old WWII Army pup tent. It had no floor and only a tie to keep the flap "doors" closed. We were informed one morning by the ranger that a local Indian had been hired to come to hunt and kill the bear that had wandered into camp. Yikes! One afternoon as I napped my mother later informed me that a chipmunk had crawled into the tent with me. Being on the lake shore, we always had a nice breeze that kept bugs at bay. On the way there at another overnight campground stop was much different though. The "no-see-ums" and black flies in the wilderness of Ontario thought these city folk were fair game. The flies were so voracious in their biting they even took out tiny chunks of flesh.  
It is amazing but here we were hundreds of miles from home and another camper was a couple that lived in the Detroit area about five miles from us!  
Not far from the camp was a small Indian fishing village called Beardsmore. It was just a collection of a few buildings that looked ancient due to a lack of paint. It almost looked like a tiny town from the old west. We went there to get some food at the grocery store. I saw something I never saw before - a package of green hamburger buns. They were solid green with mold. Needless to say we left without buying anything.
Yes, Dad did get his fish. Late one afternoon he caught some really big Northern Pike and he invited several campers over for an after dark fish fry. On another day as I looked over the boat through crystal clear water at the beautiful pure white sand bottom of the lake, what appeared as tree bark strips moved. They were huge black leeches. One day Dad ran out of bait. He was not about to give up fishing though. He had a large red rubber band that he cut and put on the hook. It worked! Dad caught several fish on that rubber band.
About two weeks after we returned home there was a short article and picture about one of the towns we had driven through. It was reported that a young girl was attacked by a wolf at the church we had seen on our trip. If that had happened before our trip I would have been scared out of my wits.
Even with all these events, I did enjoy outpost camping and learned many things that helped me cope when a storm knocked out power for several days many years later.
___________________________________
From Rhonda Williamson:
This is a photo of me at our family summer camp. The necessary room is in the background. We really rough it, no plumbing, electricity, or phone service.
___________________________________
From Jackie Williams:
I am shown here the girl on right on front row. My last year at Rock Eagle. I spent at least 7 years traveling to Rock Eagle 4H club camp. This is my only remaining photo of those days. From the age of 10 to 17, I regularly traveled to Rock Eagle 4H Club for various activities in their well constructed and highly livable cabins with 4 rooms and a large bath room we campers spent the nights. It was comfortable camping with bunk beds. We did activities of all kinds with competitions, craft workshops, and campfire cookouts on the last night. There was a great lunchroom where delicious meals were served. I loved this place and time and the people who made great memories.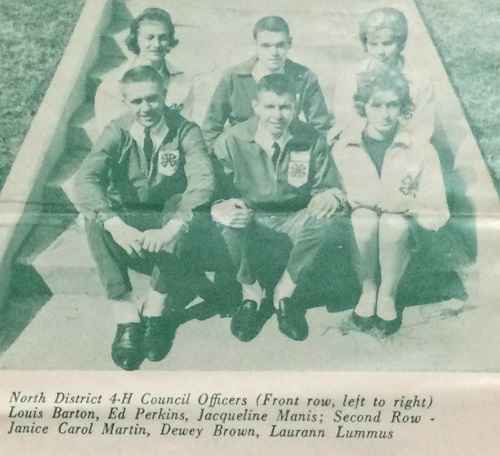 ___________________________________
From Preble McDaniel:
I have too many pics from the past so I am sharing one from this week.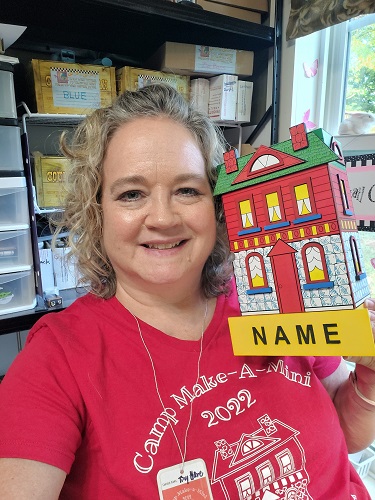 ___________________________________
From Diana DeWalt:
This was my very first backpacking trip in early 70s. It was down what is known as 7 Mile Hole in Yellowstone National Park (I was very much a city girl). We jokingly said it's 7 miles down and 35 miles up. We camped right on the edge overlooking Yellowstone River. Hubby caught fish and we cooked one for dinner. I was awake all night thinking if I didn't roll off the edge then a bear was going to get me. Rules have changed a lot since then and now no fishing is allowed and no tents that close to water. Little did I know that I would eventually work as an NPS volunteer in Yellowstone for 31 seasons helping people do exactly this trip and others.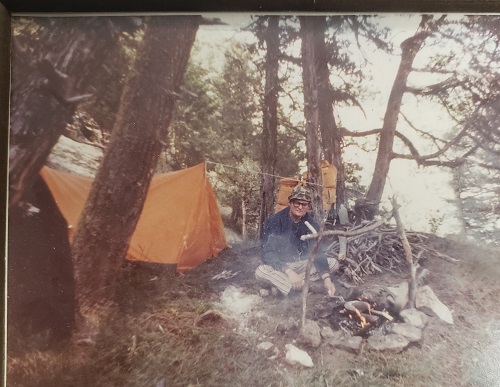 ___________________________________
From Dia Crissey-Baum:
I never got to go to camp as a kid, but as an adult I have gotten to go to the John Campbell Folk School in Brasstown, NC a few times. It's like camp for grownups! Most recently I went to a UFO quilting class, and finished two quilts I'd started on years ago but was never able to finish. The first quilt was a crazy quilt I began (at another class at the Folk School, as a matter of fact) when my older child (now 19) was 5 and I was pregnant with the younger one. It had materials from all the costumes and Easter dresses I made for her, plus some drawings she made just for the quilt.  The second one was a Mid-Century themed one I started a long time ago and never finished either -- until last year!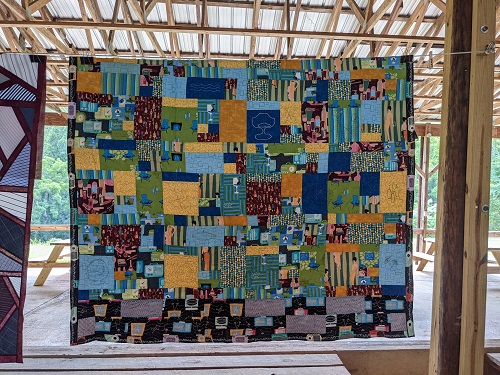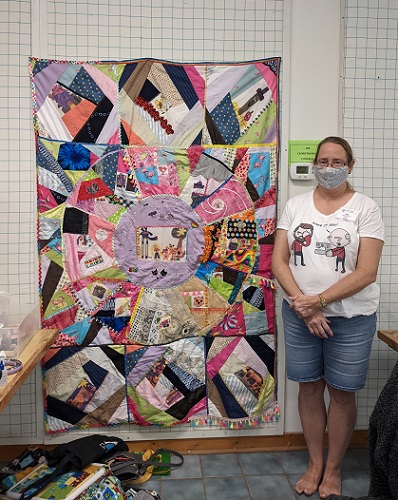 Also, last year I hosted a cosplay (Definition: the practice of dressing up as a character from a movie, book, or video game) camp with my kids' friends. We learned (the kids taught each other) all kinds of fun things like how to make plastic teeth that stick to your real teeth, how to style wigs, how to make realistic looking wounds, and lots of sewing too! Now I know why camp is so expensive. It takes a lot to feed that many kids for a week! It was a ton of work for me but we all had a great time.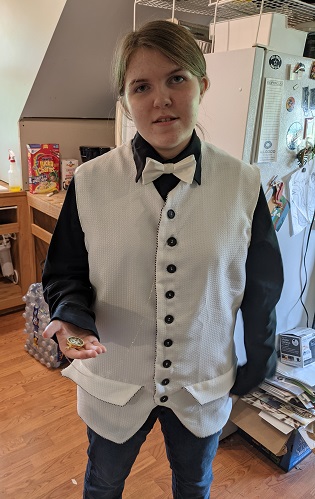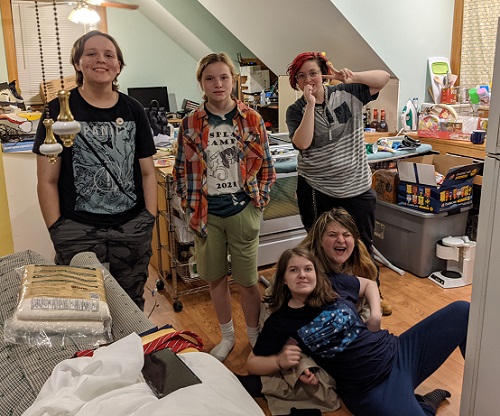 ___________________________________
From Ruth Goodger:
It was the summer of 1967 in Detroit, MI. This was the first session of  Fairgrounds riding school day camp with my assistant. Laura, 
Cindy on the smoker, my helper, and me (on right) trying to look like I'm in charge!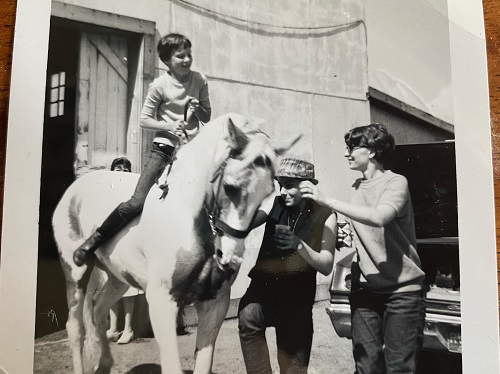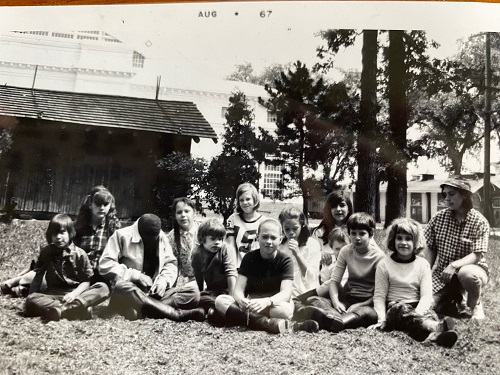 ___________________________________
From Estee Zeitlin:
Here is my first camping experience. The view from tent, the first fire, and some deer we saw along the way.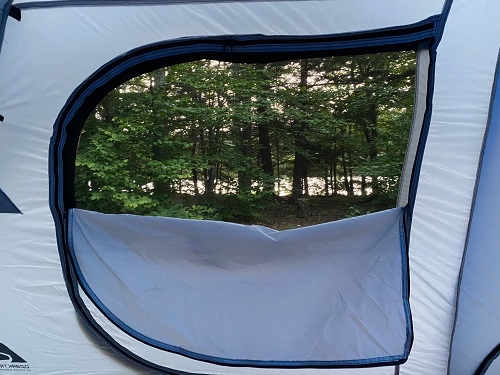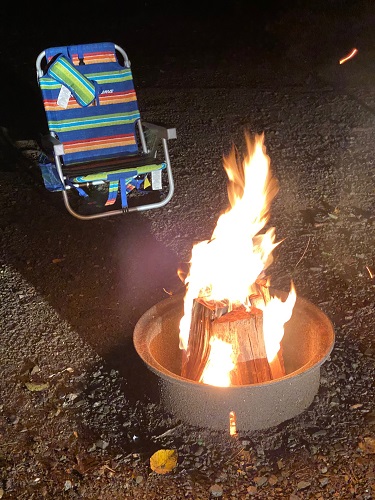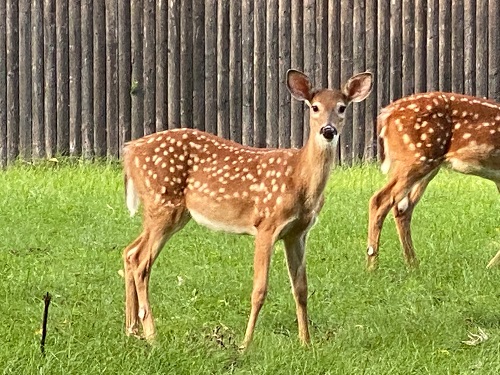 ___________________________________
From Paula Francis:
My first memory of camping was a LONG time ago ... 1958. I was a Girl Scout and I can remember vividly the smell of the pine trees and the crunch of pine cones under my feet as we hiked in the woods. A campfire and the aroma of melting S-mores makes my mouth water even now. Over the years, I graduated to camping in a 32 foot motor home with full bath and color TV, but being a part of nature in any environment has always brought me a sense of peacefulness and serenity.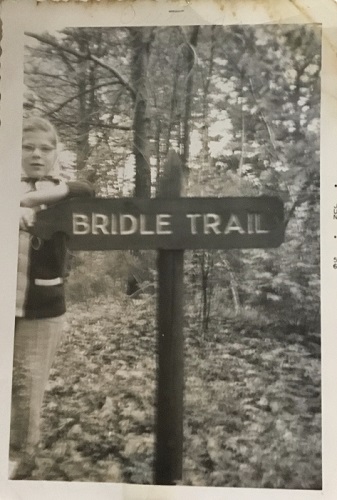 ___________________________________
From Cynthia Stencill:
The only camps I attend are mini camps! (Those are our favorites, too, Cynthia!) This is a miniature gathering I attended in Ontario Canada.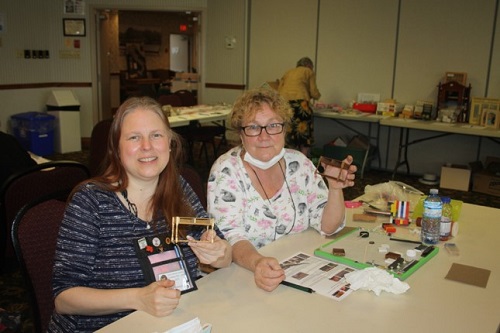 ___________________________________
From Vicki Scidmore:
Here is my horseback riding picture from a camping trip with my family on the Kern River in 1959. My dad and I on horseback and my mom, brother and myself by our tent (no RV's back then) -- just a tent, Coleman stove, sleeping bags, and our '56 Buick!