We asked you to tell us a story and send in a picture of your first miniature project. Here are the wonderful submissions. Enjoy!
______________________________________________
From Preble McDaniel:
My first miniature scale project (other than toys) was a 1:12 scale Greenleaf house. I learned so much from that house that 20 plus years later, when I wrote a paper in college to get 2 credit hours I used it talk about quality. My husband bought this kit and it was finally finished. It was however never furnished because I joined a club and I moved on to smaller projects both in size and scale.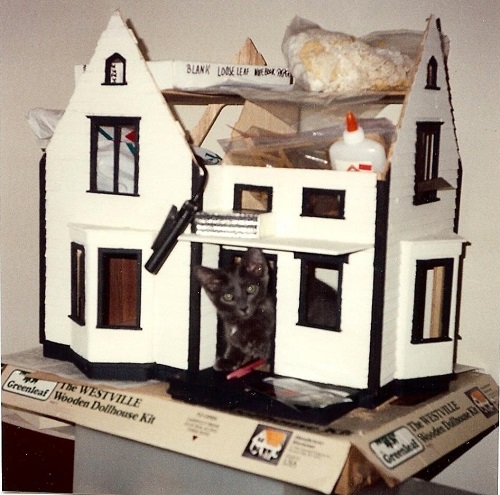 ______________________________________________
From Estella Pekarske:
My neighbor Linda Backelant got me started on my first project. We had gone antique shopping and found this dollhouse kit for $50. She said that would be a great project, I told her she was crazy ... lol ... but I bought it anyway. I will say it took me awhile, I learned as I went. Not everything is squared I'm sure. I decorated the inside with the thought of my sister's farm in Minnesota that we stay when we visit home. Each room having a little of home. My Mom's sewing room, our Mexican meals in the kitchen, the satin sheets in the master (a private joke with my sister), my gardening hobbies, and the animals on the farm. The pictures on the walls ... our girls' weekend with my Mom going up the stairs, the pictures of my son in the Marines, the photo in the bathroom, and a thank you card from my sister when she came to visit Georgia. The little girl's room ... I wanted to be a ballerina when I was a little girl, and having two boys, just had to do a girl's room. I could go on, so this house has been my treasure of fun memories and the beginning of my adventures in Miniatures.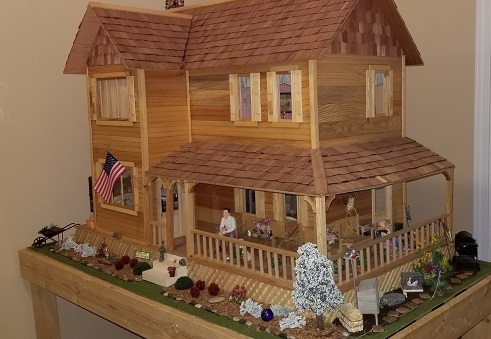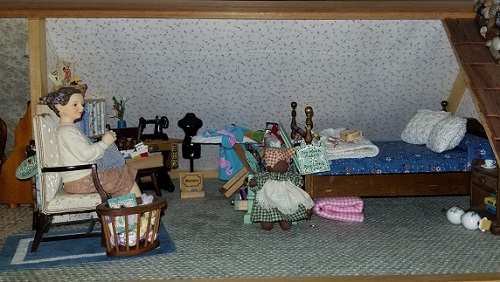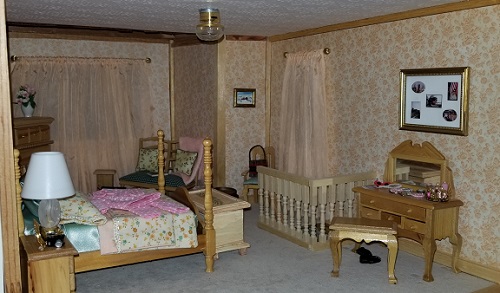 ______________________________________________
From Julie Jones:
I just started miniatures this last year and one of my first projects is making a z-scale (1:220) replica of my family's home front. My dad has built a few model train sets over his lifetime and a couple of them were z-scale, which I always thought were so neat. One of the things he had done was 3D printed most of the neat buildings and homes from his hometown and he also printed a model of our family home and barn on the property. I wanted to put this models in a diorama so I started my home front project. The 3D print of the house was perfect but I really wanted a little more detail in the barn, not to mention I have wanted a porch on the back (of the real barn) for a while. So I decided to try and build one of my own. It is made entirely of cardstock except the screen on the back porch, which is tulle that I painted black.    
Since starting this project, I have found two dollhouses that my Momma started but didn't finish. So in her memory, I have completed the dollhouse builds and am now turning one of them into a family theme, hand making all the things that remind me of the members of my family. Late last year, I reached out to a local miniature group and have met a beautiful group of ladies! They encouraged me to join NAME and also to attend the E3 conference in January, where I was able to meet even more wonderful people who share my love of littles!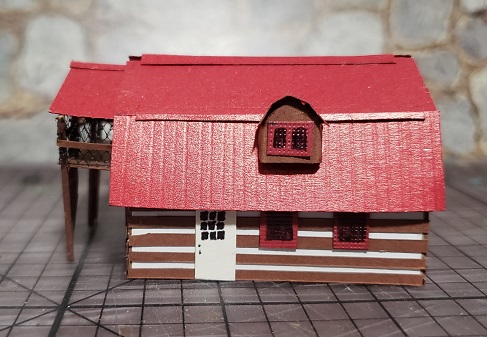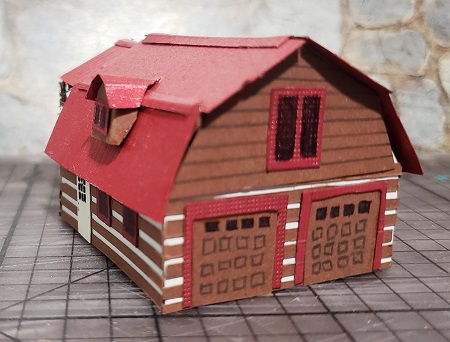 ______________________________________________
From Lesia Lennex:
I'd been a member of NAME for a few years when a national convention came to my state. The project I'm sharing is my first house build in 1:48 scale. It was Debbie Young's "Erin's Cabin," a workshop at the 2001 Louisville convention. Loved that convention! So many people and so much to see and do! Needless to say, I was hooked on quarter scale and all things Debbie Young!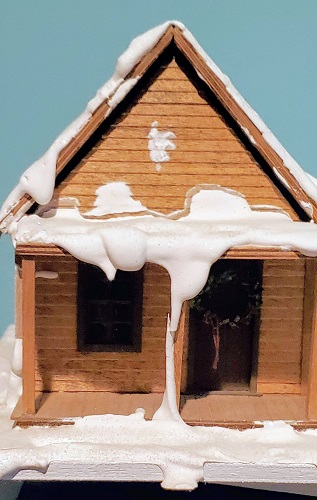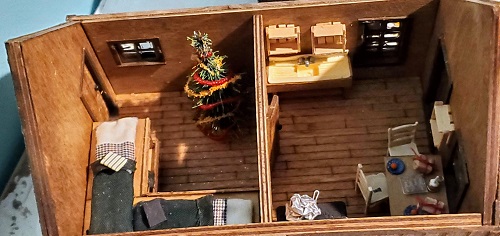 ______________________________________________
From Trish Billard:
The first kit I ever made was at the Good Samaritan Showcase of Miniatures in either 1988 or 1989 -- I can't quite remember which year. It was what we know today as a round table, and I made a Halloween trick or treat bag with treats sticking out of it. The first kit I bought and made at home was a miniature Christmas tree, bought at that same show. It went into my first room box, which my Dad made with me. That Christmas box was based on a project in Venus and Martin Dodge's Making Miniatures in 1/12th Scale. By bringing that box to work on every year, and adding to it over the years, I introduced many folks to miniatures. I was delighted and surprised at how well they'd remember the box and notice what was new. If I have to grab only one miniature before escaping a wildfire, that box would be it. It was made by my Dad and contains that first Christmas tree, a side table given to me by my grandmother for my first dollhouse when I was a child, needlepoint stockings made by my Mom, among other things I made or bought that are sentimental to me. Here are a couple of pictures. It's hard to show a picture that both shows the lights working and lights the details properly. Looking for the picture shows tells me I need to do a better job of documenting and filing them!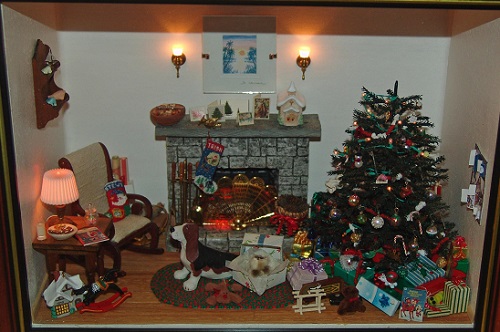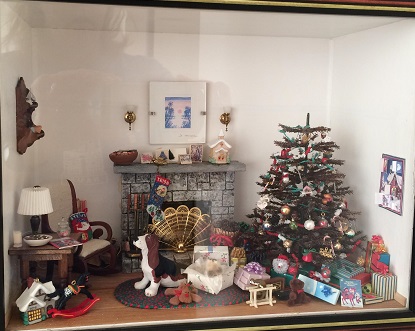 ______________________________________________
From Shannon Moore:
For many of my early pieces there weren't such things as digital cameras and besides that I didn't bother to take pictures of them. This piece is one of my early serious pieces of furniture. One photo shows the actual carved back. The other photo shows my hand holding the back with the book that I used for reference in the background. I think the timing was in the early 80s.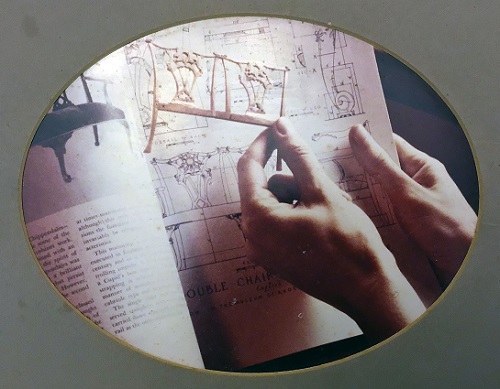 ______________________________________________
From Ann-Cary McLain:

Santa brought me my first dollhouse in the 60's - a fully furnished Petite Princess house. That house, along with encouragement from a family friend who was an avid doll collector, got me hooked on miniatures. My first room boxes were made in Girl Scout cookie delivery cartons. At a local miniature show I attended as a young teen I met Joe & Jackie Andrews and signed up for a VA Miniature Enthusiasts Back to College weekend (and returned for 6 more years!) While I still love 1" scale, I now do more 1/4" scale projects because of space issues. I am definitely grateful to have been part of NAME for 42 years and counting!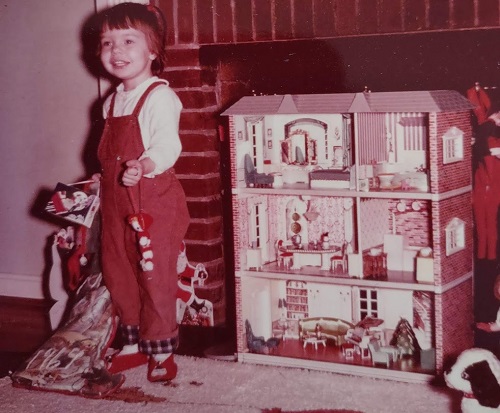 ______________________________________________
From Mae Karoli:
This picture shows the first kit I ever made back in 1977, the sewing machine, and the first project I made when joining my local club in March, 1983, the suitcases. These look pretty sparse compared to most of the pictures already posted but the sewing machine and suitcases were my first miniature projects as an adult. I had made a decorative modern sculpture to go with my Petite Princess furniture in the 1960s.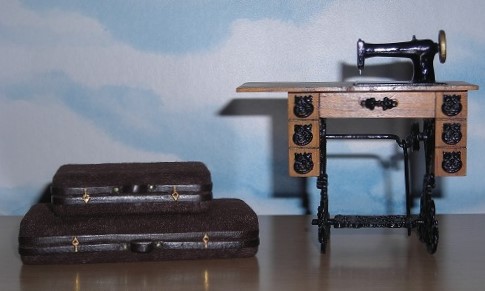 ______________________________________________
From Debby Albert:
My friend Lucy invited me to a club of mini friends. This is a picture of a picture of my first project because I gave my gazebo to my mother in law for Christmas. I always make sure I photograph any minis I make. Where it is today I don't know.  At least I have a picture to remember.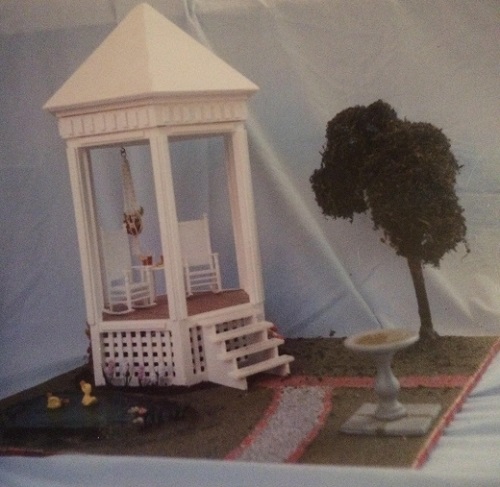 ______________________________________________
From Shanley Pease:
I am new to NAME, and pretty new to miniaturing in general, and I am loving it so far. I've attached a photo of a fairy garden I made last summer. It was my gateway into miniaturing. I loved creating this tiny world so much that I started delving into kits and other projects after this.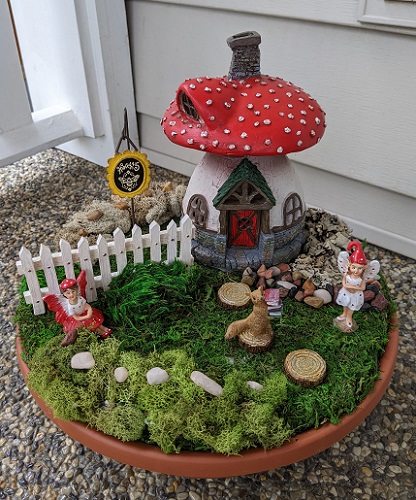 ______________________________________________
From Mary Myers:
This is my project from the first state event I ever attended. It was in 2007, I believe; did not sign my piece. Romaine E was the president of MEOW in Maryland and introduced me to NAME and my continuing addiction. Since then I have served as Maryland state representative, regional coordinator and president of MEOW, hosted a state day and our annual Christmas party. I would never have imagined all the fun, friends and travel I have enjoyed since joining NAME.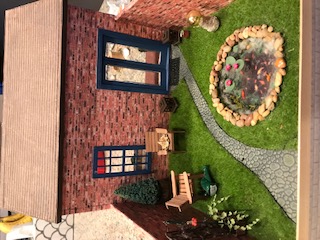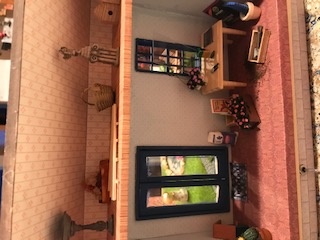 ______________________________________________
From Jane Holbrook:
My very first project was a dollhouse made by my wonderful husband that I unfortunately no longer have. I never took a photo of it either. So, the picture below is actually my second, but the first where I did much of the work myself. I made the nursery in a class taught by Lynn Fuller back around 1980 after my first son was born. I made some items and painted everything. Lynn made the baby. Then in 1983, she made another baby for my second son and placed him in the basket resting in the crib. During the lockdown, I revamped the nursery. I found matching wallpaper to replace some that was sun damaged, bought and painted the crib and added some new toys and other small items.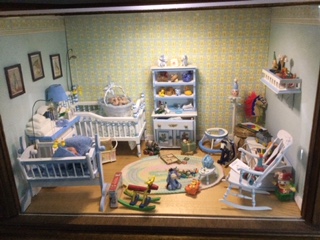 ______________________________________________
From Rita Crawford:
One of my first miniature projects was this taco buffet class taught by Mary Eccher at an Andover, Massachusetts miniature show in the early 90's.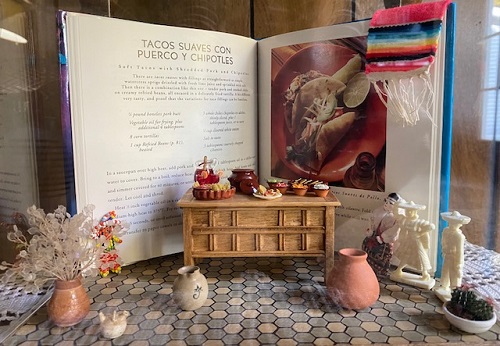 ______________________________________________
From Barbara Thornton-Hill:
Well, this is not my very first mini project as I do not have that any more. However, this is my first 1:48 scale project done in a workshop at the Village Miniatures Store in San Jose, CA sometime around 1989 or 1990. It was taught by Debbie Young who worked there in those days. As I look at this, I see all the details I never even thought of doing at the time and, of course, still haven't done. In today's world, I would have landscaped this but didn't even know such a thing existed back then. Snow on the roof would have been good, more accessories inside and out, something on the balcony, and on and on but it is certainly good to keep it this way so I can see how much I've learned over my almost 40 years in minis.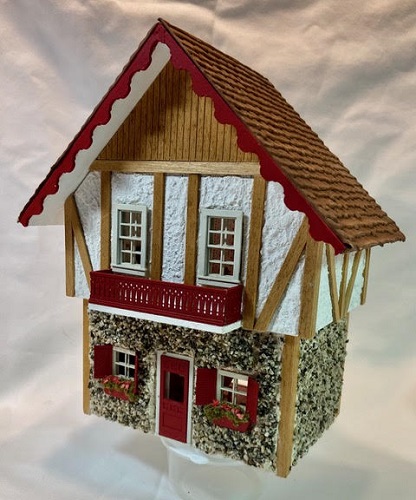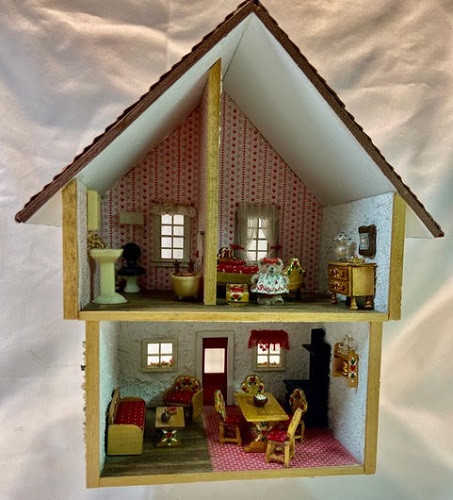 ______________________________________________
From Judy Doe:
Here are four photos of my very first mini that I probably built in the 1990's. It was a 1" scale beach house project from the pages of NUTSHELL NEWS - I don't remember the date of the issue. I think it was a project by Joanne Swanson, but I am not sure.  
I was living in Las Vegas at the time, working for Nevada State Welfare, and remember taking the house in to work to show it to everyone. I belonged to the Las Vegas Miniature Club there, and that is where I got my start in Mini's. My eldest granddaughter has always loved this house, and she is now 30, but has requested that it go to her when I start to give up my collection. I live on Cape Cod now, and am a member of the Cape Cod Miniature Society, although for the last two years I have not attended many gatherings because of COVID. I hope to get back to them this year. I am doing strictly quarter scale now, as I ran out of room for 1" scale structures!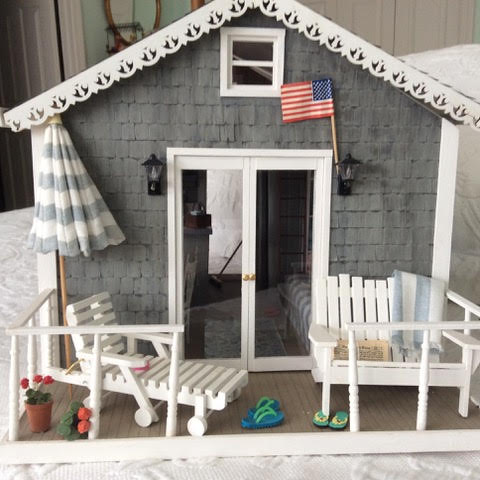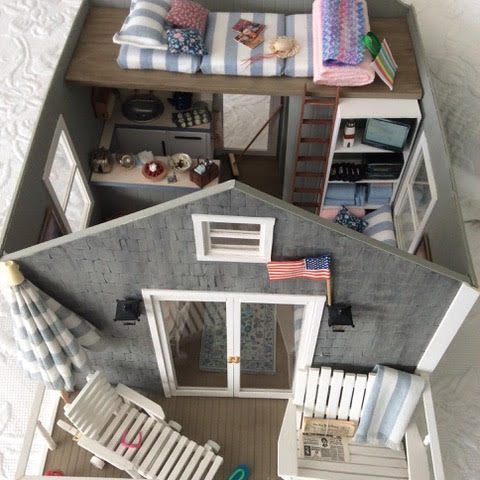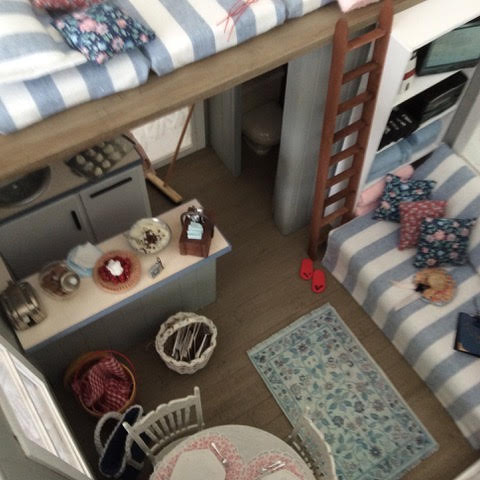 ______________________________________________
From Cindy Bottasso:
My first project was a little too ambitious for me -- the biggest dollhouse I could buy. I opened the kit and couldn't believe how many pieces there were. My living room morphed into a construction site. My grandfather visited and complained that he didn't get to keep his chop saw in the living room. Sadly I found quarter scale before I finished everything in the house.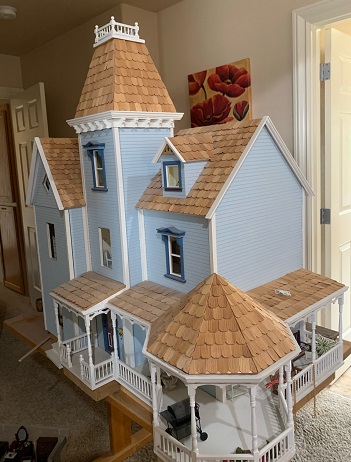 ______________________________________________
From Ruth Goodger:
Need to send these first minis in tribute to the Mott's. These were assembled In 1976/78. I had ordered a book from them and accidentally got the book with all the color prints to add to minis. They said keep the book. Look what they started! In 1965 went to Knots Berry Farm but was with my brother's preschoolers so didn't find the miniatures there!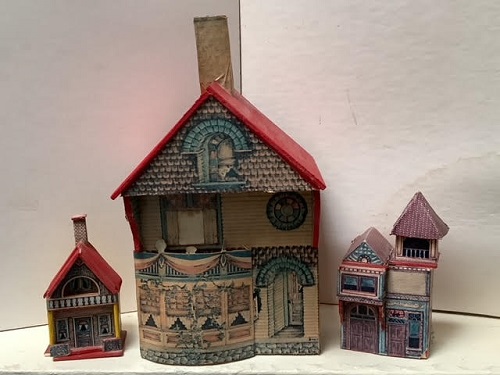 ______________________________________________
From Colleen Walker:
Whenever I had lunch with my husband at his office, I liked vising a craft shop in the neighborhood. They also carried dollhouses and that's what I asked for that Christmas of 1988.  My husband said "you know it comes in a flat box". Of course, I knew that and I thought "I can do this"!!! That was the beginning. 
I built my dollhouse and occasionally needed help with building it. There were questions for my husband and for the manufacturer of the dollhouse. I realize now how basic the questions were. 
Like a lot of us, I quickly realized how much room a dollhouse occupies and I didn't have that much room. I switched to room boxes. Oh how much easier they are to build and decorate. You have a finished product to show off to your family and friends. I started building room boxes in late summer of 1989. Since then, I have done tons of room boxes. 
This is a photo of a very early Garden Room Box.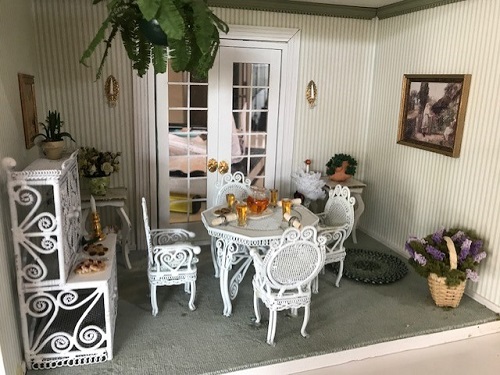 ______________________________________________
From Janet Vivian:
The picture attached is of my first miniature project, made before I joined NAME in 1988. It is a General Store and is amazingly intact after 34 years and 3 household moves.
I started by adding architectural interest to a bland roombox approximately 15"W x 11"H x 11"D in size: a 2-level display floor, railing, and a corner closet, all stained to match.
I then used a general store accessory kit by Realife Miniatures which made realistic replicas of items such as a Wall Phone, Wall Clock, Coffee Grinder, Coffee Bin & Scoop, and Wooden Crates.
Scratch-made additions are the Proprietor's Desk & Sign on the right, a Fabric/Notions wall shelf on the left and custom fit Shelf Unit on the back wall, painted green. Dresses hanging in the corner closet were made using 1" scale patterns. Fruits and veggies in the front were made in a Mary Eccher class, and precious knit/crocheted items on the railing were handmade by talented special friends.
This roombox holds a special place in my collection to this day, and I have fond memories of the fun I had both creating its structure and then adding items as I found them at the many miniature shows and shops which were available at the time.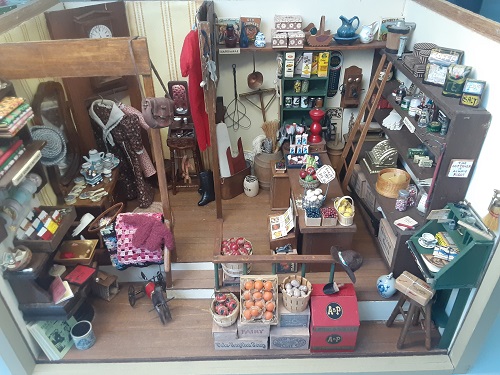 ______________________________________________
From Terry Unnold:
I remember the first minis I made - sugar cookies - using some sort of salt dough that I concocted on my own at age four or five to put in a clay grocery bag to ensure that the dolls in my dolls house wouldn't starve. Not easy to remake grocery bags out of clay but that's what I remember using - khaki colored clay that stayed sort of soft for life. Sadly my dolls' sugar cookies are only a memory.  All of my childhood toys and dollhouses were given away to children who needed them more that I did - my aunt worked in an orphanage and made sure of that.
At first I wasn't sure what I had from my early adult days of making minis and then I remembered my first roombox had survived. I put it together as a class offered by an early online Bulletin Board group on the online service, Prodigy, in the 1990's. The group was dedicated to miniaturists in the US and UK. I printed out the designs someone posted for the walls, floor and stained glass window; cut out foam core walls, and added clapboard. I was stumped by how to make a curved window frame until someone pointed out that balsa wood was easy to cut. I decided to use the roombox to exhibit all the minis I received in the mail from an online swap and had to expand beyond the room to include a working, folding lawn chair and a now missing barbeque. That lead to my first landscaping project.  As you can see I was in my "dried plants from the craft store era."
There was a miniature show the late Jane Haskell held in my hometown of Stamford, Connecticut that always had wonderful miniature exhibits. I contacted Jane and she allowed me to exhibit my Prodigy Swap Roombox along with flyers explaining about their online miniature group. I also contacted Prodigy and they sent along a batch of promotional items to give away that included pencils, buttons and luggage tags.
That early online group led me to the NAME clubs I have now belonged to for many years but I'm still enjoying miniatures online.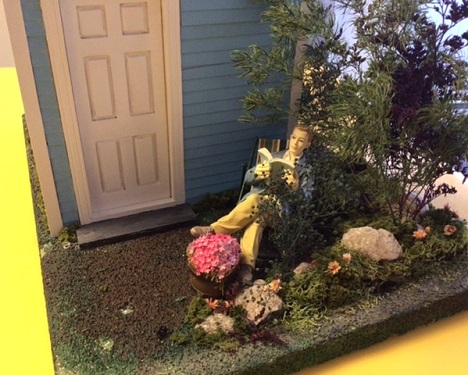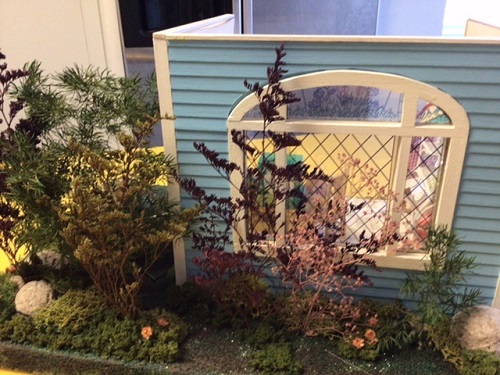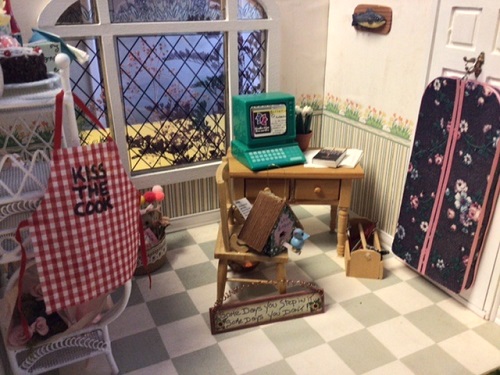 ______________________________________________
From Carolyn Eiche:
This is my first completed quarter scale project. It's actually the second quarter scale building I made, but I never finished the first one -- you know how that goes! I made it in a class with Sue Herber and Georgia Matuschak in the early 1990's at the Handcrafters of Miniatures show then run by Jane Haskell in Connecticut and Massachusetts. These shows were also the first time that I heard about NAME.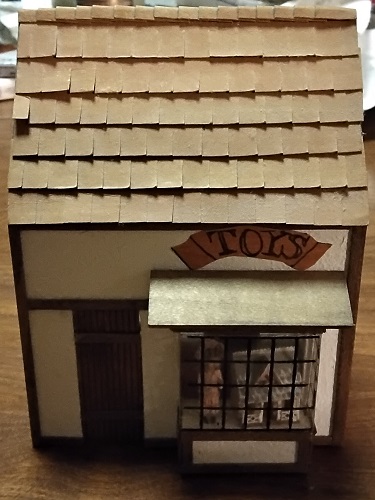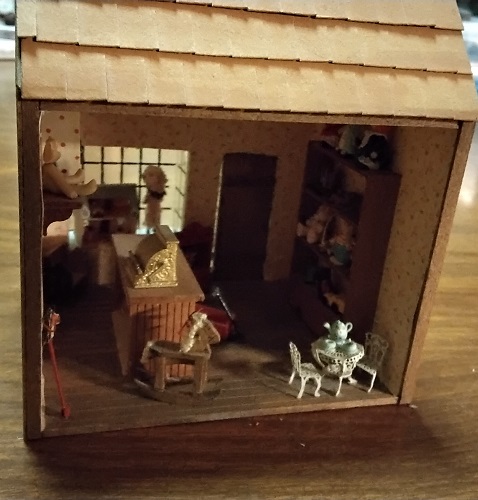 ______________________________________________
From Cheryl Polito in NM:
When I first got into miniatures I was mainly interested in miniature porcelain dolls but I needed a place to put my dolls and after ordering several kits Hobby Builders had their yearly contest and I fell in love with the travel trailer. My doll is Fanny Flamingo and obviously she loves pink. I crocheted and made everything that did not come with the kit. I did not finish it in time to enter the contest but I love it so much. This trailer also inspired my brother to want to make his own but sadly a month after sending him a kit he was diagnosed with cancer and passed away 8 months later and at his funeral my sister in law gave me the kit I bought for him. My trailer was lost in our fire but since I wouldn't leave my doll out to get dusty I still have Fanny.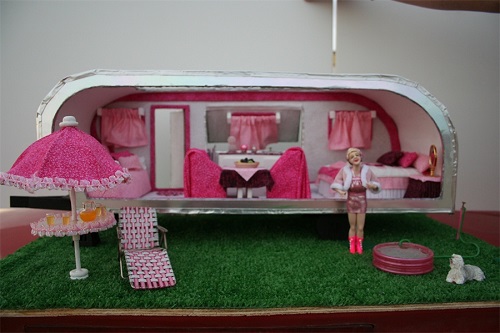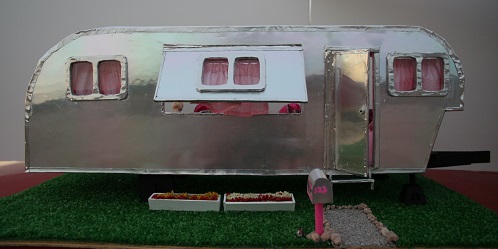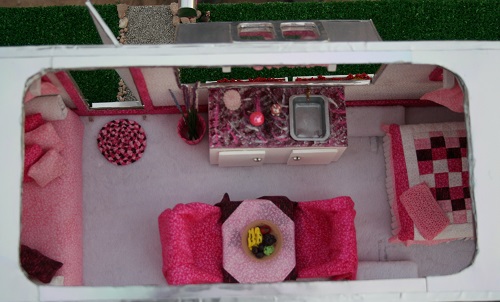 ______________________________________________
From Julia Greenhalf:
Firstly thank you to the whole team for coming up with ideas, projects and challenges amongst so many other things to keep us inspired and motivated during the lockdown.
Whilst not my first project, this is an early project at a club I belonged to. We had to create a scene based on a book. I knew very little about miniaturing then but I had a rat figure and something that looked like a boat - looked more like a dried out banana skin!! I gingerly entered the challenge and came away with the award -- how embarrassing was that! -- but such a boost to my miniaturing nearly 35 years' ago!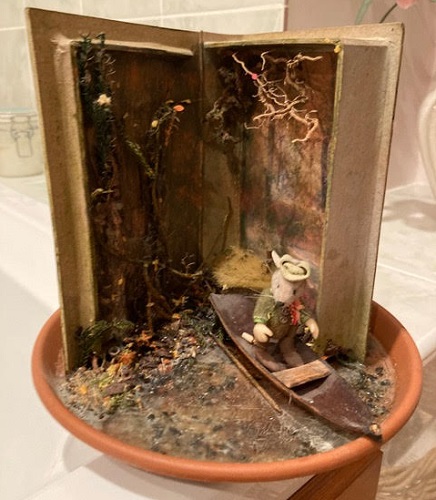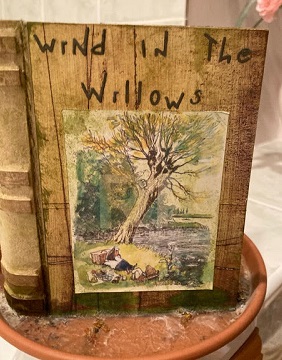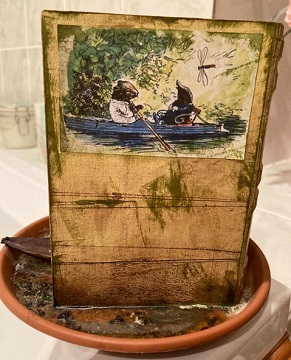 ______________________________________________
From Jackie Williams:
This is a little kit in 1/144 scale. I bought this to build and I did do the landscaping and furnishing it.  When I laid out the pieces of the kit I called my hubby, Gary and asked him to help me figure out what piece was a wall and what was a floor. He picked up the laid put pieces and took them away and the next time I saw it he had built the structure. He photographed it and took the pictures to work to show his fellow employees. I quickly bought him another kit to build. This is a very significant miniature treasure because its the first time he ever helped me with my hobby.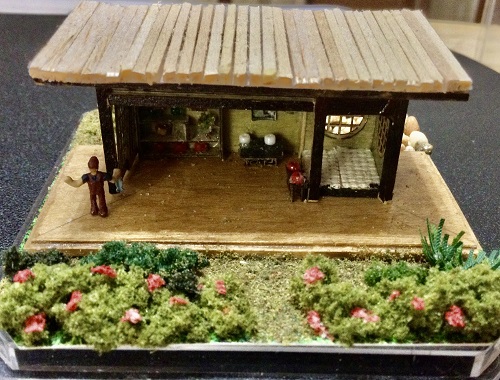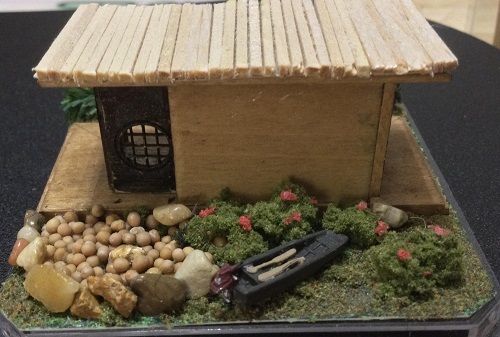 ______________________________________________
From Julie French:
My first 1/4" scale project is this teacup scene. I was attending LSU and was directed towards a miniature group there in Baton Rouge. They did this as a club project and while I was terrified of the smaller scale, they helped me to learn some tricks of the trade. Now I'm obsessed with 1/4" and it's my preferred scale to work in.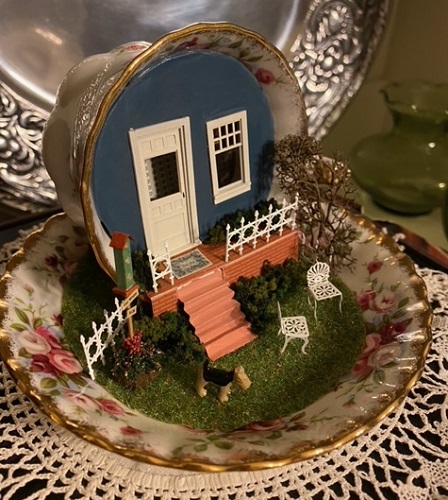 ______________________________________________
From Julie Stuckmeyer:
Although this wasn't my first project (check out the other memory page to see my first ever dollhouse), this was my first project after about a 15 year long hiatus (somehow raising two autistic sons never seemed to give me much time to work on minis). This was originally "Lisa's Cottage" and was my entry to miniatures.com's Creatin' Contest in 2010. I loved this project and even though it didn't win anything, I was much prouder of it than the house I did the following year when I DID get an Honorable Mention. I especially loved the little earring display case I made.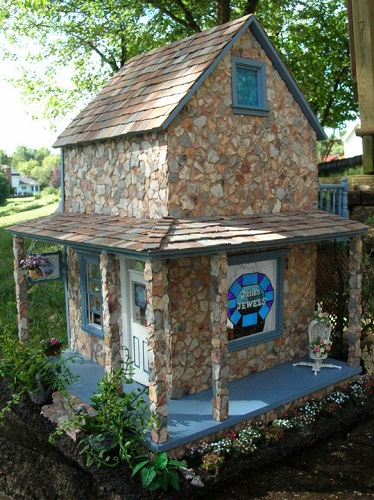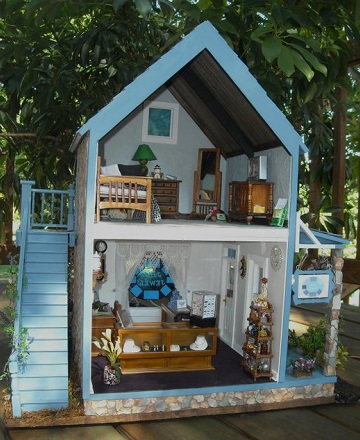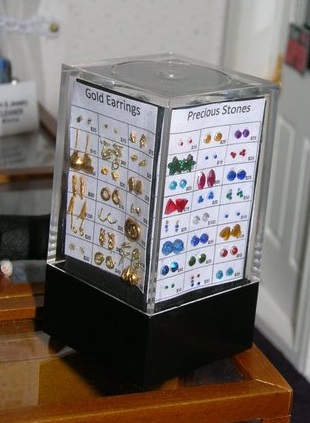 ______________________________________________
From Sally Lonn:
This was my very first project in a class with Joann Swanson. I took two classes from her in a miniature store in Pioneer Square, Seattle Washington. I learned so much about scale, finishing the scene with a window and view and look at those "brick walls"! Joann believed in using as many found items as possible. I used one of the early publications to make all of the plants!!!! I'm still pretty proud of this one.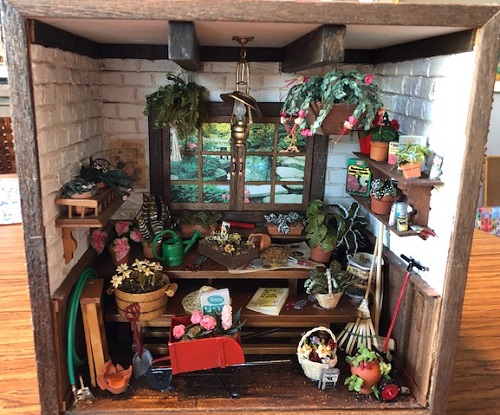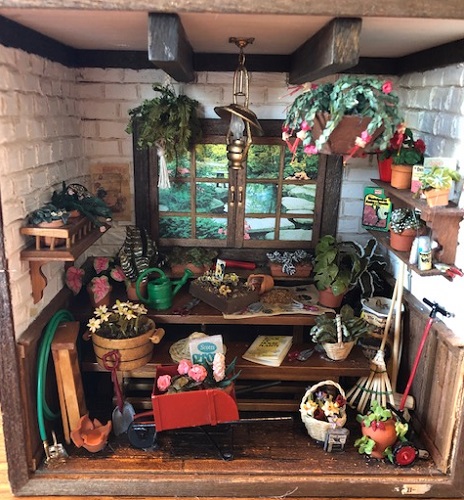 ______________________________________________
From Jessica Morris:
My grandmother bought me my first dollhouse 30+ years ago and I have tinkered with it ever since, but it wasn't until recently that I took on a "project". It took me the majority of 2021 to complete, and to be honest I could probably work on it another 6+ months; if not another year. I heard of the "Creatin' Contest" sponsored by miniatures.com and thought I would give it a go and see what I can accomplish. Let me tell you ... I learned so much and fell in love with the hobby even more. I am very proud of what I was able to accomplish and what I learned about myself as well as what I learned about this craft! Much respect to all the miniaturists out there!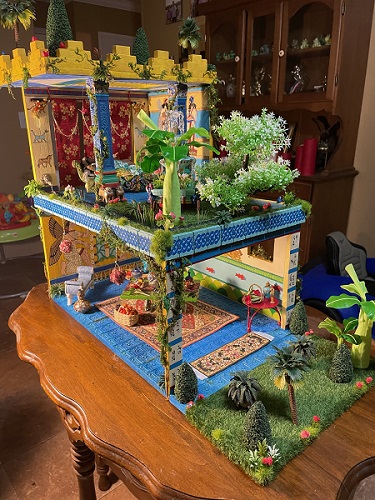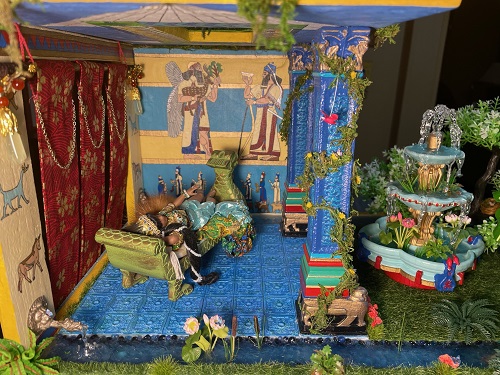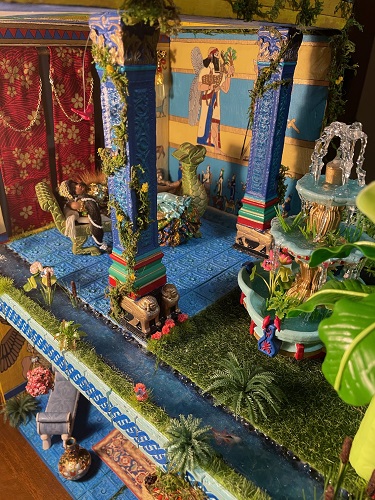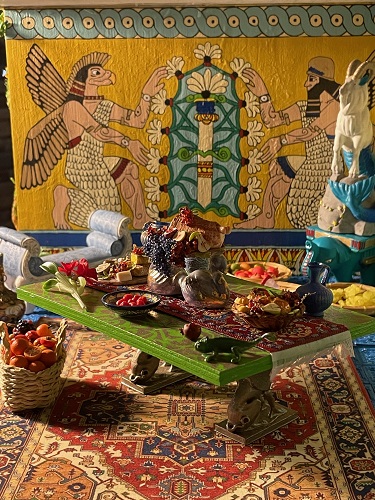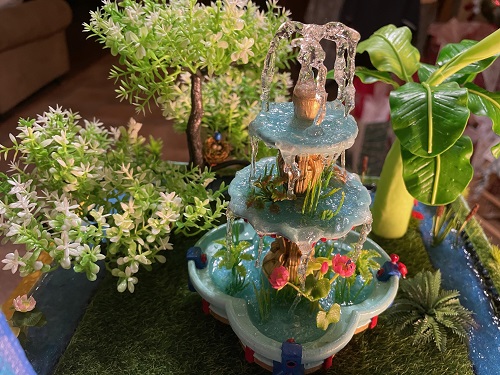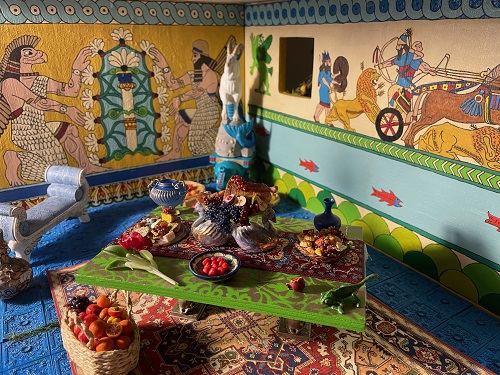 ______________________________________________
From Bonnie Cross:
______________________________________________
From Michael C Starks:
I'm the 'Engineering Support' for New Mini Bunch ABQ (N1). This is my first mini, a Chippendale drop front desk from Shenandoah Designs. My mom, Christiane, has been doing miniatures for 30 years, and convinced me to build this. I'm mainly interested in 3D design and engineering, but I help out with miniature challenges in the New Mini Bunch group from time to time!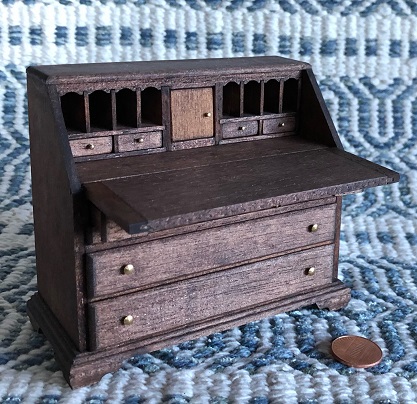 ______________________________________________
From Natalie Maguire:
This is the first 1/48" scale that I made. I'm not sure of the date but definitely over 25 years ago. It is an old planter that hung in my grandmother's kitchen. When we moved her to live at my parents I took it.  At the time I just thought I would put new plants in it but years later I realized that if I turned the bottom to become the back it would be great for a miniature scene.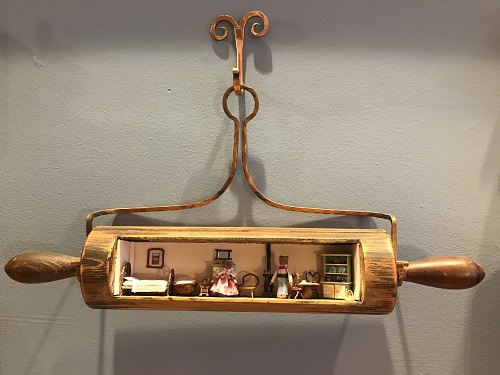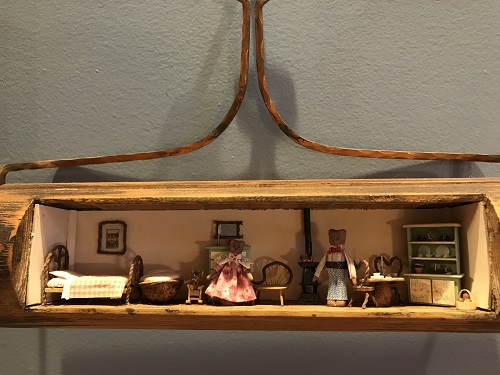 ______________________________________________
From Suzie Aguilar:
My first mini project was a 1/12 scale bathroom in a shadow box. My mom and I discovered our love for dollhouse miniatures together when I was about 15 years old. We found the 'prototype' project in an office for offshore drilling equipment. They directed us in finding all the items needed to make one for ourselves. This lead to all new places to explore and learn about miniatures.
The photo is a newer version of the first shadow box. I had 'remodeled' it about 20 years after the original one was made. The first one was in a much smaller shadow box.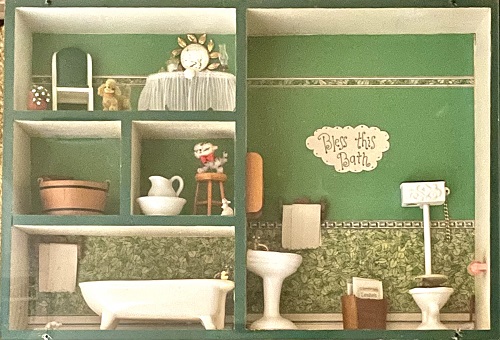 ______________________________________________
From Christiane Starks:
My first miniature was a 1:12 hutch. I was recovering from a hospital stay in 1991 when my father-in-law (an experienced craftsman and builder of many dollhouses) decided working on a miniature kit (under his watchful eye, of course) would be better for me than just moping about.
This hutch has as many imperfections as it does memories for me and I cherish it! The first miniature I did on my own was the braided rug. Oh my, after trying to iron it to make it look respectable - and I miserably failing at that -  I almost ditched it, but I decided to keep
the rug, and even display it in a room box that sits in our great room, as a reminder that most of us don't start with a perfect creation on their first try.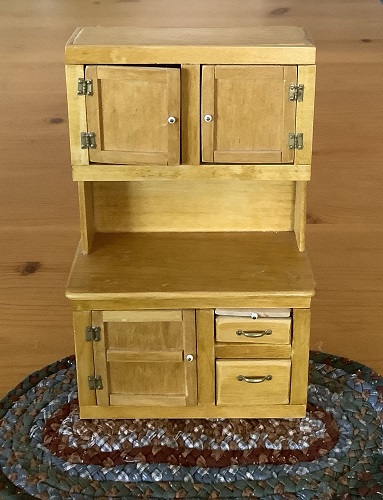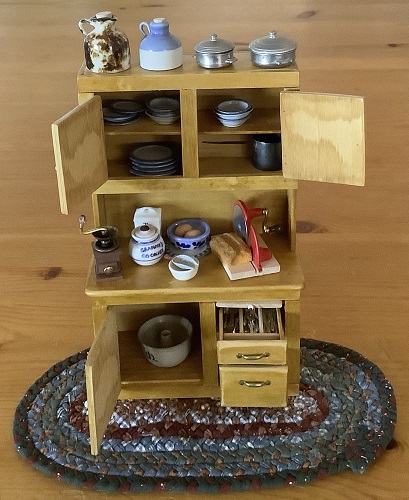 ______________________________________________
From Ruth Goodger:
This scene was made in 1981 before power tools etc. were available to me. It is a half gallon milk carton cut in half. The red carrying handle is still in the roof top!  I made two of these with bead head dolls and pipe cleaners. Most of my projects were from Woman's Day or McCalls projects in 1 Inch scale.  I always had to check out Woman's Days Christmas issue as a teen.  I still have these plans and many used felt decorations. My first mini show was in late 70's in Denver.
The bead head doll was Molly -- a roundtable that I adapted from a 15 in doll I'd made. It was (our) Grand Junction first and last mini show in the 90's. Coleen M came from Utah with her wicker.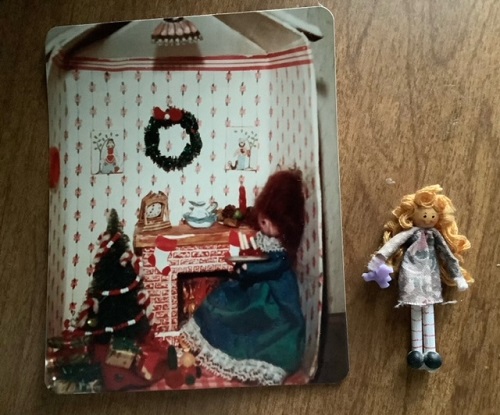 ______________________________________________
From Vicki Scidmore:
My first house bought in 1980 when a mini shop opened nearby. The kit was by Arrow Mfg. (It had the most rooms). Decorated in Regency style as little Tudor was available then. It is gone now as I only kept front openers and do mostly rooms or smaller scale to save space.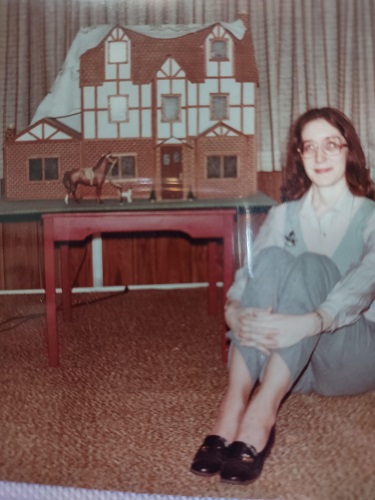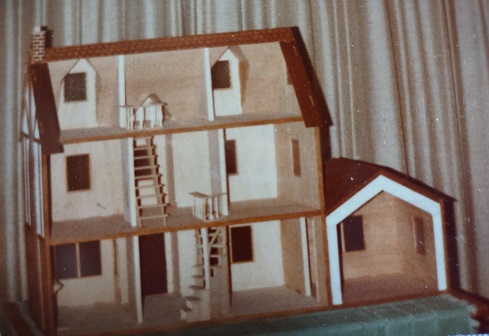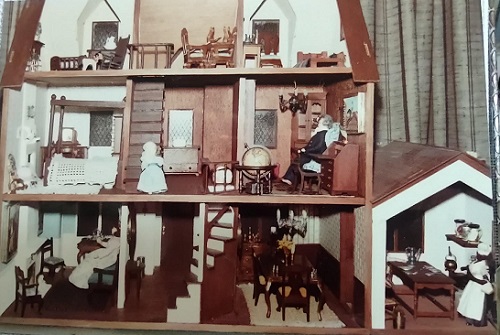 ______________________________________________
From Jene Bondi:
My first mini project is something that I called Twilight Years. An old women who lives in a broken down shack is waiting for her son to come home. He never does. I made this about 15 years ago.  I had $25.00 to spend and that was it. Through the years I added the cat, windmill, and acorn house. Everything else was either made or given to me. My local dollhouse store (Lynlott Miniatures Dollhouse Junction) donated the wood door and railing and pieces of scrap wood. She is the reason I continued to make minis. She gave me encouragement, and helped me with my love of minis.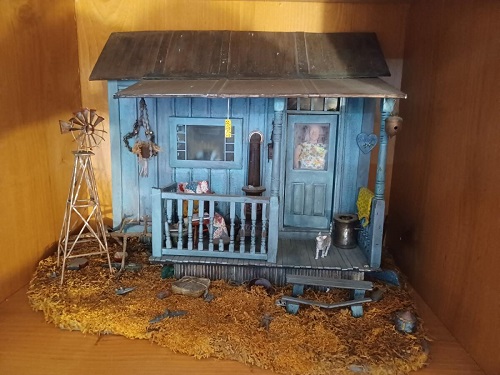 ______________________________________________
From Patty Johnson:
Here's a picture of my first mini project. It was in the Nutshell News magazine. Hubby Russ cut the project out of wood for me. My cutting skills were not good but luckily his were!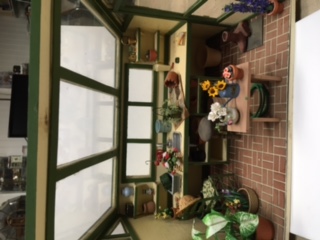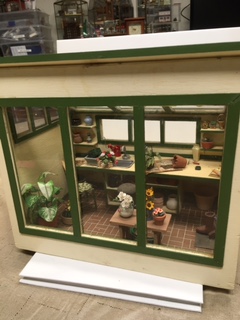 ______________________________________________
From Carol Shea:
My very first quarter scale was a scene in an unusual container. It was a fabric softener bottle.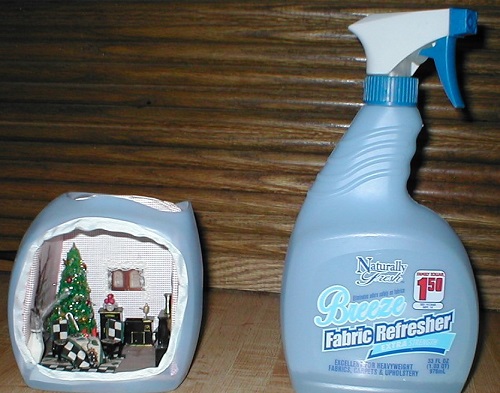 ______________________________________________