For August 2022, we asked you to submit your best or favorite miniature treasure found at an Estate Sale. Here are the amazing things people found.
___________________________________________
From Debby Albert:
This is my find at my favorite thrift store. 
The people who work at the thrift store know I love and make miniatures. They save furniture for me. This was in a box of furniture, the only thing I liked and donated the rest to a NAME auction.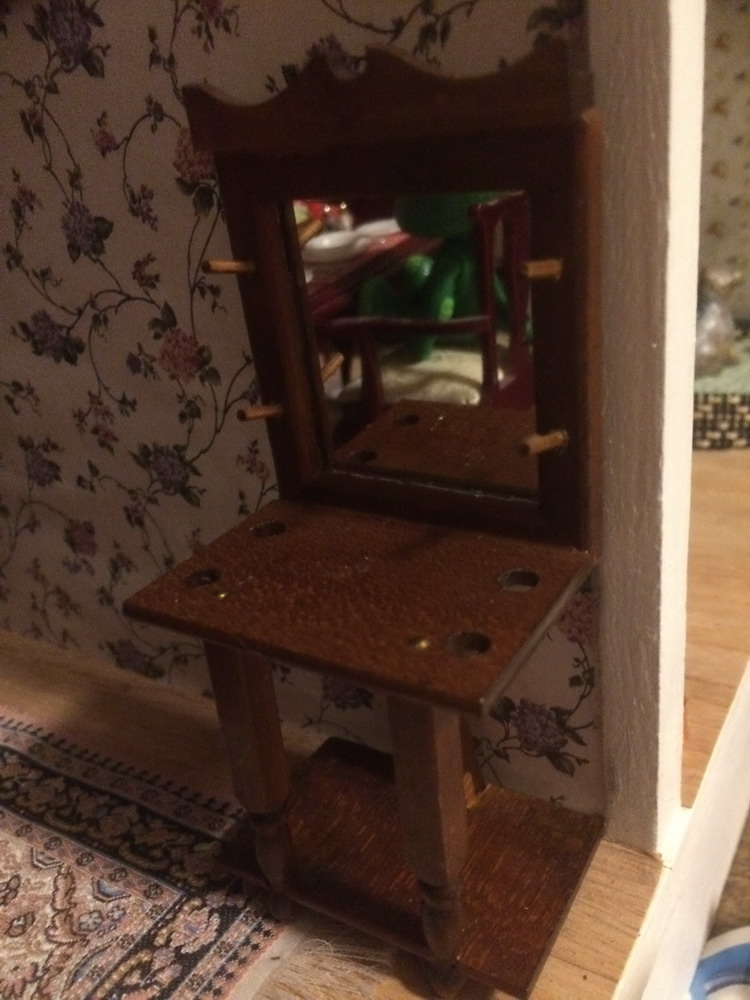 ___________________________________________
From Brandi Bacon:
About 5 years or so ago I saw a message on FB about someone selling a miniature collection. They had a picture of a storage unit and I couldn't tell what was in there other than It was a lot and it looked like it would be perfect to use for school art classes. I got a fantastic deal and emptied my van and drove 2.5 hours.
It was the steal of a lifetime- there were Julie Stevens dolls in boxes, almost every set of Debbie Young furniture kits, there were Karen Gibbs full sets. Kits, artist made items, supplies. 
I was very, very new to miniatures and had no idea what I had. That "find " has let me create miniatures for my kids and hopefully someday my grandkids. It gave me enough supplies to teach multiple classes and to date that is over 300 kids. I have taught 3,4, 5th graders. Middle and high school kids. I've taught at mini shows and schools and libraries and clubs. Every class has been completely free for the kids and schools.
I have sold the majority of items in online auctions and used the proceeds for classes. It allowed me entrance into the mini community and led me to the most fantastic and interesting artists. It also allowed me to provide artisan made items to children and ignite their passion for art and miniatures. 
During Covid it gave me the means to provide art bags to students who went home early and had no access to anything. when I couldn't teach for a couple years I used the proceeds to teach smaller clubs and provide supplies (even if it wasn't miniatures) for teachers and kids. 
I now have enough basic supplies for about 10 full classrooms (containers, basic landscaping and or structures). I will eventually have the last couple auctions I will ever have and will use the funds for all the glues, supplies, and all that expensive other stuff the kiddos need. 
I am hoping to continue to teach for a long time and in conjunction with NAME to start a kids group. My goal is to have all classes recorded so future teachers can use the graphics, course outlines, etc anywhere they are and that any kid who wants access to art and minis can have that access. 
Best find ever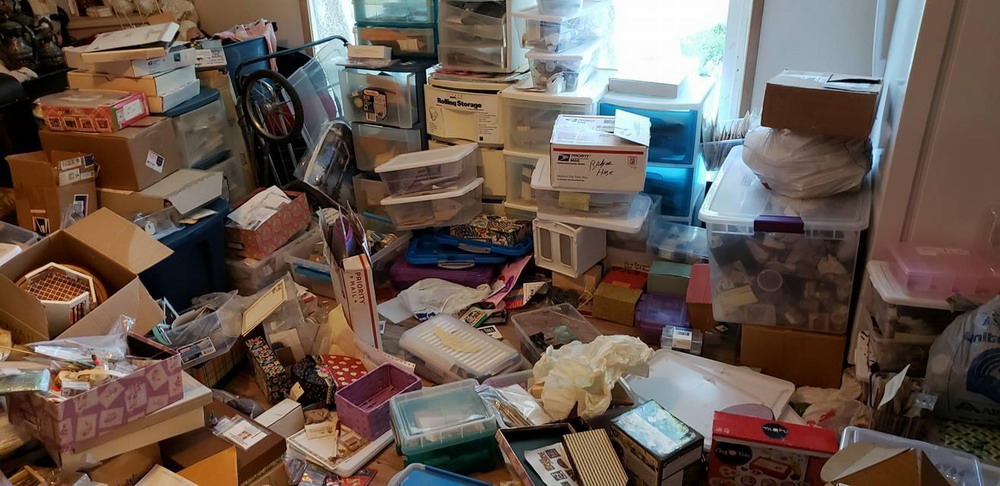 ___________________________________________
From Paula Francis:
  My all time most amazing, best find was a casual stop at a local thrift shop here in Maine.  Walking in…there it was, right in front of me, calling my name.  A beautifully constructed, one of a kind farmhouse.  Only the outside was painted… nothing finished inside, porch in pieces.  Put a hold on it, called  my husband to bring the trailer right away…and away we went.  Not until I got home, tipped it over, did I see the inscription.  It was made by a miniaturist who lived and had a shop here in the town I live in…Wells, Maine. His name was Harold E. Woodman, Sr. and he closed his shop shortly before I moved here over 20 years ago.  It took me over 16 months to electrify and refurbish it and it has a special place of honor in my home.  Some things are just meant to be.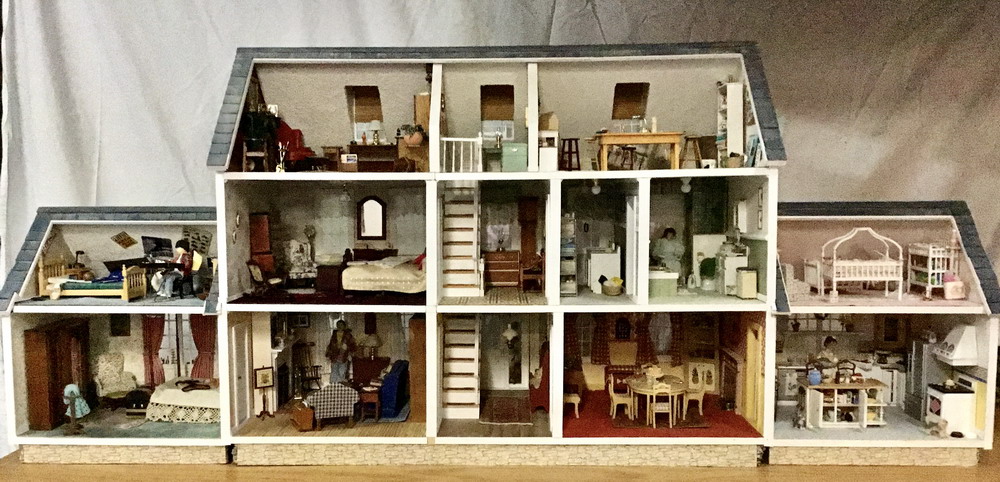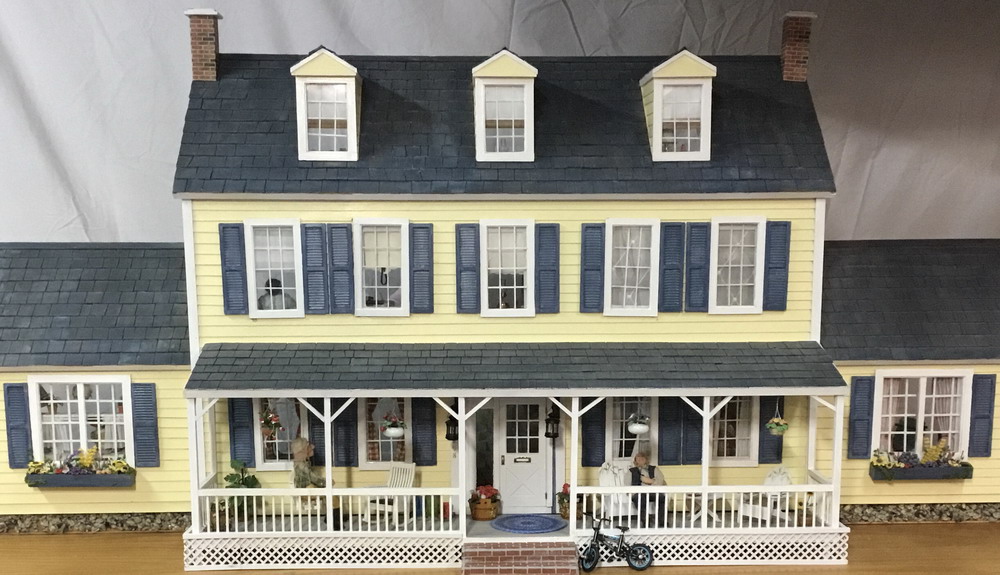 ___________________________________________
From Laura Reich:  
Christmas just prior to Covid, Davenport, Iowa ran a game to find a hidden pickle ornament in at least 10 different stores in their downtown.  I did this (took several hours and one store would not even give me a hint!).  Of course, the idea was to find out about what stores existed.  One was an antique store that I found several miniature items.  And I did win my pickle ornament. I put the items in front of my 1/144 houses to view the size.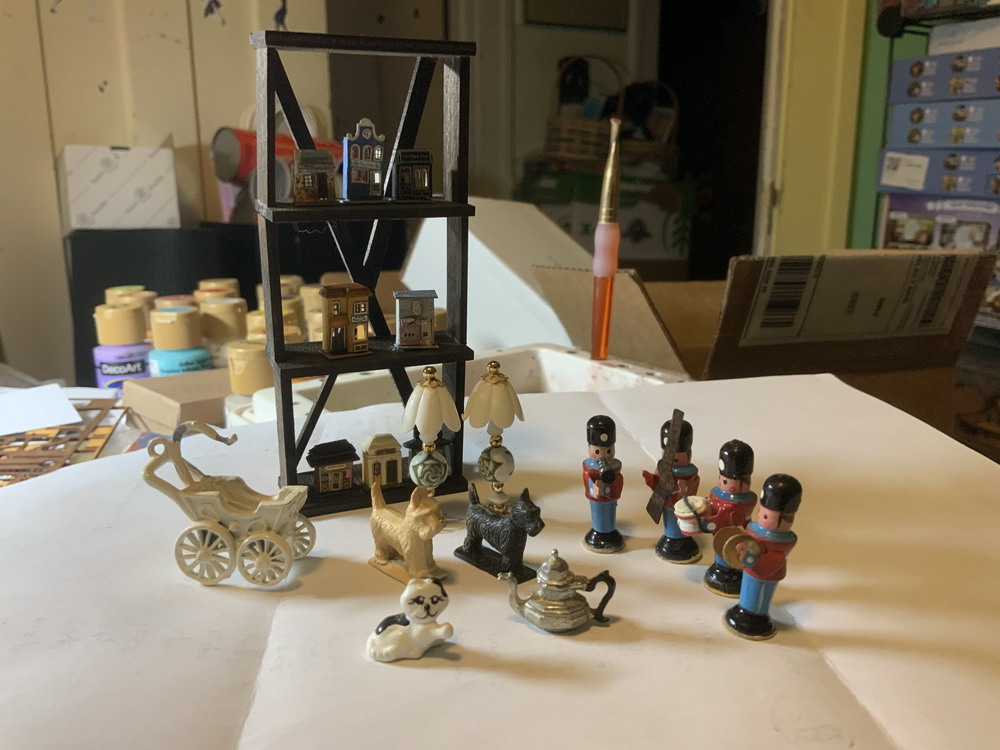 ___________________________________________
From Jene Bondi:  Real Good Toys Front opening shop was my thrift store find. I paid $10.00 for it about 5 years ago. I put in electric tape wire and added a beautiful ceiling. Then i added lamps and went to see how it looked. Whoopsie. It caught on fire.  Who knew that you couldn't add a metal ceiling onto of the tape wire??? I certainly didn't. I ran through the real house with my miniature store on fire and managed to chuck it outside.  I sold that house for $50. I haven't lived that down nor the chicken fire i had shortly after that....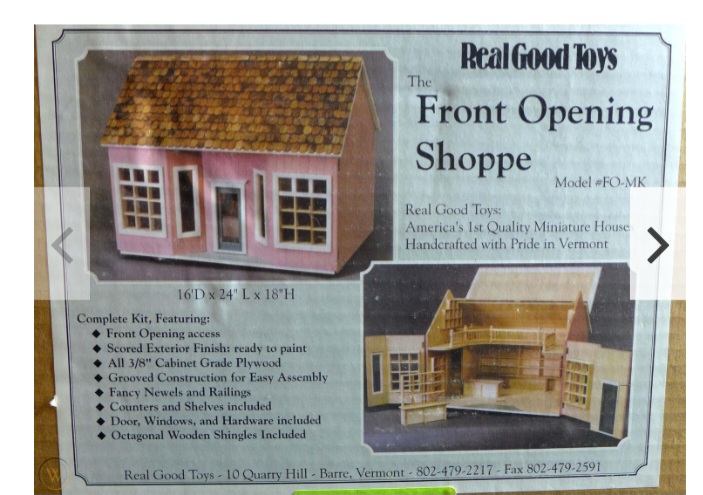 ___________________________________________
From Susie Aguilar:  My best find was this Shannon Moore book room box. I have admired Shannon's creations for many years. I knew I would never be able to purchase one because I'm too budget conscience. Well, I was able to give this one a new home when the family of a fellow miniaturist wanted her treasures to go to other miniaturists who would love them as much as she did. It even came with a Gail Steffy chair with foot stool and a Bespaq wall bookcase. All I need to add was the books!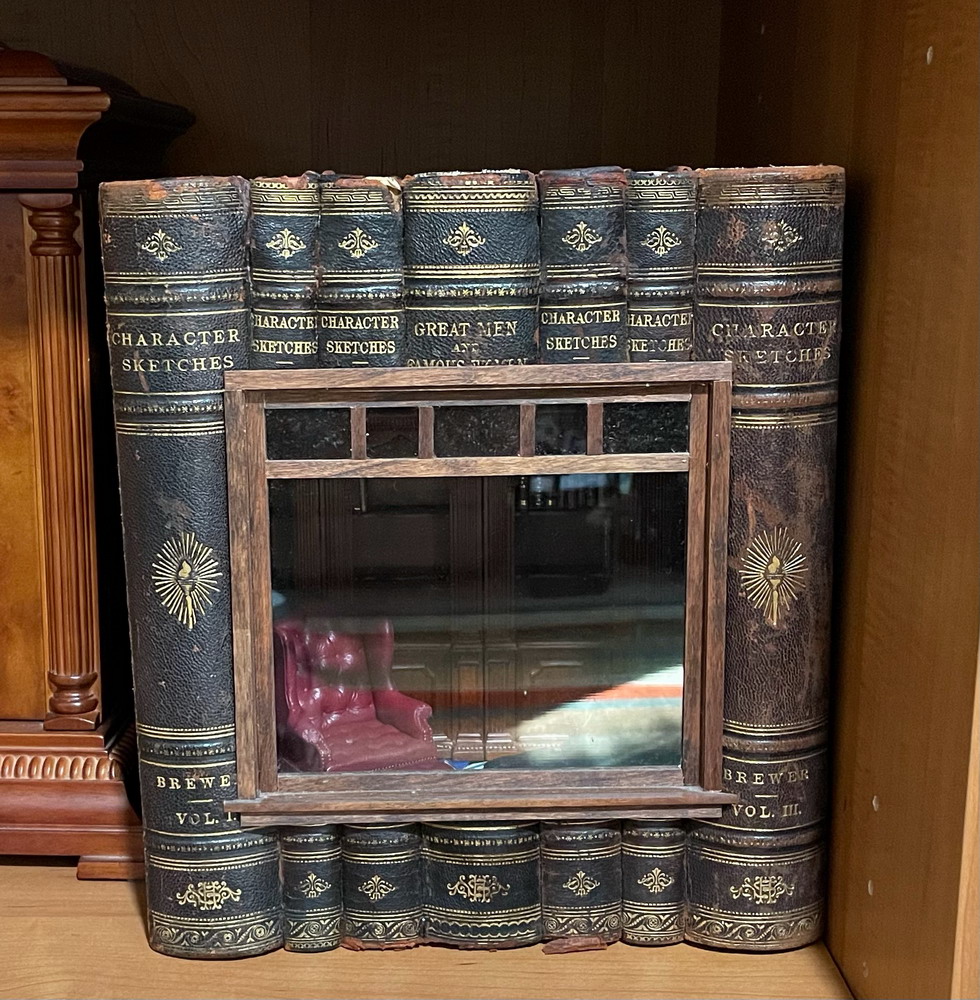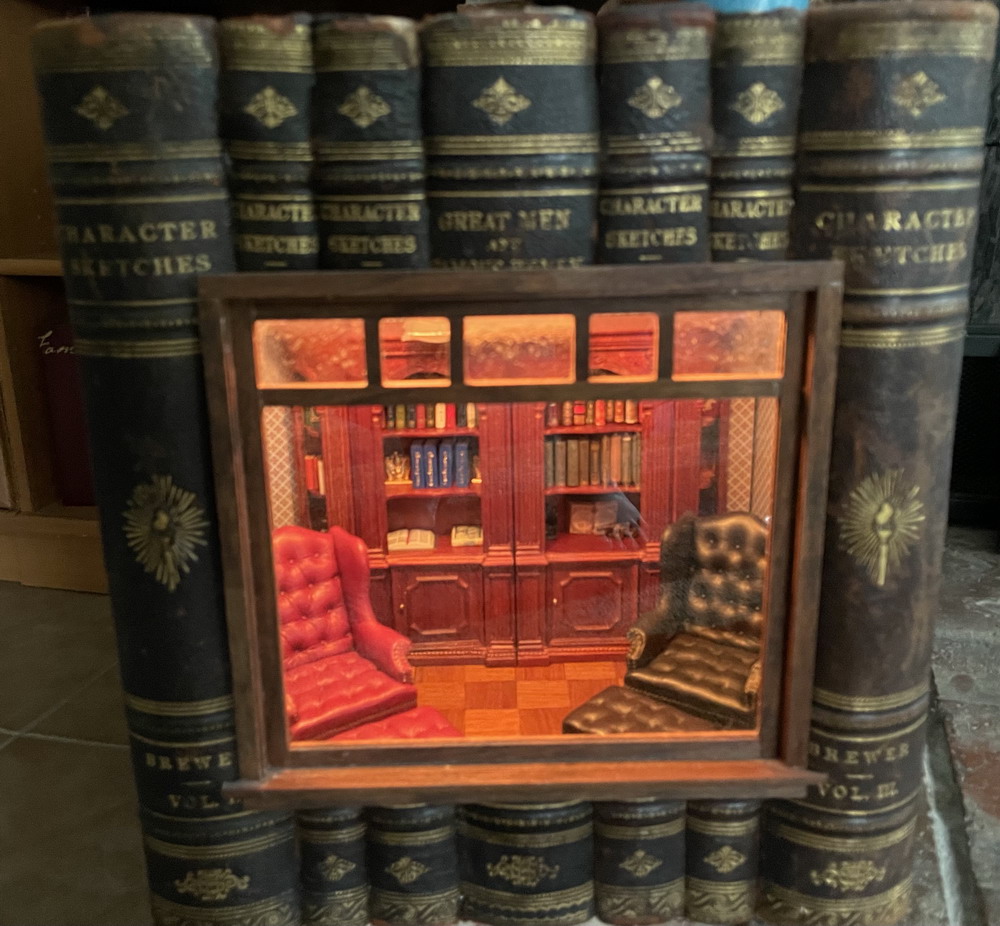 ___________________________________________
From Wanda Waterfield:  
While on vacation in Massachusetts about 7 years ago, my husband and I went into an Antique and Collectibles shop with my sister-in-law who loves shopping for these things.  While browsing through the store I noticed a large paper bag with a box sticking out of it that I recognized.  It was a Lillian August logo.  When I checked the box it contained 25 miniature furniture kits from Lillian August, House of Miniatures and more.  I didn't even know Lillian August made furniture kits.  It had a price tag of $250 on the bag.
I asked the shop owner about it, and he said he picked it up at an Estate sale several months earlier and the first day he brought it back to the shop a customer offered $250 for the works of the kits.  He put it in the back room while the customer went to get the cash.  She never came back and he discovered the bag in the back room that day, so he brought it out, put the $250 price that she offered and then I walked in.  How's that for timing?!
Many of the kits from House of Miniatures, I already owned so I asked if I could buy some of them.  I selected 12 kits and we agreed on a price.  Then my husband suggested I buy the works and sell the extras to my mini friends at an upcoming Camp Mini Ha Ha.  We haggled the price down to $75 for the 25 kits and I got the works!  That's $3 per kit!!  All pictures attached.
Jackpot!!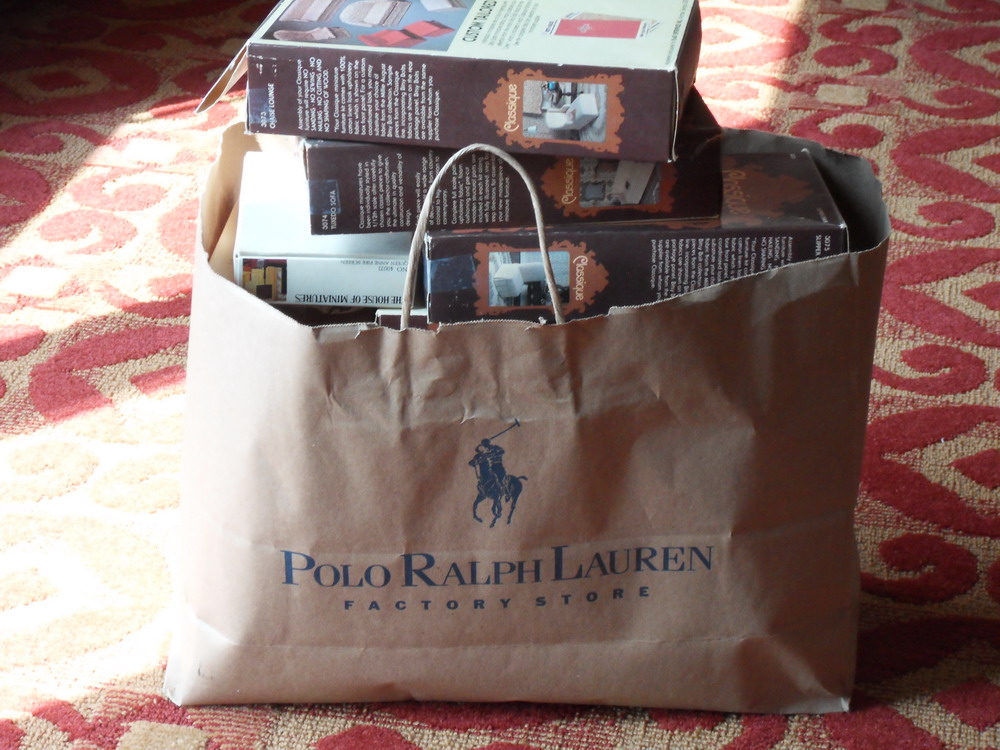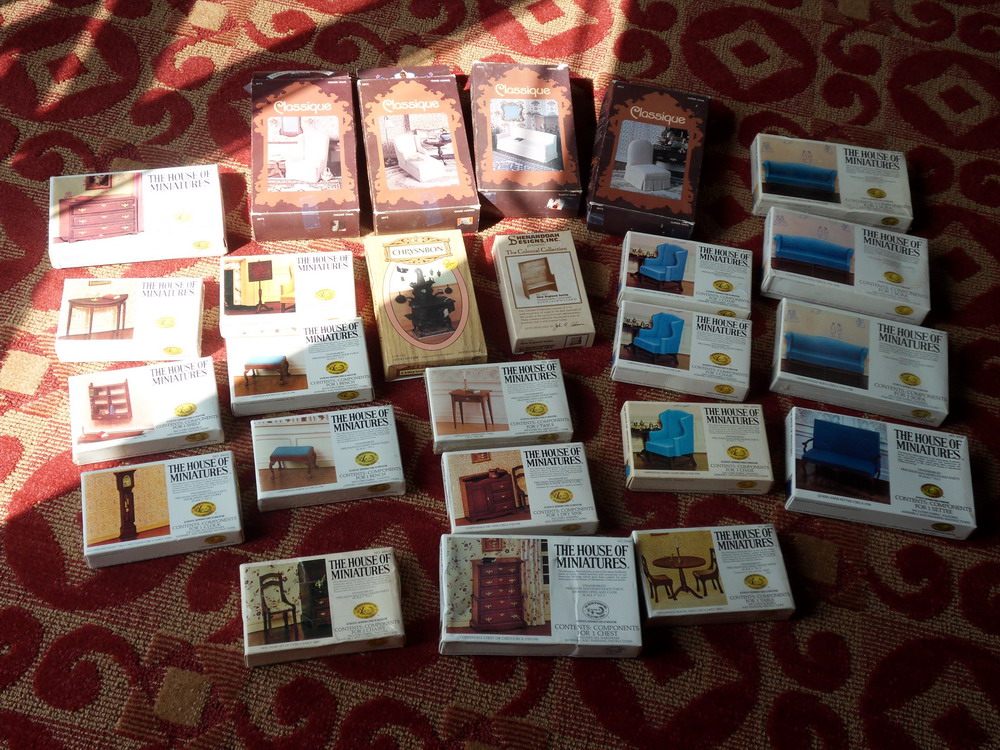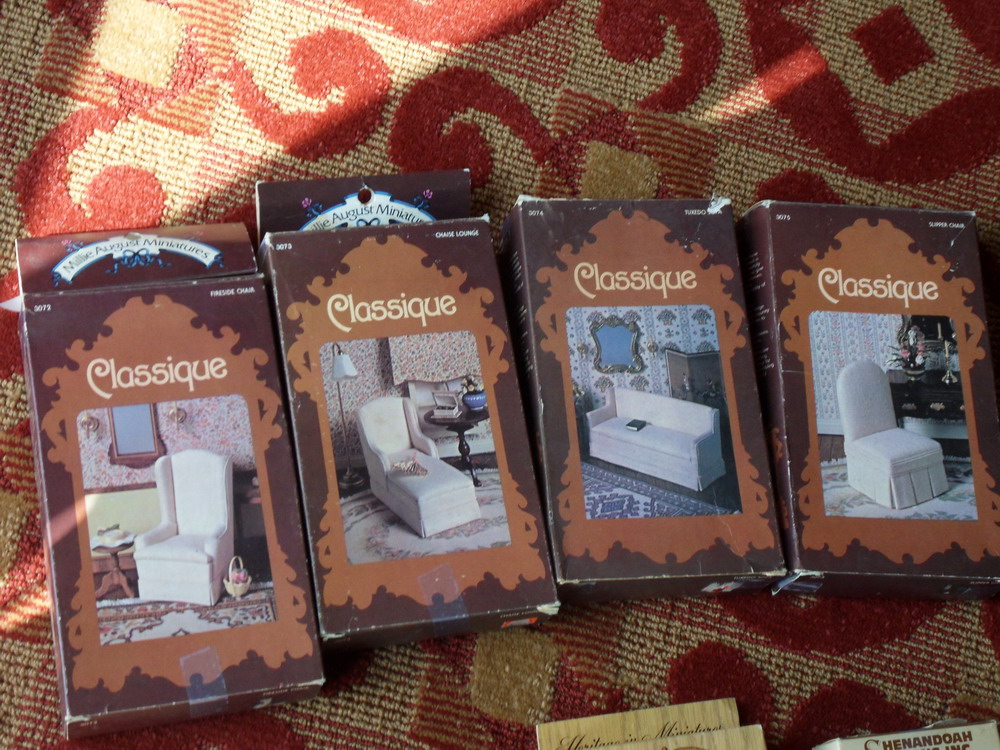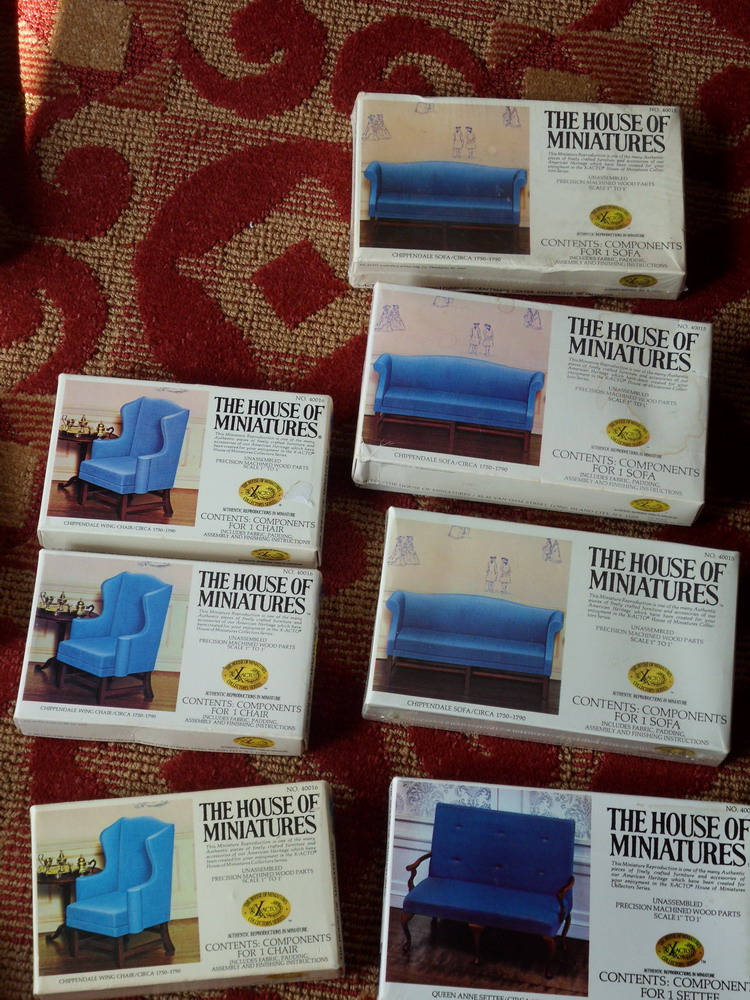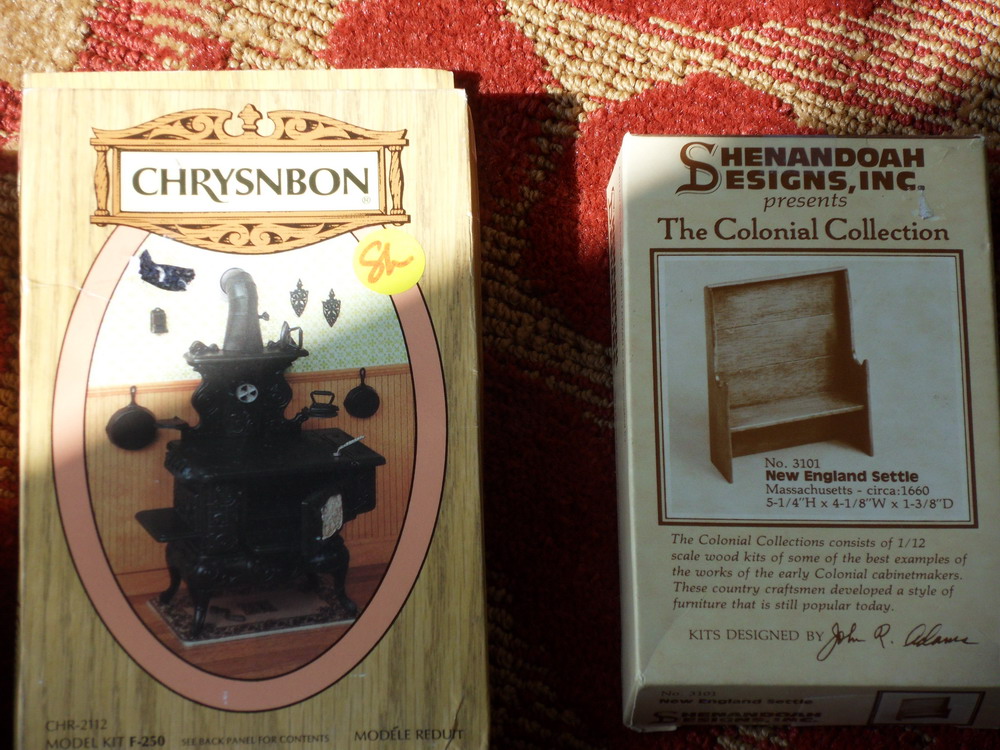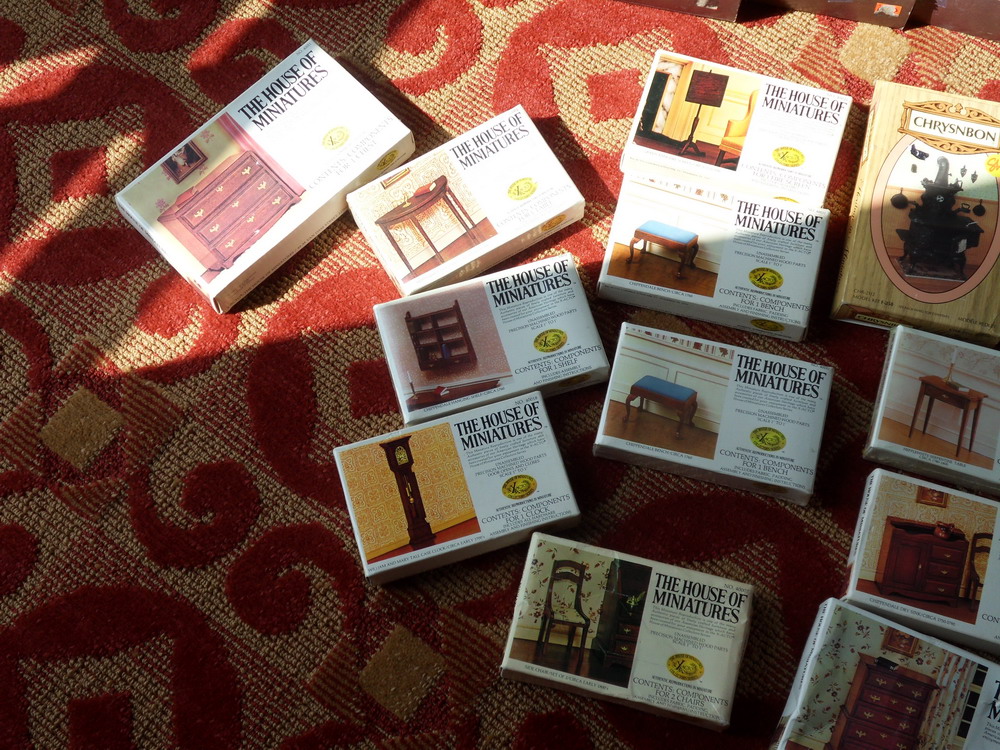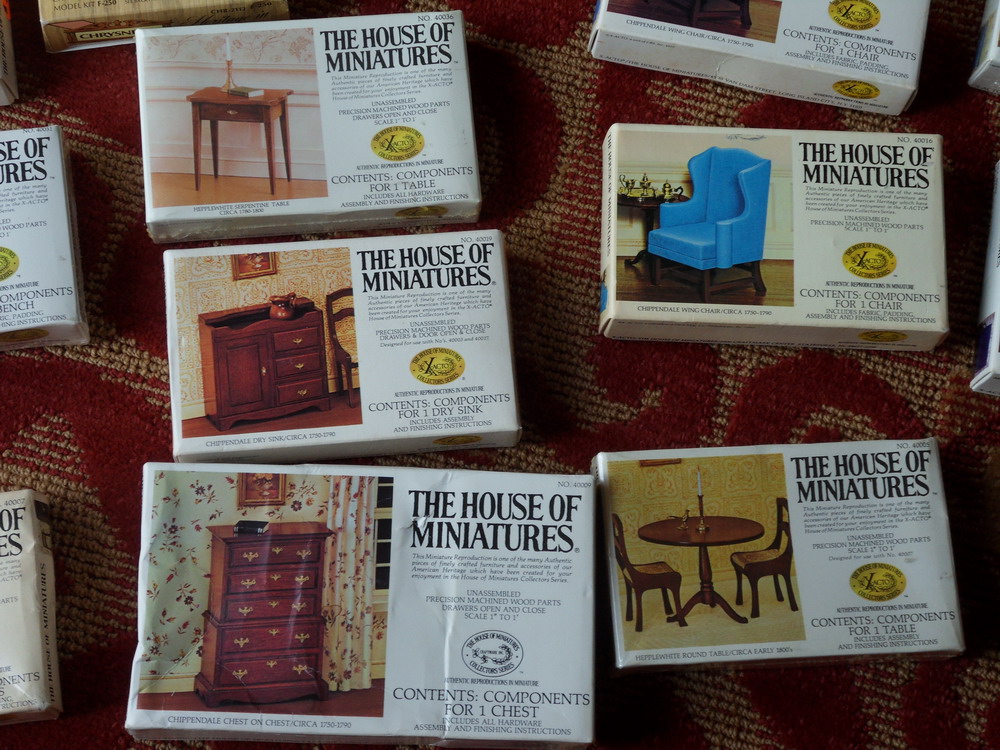 ___________________________________________
From Vicki Scidmore:   What a surprise to see that picture of the Brooke Tucker fireplace set.  As you see in the  picture, I have that same set bought years ago.  I didn't know it was Brooke's or even that it was miniature (I thought maybe a picture frame).  I see single cranes sometimes at sales.  The "fireplace wall" was from the estate sale when the Carmel, CA museum closed and it fit exactly in the room box from a garage sale.  Lucky finds all around!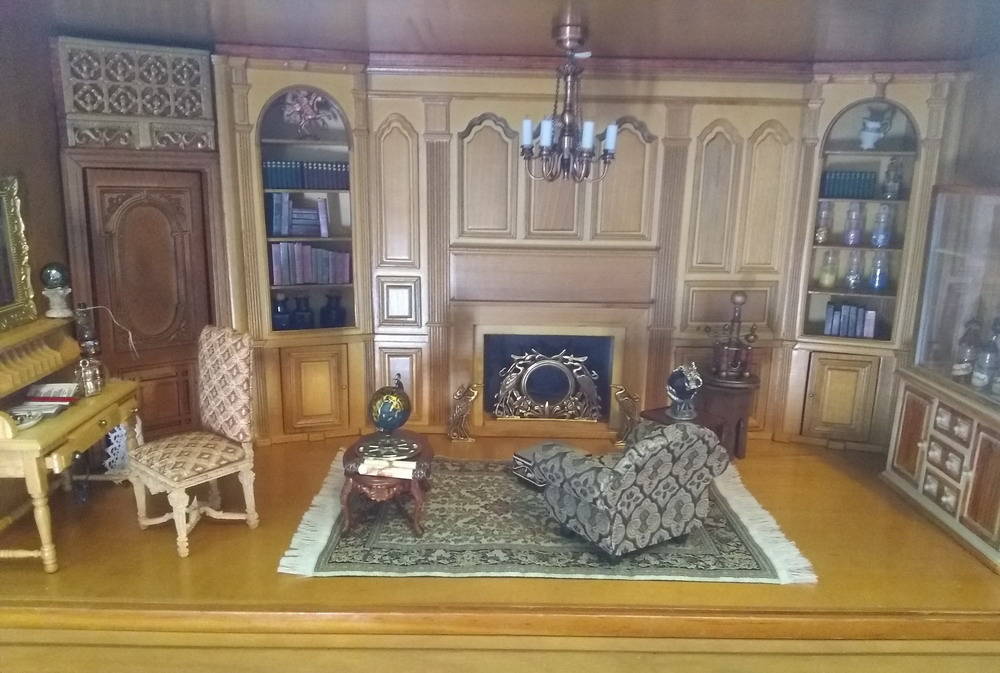 ___________________________________________
From Bonnie Cross:  Attached is a photo of my log cabin that I found at a garage sale. It has seen a lot of wear, but I absolutely love it!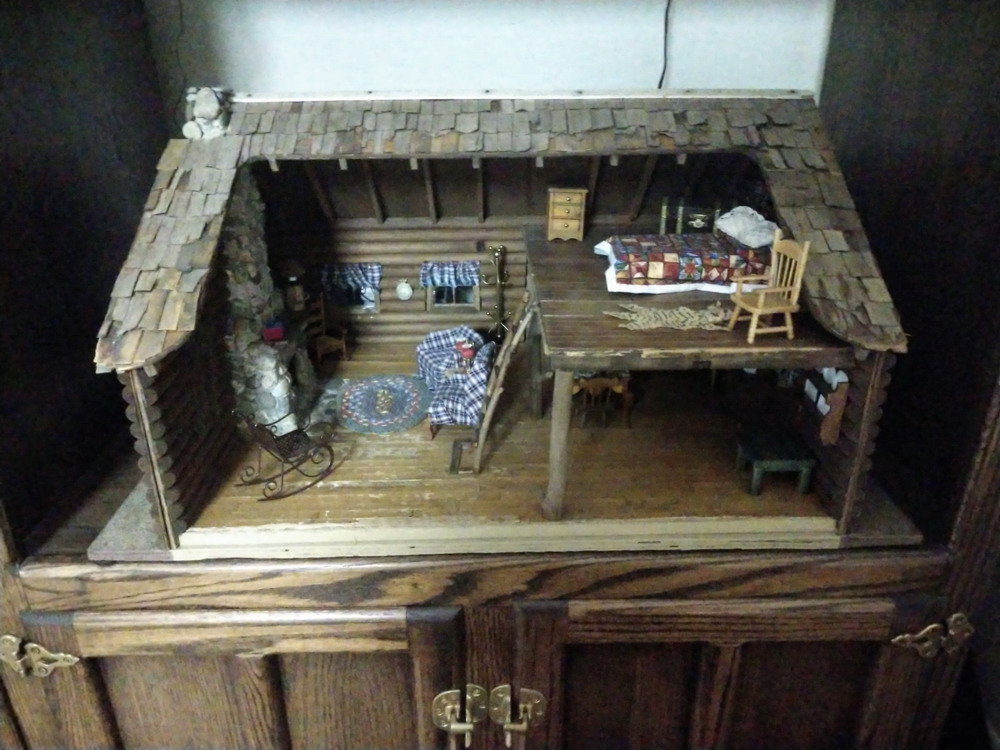 ___________________________________________