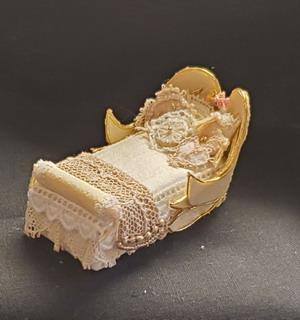 She went to bed and dreamed a dream, or trips not taken – of things not seen.  She sighed and pulled the covers 'round , while the bed with wings soon left the ground…  Please join us in creating a sumptuous bed with lots of pillows all made with vintage and French laces, Swiss embroidery and silk taffeta. 
Scale: 1/4" scale    (FINISHED DIMENSIONS: 1.75" x .75" x .5" )   
Minimum Skill Level: All Skill Levels
Price:
Non-NAME Member Price:  $75.00
NAME Member Price:  $64.00
Shipping:
US $5.00
Canada: $14.00
International:  Not Available
When you add this item to your cart, you will be charged the cost of the workshop plus US shipping.  If you live outside of the US, we will contact you about how to pay the additional postage required after your registration is received.  If you are a NAME member and logged in, the NAME member discount will be applied to your shopping cart. 
Registration will be open for this class through June 3.
This class will be at 2 p.m. Eastern on Saturday, June 18th.
PLEASE NOTE:  For the Come Fly With Me Events, Live Sessions may or may not be recorded though Abby has indicated that she is willing to record the session..   Please plan to attend in person! 
Come Fly with Me - Dream, Abby Carlson, CFWM REGULAR REGISTRATION