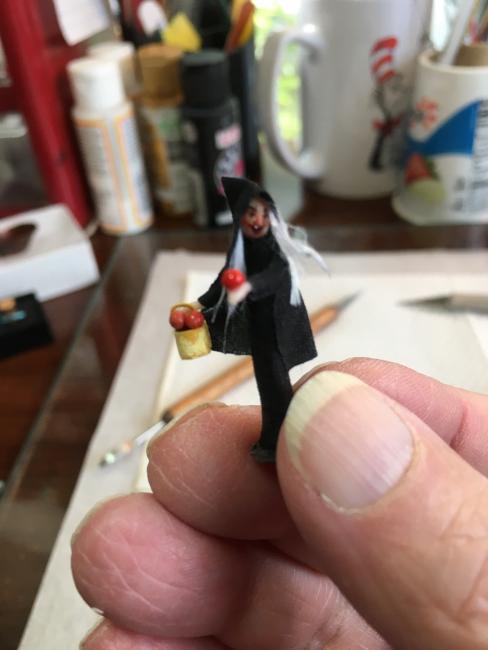 Make a Witch or a Santa….
Or The Butcher, The Baker and The Candlestick Maker…really, whichever figure you choose to do. If you've ever needed a figure you couldn't find or wanted to try Doll Making in small scale, here is your chance. It's easier than you think! We will learn how to start with clay and end up with the figure of your choice.  There will be plenty of close-up demonstrations and a chance to ask questions. In the first session, we'll sculpt our dolls. Some may do even more than one. In the second session, I'll show you how to paint, costume, and wig a quarter scale figure successfully. I'll supply the clay, the tools, black, white, and red fabrics and the hair. I'll include a set of  patterns and instructions (with photos)  so you can do it again. 
Scale: 1/4 scale  FINISHED SIZE:  1-1/2" tall
Skill Level: Beginner
To receive your kit in time for the class, you must order before April 9, 2021.
Sales for this kit close on April 24.  Orders placed between April 10 and April 24 may not arrive in time for the ZOOM session.  
This class will be 4:00 pm – 8:00 pm Eastern on April 24 & 25, 2021.  THIS IS A TWO DAY CLASS.
Non-NAME Member Price:  $ 125.00
NAME Member Price:  $ 114.00 

Shipping:
US included
Canada: $ 10.00
International:  Not Available
This class is SOLD OUT.  If you want to be added to the waitlist, please send an email to Janet Smith 
When you add this item to your cart, you will be charged the cost of the workshop plus US shipping.  If you live outside of the US, we will contact you about how to pay the additional postage required after your registration is received.  
You must be a NAME member and logged in to get the NAME member price, which is applied at checkout.
Make a Witch or a Santa, Cat Wingler