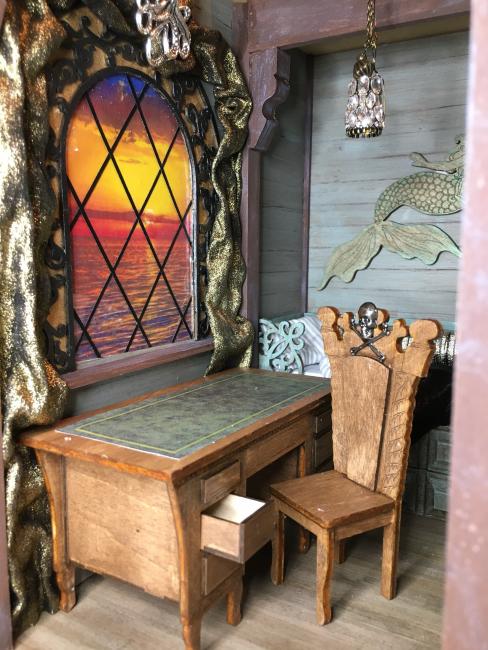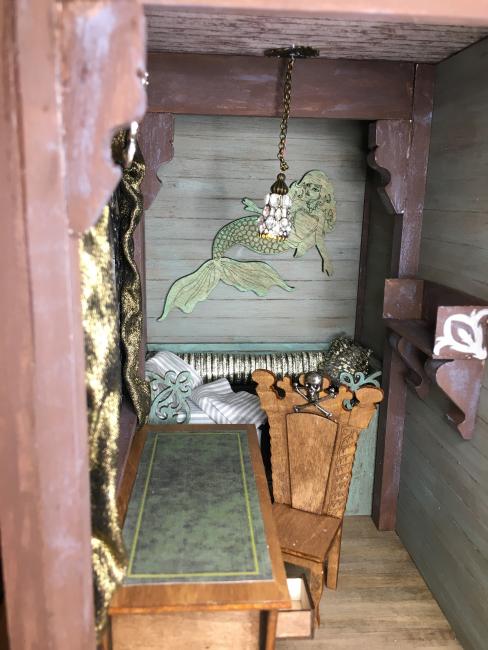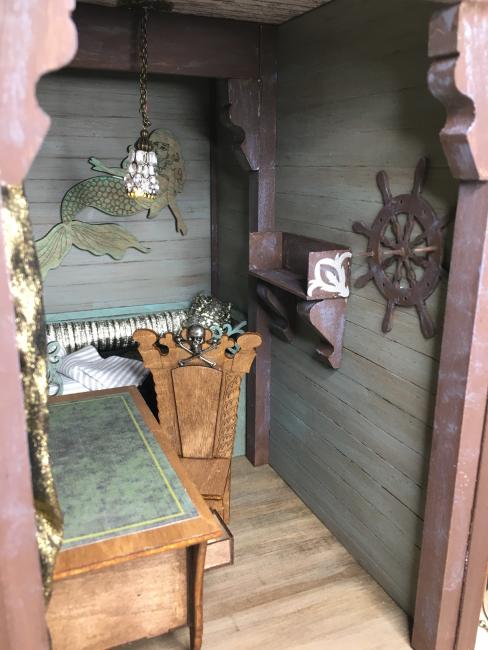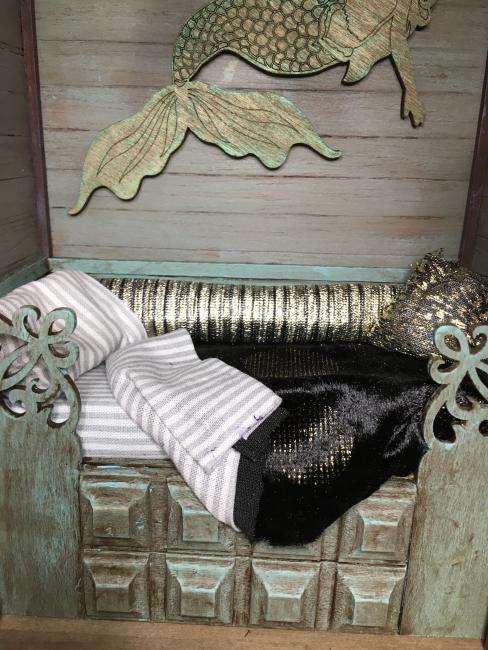 In this class, we'll be creating a book nook sized room box.  After applying sheets of balsa to the walls, we will score; paint, antique and age/distress with distress inks.  The floors will be made with wood strips painted and distressed.  The "drapes" will be treated and shaped.  The bed built and dressed with sheets, top spread, pillows and bolster.  We'll use stain and enchanted paint on the mermaid.  Build, stain and varnish the desk.  Woodwork will be painted and dry brushed.  Light will be assembled with led.  All paints, stains, varnish, distressing ink and applicators are included in your kit.
Scale: 1" or 1:12 scale
Finished size of project:  10-1/4"L x 6"W x 10"H
Skill Level: Intermediate
To receive your kit in time for the class, you must order before March 12, 2021.
Sales for this kit close on April 27.  Orders placed between 3/12 and  3/27 may not arrive in time for the ZOOM session.  Students placing orders after 3/27 understand that they will not be able to attend the ZOOM session.   
This class will be at noon Eastern on Saturday, March 27 & Sunday, March 28, 2021.  THIS IS A TWO DAY CLASS.
Non-NAME Member Price:  $ 224.00
NAME Member Price:  $ 213.00 

Shipping:
US $15.50
Canada: $ 55.00
International:  $85.00  (cannot be shipped to the UK due to the new VAT regulations)
When you add this item to your cart, you will be charged the cost of the workshop plus US shipping.  If you live outside of the US, we will contact you about how to pay the additional postage required after your registration is received.  
You must be a NAME member and logged in to get the NAME member price, which is applied at checkout.
Captain Jack Book Nook, Bonnie Helterhoff