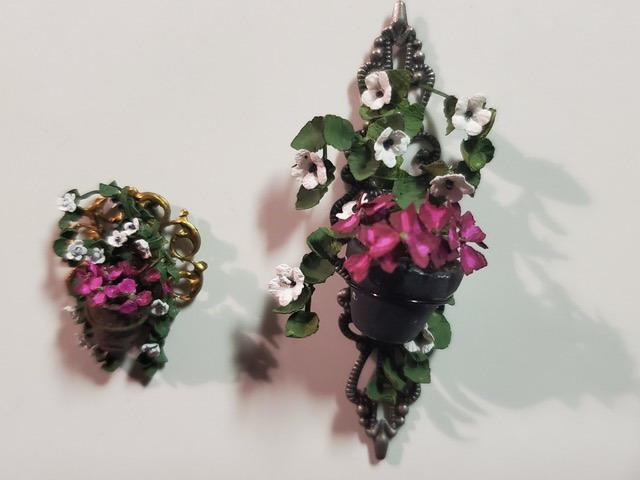 In this class, students will create a wall planter to accent any miniature house or garden scene.  Ideas for aging planters will be given.  Students will learn flower construction and arranging.
The photograph shows both the one inch scale and quarter scale versions.  If you want to sign up for the one inch scale version, click here.
Scale: Quarter Scale
Skill Level: Beginner
Sign up deadline for this class is February 11th.  Sales will be discontinued after this date.
This class will be at 1:00 pm Eastern on February 27, 2021.
Non-NAME Member Price:  $43
NAME Member Price:  $32  

Shipping:
US $4.50
Canada: $8.50
International:  $8.50
When you add this item to your cart, you will be charged the cost of the workshop plus US shipping.  If you live outside of the US, we will contact you about how to pay the additional postage required after your registration is received.  
You must be a NAME member and logged in to get the NAME member price, which is applied at checkout.
Oxalis & Spanish Eyes Vine in Quarter Scale, Charrita Teague