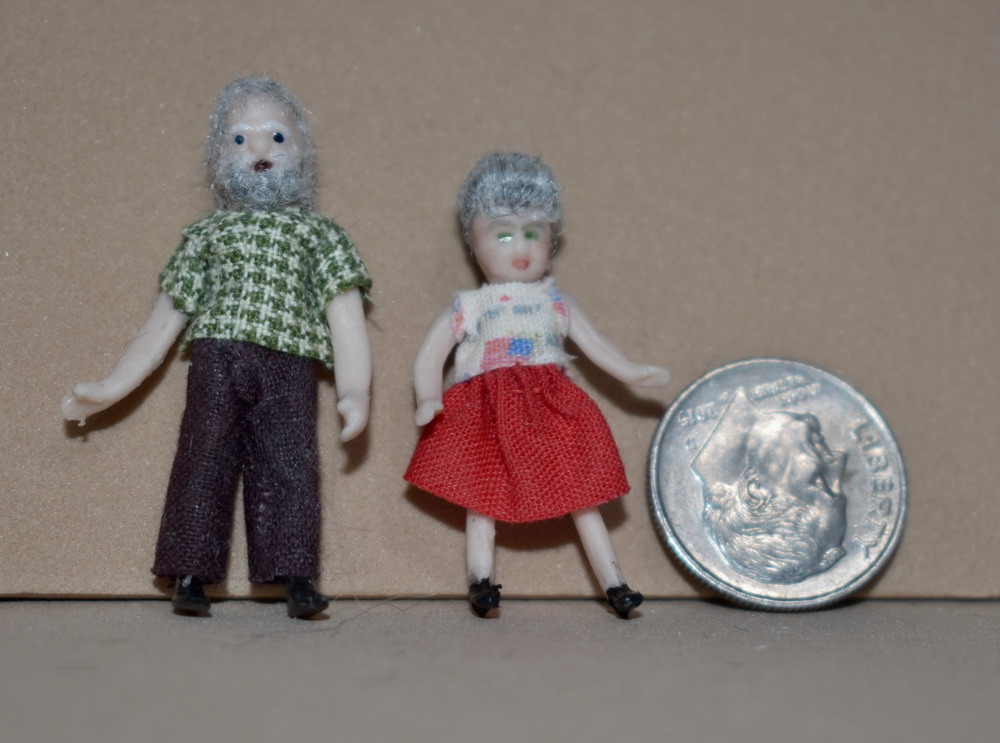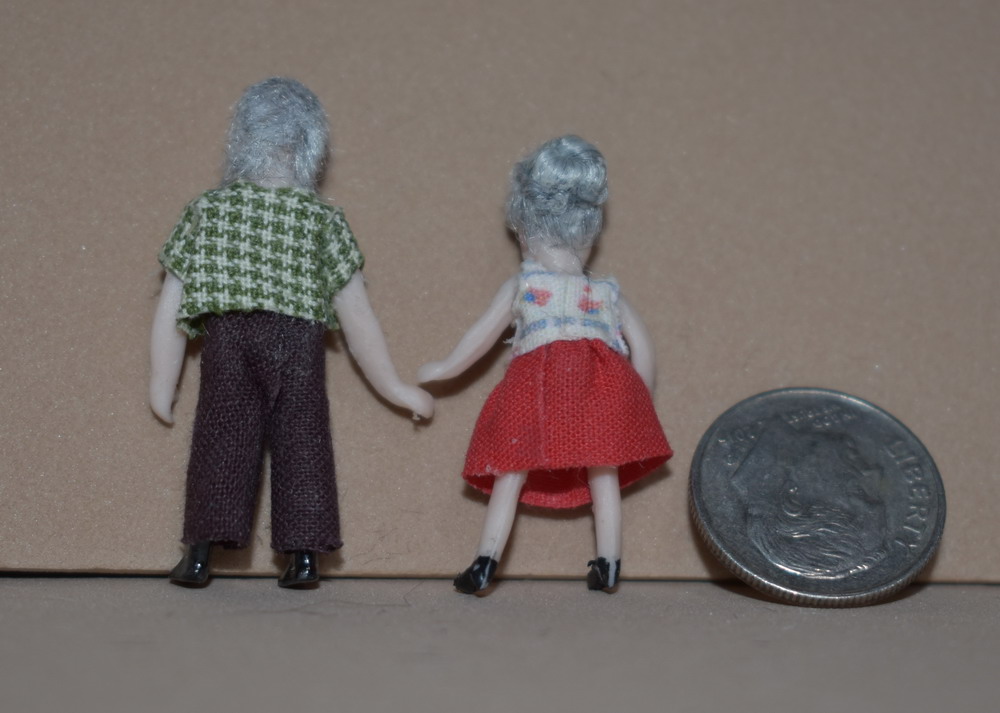 Front and Back View of Elderly Dolls (above), Front and Back View of Young Dolls (below)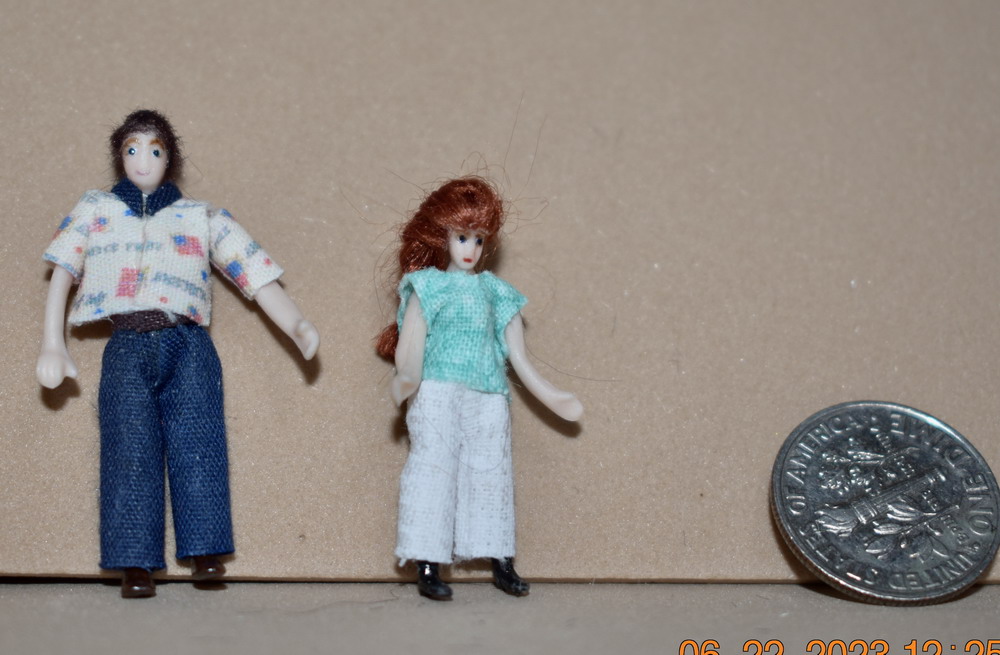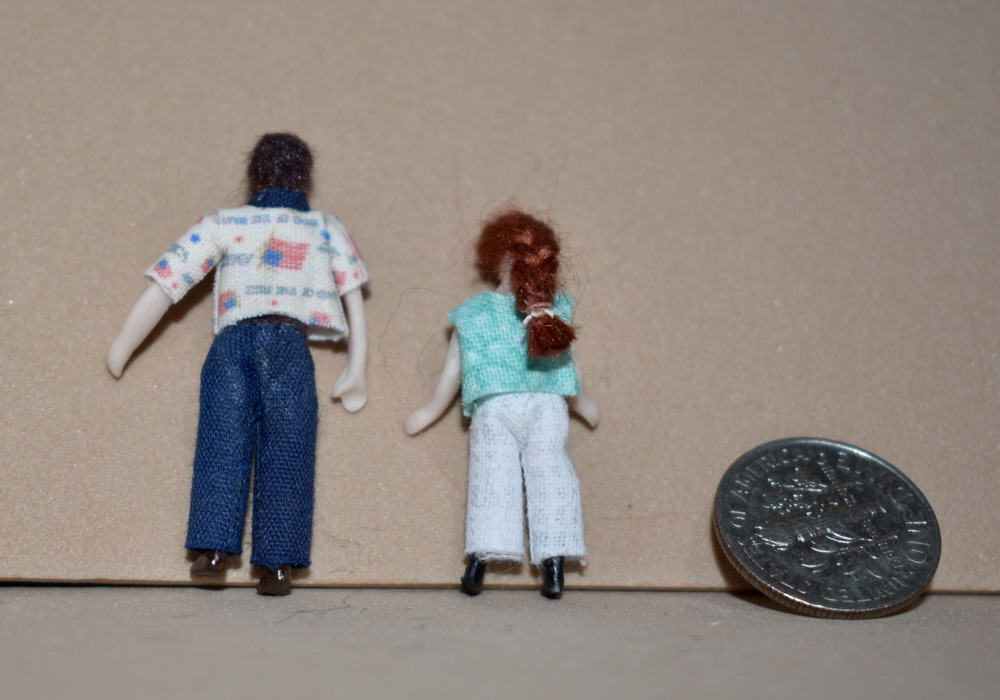 This is a class for anyone who wants to make their own pair of porcelain dolls. I have two different pairs of dolls. There are 10 of each pair so you will be making 2 dolls.  Choice of a young couple or an elderly couple. This class is a basic class for all skill levels. I will supply dolls disassembled and two different fabrics for each doll. You can dress the lady in a dress/skirt, pants or even shorts. The man can be dressed in pants or shorts, The choice is yours. The best thing about making a doll is that you can personalize it as you want to make it your own. Plus, even if everyone does the same thing, the dolls will still look different. That's what I love about making dolls from kits or my own design. 
Techniques included:  Dressing and wigging a 1/48th scale male and female doll. 
FINISHED DIMENSIONS:  Male is 1.5" and lady is 1.25" 
SKILL LEVEL: Beginner
 
This is a second chance Create-ive Offering.  There will not be a live session for this offering, but you will be given access to the videos of the sessions that were offered when this workshop was originally held.  Sales close on September 28th.
Non-NAME Member Price:  $125.00
NAME Member Price:  $114.00
Click here to order the elderly couple. 
Click here to order the younger couple.

Shipping:
US $9.00
Canada: $16.00 (Click here to add the additional $7 shipping to your shopping cart.)
Other International:  Actual Cost.  Place your order and you will be contacted about the additional shipping required.

When you add this item to your cart, you will be charged the cost of the workshop plus US shipping. If you live outside of the US, please add the shipping upcharge to your cart before you checkout.
Out of fairness to our workshop presenters who have to purchase materials ahead of time, and since all classes are recorded and may be viewed by those registered at a later time, we do not accept cancellations for workshops on Create.
You must be a NAME member and logged in to get the NAME member price, which is applied at checkout.