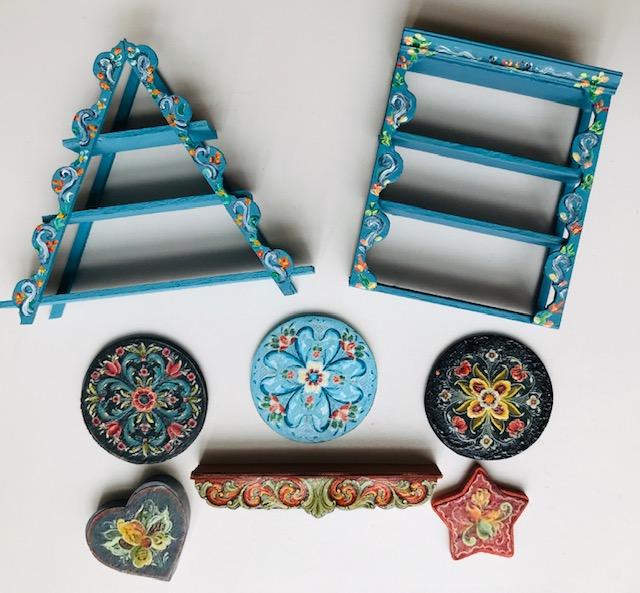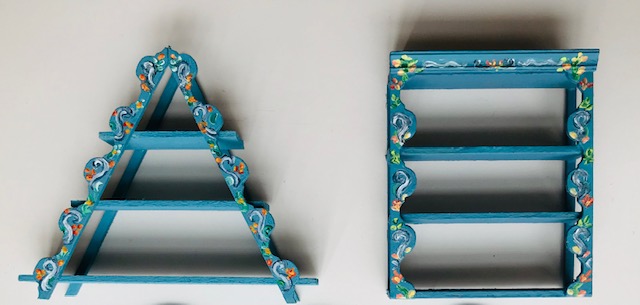 Learn the basics of Norwegian folk art painting, shelf building, dimensional painting of printed designs.
Happy New Year!  Join me for a fun filled class to learn some painting tips, tricks and techniques used to create the look of the Norwegian Folk Art painting style known as Rosemaling.  In class I will demonstrate some basic stroke techniques for the scrollwork and flower designs.  Wood pieces will be provided to practice the strokes before applying the designs to the shelves you will build in class.  One of the shelves you will build is a unique triangular shape, the other a more traditional shape.  Both shelves were designed using a carved border wood which adds to the overall Folk Art style of these shelves.  The shelves can sit on top of a table or be hung on a wall.  In class you will also be learning a dimensional texturizing technique.  This technique can be applied to any printed design to give the appearance of "actual" painted pieces.  You will use this technique with the included printed Rosemaling designs to create several round wood wall plaques, a star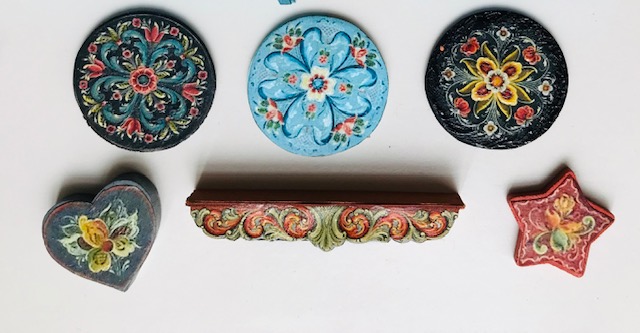 shaped trivet, an heart plaque and heart "box: as well as a single level shelf with decorative front.  Class will include some unusual "tools" that I will demonstrate how to use and are tools that can be used for other miniature painting projects.  The mixed blue paint color used for these shelves will also be included with the class.
Sign up deadline for this class is January 6th.
This class will be at noon Eastern Standard Time on January 16th.
This class is sold out.  If you'd like to be added to the wait list in the event of a cancellation, please send an email to Janet Smith at janet@miniatures.org.
Colorful Folk Art Shelves and More