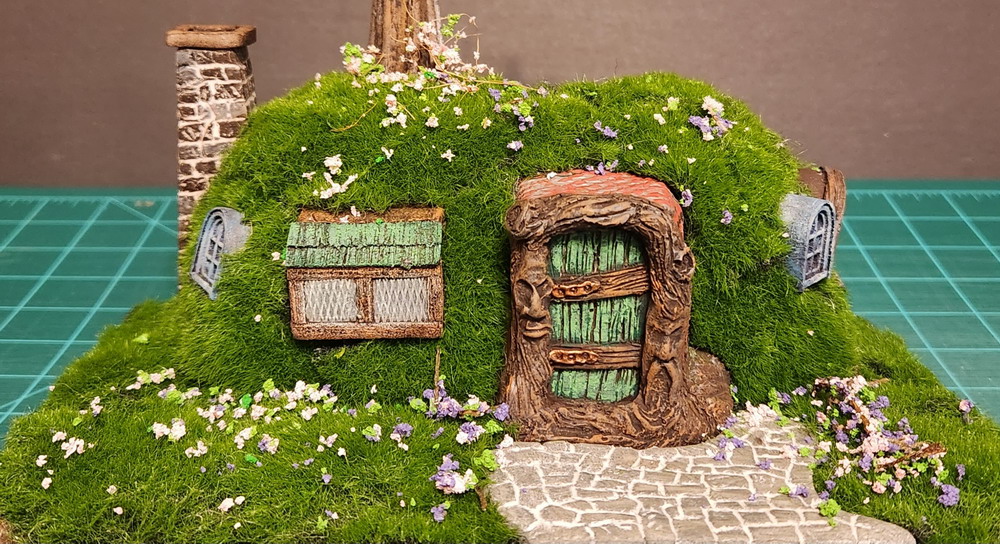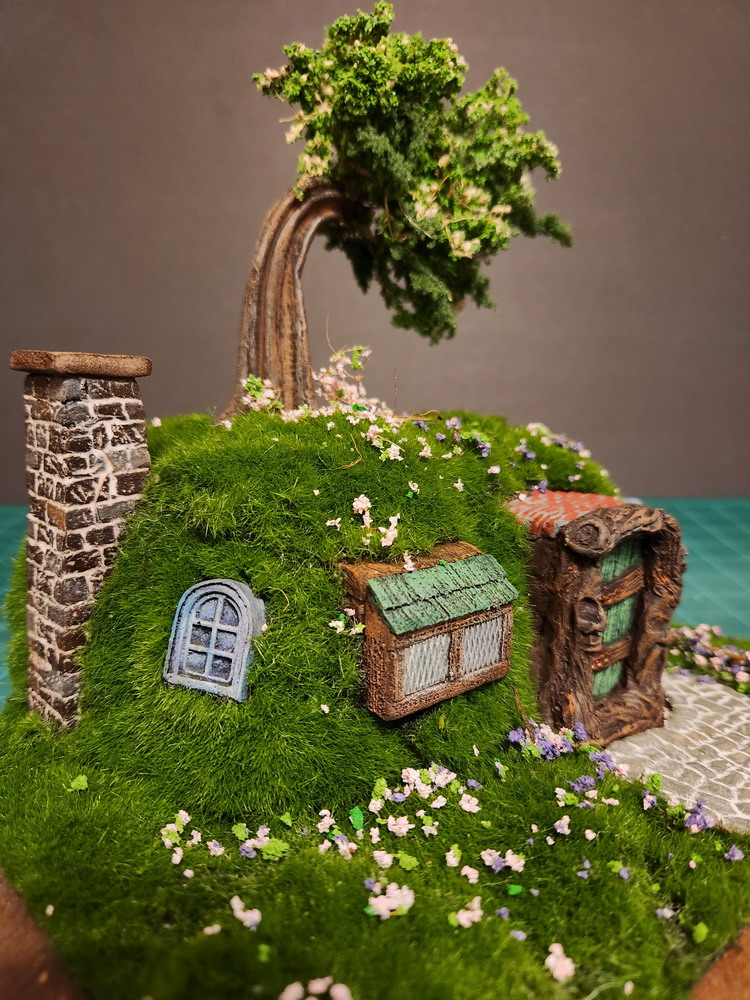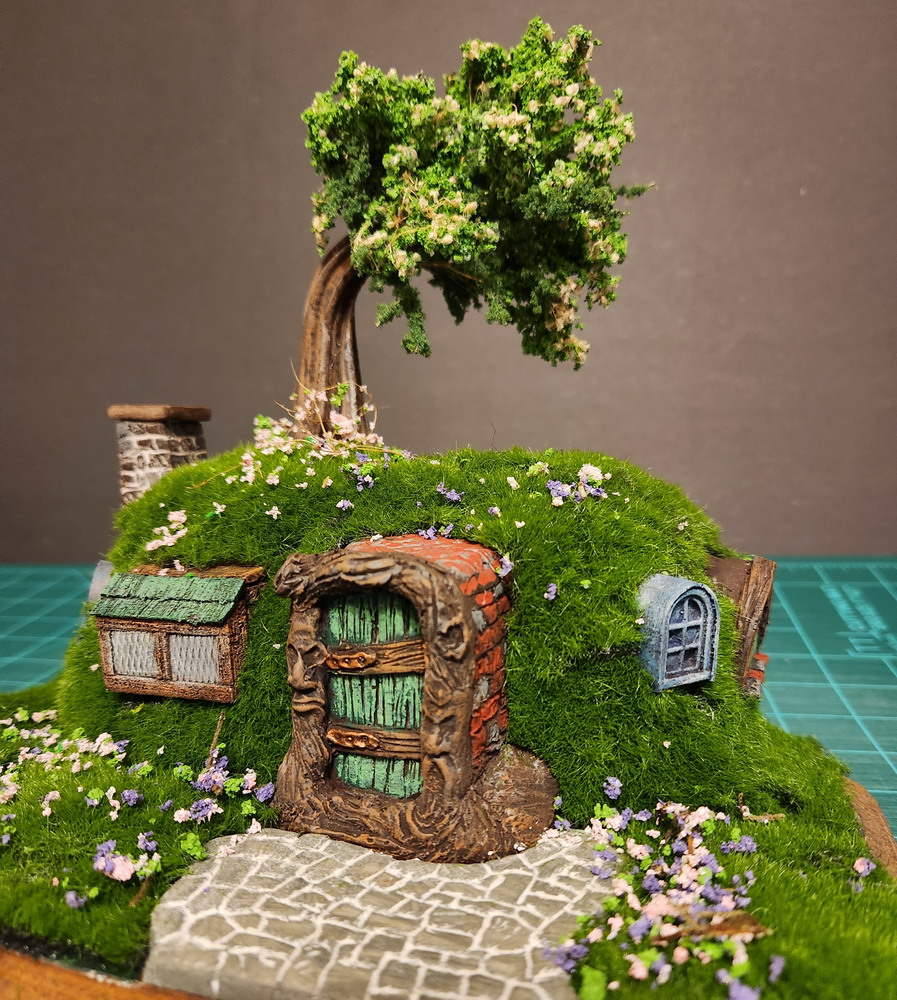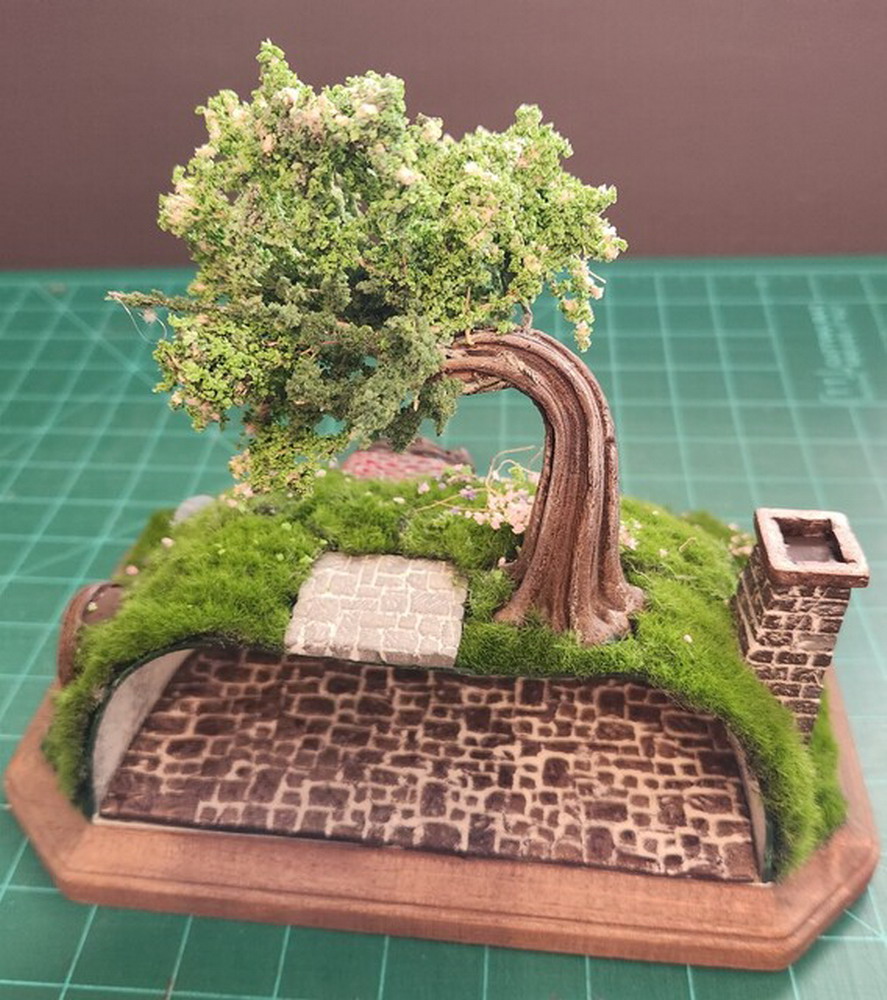 This one room underground bungalow is perfect for your favorite bunny or critter.  Students will learn basic landscaping techniques, painting techniques like dry brushing and wet washing, and how to make cobblestones and faux stone floors with foam core and drywall patch. 
You will get to arrange your door, windows, and chimney to your own personal taste. The grass is truly greener here! There will be flowery colorful flocking to top it off and make it feel like spring flowers!   This is a great piece if you want to try a quarter scale project for the first time. 
A step-by-step pdf is also provided to students before the class. This is a fun and easy class with lots of tips and tricks!
Techniques:   Landscaping, drybrush and wet wash painting techniques, stamping foamcore, and using drywall patch as brick and stone mortar.
Students will need the following specific skills: Basic painting techniques, gluing, using a sharp cutting blade
FINISHED DIMENSIONS:  9 ½"x6 ½"x8 ½" (height will vary slightly because of tree branches 
SKILL LEVEL: Good for all skill levels
This is a second chance Create-ive Offering.  There will not be a live session for this offering, but you will be given access to the videos of the sessions that were offered when this workshop was originally held.  Sales close on November 24th.
Non-NAME Member Price:  $100.00
NAME Member Price:  $89.00
Shipping:
US $17.10
This class is not available for shipping outside of the US.

When you add this item to your cart, you will be charged the cost of the workshop plus US shipping. If you live outside of the US, please add the shipping upcharge to your cart before you checkout.
Out of fairness to our workshop presenters who have to purchase materials ahead of time, and since all classes are recorded and may be viewed by those registered at a later time, we do not accept cancellations for workshops on Create.
You must be a NAME member and logged in to get the NAME member price, which is applied at checkout.
The Burrow on Bunny Lane, 2nd Chance, Shaun Crawford (Pure Fantasy Castles)