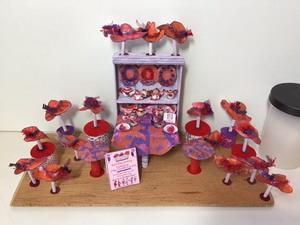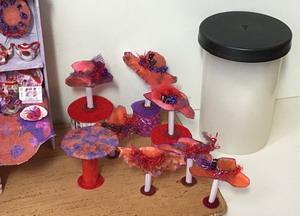 Are you a Red Hatter?  Or do you just love the fun of wearing flamboyant hats and the color purple?  Either way, please join me for a fun time of story telling, laughs and, of course, some tea while we create this unique filled hutch with a table extension perfect for two ladies to sit and celebrate life together.  
You will build and paint the lavender stipple painted hutch, drape the table with the red hat themed fabric and decorate the 3 hats inside the hutch.  Then you will create the dimensional teapots and plates to fill the hutch.  
Once the hutch is completed, you will have a wide variety of trims and floral pieces to decorate, shape and enhance the 14 dimensional velour hats.  In addition, you will make six hat boxes, a sign and some invitations, as well as the two red hat fabric covered seats.  The plates and tea pots will be glazed and dimensional paints already applied.  The fabric will be pre-treated with fray check and all the pieces will be celebrating the joy that the Red Hat Society brings to all the ladies who participate in their wonderful events.  
I will be teaching shaping and draping techniques, dimensional layering, and glazing and painting techniques as well.  Come, share a fun afternoon with me as we create this colorful ensemble of pieces.
For EVERYONE who registers before August 23rd, a BONUS Red Hat Tea Party FINISHED gift item will be included with your kit.  The gift will be in the scale of your registration choice and will complement the entire Red Hat Tea Party scene.  Get your reservation in early to get this ADDED GIFT!   I'm really looking forward to sharing this fun time of creating with you!  
This class is available in three scales.  This is the Half Inch Scale version.  If you want to sign up for the quarter inch scale version, click here.   If you want to sign up for the one inch scale version, click here. 
Scale: Half Inch Scale
Skill Level: Beginner
Sales for this kit close on September 4, 2021
This class will be at noon Eastern on September 18, 2021.  LENGTH OF WORKSHOP: 4-5 hours
Non-NAME Member Price:  $87.00
NAME Member Price:  $76.00  

Shipping:
US $5.50
Canada: $14.00
International:  $14.00 (cannot be shipped to the UK due to the new VAT regulations)
When you add this item to your cart, you will be charged the cost of the workshop plus US shipping.  If you live outside of the US, we will contact you about how to pay the additional postage required after your registration is received.  
You must be a NAME member and logged in to get the NAME member price, which is applied at checkout.
1/2" scale Red Hat Tea Party, Ginger Landon-Siegel