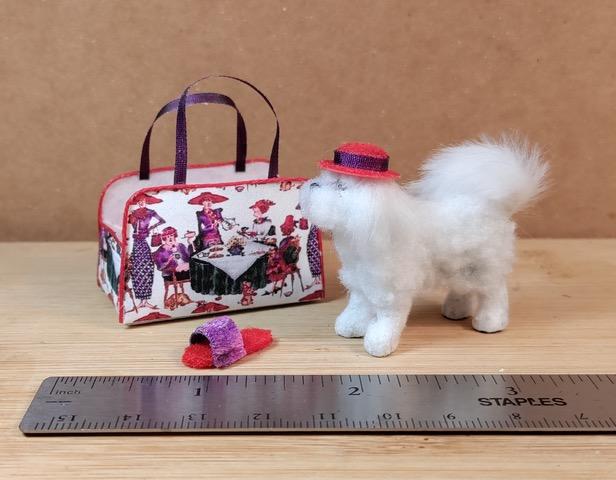 Students will be given a pre-made dog to paint and apply faux fur flocking to.  They will make a tiny red flocked hat with purple silk ribbon band.  A small chew toy slipper is constructed from felt and velvet.  Students will construct a tote bag and learn to apply cording.  Students will need to supply their own paint, glue and tools.
Scale: 1" (1:12)    (FINISHED DIMENSIONS: 2-1/2" x 2" x1" )   
Skill Level: Intermediate
Last Day to order:  December 9, 2021.
Non-NAME Member Price:  $155.00
NAME Member Price:  $144.00  

Shipping:
US $7.00
Canada: $7.00
International:  $15.00, No shipping to UK & EU customers
When you add this item to your cart, you will be charged the cost of the workshop plus US shipping.  If you live outside of the US, we will contact you about how to pay the additional postage required after your registration is received.  
You must be a NAME member and logged in to get the NAME member price, which is applied at checkout.
Red Hat Society Dog in Tote, Alice Zinn