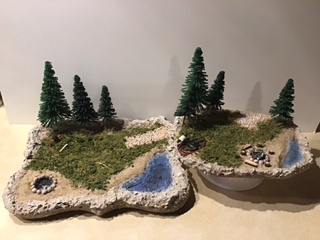 Michelle Miller will be demonstrating landscaping techniques with the Makamini Cabin in mind.  If you want to work along with Michelle during the Lunch and Learn, there's a lot of information below including things to think about before you start and supplies you might want to have on hand.  If you just want to come and listen, just come and listen!   This session will be recorded and available for you (under the "Fun and Games" tab) to review and refer to as you work on your landscaping.

Join Zoom Meeting
https://us06web.zoom.us/j/81288919996?pwd=RVBlNW1FdStCbnFQbVdiNUNtcUpsZ…
Meeting ID: 812 8891 9996
Passcode: 685013
FYI:  Michelle's base in the picture shown measures 7" x 9", but you can choose the size of your own base. 
These are things Michelle would like attendees to think about if they plan on participating.  The landscaping techniques that will be shown can be used for a variety of different projects and she has used them in both 1/4" scale as well as 1/2" scale.
You will be able to follow along and build a landscaped base during the Lunch & Learn if you choose to.  We will make use of your oven to speed up dry time between steps.
If you want to follow along, you will want to think about a couple of things beforehand:
1.  Water.  Do you want a large pool of water or just a hint?  Will it be a swimming hole or a fishing pond?  Do you want cattails and tall grasses around the water or all sand?
2.  Grasses and sand.  Do you want your base to be all sand or all grasses or a combination of both?  What about trees and bushes?  Any flowers?
3.  Fire.  Do you want a flickering fire unit in your base?  Or a firepit at all?
Notes from Michelle:  If you are planning to work on your own base during the session and choose to purchase landscape supplies, check out Woodland Scenic's figures.  They have a great selection of camping, hiking, and fishing figures.  They are plastic and are not too expensive.  Scenic Express has a great selection of landscaping grasses, trees, shrubs, flowers, as well as glues and other supplies for landscaping.  This is my go to site for most landscaping things.
These are the materials that Michelle used for her prototypes:  
*Unfinished wood plaque for the baseAny size or shape plaque will work
*sculptamold  
*paperclay - just a small bit .  If you already have an opened pkg, that will work
*paint -  white, black, a dark brown shade for a dirty wash, a few blue colors for water and a sandy tan color for base.  She used khaki tan Americana paint. 
*heavy duty tinfoil
*quick grip glue and white glue
*cardboard from a USPS priority box.  Save a couple priority boxes and you should have plenty.  The boxes are used to create the base of the landscape.  You can use other carboard boxes, but Michelle likes that the cardboard on the priority box is compressed.
*fire kit from Evans for firepit if you want a flickering fireplace   https://evandesigns.com/products/fire-led-kit?_pos=2&_sid=1fc16296c&_ss=r&variant=6762821124144. You want 1.8mm, 3 volt with battery and holder and 8" wire. 
*sand and grass or other greenery.  Use what you have in your stash.  The sand Michelle used came from a beach.
*Scenic Express has a lot of products you can use for landscaping.  This is what Michelle used:
     Green Adrondack blend     https://www.sceneryexpress.com/GREEN-ADIRONDACK-BLEND-32oz/productinfo/EX897B/
     Matte Medium     https://www.sceneryexpress.com/PREPARED-MATTE-MEDIUM-16-oz/productinfo/EX0010/
     Water product     https://www.sceneryexpress.com/REALISTIC-WATER/productinfo/WD1211/
     Ripple effects in water      https://www.sceneryexpress.com/WATER-EFFECTS/productinfo/WD1212/
*twigs for firepit and for seating around firepit
*Trees or shrubs - Michelle used JTT scenery spruce trees. https://www.ebay.com/itm/124462811887