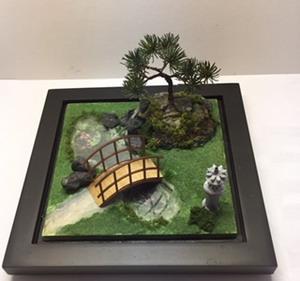 Make a Japanese Garden with koi pond, bridge, tree and lantern.  Create the koi pond out of foam core – using paint to create the allusion of depth, add fish and "water" that does not need drying time.  Put together a laser cut bridge.  The landscaping will also include a gravel path, a hill you can make any size, tree, rocks round your pond and a lantern.  The tree we will make out of wire and paint then add foliage.  We will put together findings and wood pieces to create the lantern.  Then paint it to look like stone.  The garden is covered with an acrylic box to keep the dust out.  We will add some iris to the scene.  
Scale: 1/4" scale    (FINISHED DIMENSIONS: 6-1/4"  x 6-1/4" x 5")   
Minimum Skill Level: Beginner/Intermediate
Price:
Non-NAME Member Price:  $85.00
NAME Member Price:  $74.00
Shipping:
US $12.00
Canada:  Not Available
International:  Not Available
When you add this item to your cart, you will be charged the cost of the workshop plus US shipping.  If you live outside of the US, we will contact you about how to pay the additional postage required after your registration is received.  If you are a NAME member and logged in, the NAME member discount will be applied to your shopping cart. 
Registration will be open for this class through May 25th.
This class will be at 2 p.m. Eastern on Saturday, June 11th.

PLEASE NOTE:  For the Come Fly With Me Events, Live Sessions may or may not be recorded.   Please plan to attend in person! 
Come Fly with Me to Japan, Sally Manwell, CFWM REGULAR REGISTRATION