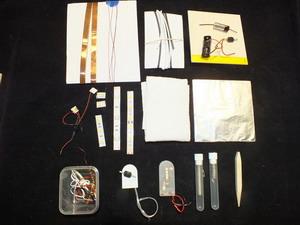 This class is for those who want their electrical connections to stay connected and for making repairs to existing electrical connections.  Solder is the "glue" for electrical connections that need to be permanent, solid and smooth.  Learn how to make repairs in copper tape that has been damaged.  Learn how to extend the length of wires leaving a slender finish. Learn about the use of shrink tubing.
TECHNIQUES INCLUDED:   the use of a soldering iron to add length to wires, attach wires to power and copper tape, care of soldering equipment, soldering switches to components, repairing severed wiring,  Proper solder to use, soldering safely, resources for proper soldering equipment
FINISHED DIMENSIONS:    Sample test board is 5" x 5" x 1/8"
SKILL LEVEL: all levels
To receive your kits in time for the class, you must order by August 12, 2022 (US) / August 8, 2022 (all other countries).  Orders placed after these dates may not ship until after the class has been held.   Sales close on August 27th.
This class will be at 2:00 p.m. Eastern on August 27th, 2022.   
LENGTH OF WORKSHOP:   3 hours
Non-NAME Member Price:  $55.00
NAME Member Price:  $44.00

Shipping:
US $5.00
Canada: $21.00 (Click here to add the additional $16 shipping to your shopping cart.)
International:  NA
When you add this item to your cart, you will be charged the cost of the workshop plus US shipping.  If you live outside of the US, please add the shipping upcharge to your cart before you checkout.
Out of fairness to our workshop presenters who have to purchase materials ahead of time, and since all classes are recorded and may be viewed by those registered at a later time, we do not accept cancellations for workshops on Create.
You must be a NAME member and logged in to get the NAME member price, which is applied at checkout.
Soldering for Beginners, Luci Hanson