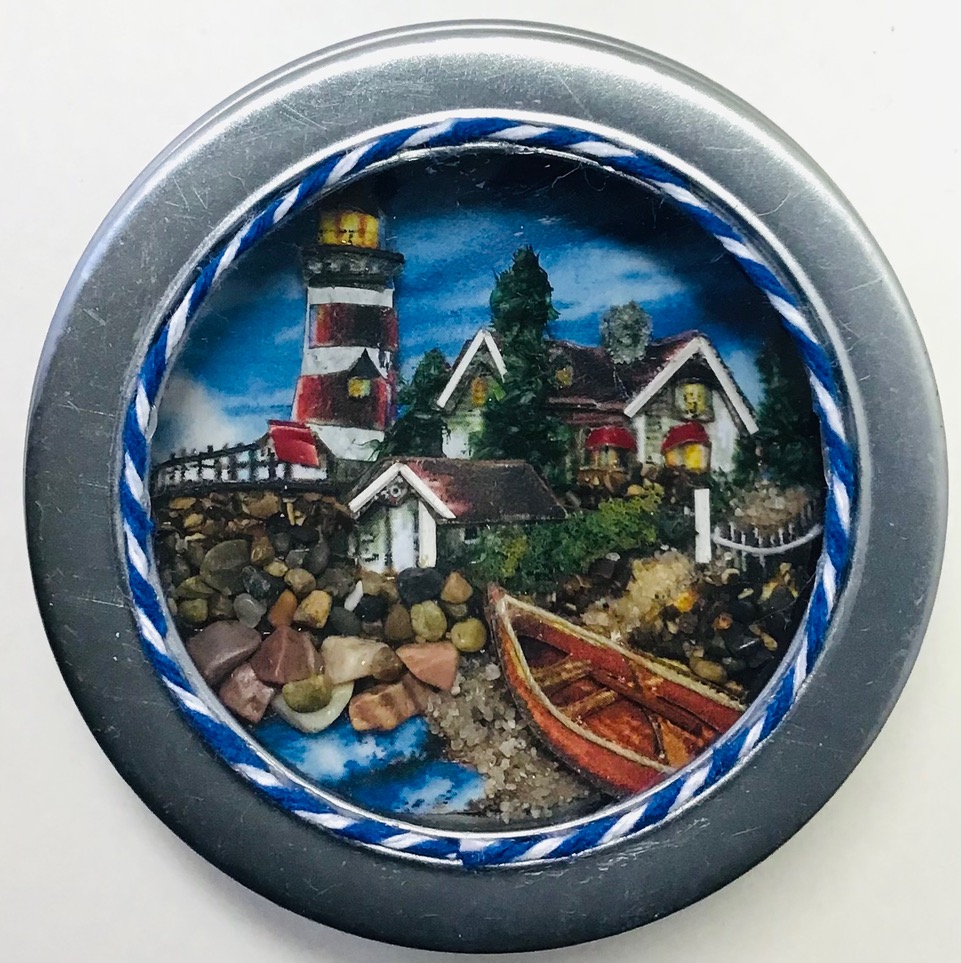 Create this special lighthouse and beach scene housed inside a magnetic backed round aluminum tin with clear opening. The lighthouse scene, complete with beach area, lighthouse keepers house, shed and canoe, is brought to life as you begin to embellish your scene. You will learn dimensional cutting and layering techniques that can be used for future projects. With the addition of various sizes of rocks, beach sands, greenery, threads, assorted foils and wood, you will further enhance the dimensional effects of the scene.
The finished scene is surrounded with a blue and white twisted cord that completes the overall effect.
Techniques:   Layering techniques
FINISHED DIMENSIONS:  2" diameter/ 1" deep
SKILL LEVEL:  Beginner
 
To receive your kits in time for the class, you must order by January 19, 2024 (US) / January 12, 2024 (International). Orders placed after these dates may not ship until after the class has been held. Sales close on February 3rd.        
This class will be at 1:00 p.m. Eastern on February 3rd, 2024.  

LENGTH OF WORKSHOP:   3-4 hours 
 
Non-NAME Member Price:  $68.00
NAME Member Price:  $57.00
Shipping:
US $8.00
Canada/Other International: $16.00 (Click here to add the additional $8 shipping to your shopping cart.)
Note:  Shipping not available to Australia or Netherlands

When you add this item to your cart, you will be charged the cost of the workshop plus US shipping. If you live outside of the US, please add the shipping upcharge to your cart before you checkout.
Out of fairness to our workshop presenters who have to purchase materials ahead of time, and since all classes are recorded and may be viewed by those registered at a later time, we do not accept cancellations for workshops on Create.
You must be a NAME member and logged in to get the NAME member price, which is applied at checkout.
The Lighthouse, Ginger Landon-Siegel