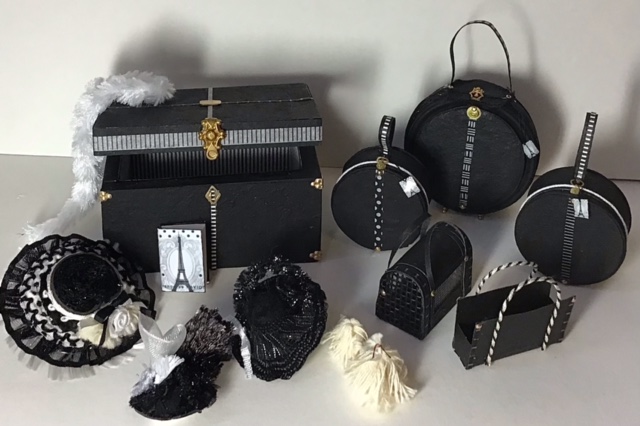 Packed up and ready to go, Annabelle has dreamed of a trip to Paris. She hopes to explore all the wonderful fashion venues, museums and landmarks she has heard of through the years. With her luggage laid out and her favorite hats picked, Anabelle and her pup are ready to depart for Paris documenting all their special memories in her Paris themed travel journal.

Create this ensemble of black and white faux leather luggage and accessories. The ensemble includes the lined faux leather wood trunk, two medium and one large non-opening faux leather hat boxes, the two faux leather pet carriers, Annabelle's pup, her Eiffel Tower travel journal, white fur boa and the three black and white trimmed hats. The trunk, hat boxes and pet carriers are all enhanced with black and white designs and accented with beautiful gold detailing. Two prepared and one unfinished piece of what is used to create the faux leather are included in the class and complete how-to instructions on creating the faux leather will be taught. Students will learn how to use found objects to make the two sizes of hat boxes. Each will be accented with trims, gold detailing and Paris themed luggage tags to complete the overall effect. Students will also create the 3 black and white trimmed hats, two with found objects as the base.  

To finish the travel ensemble, students will make Annabelle's tiny shaggy pup, her two pet carriers and her special travel journal. After all, this is going to be a trip to be relived and remembered for a very long time!
Techniques included:  Making faux leather, creating hat boxes ands hats using found objects, adding hinges to trunk.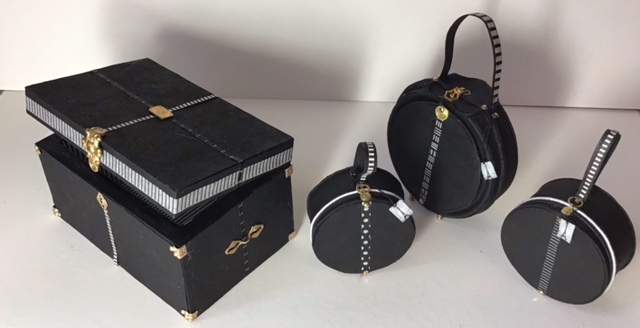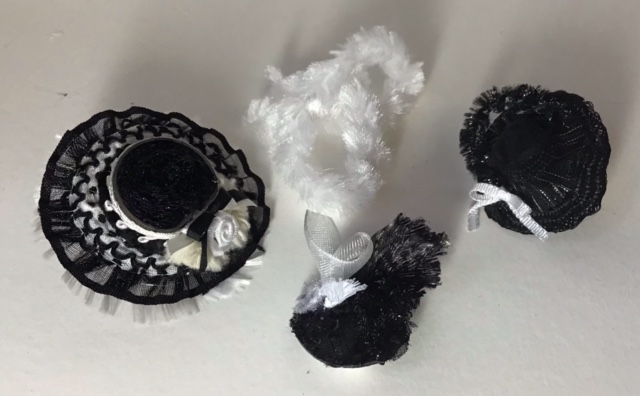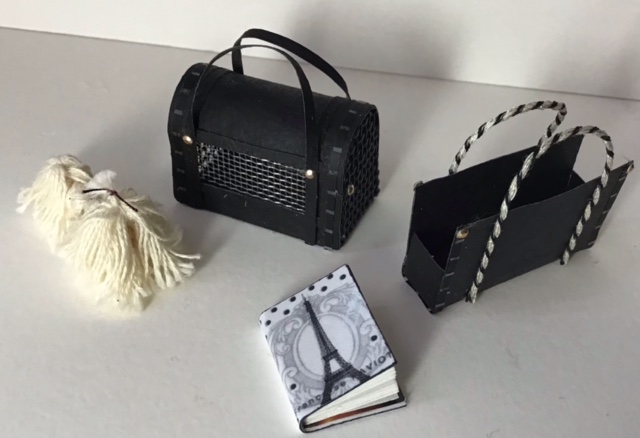 SKILL LEVEL: Beginner
To receive your kits in time for the class, you must order by February 17, 2023 (US) / February 10, 2023 (all other countries). Orders placed after these dates may not ship until after the class has been held. Sales close on March 4th.
This class will be at 12:00 noon Eastern on March 4th, 2023.   
LENGTH OF WORKSHOP:   5 hours
Non-NAME Member Price:  $99.00
NAME Member Price:  $88.00

Shipping:
US $8.00
Canada: $16.00 (Click here to add the additional $8 shipping to your shopping cart.)
Other International:  $16.00 (Click here to add the additional $8 shipping to your shopping cart.)  Shipping not available to UK or Australia.
When you add this item to your cart, you will be charged the cost of the workshop plus US shipping. If you live outside of the US, please add the shipping upcharge to your cart before you checkout.
Out of fairness to our workshop presenters who have to purchase materials ahead of time, and since all classes are recorded and may be viewed by those registered at a later time, we do not accept cancellations for workshops on Create.
You must be a NAME member and logged in to get the NAME member price, which is applied at checkout.
Annabelle Goes to Paris, Ginger Landon-Siegel