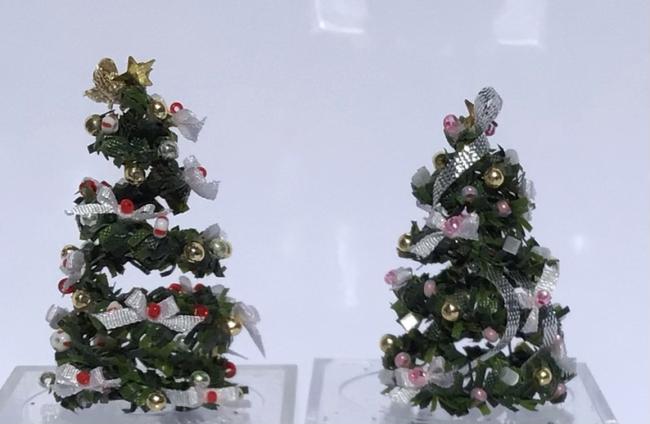 Jean Lierman & Georgia Queen
¼" tree will be pre-formed and your silk bows tied.  You will decorate your tree with hand tied silk ribbon bows and decorate with either a traditional red theme or pink theme (your choice after registration)
Techniques included:   How to decorate a ¼" tree without getting glue all over

FINISHED DIMENSIONS:    1-1/2" tall
SKILL LEVEL: all levels (should be able to minimize glue use and work with VERY small decorations)
To receive your kits in time for the class, you must order by November 18, 2022.  Orders placed after this date may not ship until after the class has been held.  Sales close on December 3rd.  
This class will be at 2:00 p.m. Eastern on December 3rd, 2022.   
LENGTH OF WORKSHOP:   3 hours
Non-NAME Member Price:  $55.00
NAME Member Price:  $44.00

Shipping:
US $5.00
Canada: NA
International:  NA
When you add this item to your cart, you will be charged the cost of the workshop plus US shipping.  If you live outside of the US, please add the shipping upcharge to your cart before you checkout.
Out of fairness to our workshop presenters who have to purchase materials ahead of time, and since all classes are recorded and may be viewed by those registered at a later time, we do not accept cancellations for workshops on Create.
You must be a NAME member and logged in to get the NAME member price, which is applied at checkout.
¼" Christmas Tree, Jean Lierman & Georgia Queen