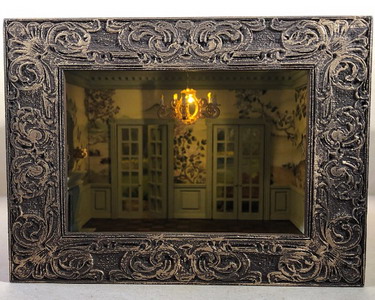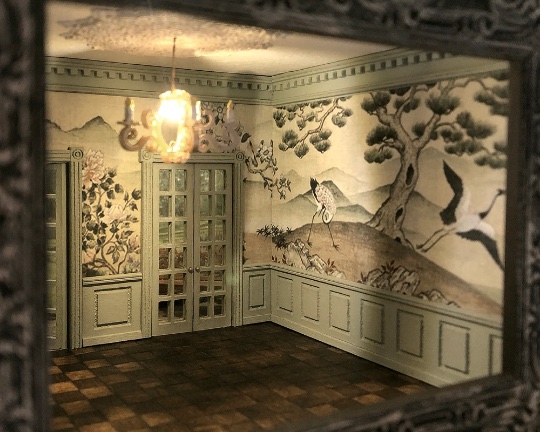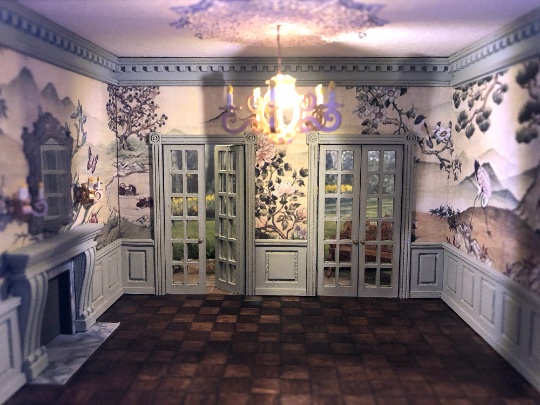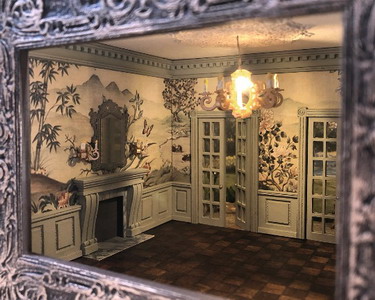 Quarter inch scale (1:48) Chinoiserie Style Room Box. Kit features oriental style mural wallpaper, French doors leading to a patio/garden area, and parquet floor. Kit includes wallpaper, flooring, fireplace, and chandelier and wall sconces. Students will learn finishing techniques and basic wiring.
**Wiring is optional and students will be providing their own electrical bulbs and battery switch per the supply sheet that will be sent out.
Techniques included:   Assembly of roombox, finishing techniques for a parquet floor and slate floor, assembly of chandelier and sconces, and basic wiring.
FINISHED DIMENSIONS:   4.75" x 3.5" x 5.75"
SKILL LEVEL: Beginner
This is a second chance Create-ive Offering.  There will not be a live session for this offering, but you will be given access to the videos of the sessions that were offered when this workshop was originally held.  Sales close on February 15th.
Non-NAME Member Price:  $160.00
NAME Member Price:  $149.00

Shipping:
US $11.00
Canada: $30.00 (Click here to add the additional $19 shipping to your shopping cart.)
When you add this item to your cart, you will be charged the cost of the workshop plus US shipping. If you live outside of the US, please add the shipping upcharge to your cart before you checkout.
Out of fairness to our workshop presenters who have to purchase materials ahead of time, and since all classes are recorded and may be viewed by those registered at a later time, we do not accept cancellations for workshops on Create.
You must be a NAME member and logged in to get the NAME member price, which is applied at checkout.
Chinoiserie Room Box, Samantha Murray