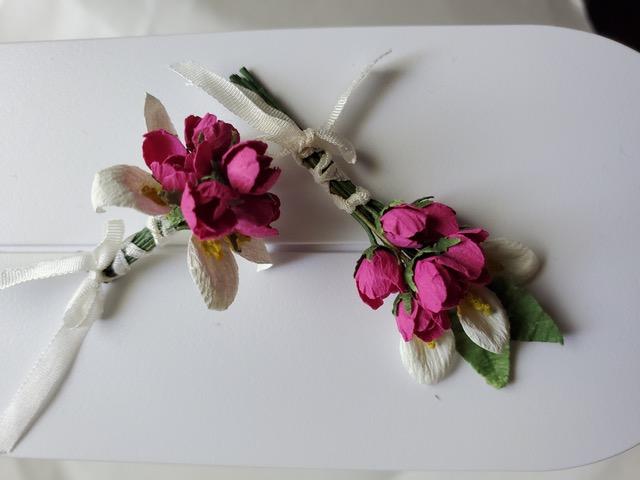 Students will create a wedding bouquet of Roses and Calla Lilies.  This can be used as a bouquet or a regular flower arrangement for any setting.  The bouquet can be arranged however the student wishes (2 samples shown).  If a certain color is desired for the roses, please specify the color wanted.  You will receive flowers to create an arrangement or flowers to put throughout your wedding scene. The Bouquet will be completed in class and any other flowers you can finish within the 4 hour timeframe.
Scale: One inch or 1/12 scale (FINISHED DIMENSIONS: 1" x 1" x 1-1/4"  OR 2" x ¾" x ½")   
Skill Level: Beginner
To receive your kit in time for the class, you must order before June 6, 2021.
Sales for this kit close on July 20.  Orders placed after June 6 may not arrive in time for the ZOOM session.   
This class will be at 1:00 p.m. Eastern on June 20, 2021.
LENGTH OF WORKSHOP:   3 - 4 hours 
Non-NAME Member Price:  $60.00
NAME Member Price:  $49.00

Shipping:
US $4.50
Canada: $9.00
International:  $9.00  (Shipping not available to UK countries.)
When you add this item to your cart, you will be charged the cost of the workshop plus US shipping.  If you live outside of the US, we will contact you about how to pay the additional postage required after your registration is received.  
Out of fairness to our workshop presenters who have to purchase materials ahead of time, and since all classes are recorded and may be viewed by those registered at a later time, we do not accept cancellations for workshops on Create.
You must be a NAME member and logged in to get the NAME member price, which is applied at checkout.
Roses & Calla Lilies Bouquet, Charrita Teague