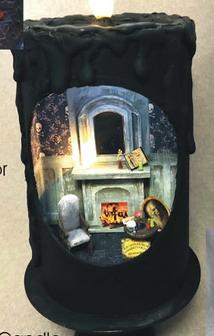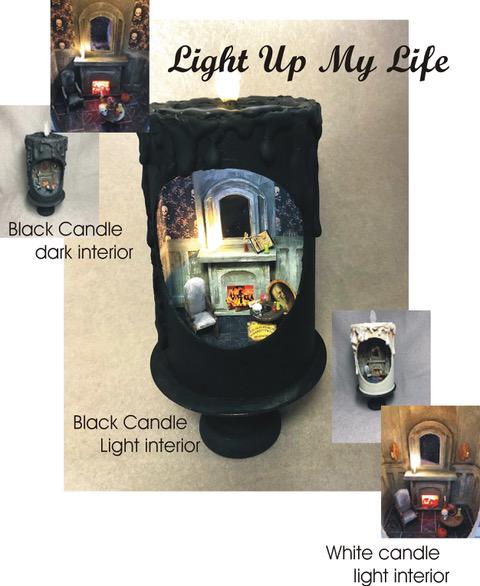 This little "candle" is a fun class with a ton of possibilities. A pillar candle with spooky drips and a room inside, I did mine as A Halloween themed candle and room. If you prefer, you might swap out the colors and accessories so it could be used instead for Christmas, weddings, or Birthdays, wherever your imagination takes you.
I've included everything you need to completely finish your "candle". The tube is pre-cut and primed. Plus there is some spooky wallpaper and the wainscoting. . The Fireplace, chair, and table kits are included.  There are a lot of Halloween accessory kits to play with so you can pick and choose, skull, dome, potion bottles, spell books, candle sconces, lots more. And there is still room to add a few personal touches.  A witch, maybe?
I've also included the secret tool, (hot glue gun and glue sticks, lol) to make the "candle" drippy, the wooden candle stick bottom and the lighting, I'll even show you how to make your candle flames look more real.  Since you choose the colors, the paint is not included.
We'll start the first half of class in the evening and finish the second half the next afternoon.  This class is for the beginner in small scale as well as the old pro who wants to do something different.
Techniques included:  Decorating to look like a candle, furniture assembly, electrical & aging
FINISHED DIMENSIONS:    Sample test board is 3" x 3" x 8"   
SKILL LEVEL: Beginner
To receive your kits in time for the class, you must order by September 8th, 2022 (US) / September 2nd, 2022 (all other countries).  Orders placed after these dates may not ship until after the class has been held.   Sales close on September 24th.  
This class will be held in two sessions; 4 p.m. Eastern on September 23rd and 2 p.m. Eastern on September 24th, 2022.   
LENGTH OF WORKSHOP:   3-4 hours each session (6-8 hours total for the two sessions.)
Non-NAME Member Price:  $150.00
NAME Member Price:  $139.00

Shipping:
US $10.00
Canada: $25.00 (Click here to add the additional $15 shipping to your shopping cart.)
International:  NA
When you add this item to your cart, you will be charged the cost of the workshop plus US shipping.  If you live outside of the US, please add the shipping upcharge to your cart before you checkout.
Out of fairness to our workshop presenters who have to purchase materials ahead of time, and since all classes are recorded and may be viewed by those registered at a later time, we do not accept cancellations for workshops on Create.
You must be a NAME member and logged in to get the NAME member price, which is applied at checkout.
Light Up My Life, Cat Wingler