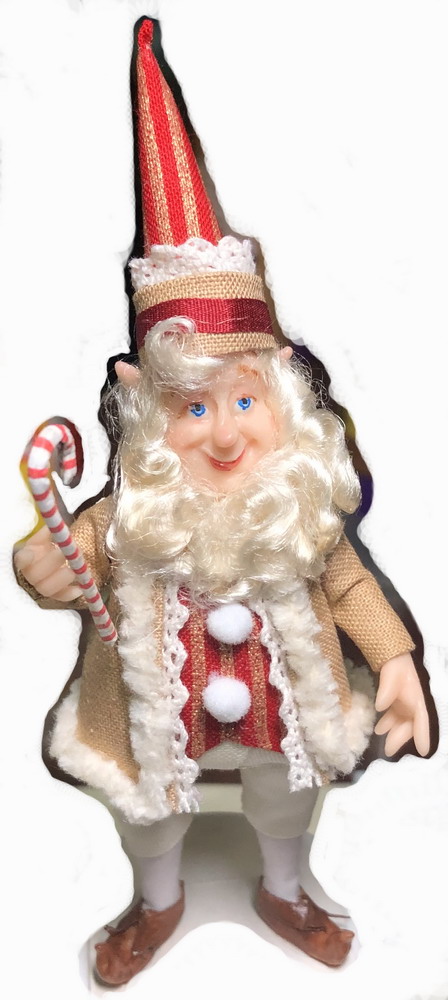 This little Christmas Elf, with his goofy grin and curly beard, is the perfect introduction to sculpting and costuming. He is 3 ½" tall, not counting his hat, so he could possibly be used with ½" scale furniture. 
This will be a relaxed class, with more than enough time to get him finished.  We will sculpt him the first evening, assemble and paint him the first part of the second day, then in the afternoon of the second day, we will costume him. 
The kit contains enough material to do two elves, and to make it a little easier for you, I will do the first set of hands for you. His costuming has been specifically designed to make it easy to dress him, and I've included all the fabrics and trims, even the pre-curled hair. Costume patterns and written instructions are included. 
Bonus: Your second elf doesn't even have to be an elf, changing his expression and using different fabrics means he (or she) can be a goblin or a leprechaun or a…. whatever you like. 
Techniques:   Beginning sculpting and costuming
 
FINISHED DIMENSIONS:  3-1/2" without tall hat 
SKILL LEVEL: Beginner
 
To receive your kits in time for the class, you must order by October 21, 2023 (US) / October 28, 2023 (Canada). Orders placed after these dates may not ship until after the class has been held. Sales close on November 18th.      
This classes will be held Friday, November 17 from 7:00 – 9:00 PM Eastern and Saturday, November 18, 2023 from 1:00 - 6:00 PM Eastern.

LENGTH OF WORKSHOP:   6+ hours 
Non-NAME Member Price:  $150.00
NAME Member Price:  $139.00
Shipping:
US $9.00
Canada: $14.00 (Click here to add the additional $5 shipping to your shopping cart.)
Other International:  N/A

When you add this item to your cart, you will be charged the cost of the workshop plus US shipping. If you live outside of the US, please add the shipping upcharge to your cart before you checkout.
Out of fairness to our workshop presenters who have to purchase materials ahead of time, and since all classes are recorded and may be viewed by those registered at a later time, we do not accept cancellations for workshops on Create.
You must be a NAME member and logged in to get the NAME member price, which is applied at checkout.
Sculpting for the Feeble Fingered: A Christmas Elf, Cat Wingler