Here are the participants in Create's Year Long Challenge (CYLC).
Participants are in alphabetical order by last name. This is the second half of the alphabet. Participants with a last name starting with M-Z are on this page.
Participants with a last name starting with A-L can be found here.
Completed projects can be found here.
_________________________________________ 
From Pam McDonald:
I have had this kit for Debbie Young's Visalian for a very long time. I'm not committing to furnishing or landscaping by the end of the year, although I will try.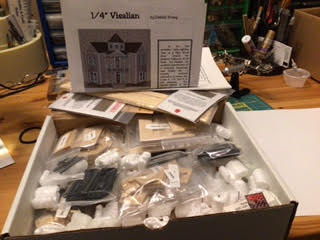 March Update:
I'm off to a slow start with my house, but have finally got some of the prep work done. I always spend more time thinking about a project than building it. At least I have chosen an exterior colour and have started choosing/printing wallpaper. I've also finally committed to lighting the house (because the siding has to be added before the house is assembled I'll need to have two battery packs -- one in the attic and one in the foundation). I've primed the windows and doors -- look at them all! Aren't Debbie Young's kits amazing? And I've assembled the foundations.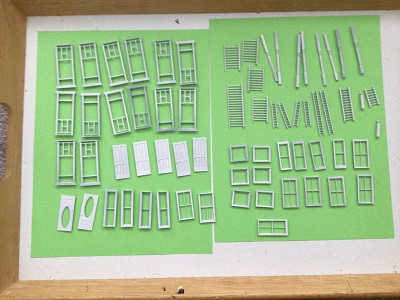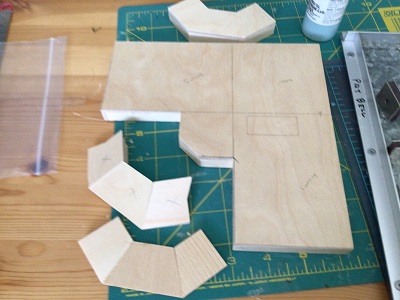 June Update: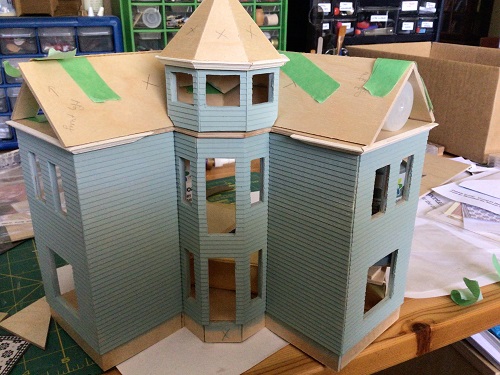 September Update:
This project is going very slowly - I hope to really speed up in the fall in order to complete the house by Dec 31. The interior finishes are done on the first floor and I think I have finally settled on where to run the wires for lighting. Laying the wood floors was time consuming due to all of the angles in the house and the need to cut around moldings.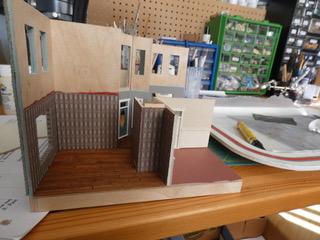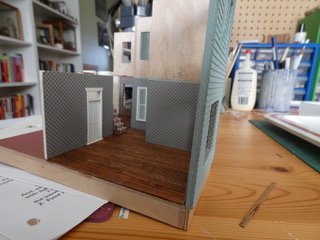 _________________________________________
From Kathy McNeely:
I am going to join your group in the year long challenge. I will rehab this dollhouse I bought from Facebook marketplace last year. It needs a LOT of work and I haven't touched it since I got it.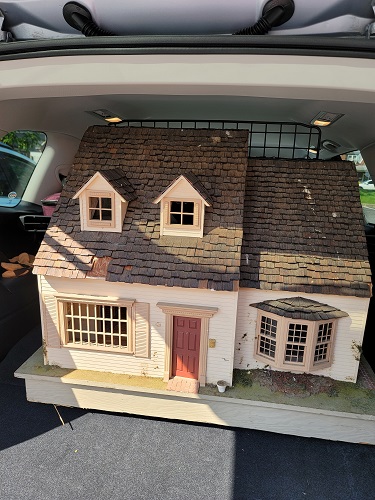 March Update:
The girls (April and May) got a slow start on their fixer upper they named "Buttercup Cottage". They have torn out floorboards and carpet. They removed a lot of yucky old wallpaper. In doing so, it was discovered that they need all new wiring which will be the next step once the place is cleaned up. Spring will be here soon, so April started cleaning the siding and prepping it for paint.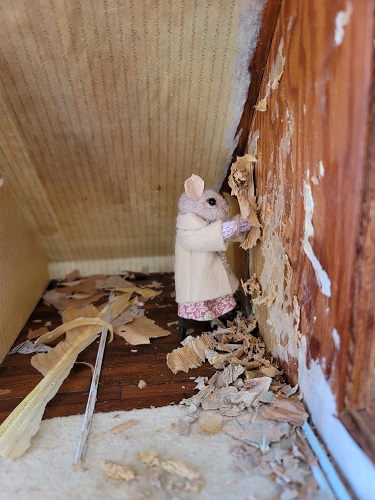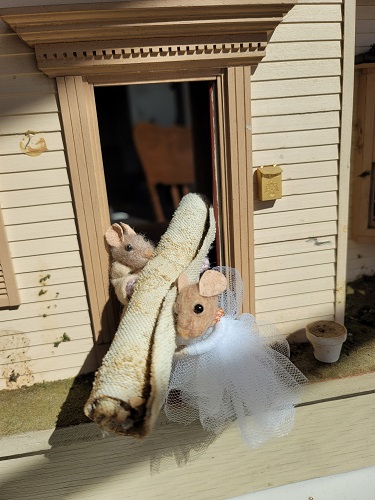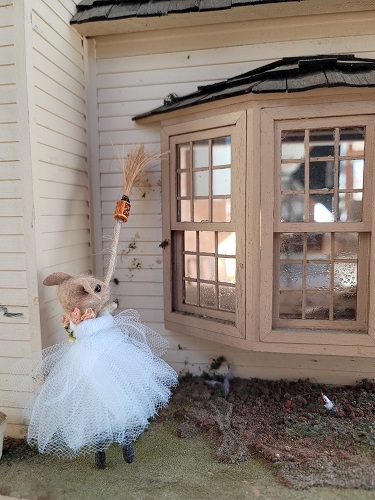 June Update:
Lots of grunge work going on during this phase of the Buttercup Cottage rehab. A new base was made to give room for addition and landscaping. Part of the kitchen wall was removed to make an entry to the conservatory addition. Attempts to remove remnants of old landscaping ...  it's harder to remove than I expected! Electrical added and stucco walls started. Stone floors have been created too. Hopefully it starts coming together soon!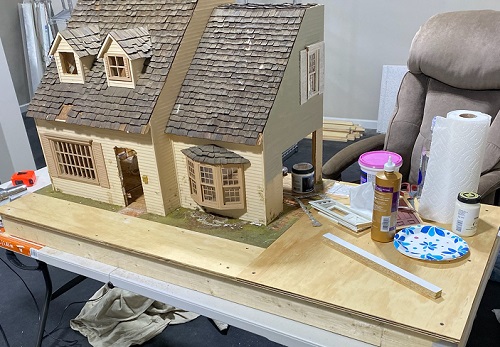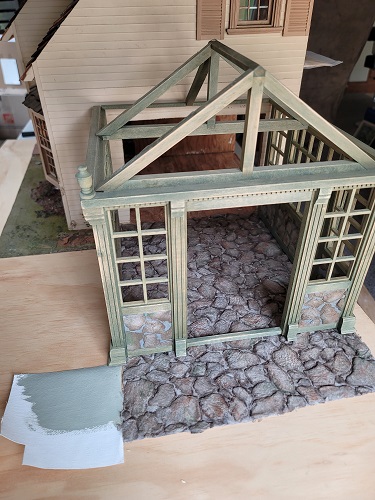 September Update:
The girls have been busy the past few months. The electrician ran the wiring and they plastered the walls, added floor molding, and got the garden room addition on the house! They added a small bathroom on the second floor, and built some bookshelves in the living room next to the fireplace, too. They love the wallpaper on the back that has tiny birds on it. The stove has been brought in and the hood placed over it. It's very convenient for their pots and pans. 
The electrician needs to come back to install the pretty lights they chose. After that the flooring goes in upstairs. Then they can work on painting outside and landscaping. They are hoping to be all moved in for Thanksgiving.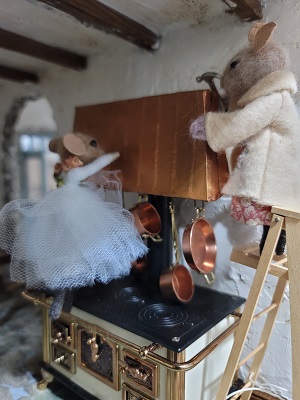 _________________________________________
From Janette Mickelson:
I am building an entire town in half inch scale. The kit I am going to be working on in 2023 is MacGreedy's emporium. I got this kit recently on Etsy. The pieces all seem to be there. I will definitely change the name. The building itself should not be too hard but the first floor is going to be a grocery store and probably the post office. I can picture shelves full of food, a frozen and refrigerated section, as well as fruits and veggies. I am not sure about the second floor. I would love to do a miniature shop but this is half scale so that may be a real challenge.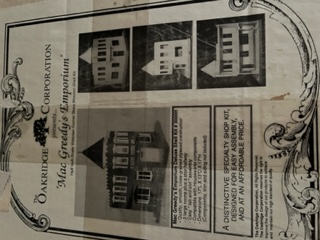 March Update:
Yikes. I have been working so much that I have not gotten very much done. I started picking out wallpaper this week so hopefully will see some progress soon. I also assembled some store fixtures, too!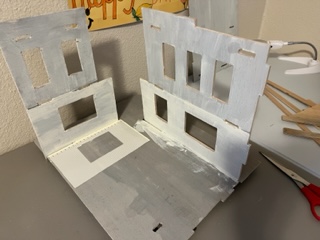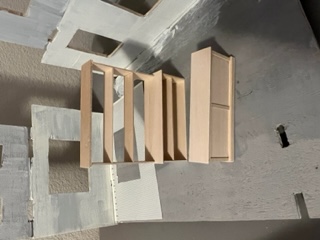 June Update:
 It is slow going! I had to adjust some of the tabs and slots for a better fit and also changed my mind on first floor wallpaper and redid it ... luckily before the paste had dried. I decided to use a brick wallpaper on the outside and am very happy with it.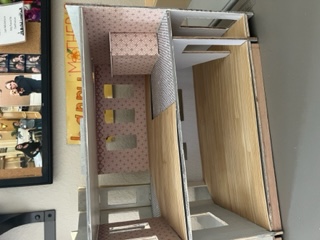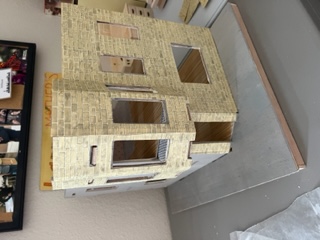 September Update:
The outside is papered and windows and doors installed. I have left windows and doors unpainted and really like the look. I will finish the sidewalk to look like cement. And now on to the interior!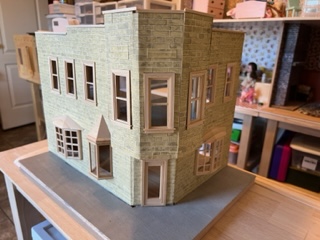 _________________________________________
From Laura Miller:
My choice for the year long challenge is my version of the Neverwas, or as I have been calling it the Never-will-be. I am taking part so that it will not stay the Never-will-be. I have lots of pieces done for it, as you can see from the picture. I have made and collected all kinds of items for this and have specific ideas for what I have planned. I am not planning to include the landscaping of the base in this challenge, but if I have time after finishing the Neverwas, I will do that. Thank you for this challenge. I think this will be exactly what I need to finish this.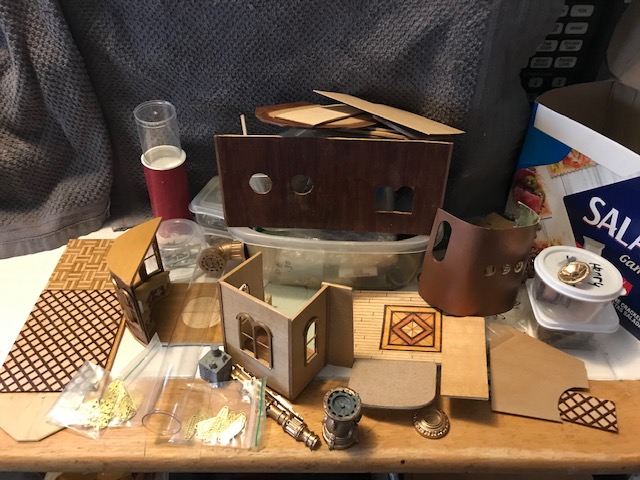 March Update:
I have made some more floors. I varnished all the floors. I found missing walls. I flattened warped walls and replaced the chipboard underside of the top floor. I have a long way to go, but this is the most work I have gotten done since I started this during Michelle's class.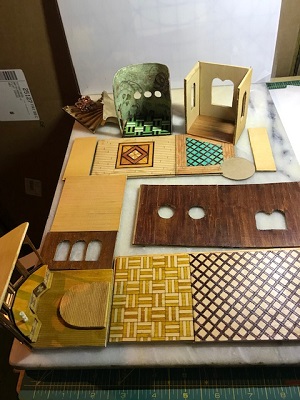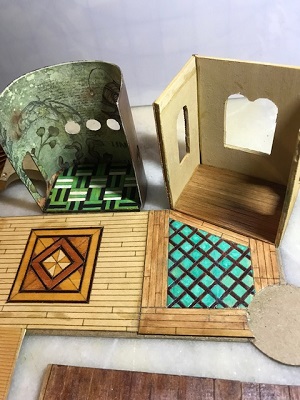 June Update:
I have been working on it for weeks. I really thought I would get more done.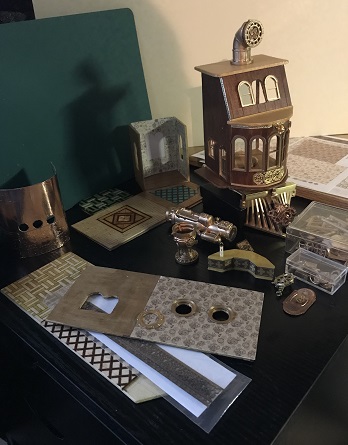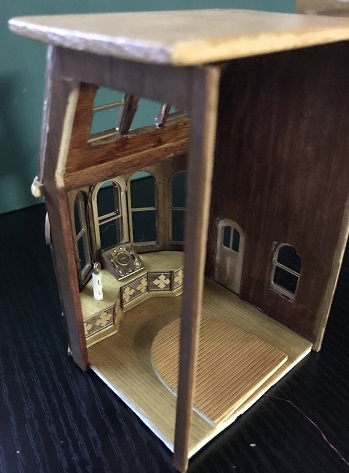 September Update:
I really wanted to get more done, but I glued on the portal windows and the submarine door to the submarine room, added some embellishments and fixed the window area of the wheelhouse, glued the door frame into the bottom back wall, and glued the windows in the sewing room. I cut the window " glass for the wheelhouse and the sewing room. The rest of the work I did was on my PC. Making "stained glass" windows and locating the perfect elevator door.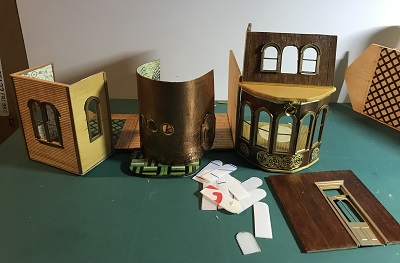 _________________________________________
From Samantha Murray:
My yearlong challenge is to get the kit designed for an advent calendar based on the German Christmas whirl gigs using these as inspiration.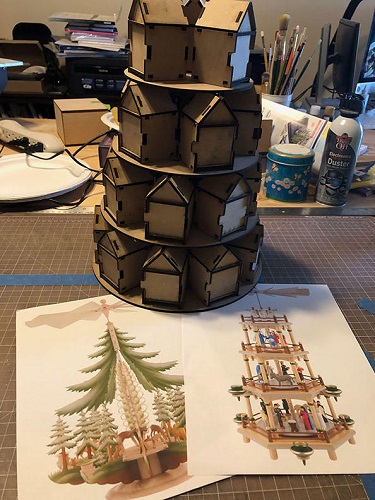 March Update:
It's been a crazy 3 months but I did manage to get the base structure pieces figured out and design 3 of the houses.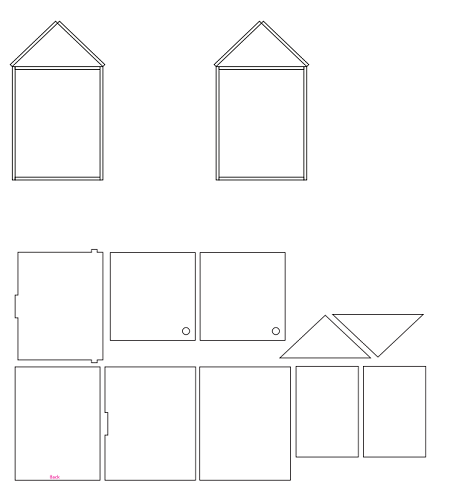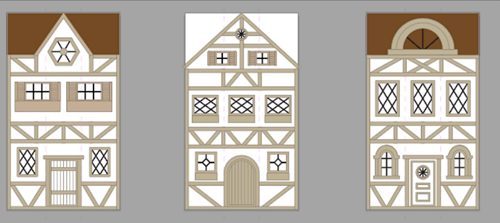 June Update:
Checking in for the challenge but I have not been able to get any work done this quarter. Real work keeps getting in the way.
September Update:
I got all the houses sketched out and have completed the design of the pieces for the base houses. I have completed the design of two houses and the church. Only 21 more houses to go plus Santa's workshop.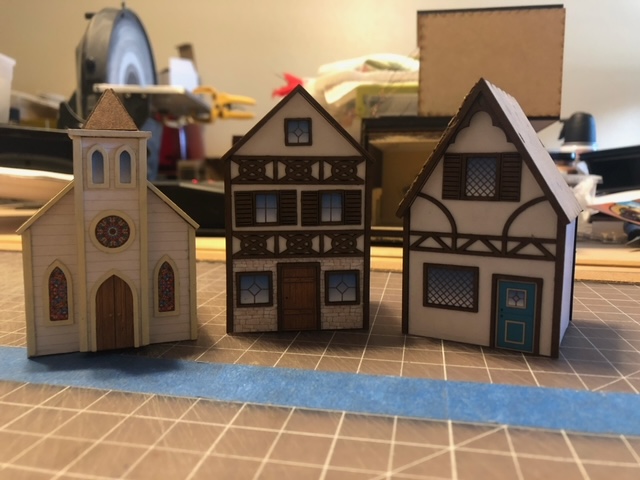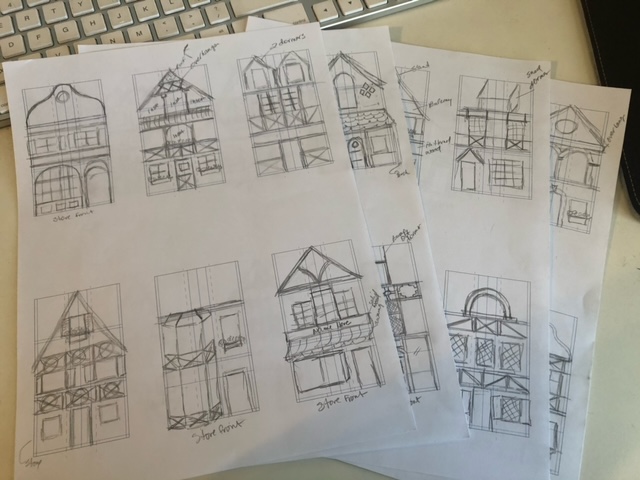 _________________________________________
From Mary Myers:
I bought this Seabrook kit a couple of years ago and have been collecting pieces and kits to go in it since then. I probably have enough accessories for three sea shacks; but that's the way I work. I am anxious to try to get the structure to look old and weathered. I can see the seagulls and smelly fish scattered about in my mind.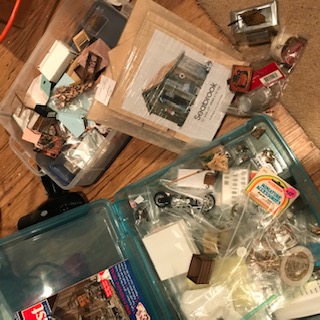 March Update:
Here are my progress pictures for my Challenge Project. The structure is up and I love the way it turned out. It still needs a bit of aging, landscaping, hardscaping (the egg carton sidewalks) and some more junk around the perimeter. I broke the metal table but it fits with theme on an old barrel. I loved making the fishing rods. I was in Florida a few weeks ago and collected some shells for the outside and on the shelves. I am going to make some fishing knives and, and, and ... I'm just having too much fun with this project. I have some fly fishing things, but I think that will have to go into another project.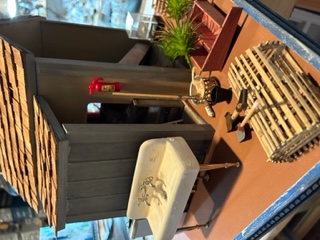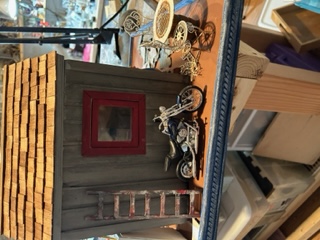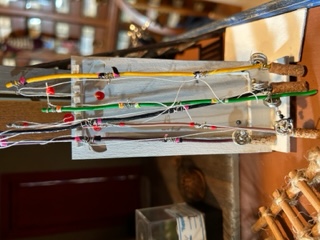 June Update:
Ta da. My shack is up and open. I've even got my first dollar pinned to the wall. I'm mostly finished. I need to do some grubbing up things a bit. Some half eaten fish tacos on the table that kind of thing.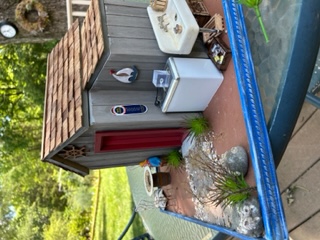 September Update:
Between gardening and the Cape Cod convention, I didn't get much done on my fishing store.  But I did add this lovely ship bell and hanger round table kit by Debbie Young. I think it is perfect.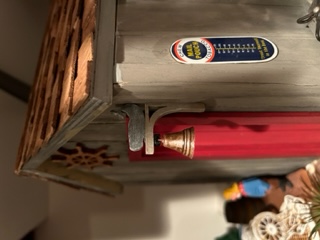 ________________________________________
From Linda Napier:
I have had the "Southern Cottage" kit partially done for a while and really need to finish it because I've told myself repeatedly that I can't start the next one until that is finished. So in case it isn't a "big" enough project for the challenge, my photo includes the Adoorable kit. I've only opened the box so far. I'll be very happy if I finish the Cottage and get the Adoorable house kit done in 2023.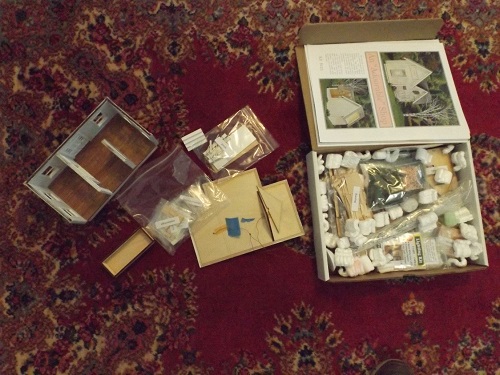 March Update:
The lights are in, the ceiling is attached, and the roof started. I also watched the video of the flower cart project since I plan to have hydrangeas in my landscaping. I've never tried alcohol ink on flower petals, so we'll see what happens.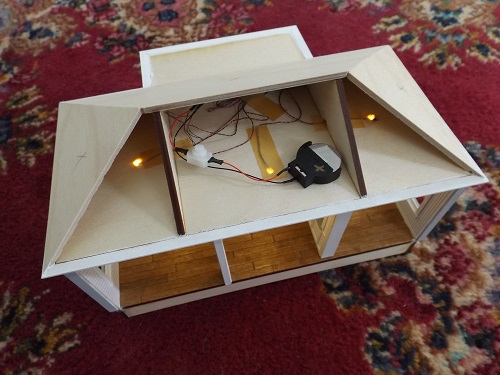 June Update:
I didn't make much progress. I did start making hydrangeas after watching the alcohol inks being used on one of the Create videos. I hadn't tried them before for coloring flowers.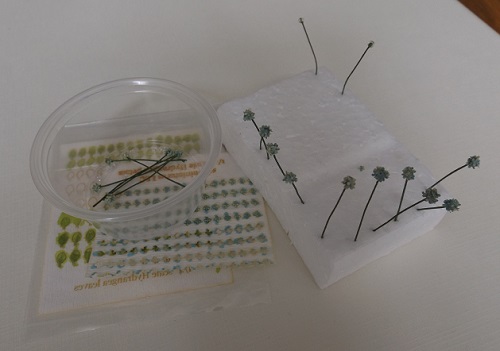 September Update:
Here's is my photo for this quarter. I was hoping I'd be further along, but so far so good.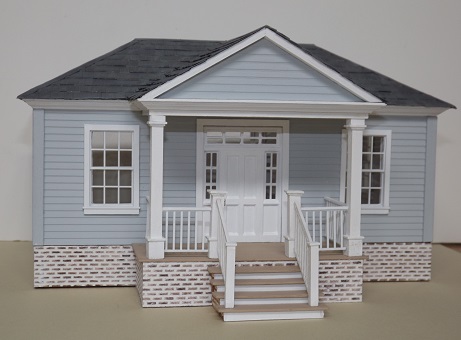 _________________________________________
From Mary Neely:
This my library project. It was a club project a while ago but I'm determined to get it done!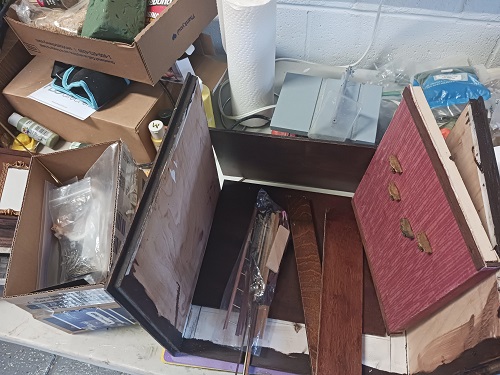 March Update:
Working slowly but surely!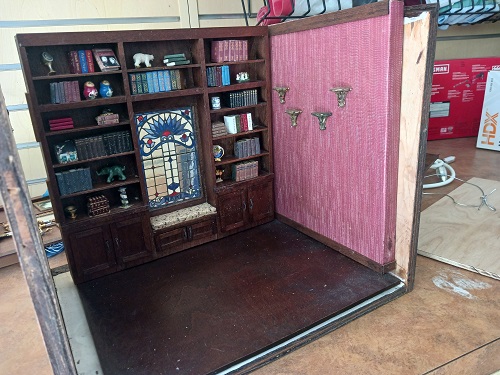 June Update:
September Update:
Making progress! Still have to finish the fireplace wall but it's coming along!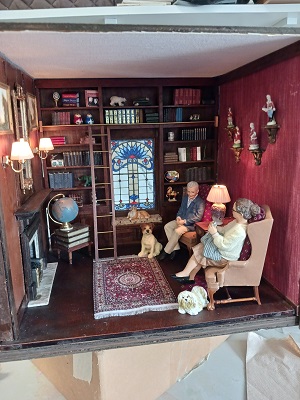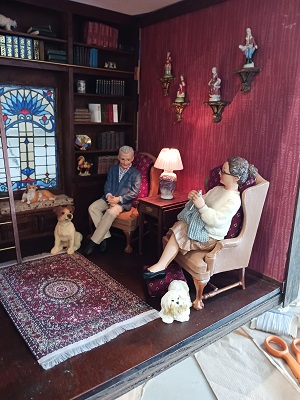 _________________________________________
From Sue Ostheimer:
Back in 2009 I did a workshop with Philippa Todd who taught us how to make raw meats and fish using polymer clay. I have been meaning to make a meat and fish market ever since then. I have a Fern Vasi doll from the 'lunch 'n learn" on Create who will be my shop keeper, and 2 years ago I finally made the display cabinet and some shelves. I also cut walls from gatorboard and started to make some boxes and jars of things for the shelves. Then other projects came along and it got put aside. I am getting close to finishing my Tiki Bar and hope to get my market finally finished this year!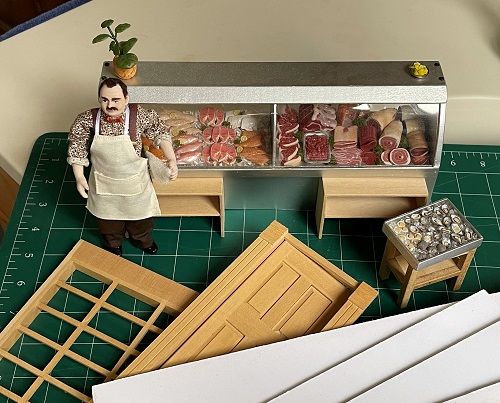 March Update:
I've completed the counters, shelves, sink, door, (all made with basswood, silver color is Design Master Super Silver 732 spray paint), flooring, window & tile (purchased and stained/painted) and painted the walls and trim. Next: glue walls in place, add a ceiling or plexiglass cover with a ceiling light (LED strip) and make items for sale for the shelves.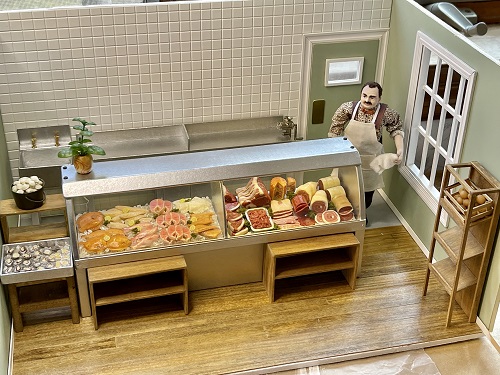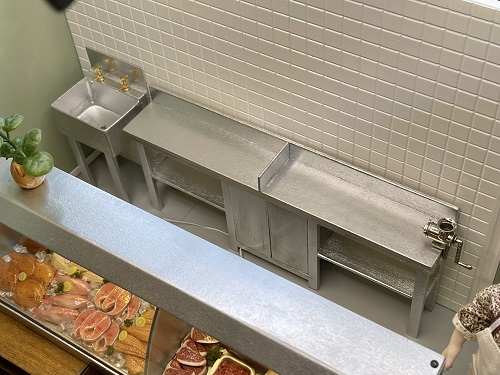 June Update:
Walls inside and out finished and glued on, ceiling/roof with glass panel & LED lights finished, Corn/tomatoes/onions/potatoes finished, added items to back prep counter. Need to make some things for sale (bread crumbs, condiments, etc), a shelf for the back wall, & scale for the counter. Also need to add signs to walls. I haven't figured out a front but thinking a plexiglass slide in panel, rather than a store front. The name will probably be "Luca's Prime Meats & Fresh Fish".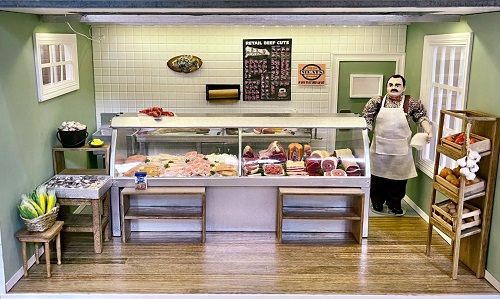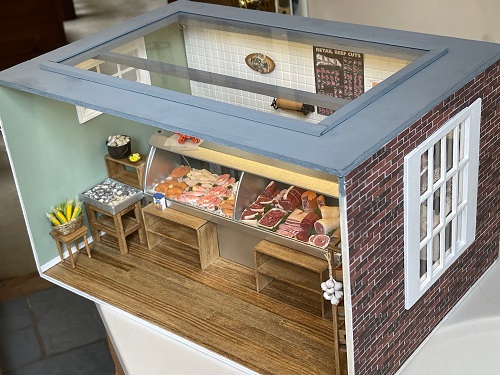 September Update:
I am finishing up the trim work and sign, and added some provisions for shelves (need to make some more). Also put up some signs, shelf, and paper towel holder on back wall. I decided to add the boar's head that we made in the same weekend class when we made the meats and fish, and also added the "Today's special: BOAR'S HEAD" sign! Luca's shop will be open in time for the Christmas rush!!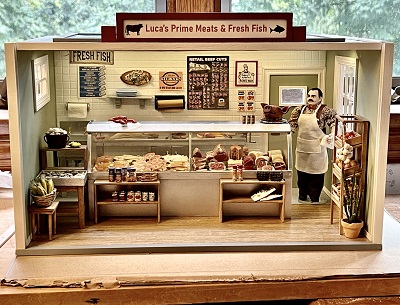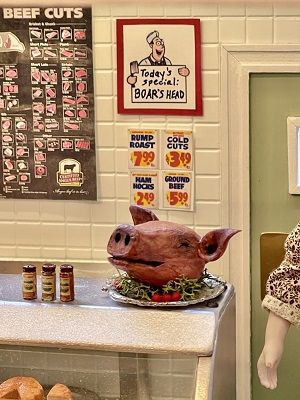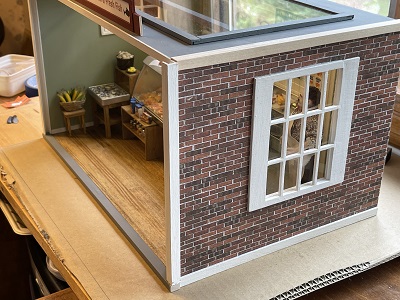 _________________________________________
From Elizabeth Palmer:
I have chosen to rework this old clock case into several vignettes. I have been given the "use it or lose it" by my husband so this challenge is perfect! I usually work in half scale so this will be a bit out of the ordinary. This will be a very personal experience for me. My grandparents were friends with the Birkemeiers of Studio B Miniatures. Occasionally I would be gifted a piece from the Birkemeiers. I want to create rooms for my collection. I am very glad they have serviced through 50 years and many moves. I still try to add Studio B pieces as they become available as a reminder of my grandparents (I am sure I had to best).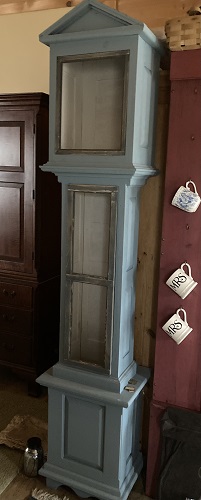 March Update:
My project progress is rather slow. One step forward and 2 steps back. I spent time gathering supplies in full scale. Doors, windows, wallpaper wiring and flooring. Filled in furniture and accessories but then realized my clock case was just a bit smaller than I wanted and couldn't it be enlarged a tiny bit. So it was taken apart and is slowly coming back together. Hopefully it will see greater progress next quarter.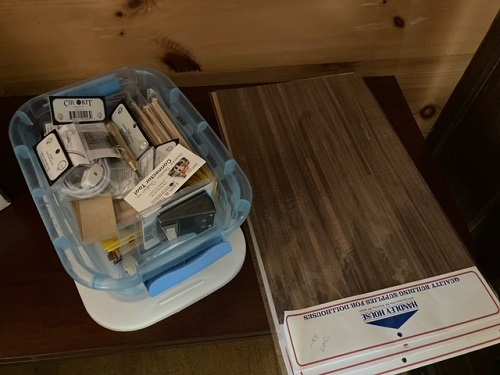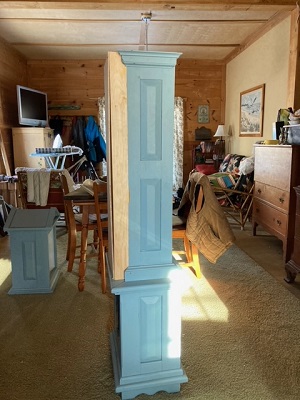 June Update:
My progress has been slow. The clock case was back together but was once again disassembled ... well just the back removed. We decided that the best way to make the rooms was to slide them in from the back due to the edges around the opening. The first attempt at room boxes was scrapped. Now we are going to try an apartment style framework. We decided that to stop wasting wood we would make a template out of foam core. This way we can try everything out before we cut the nice plywood sheets. The picture is setting up to make the template. Little nails didn't work and packing tape only sort of worked. Masking tape is next. I really miss working with kits where everything is all planned and ready!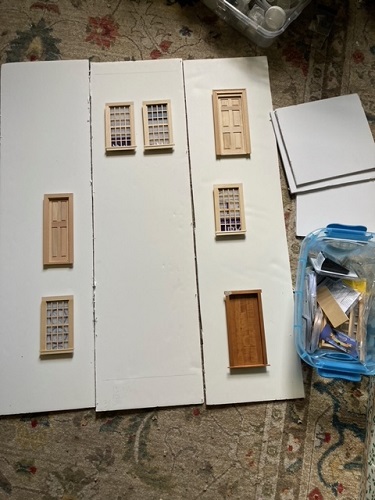 September Update:
Things are moving slowly as we take one step forward and 2 steps back. We keep re-engineering the clock case. But I think we have settled on a plan. The interior design is coming along quite nicely! Now for the to get doors and windows cut out and boxes assembled!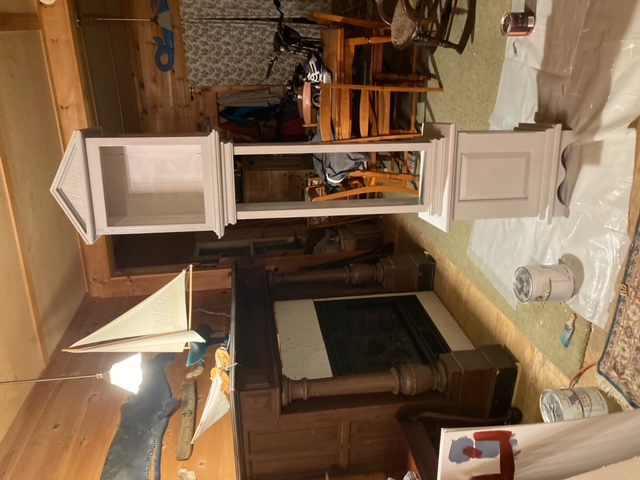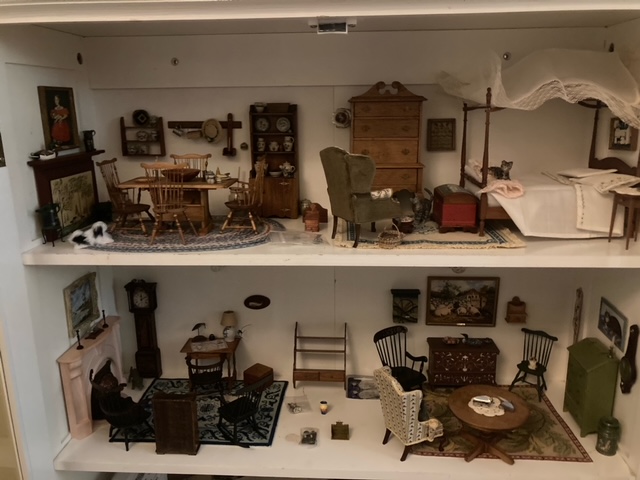 _________________________________________
From Marjorie Parker:
My entry for CYLC is a 1/12 scale roombox, gifted to me by my parents, years ago. I am relatively new to miniatures and prefer to work in micro scale. I had a considerable amount of help from a dear friend, now sadly departed, for my only other 1/12 scale room, and expect to beg someone for help with this one, too. Wallpapering! Eeek!
My earliest receipt for collecting goodies for this project is dated 12/30/19. That's how long it has been collecting dust, and how long I have been doing micros instead. A whole wall of boxes of micros fell down as I tried to lug down this heavy room box off the shelf to be photographed.
This project is called "Christmas 1962" and is a mix of memories of my arrival f
or my first remembered Christmas in the United States (Army brat) and also lots of fantasy - so I can incorporate some fun lighting and gadgets (my very favorite part of minis).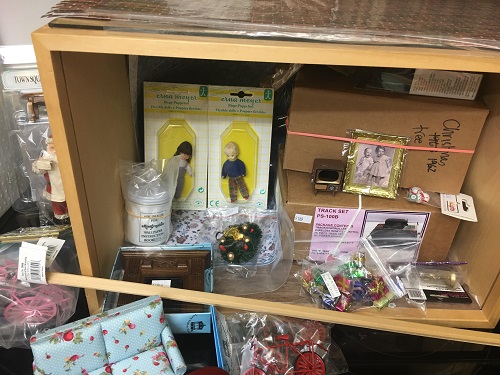 March Update:
So for "Christmas 1962", I stained the interior and exterior of the vintage 17"x 11.5" room box with gel stain, studied how to do wallpaper (I always fail), and applied the ceiling, wallpaper, and flooring. (Editorial: I think it looks great!)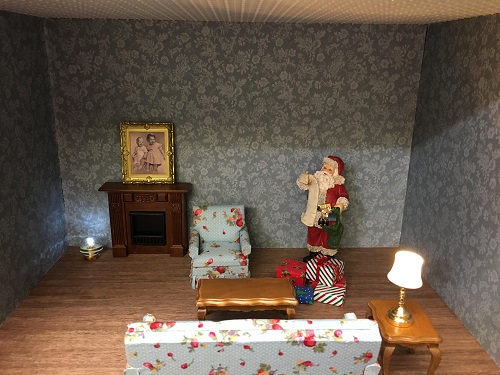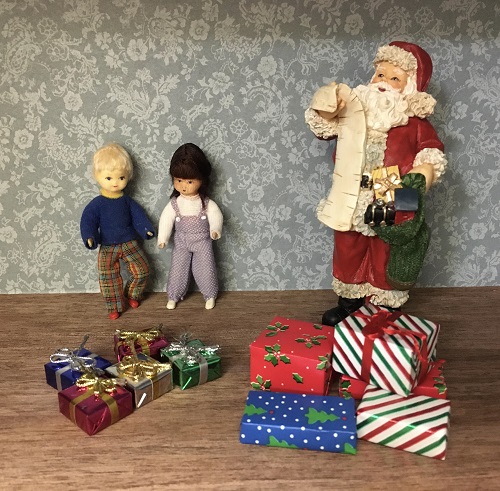 June Update:
It did not go well for me this quarter. In addition to a ceiling leak in May over much of my miniatures, supplies, and tools, I experienced a lot of frustration in working with 1" scale for my first attempt at ceiling cove, baseboard, and stairs. "Oopsie". One-inch scale is SO unforgiving of booboos!  (Quarter-scale CREATE class Christmas Cart shown for a happier distraction.) The ceiling trim is even worse and I got so mixed up trying to use miter shears. But I loved the shears so much that I bought my own, after borrowing a friend's. The stairs need a lot of clean-up, too.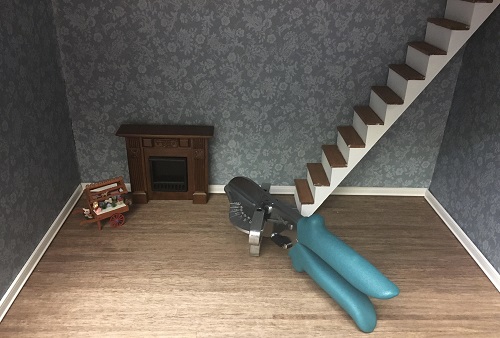 September Update:
Due to family illnesses, I just had time to throw together some things for a photograph in my 1/12 scale room box, "Christmas 1962". Staircase needs repairs and various things need to be glued. The project will be much less ambitious than I had hoped but I still love the Christmas glow.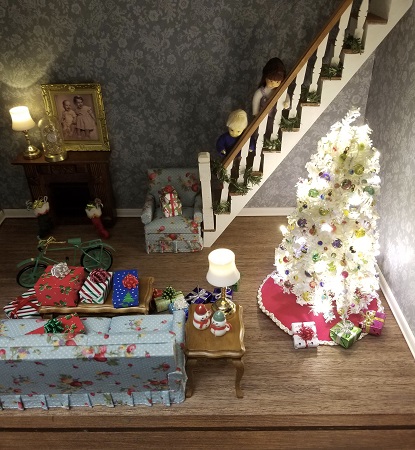 _________________________________________
From Debbie Patrick:
This year I'm committing to finishing this 1/12" store kit as a Quilt Shop in honor of my mother. She made beautiful quilts which her children and grandchildren received for Christmas or as wedding presents. A friend's daughter had purchased this kit but never got very far. She gave up after a rough assembly, a coat of paint on the outside and gluing rectangles cut from strip wood to the roof. I've had it in a storage closet since 1998 and got it out last year. I first had to take the structure down to the original wood (which required lots of putty and sanding). So far, I've added the siding and painted the inside. Now I need to add flooring to the upstairs, install lighting, build cabinets & the kitchenette. Thanks to the wonderful members of the Raleigh & Cary clubs, I have dozens of fabric scraps to put on fabric bolts plus some finished miniature quilts. I have been collecting sewing kits for years in anticipation of making the quilt shop a reality.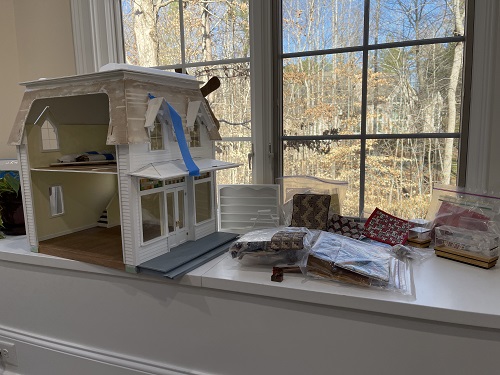 March Update:
I am sorry to say that I have not progressed much on my project. I had two other projects that I was determined to complete before turning my attention to the quilt shop full time. Luckily I was able to get back to the quilt shop last week and was able to finish the flooring. I was almost through with the porch railing but I realized that the doors were in such bad shape that they had to go. I've removed them and have the molding ready to make new doors. Now that everything else has been moved off the work tables, I expect to make a lot of progress in Q2!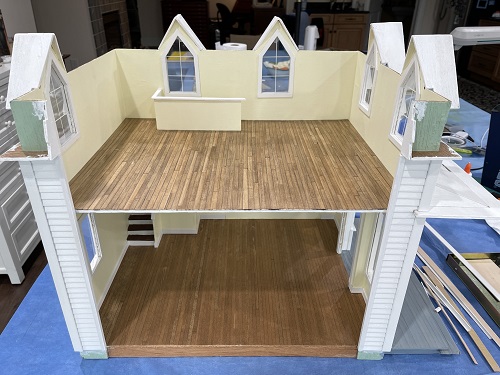 June Update:
I'm very pleased with the progress I've made on my Quilt Shop. This kit was from the late 1980s (maybe early 1990s) and had been assembled by a friend who was very new to miniatures. She quickly lost interest and gave the structure to me, at which point it sat in closets & attics for >20 years. Numerous structural problems were encountered as I've worked on the building and when I added the roof back onto the house, I found a big one. The roof caused the 2nd floor walls to bow! After a weekend of TLC involving liquid nails and 3 ft long clamps, the roof is stable, and the walls are straight! I still have a lot of things to do before it's finished but I wanted to stage the rooms for this month's photos so you could get a feeling of how the finished product will look. 
I made the refrigerator & kitchen cabinets with scrap gator board, bass wood, and wood molding. A (very) small powder room was made from gator board and is waiting to be glued in place. I'm eager to finish the structure so I can get all my shelves stocked with the items I've collected over the years! During the roof debacle this weekend my husband commented that he was impressed that I had not tossed out this building due to the frustrations I've had. Today when looking at it staged, he realized why I've kept working on it.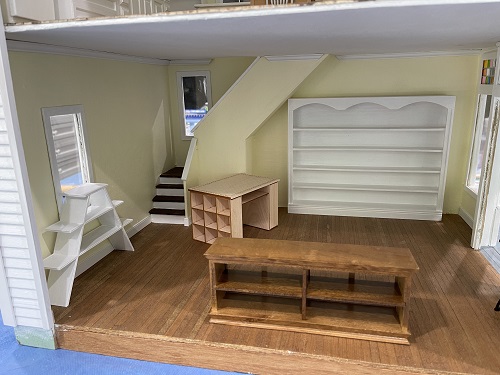 September Update:
This quarter has been very busy for me but I'm happy to report my structure is complete. Q4 will be spent completing kits & filling shelves with bolts of cloth & notions.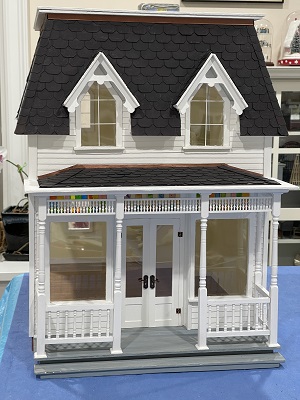 _________________________________________
From Kathy Patrick:
I have a challenge for this year. I've had a dollhouse for over 40 years and the only construction on the bare shell has been a few pieces of lap board siding. My goal after over 40 years it to have this dollhouse mostly, if not completely, finished inside and out. Here is the current state of inside.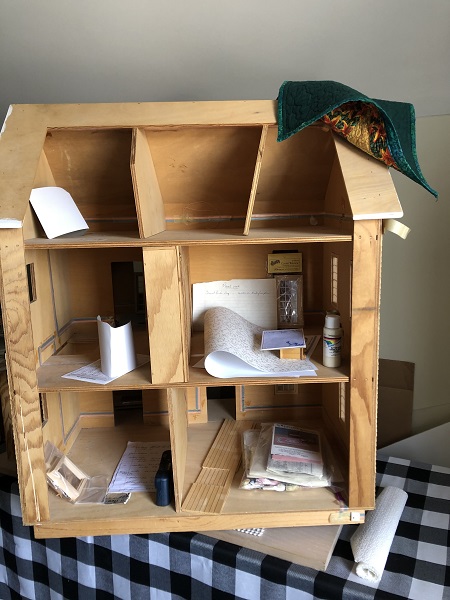 March Update:
For 2 months I worked exterior lap board siding, trim, shingles on the peaks, and the porch area. I installed the porch light and running tape wire to it. I painted all of the windows. I began one room in the interior with wallpapering, window trim, and made a chandelier and sconce.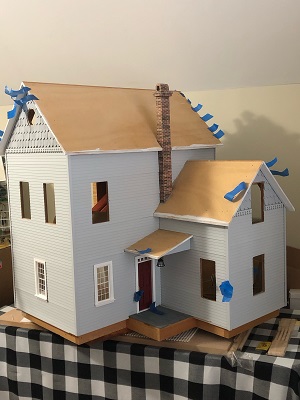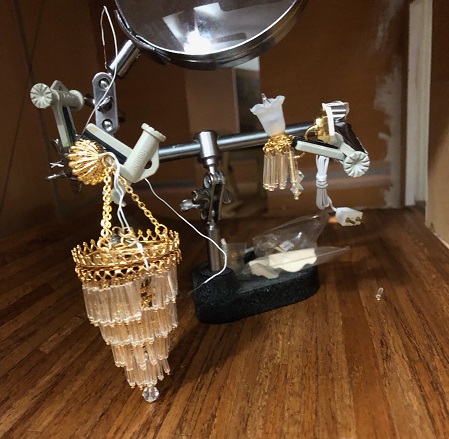 June Update:
This quarter I finished the living room in my dollhouse. I put carpet and some hardwood on the floor, wallpapered, crown molding and baseboard trims, made drapes, and wired the lamps, fireplace, and ceiling fan. I also finished the front porch with railing. I began painting furniture for the dining room, taking the dark brown wood into a cream color, which took about 6 coats of paint. I still need to reupholster the chairs but am waiting to purchase trim for it first. I also began painting the cabinets and dining table for the kitchen, as well as assembly of the refrigerator.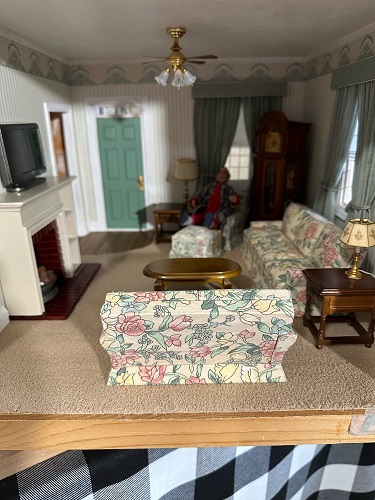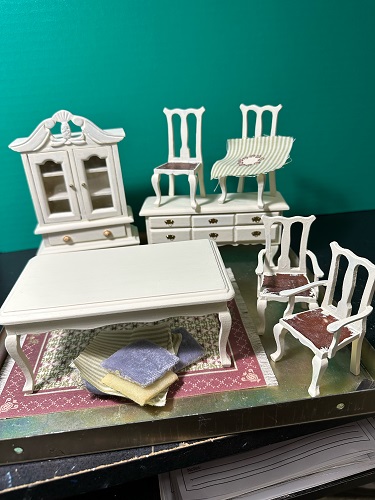 September Update:
The last 3 months didn't allow much time to work on my project. However, I've nearly completed another room. Painting, wallpapering, flooring, window and door trims, electrifying, and hanging lamps. I painted and reupholstered the dining chairs. I assembled and painted the stairs but will wait to install them when the upstairs is put together. A lot of time was spent putting the next room together (kitchen) with assembly and painting cabinetry. I'm also working on stained glass for the window but didn't get it done yet.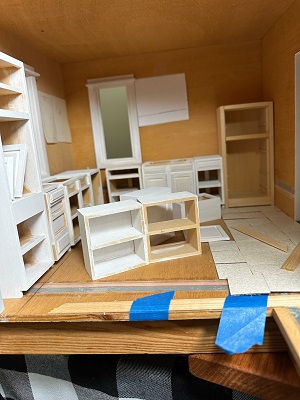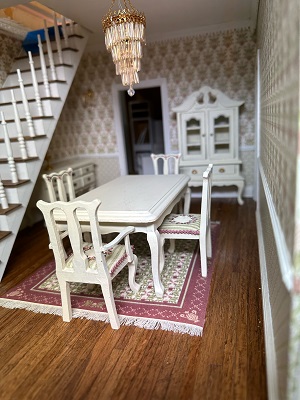 _________________________________________
From Alician Pearce:
I would like to finish Cranberry Cottage. I still need to finish the furniture, fill the house, and do landscaping.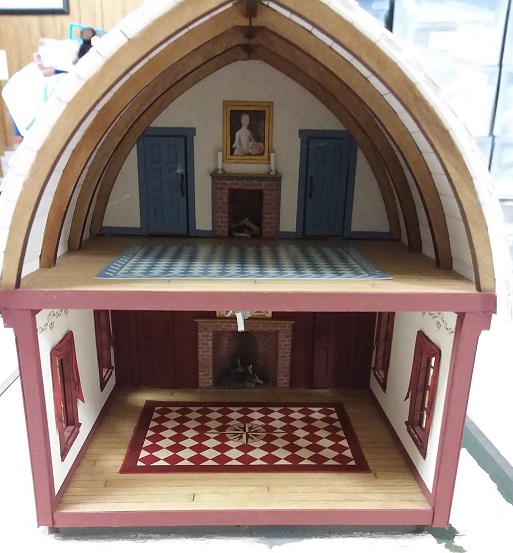 March Update:
I got 3 more kits done on my Cranberry Cottage this quarter.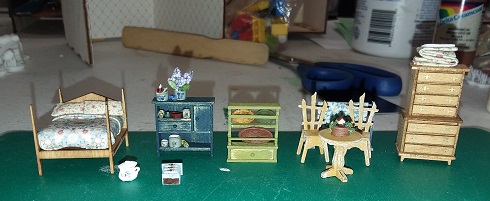 June Update: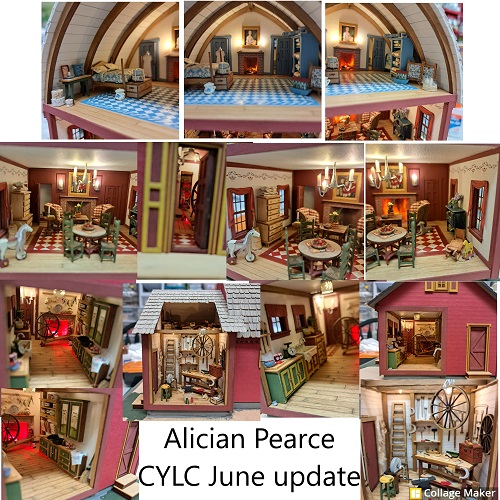 September Update: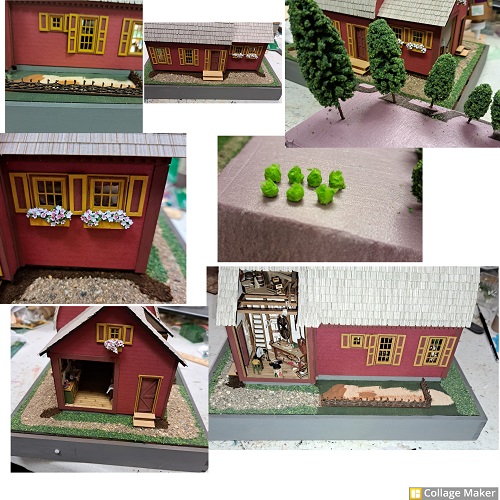 _________________________________________
From Chris Peherzewski:
I want to make a TEA TIME roombox inside this clock. I got the clock at a lawn sale and cut it down to size using the base and the top only -- not the long part with the pendulum. The inside is all that I have done so far. It has been sitting for 4-5 yrs or so and I want it done.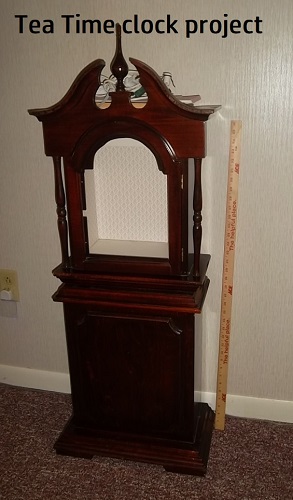 March Update:
I have the floor and sideboards in now. I am trying different ideas for painting the outside. The door is loose for now.  I have a lot of light sanding to do!! I am trying different layouts to see how I want to do the inside. I'm also working on the sign for the door but not sure how i want the lettering to look. It is not glued yet.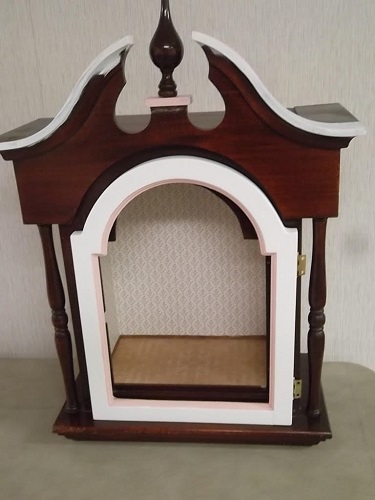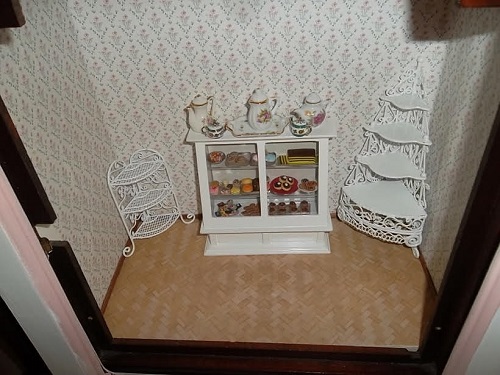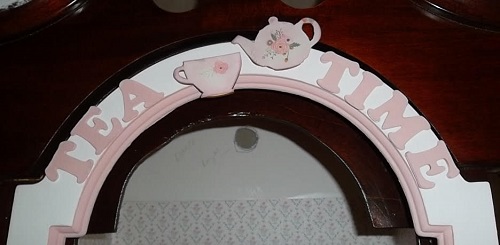 June Update:
I am getting more done on my tea Time project! The upper part painted and a light switch added (the kind you use with a turn knob battery operated you can buy at the Dollar Tree.) I have some more things I need to add to the walls too and paint the lower base part.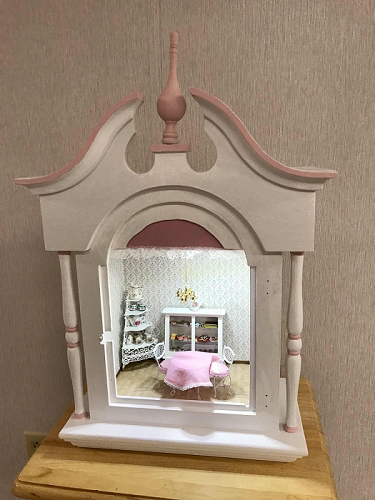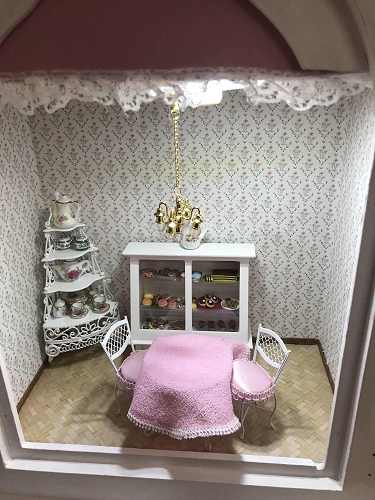 September Update:
It's been slow going. I had a lot of touch ups to do and decide how to layout the wooden letters 
for Tea Time. I painted the base but it needs touching up!! Thank you 3 more months to go!!!!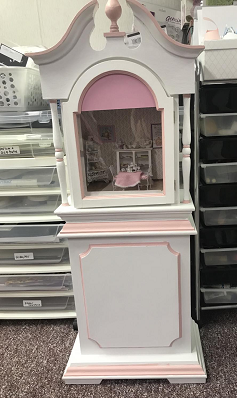 _________________________________________
From Caryn Pitts:
I have always loved miniatures, since my grandmother let us play with her handmade dollhouse when we were children. I have wanted to get into crafting my own for years but never took the time. This year however, one of my goals is to start this new hobby. My husband bought me "Sam's Study" two years ago. I didn't like the finish on some of the pieces, so I never really started on it. I inherited "Happy Corner" from my sister, who started it but decided she wasn't interested. So, I have two projects to complete this year and this challenge is even more motivation to get started!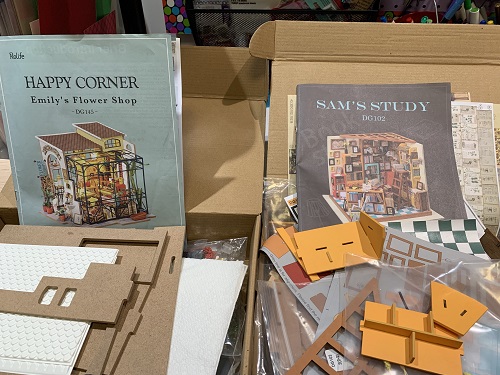 March Update:
I've made lots of progress and changes so far. I didn't like the color of some of the bookshelves, so I sanded off the paint and stained them. Then I decided to lean toward this room being a library so I added wallpaper that I love and coordinates with the painted bookshelves.  Finally, I've been making a lot of tiny books! I want to change the flooring and need to find a desk that fits. I'm loving how it's turning out.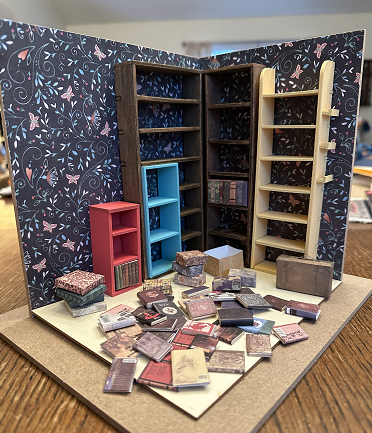 June Update:
Life has certainly gotten in the way this 2nd quarter. My only accomplishment was making the chair. I'm auditioning legs to see what I like because I don't like what is in the kit. Hopefully next quarter will be more productive.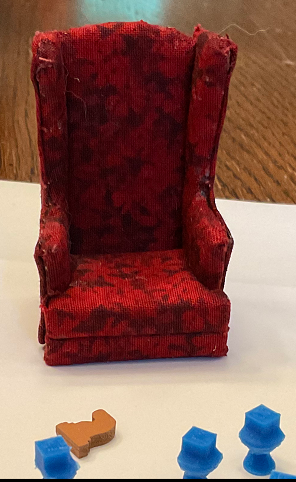 September Update:
I've made lots of books and working on a new ceiling. The white object is half a ping pong ball that will be a chandelier. I'm also auditioning knickknack items for the blue & yellow shelves.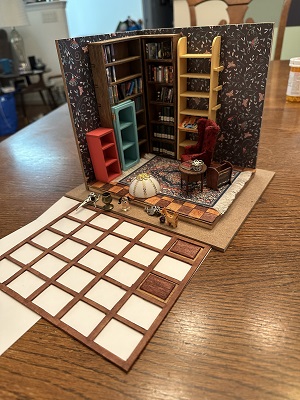 _________________________________________
From Cheryl Polito:
I have talked about wanting to start the log cabin my hubby bought for me for Christmas many years ago. As you can tell by my picture, it will take me awhile but I hope to finish or at least get close to finishing.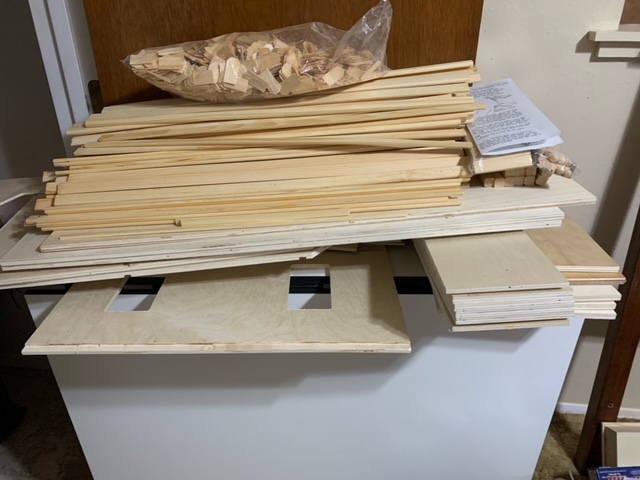 March Update: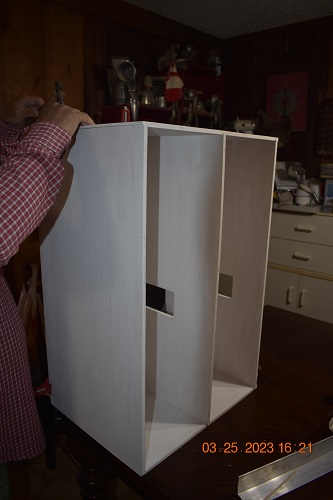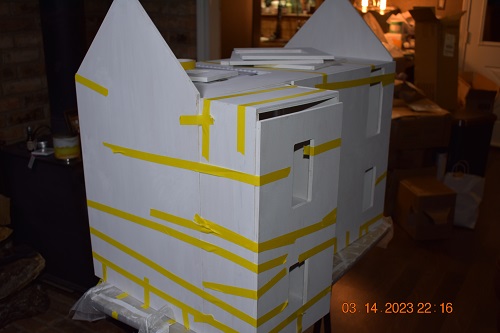 June Update:
I have wallpapered 6 of the 9 rooms and will be electrifying soon. I am waiting on my hubby to help me finish my floors and hope by the next picture a lot more will be done.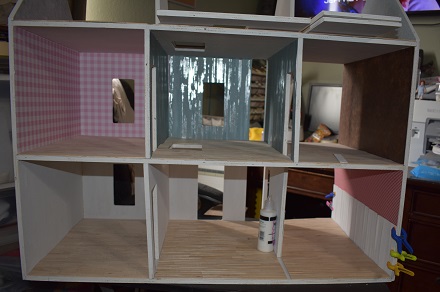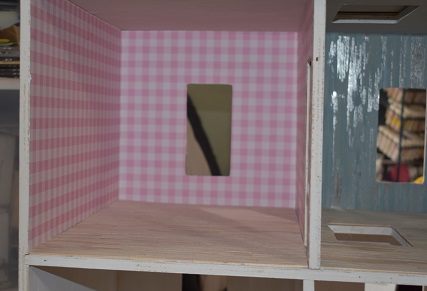 September Update:
I didn't get much done due to my teaching the quarter scale doll class and purging my house. I tore out the old wallpaper in every room except the kitchen and replaced it with new. Not sure I will keep my floors or replace them. I am doing electrical tonight and then will have hubby put the front on and do the hard part of furnishing. Hopefully I will finish by the end of December. Even if I don't, I hope we do this again next year.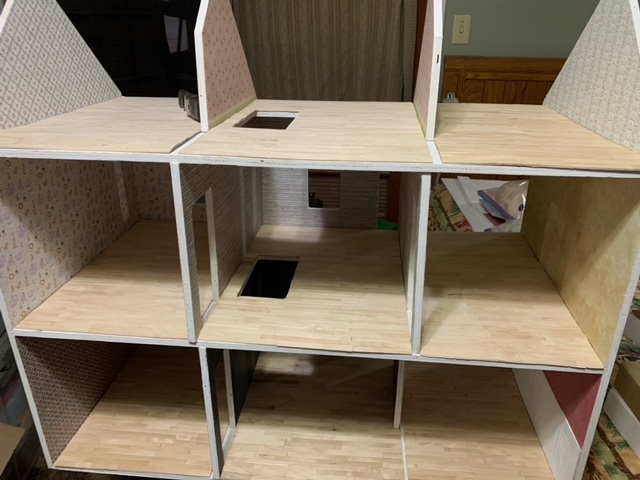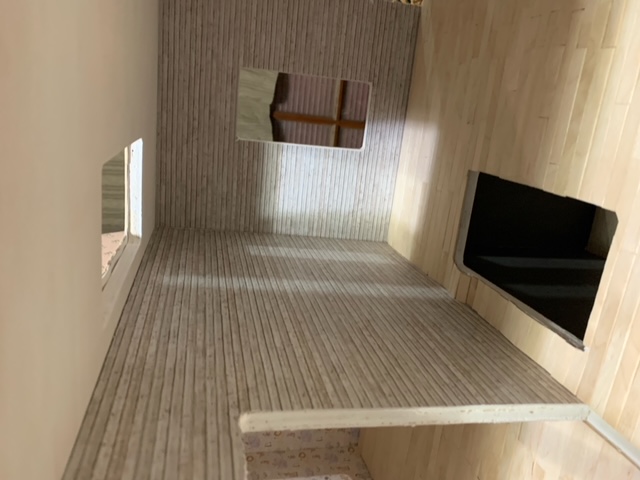 _________________________________________
From Kelle Risoli:
I sure hope I can manage to get these finished while we are also in the process of building a new RL home! I think I can, I think I can...
I have 3 projects in various stages of completion that I would love to complete this year: 2021 Tiki Hut, 2022 Debbie Young's Booknook for the OLHP Splintered Fairytales, and the 2022 E-3 Regional Retreat, Fantasy Cottage.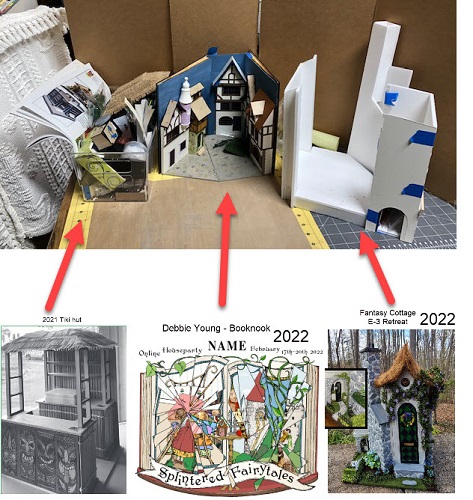 March Update:
Shingled all the buildings by cutting individual shakes and gluing them on one-at-a-time (what was I thinking??) Changed up the signs provided in the Debbie Young kit - 3 Pigs BBQ is now "Big Windy Construction LLC", Red Riding Hoodies is now "La Hud Rouge".  Added a flowerbed out of carved foamboard in front of Hansel & Gretel's then added Shrinky Dink flowers and butterflies colored with Sharpies. Last but not least ... aged the roofs and buildings using chalk and the cobblestone street with several washes. Now to connect all the lights and add a few little tidbits here and there and it'll be done!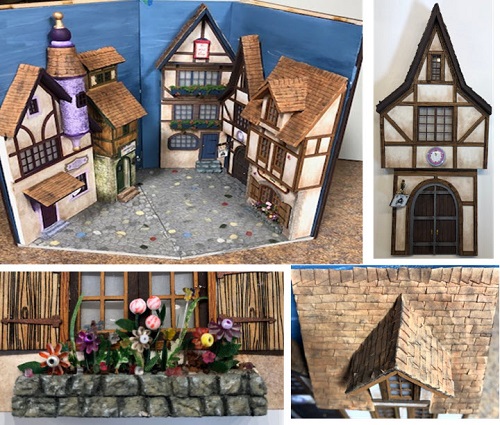 June Update:
I'm sad to say I haven't been able to accomplish a lot. The retro-inspired counter tops were drawn by my Cricut, then laminated with packing tape. The metal banding is aluminum tape for HVAC. I've added a small refrigerator and added a shelf to the back and received my lights for the front. I love them, but hope to do better for September.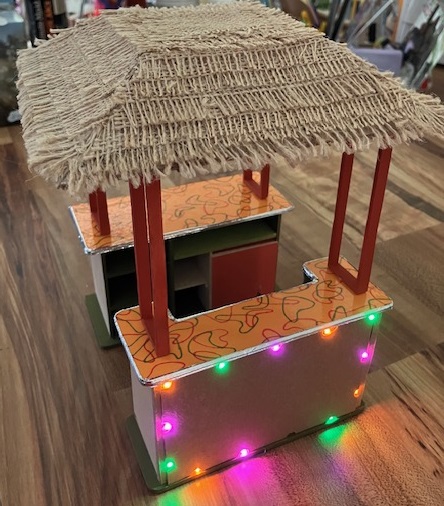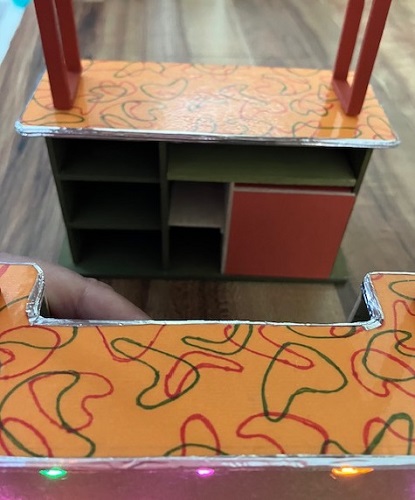 September Update:
Tacky Tiki is still under construction but at least I'm adding the accessories. Lots more to go so certainly hope December is a long-time-coming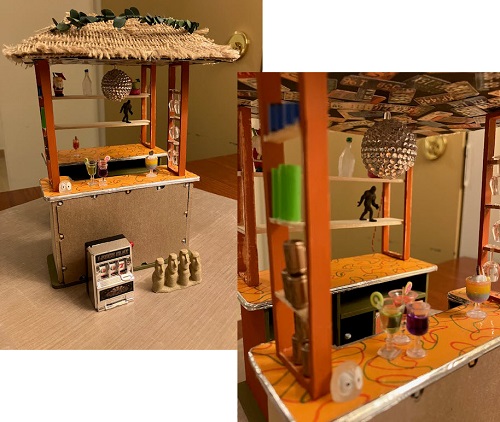 _________________________________________
From Carin Shapiro:
This year I will complete this house that I have been working on for 2 years. I bought it used for $60 and have successfully removed the mouse droppings and cat urine odor ... now it is on to bigger and better things! I still have L-shaped stairs to make, complete a 24 count petitpoint rug, install 24 windows which will be stained inside and painted outside and will need to make curtains, bedding, refurbish an old kitchen, 4 porches, install the house on a special stand with legs and finish making and installing some lights. It is a good thing that I absolutely love doing all of this.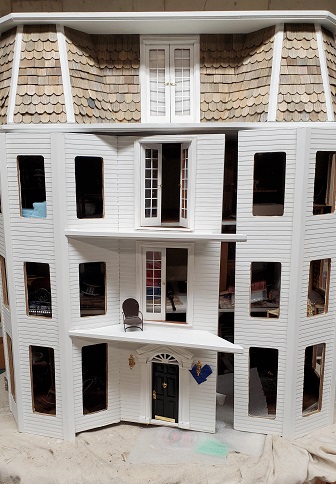 March Update:
For the past 3 months I have finished purchasing the 32 windows I needed and stained and sealed the insides and painted and sealed the outsides. I have also completed making an L shaped staircase out of a straight staircase. I am going to install windows and make some of them leaded stained windows with golfers tape before installing them and then onward to the 4 porches. This is definitely keeping me on track.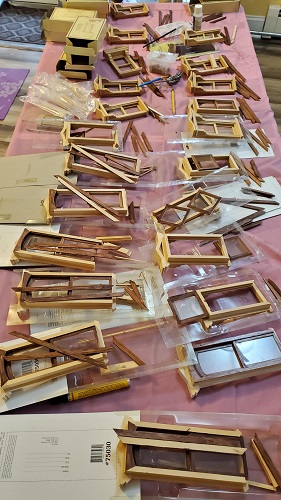 June Update:
For this quarter I made 24 leaded glass windows and installed them, I made an L shaped staircase and I dressed 2 of the 4 beds in my house. This challenge is definitely helping to keep me on track.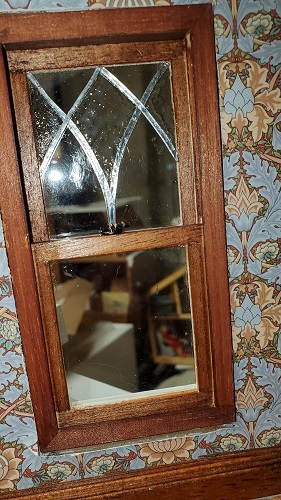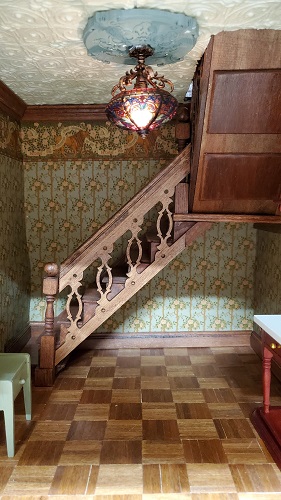 September Update:
I have made curtains for 4 of the 6 rooms requiring them. I hope to find suitable fabric at the IGMA or Philly show. I also have blocked and started working on the tabby weave and fringe on my petitpoint rug. I have been distracted by the NAME convention and my messy workshop. As usual, I hope to get more organized the next quarter!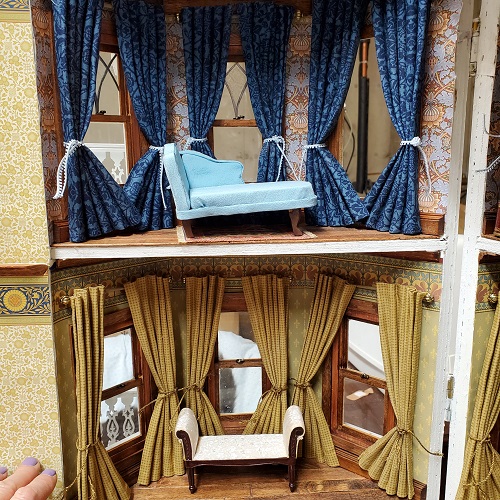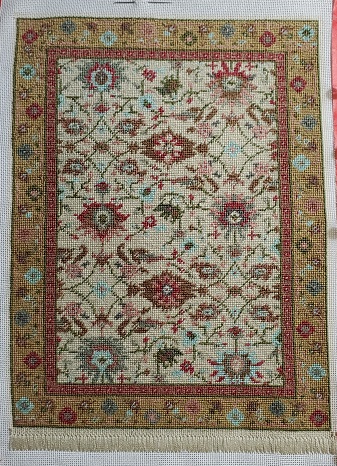 _________________________________________
From Susan Skinner:
This is a dollhouse that my grandfather built from Women's Day Magazine plans for my aunt somewhere around 1945. It was passed on to me to finish a few decades ago but not much has been done on it. My plan is to finish the interior walls and flooring this year. I want to make some real progress on it while my Aunt is still alive to see pictures.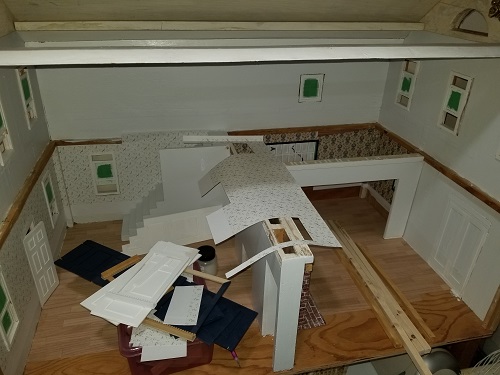 March Update:
Real life has been busy but I did make some progress on my big dollhouse project. I got the ceiling beams in, finished wallpapering the downstairs and finished laying and then stained the floor.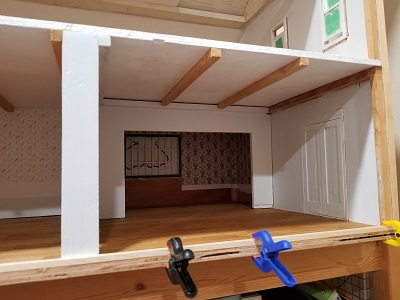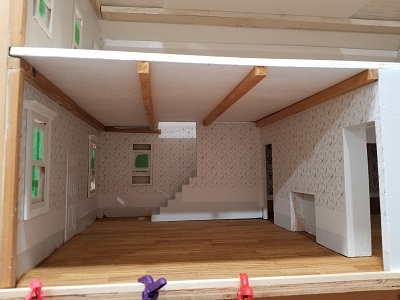 June Update:
Second floor walls planned and cut, fireplaces figured out, stair railing chosen. Next, I will paint the walls to prep for wallpapers and paneling, work on the doors, and actually making the second floor fireplaces. Feels good to finally be making progress on this project!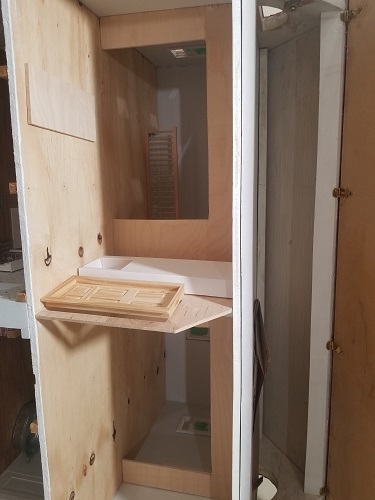 September Update:
The upstairs room divider walls are primed, window frames cut, glued and painted for gentleman's parlour. Wainscoting also cut and first coats on for that room, not glued in yet as I need to wallpaper first. Two identical fireplaces for the bedrooms finished except wiring. And window frames for two front bedrooms cut and glued together waiting for paint and wallpaper.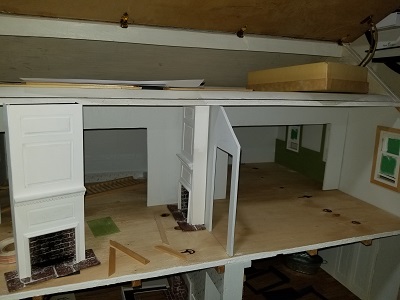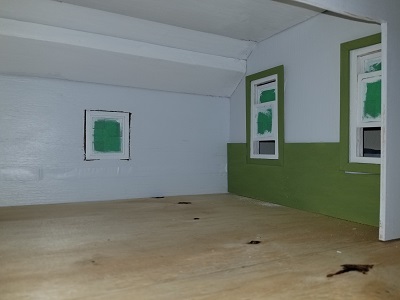 _________________________________________
From Helen Sparks:
Here's my project. A bargain from the Yard Sale in Indianapolis last summer.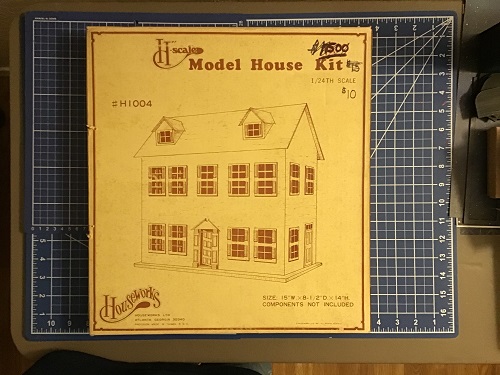 March Update:
My "bargain" house didn't seem like quite such a bargain when I realized that it didn't include any components! Luckily I had 11 of the 16 windows, one door and the hard-to-find staircase in my stash. It took quite a while to gather the remaining parts, but I did manage to make some progress on basic assembly.  Now if I could just decide what paint colors to use ...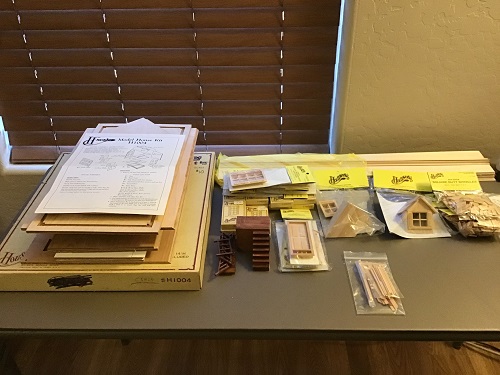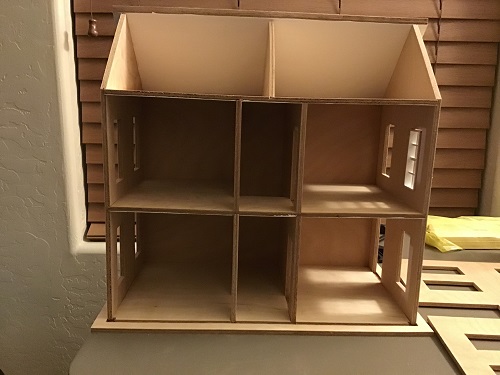 June Update:
Thanks to a three-day club "retreat" my house now has all of the windows installed plus most of the wallpaper and flooring. Wahoo!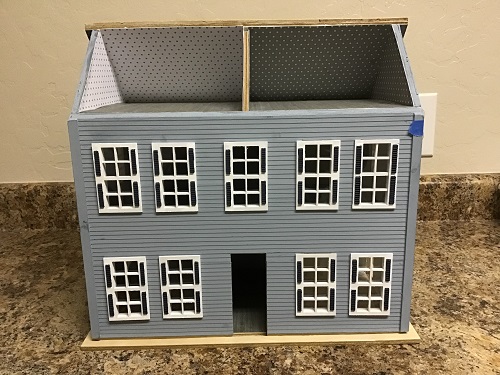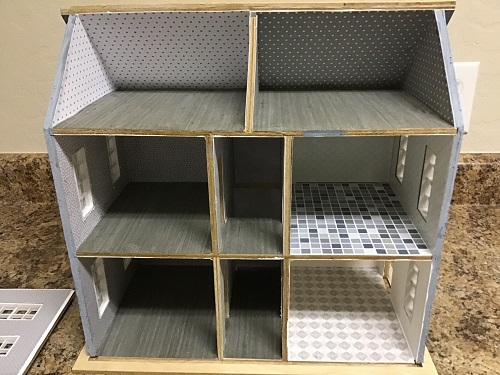 September Update:
Well, this house kit has defeated me. Nothing seemed to go together well and I found myself stressing over it and doing nothing with miniatures because it was "hanging over my head". Not how a hobby should make you feel! I am actually going to give it away, not trash it, and I still want to do a house in this color scheme, so I am starting over with the RGT 1/2" scale Colonial.  Probably won't finish it by December, but who knows? (Editorial note: 😭😟)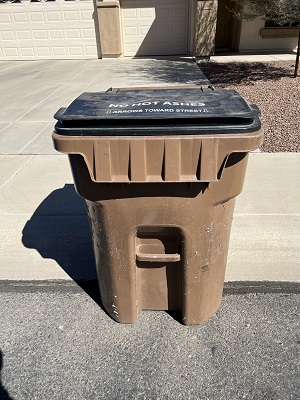 _________________________________________
From Barb Striethorst:
I started this 1/12 scale dollar store almost 20 years ago. It will be called "A Loonie Or A Toonie" (Canadian $1 and $2 coins). My original plan was, for many items, to use the store to house things until they were required for other projects. I have since moved more to doing 1/48 scale, so my choice will likely be to glue down rather than have movable. There will be one changeable area for seasonal display.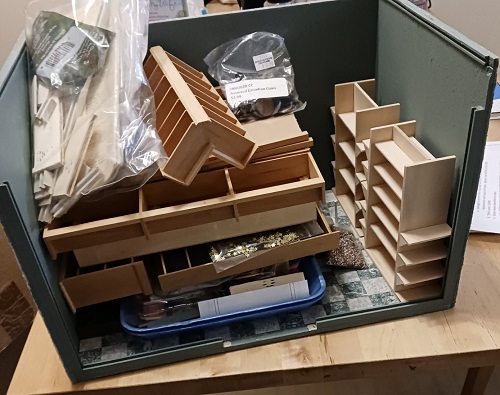 March Update:
Having taken everything out of the box, I realized that many of the shelving units that I had stashed in the box really would not work well. (I also now knew why I could never find some of these when working on other projects!) At least I kept my drawing for the homemade shelving, so I will be making more. Almost every time that I go looking for something for any project, I find potential stock for my store. The pile grows. I think all my shelving will have to be extended to the ceiling! I have a computer file and file folder filling up with potential printies for store inventory. I have started the actual making with my card/wrapping paper and other gift supplies unit. I remember being so pleased when I finally got the card shelves figured out. I had planned on having one section of this unit for seasonal items. It soon became apparent that I would need a separate unit for each seasonal display!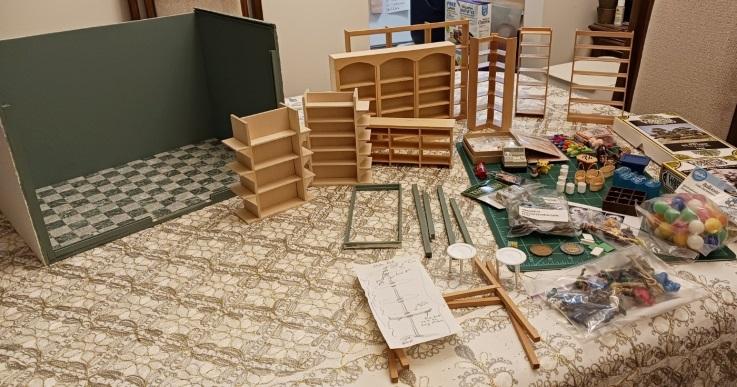 June Update:
I have populated one shelving unit, primarily with porcelain items. I then thought that there should be something on the top of unit. Hmm - how about Pinatas? The sunflower is my first effort!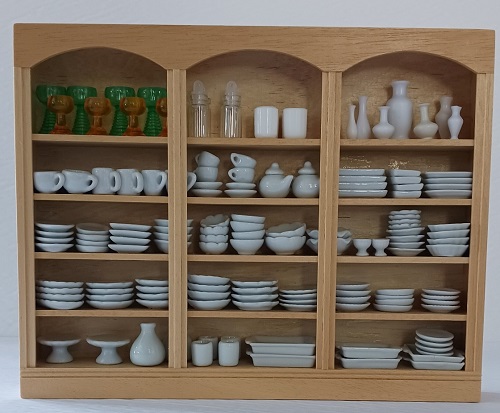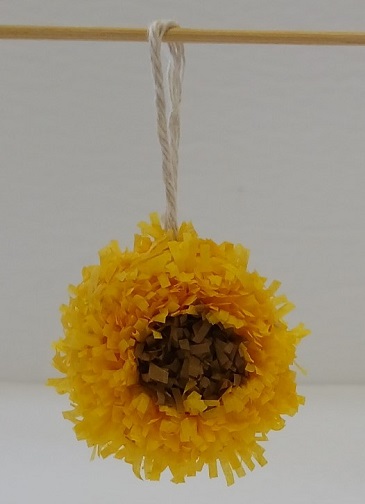 September Update:
Spent most of the last quarter getting a display and sales items ready for my mini club annual show and sale mid September. So got some planning and gathering done, but not much assembly. Some stocking of the 2nd large shelving unit - need to dig up some more feminine toy items; many more printies to assemble. "Regular" card stand, seasonal display stands (Fall/Halloween, Xmas, Spring/Easter, Canada Day 1 July. Lots of strips for more pinatas.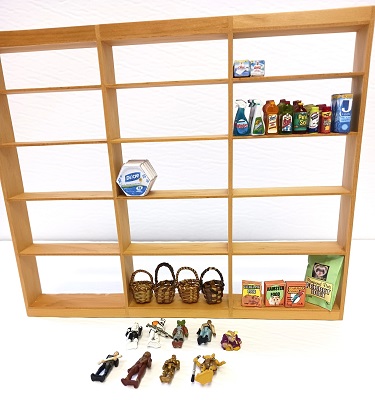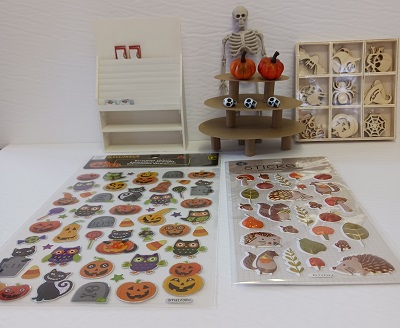 _________________________________________
From Kimberly Sutcliffe:
The plan is to take this frame and car and customize them to make a diorama for my Dad. It will be a combo of recreating a truck he had similar to this one and his current shed set-up. The foam core will be the base and possibly the walls, although I may use wood for that.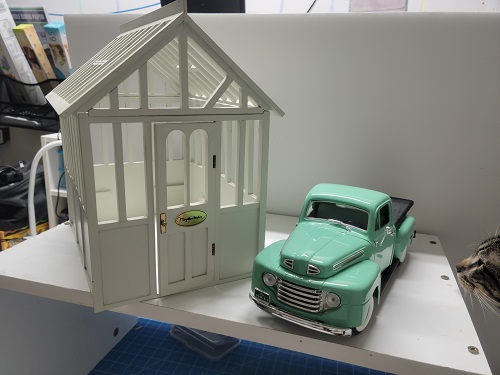 March Update:
I have almost completed the shed. Once I add the windows and door, I'll move on to filling the inside. It's really coming together.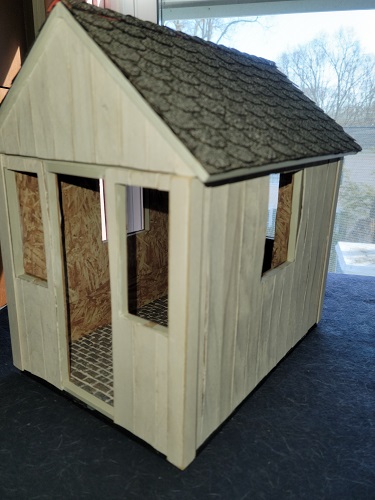 June Update:
I took some of my free time to neaten and reorganize my craft room so I'm not as far along as I'd like to be. However, I am loving how it's coming along. I asked Dad what type of driveway he'd like and he said Macadam so I did my best to create that in miniature. The windows have been started and the base layer of grass has been laid out, as well.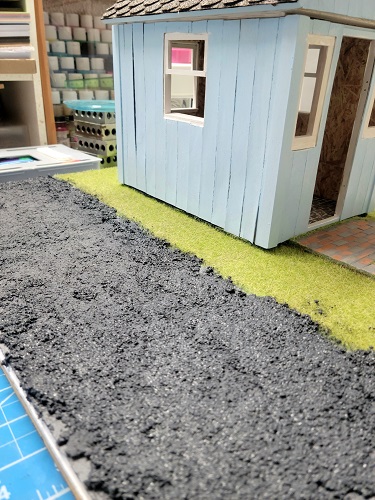 September Update:
 I did not get to work on this project much over the last 3 months. It's coming together and I am excited to see what my Dad thinks of it, once it's done!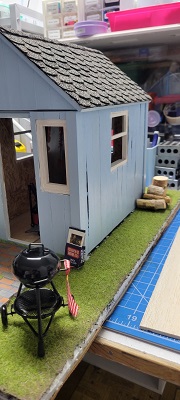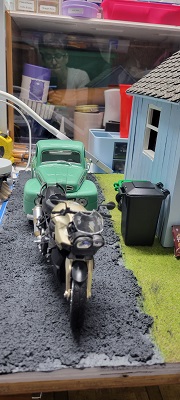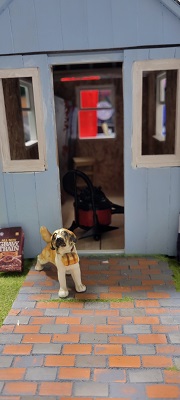 _________________________________________
From Terry Unnold:
While it's hard to pick out just one of the many, many big projects I want to work on, I finally decided to see if I can finish this "Collectibles Cabinet Shell Kit" from Real Good Toys. It's a one inch project that I bought in 2015, I think. The kit is a three story shallow house with a stack of three 6"X15" rooms. There will be a parlor, bedroom, and nursery. Only vignettes because the rooms are so small, but for now that's the plan!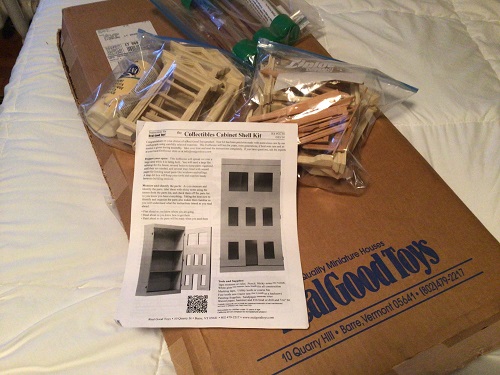 March Update:
Finally warm enough to finish priming the interior, put the house together and make some progress. Next steps: chandeliers, wood flooring, and ceiling paper are ready to go in as soon as the fireplaces/chimney breasts are located. I've also managed to lose the directions!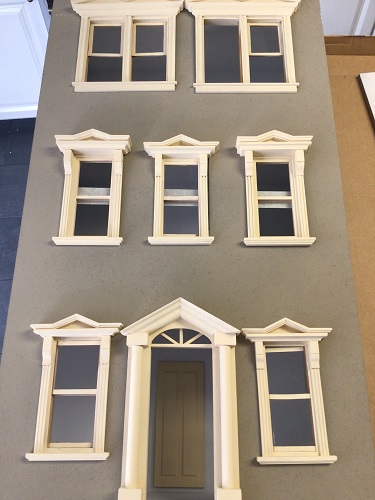 June Update:
"Let There Be Light" and not much else! Planned to at least finish floors, wallpaper and fireplaces but got hung up on selections. I really need to figure out what I have for each of these small rooms before l put in the chimneys and fireplaces.  It's so small that it may just be a place for homeless dolls and dogs. Frustrated again.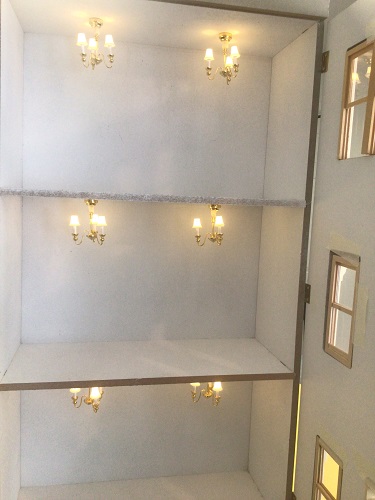 September Update:
Only a little progress - the floors are in on the second and third floors.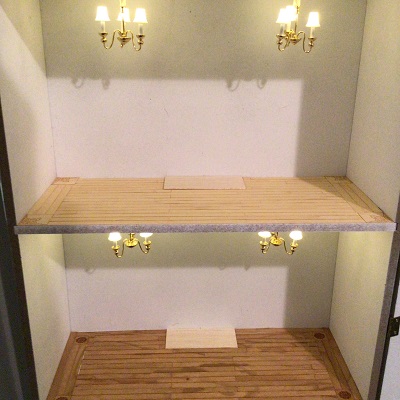 _________________________________________
From Denise Voelker:
This is a project that I started at my 1st workshop ever during the Rochester Houseparty. This is the first house that I ever tried to make myself. Since I have built several houses but never finished this one.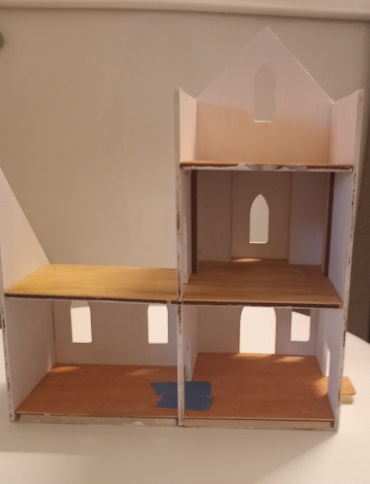 March Update:
House electric fixtures are done, wallpapering is done and roof is on. Everything is going as planned.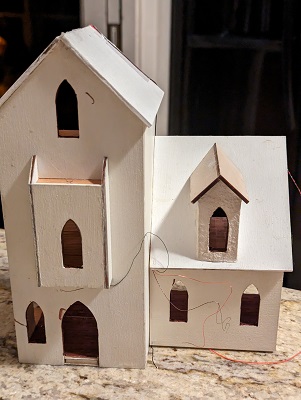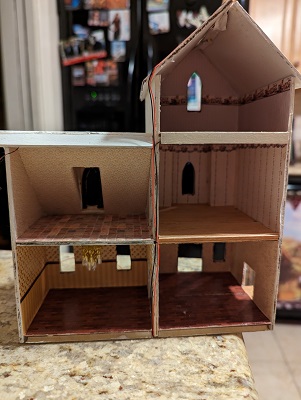 June Update:
Staying on schedule, finished the base and outside of building.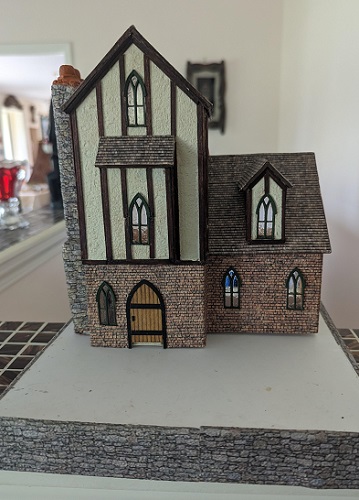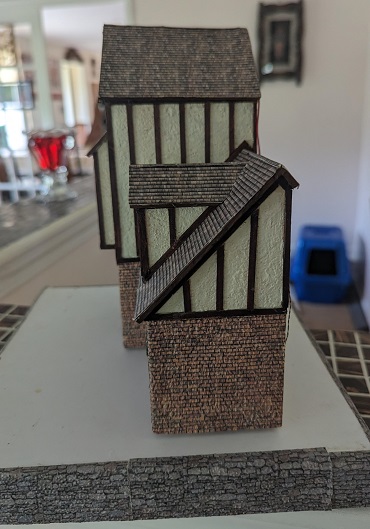 September Update:
Everything is on schedule, interior is complete.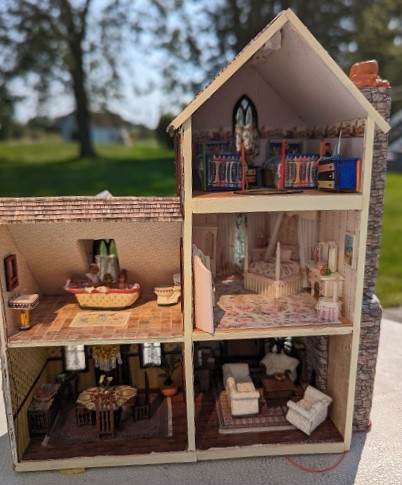 _________________________________________
From Wanda Waterfield:
It's my very first miniature, my 12th scale dollhouse (although I prefer to say miniature house). I had completed it close to 35 years ago, but 25 years ago after seeing a master model maker's work, I stripped it down to "make it better". Of course, the retrofit, never did get done. So this is the year I "make it right".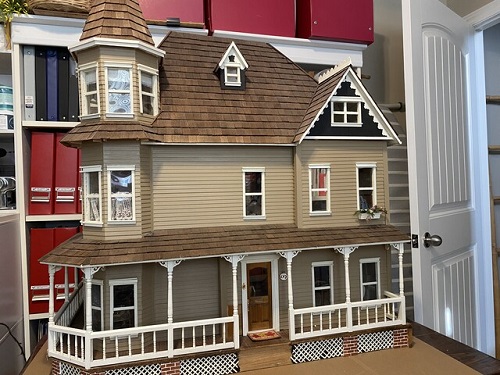 March Update:
My goal for the first quarter was to complete the exterior of the house and landscaping.  I was able to complete the repairs to the outside siding, and considering I was using 30 year old paint, which was still usable, I was pleased with this part. I also added the exterior lights and added roof trim and the weather vane. I also built the flower boxes and made the flowers to fill them, plus make all the flowers for the front flower beds. I made the flowers for the two front entrance urns. I made the front garden bench and painted a hanging bench for the front deck. Many of the flowers were made from some great kits, but a lot were also made from scratch.
I started three vines on the house, but I was only able to complete the rose vine, so the wisteria and ivy are still to be completed. The biggest uncompleted portion of my plans was the fence, which is still a work in progress. Next quarter is the first floor inside the house. I'm hoping to work on this plus finish the exterior landscaping. All the work is being overseen by Linfield, the Project Manager, who is hanging out at the top of the steps.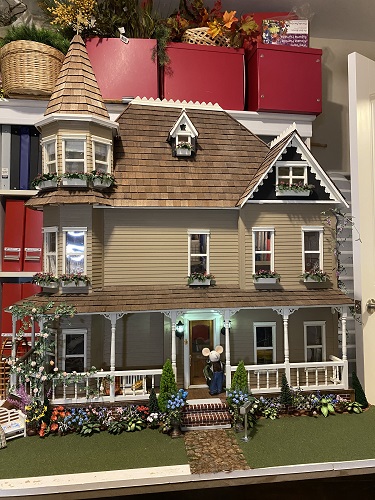 June Update:
My second quarter portion of my CYLC was to complete the first floor of the house. I almost got it done but between a business trip away and now being sick, the last few things like some mouldings and lighting, didn't get completed. There were three rooms on the first floor, living room, kitchen and dining room. Here are my progress pictures.
For the third quarter, many of the rooms will not change much. Just a few finishing details and window treatments. Hopefully between getting ready and attending the NAME Convention, I can not only get caught up and complete the 2nd floor, but also go back and finish things I missed out on the first 2 quarters.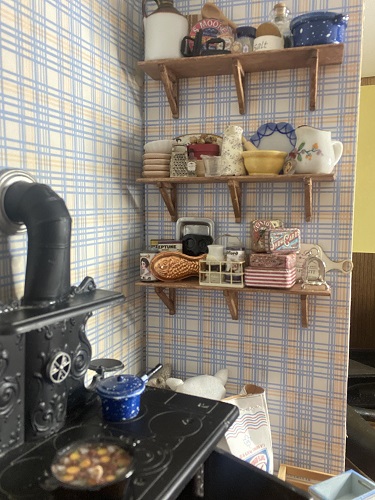 September Update:
I didn't get everything completed on my second floor. Preparing for the NAME convention took up a lot of my time. But here's the bathroom from the second floor.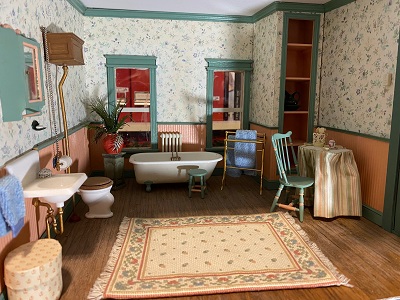 _________________________________________
From Logan Wilhelm:
Here is the project that I am going to work on. It is an antique 1/12 scale dollhouse. I have done a little work by adding flooring, but has been years. I would dearly love to get it done so that I can finally put the 20 years plus of collecting furniture and accoutrement inside and play with it now and then.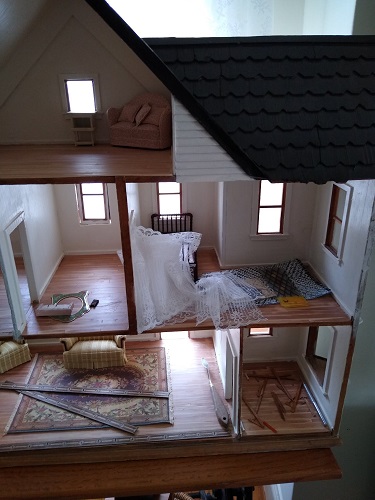 March Update: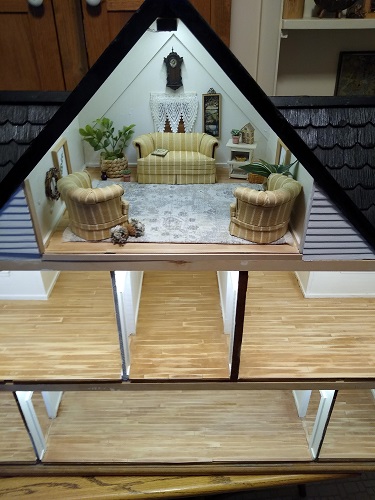 June Update: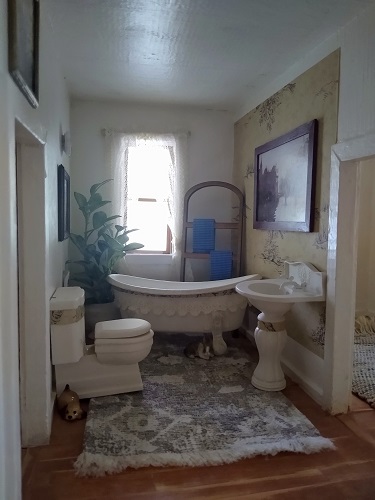 September Update:
Bedroom in antique 1" dollhouse.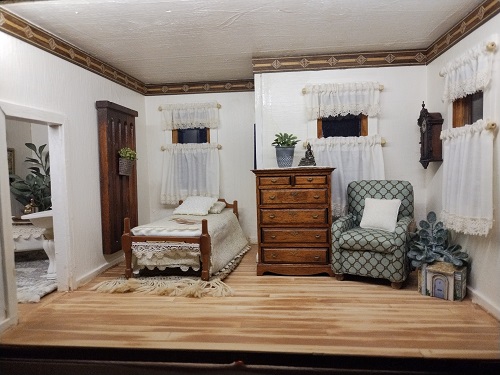 _________________________________________
From Cat Wingler:
I want to landscape and furnish my Bavarian project from Unicoi.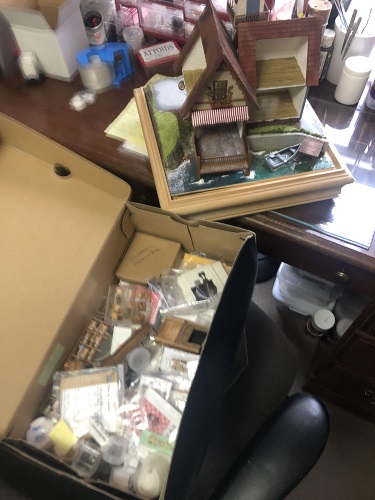 March Update:
I have spent the last few days working on furniture for the beer garden part of the project. Before that I made agonizing decisions about the store and upper levels, then sorted kits, tentatively chose which kits I wanted to use and am now working on kit assembly.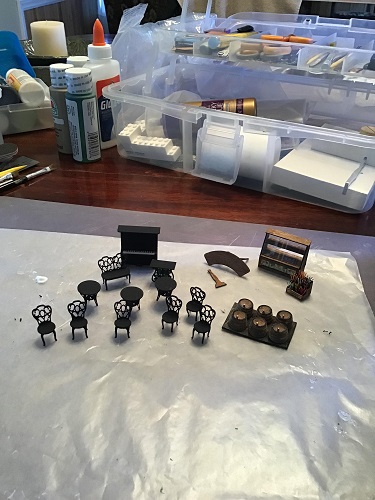 June Update:
 I have begun assembling the furniture and placing it the rooms of my Bavarian project. Here is the nearly finished Rathskeller. Next to the owner's quarters.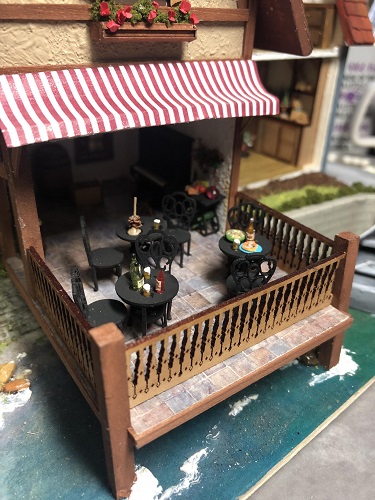 September Update:
This is the owners quarters and the beginning of the downstairs Christmas Shop. Next is finishing the Christmas shop and the artists studio above.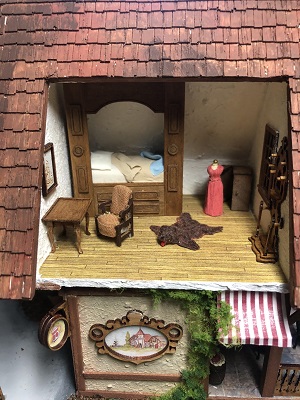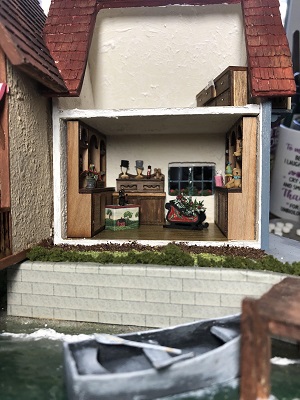 _________________________________________
From Marty Young:
For my challenge I want to complete houses that I have started in classes. This is Debbie Young's Carl and Ellie's house.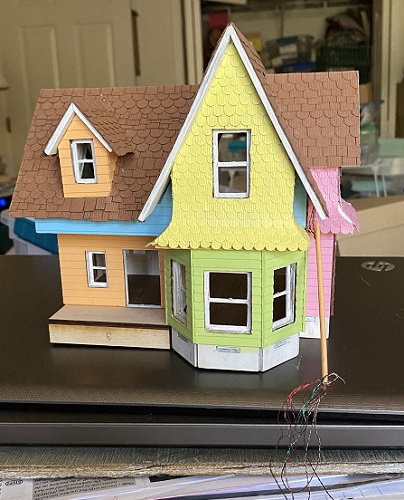 March Update:
I have finished building Carl and Ellie's house. One class project that is done. Now I am going to tackle Debbie Young's Charleston Single that I started in Charleston and am going to get the building finished.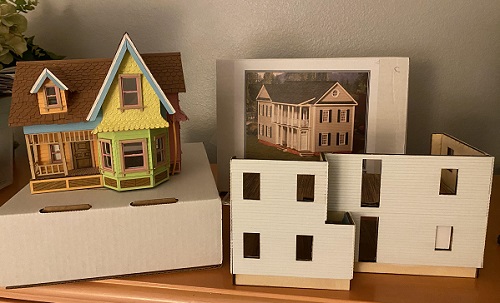 June Update:
I got the first floor done. Two more to do.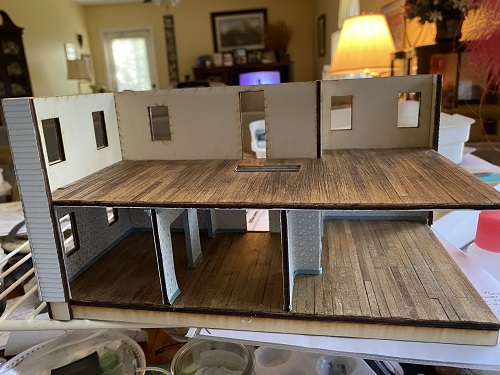 September Update:
This quarter I had to go down a rabbit hole to find the first floor bathroom for my Charleston Single. That must be installed before the second floor can be completed. This led to a reorganization of my craft room. So everything is a mess while I look for that bathroom kit. Wish me happy hunting.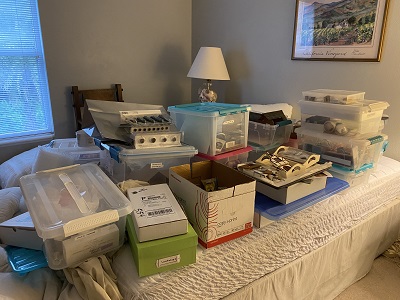 _________________________________________
From Estee Zeitlin: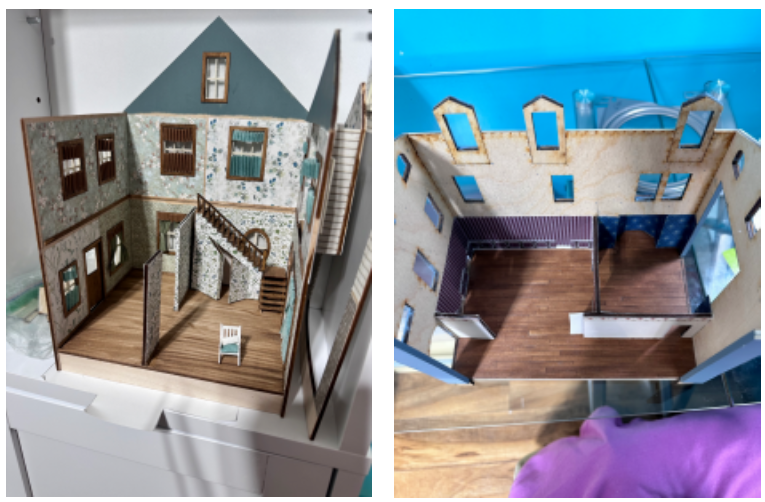 March Update:
What an amazing idea - this year long project has gotten me moving along and progress is visible. By now the first floor of both the Bramblewood and the Stanton Inn are completed with furniture in each. Most fun was trying out new ideas and learning skills I had not previously known. I would love to add some life into those rooms but that will be for another time.
P.S. Can you guess what the tub under the stairs is made with?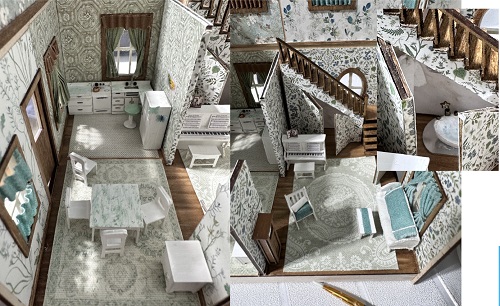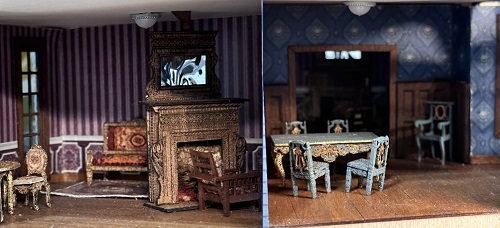 June Update:
Second floor completed in Bramblewood along with all the furnishings. Wesley Inn is coming along as well. Room on the right of second floor is a library. Furnishing completed for that as well as close to a hundred books. To be continued…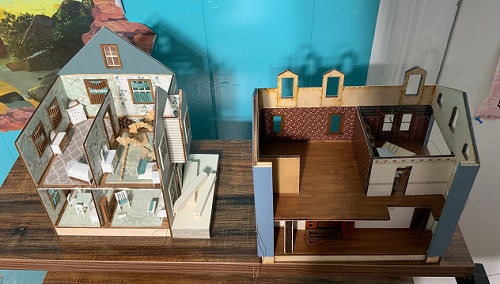 September Update:
There is much yet to be done, but I am thrilled to be at this juncture of working on the needed accessories to make the Inn a living space. All that's left to completing the library is designing the bookshelf arrangement. I own more books than can fill the shelves. Interesting what I have learned in the process of searching for models. Seems to be a true science - not just an art- to putting it all together. In regard to the master suite; the French canopy bed awaits its canopy and pillows. The rest of the room's contents is still in the evolutionary process.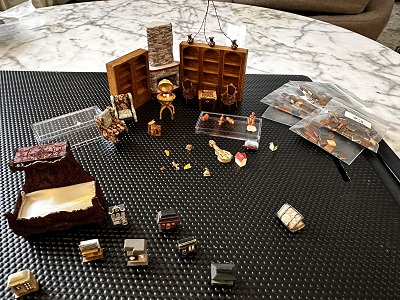 _________________________________________
_________________________________________