Here are the participants in Create's Year Long Challenge (CYLC).
Participants are in alphabetical order by last name if you are trying to find someone specific. This is the first half of the alphabet ... because the page was just getting too large! Participants with a last name starting with A-L are on this page. Participants with a last name starting with M-Z can be found here.
Completed projects can be found here.
_________________________________________
From Suzie Aguilar:
I have so many projects to choose from, but I finally decided on this one I've been trying the longest to complete. It is a 1/12 scale house for Santa and Noel Claus. I began over 25 years ago. Many life events have caused this to drag on but my inability to make decisions and then stick to them is probably the biggest slow down. The bathroom is the only room that has pieces glued in place and it still needs lighting to be done. The attic is going to be Santa's workshop office. I worked on it a bit this December. I hope this challenge helps me get it finished this year!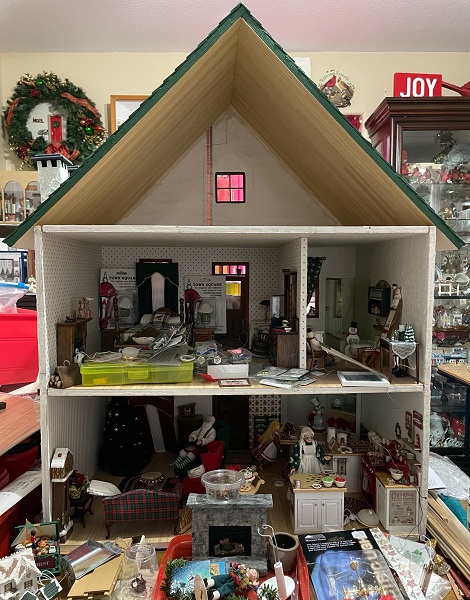 March Update:
I got off to a great start on my Challenge project. I had made a detailed plan to add crown molding, baseboards, and lighting during the first quarter. I cleared the house contents into storage boxes by room. It was almost like a real house reno! I started with the crown molding but work stopped when I received the news that my mom had passed unexpectedly on February 17. Now in mid March all her final arrangements are complete but I will probably not get back to working on the house before the 31st. I am submitting a few progress photos of what has happened so far. My mom and I shared a love of miniatures so I'll be recalling those happy memories while I finish this project.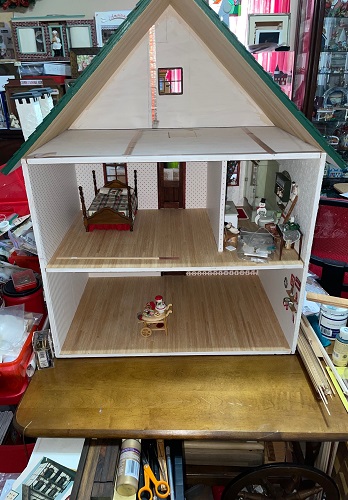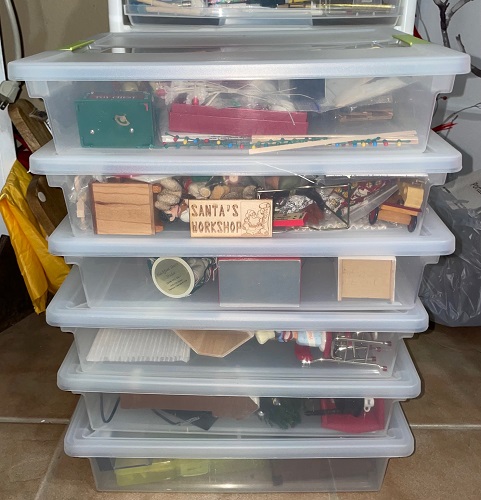 _________________________________________
From Brandi Bacon:
My goal is to finish my Disney scene. I started it a few years ago as a tribute to my kids and my mom. I made the Bippidii Boppidi Boutique. It's the girls favorite thing at DisneyLand and my mom makes them costumes. It is almost finished, lol. But THEN .... I bought samples from Sue Herber at a miniature show and while I used a lot for kids' projects, I could clearly see them as Disney Stores. And so began Fantasy Land. So now I have finished a Disney Pumpkin photo spot, a Mickey Mouse playground is almost finished, a Mad Hatter House, and A Winnie the Pooh photo spot and shop. When it is finished it is going to be all the FantasyLand shops -- the Mad Hatter's hat shop, the Villain's Lair, BBB, a Christmas Store, a Disney Store, and multiple other stores. 
​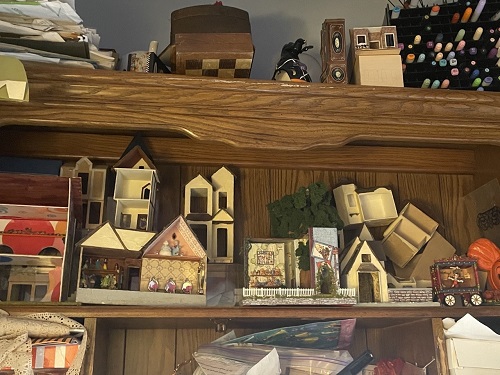 March Update:
I have worked a little on the buildings. They are already built, but they need the painting, trims, windows, etc. Some of the styles and colors have changed and I'm trying to decide if I want to redo them. Finished completely are - Winnie the Pooh Meet and Greet and kiosk (except for characters and signage), Pinocchio the real boy puppet theater for the parade, and the chain link the Halloween Pumpkin photo spot.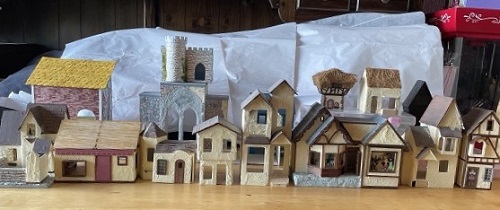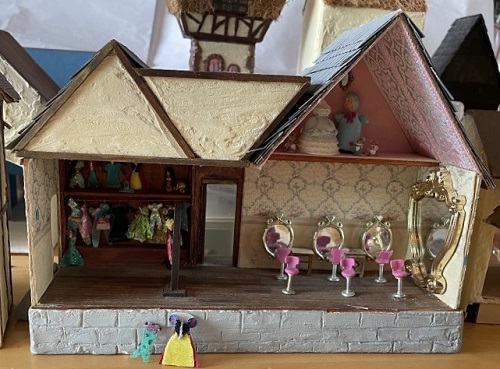 _________________________________________
From Alice Barber:
It was hard to pick just one unfinished project but this is what I'd like to do-Ruth Stewart's Yule Log House and furnishings. As you can see, nothing has been started yet.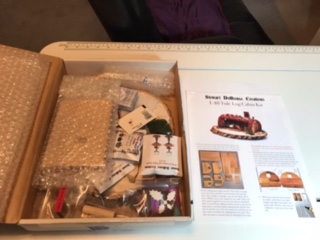 March Update: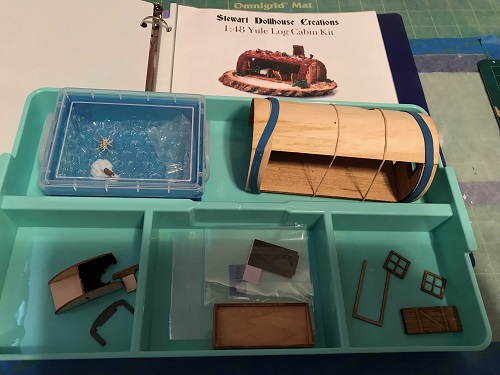 _________________________________________
From Cassidy Beeman:
I am hoping to start and complete a Real Good Toys 1:24 scale farmhouse kit. I plan on making it more modern and trying new techniques. I build most of the furniture from scratch because it can be difficult to find pieces that will work. I enjoy the smaller scale because I don't have a lot of space and this allows me to have a few houses to try different styles on.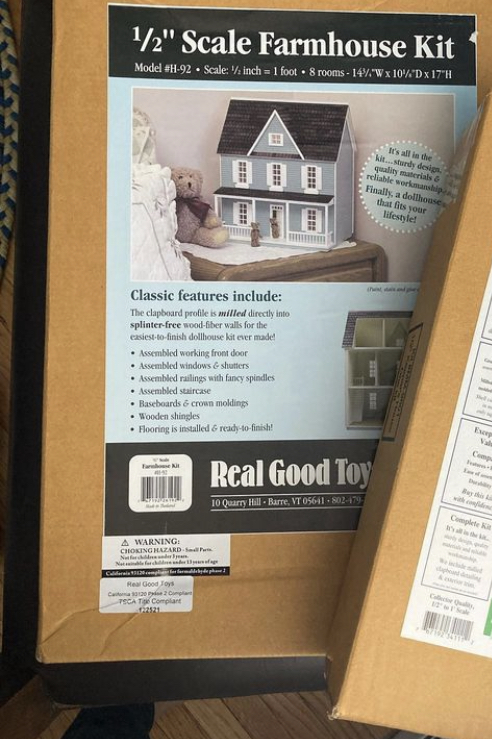 March Update:
I haven't had a lot of time to work on this project but I did order a new double door for the front. I also set up the shell to get an idea of layout: the first floor will have the living room and kitchen, second floor will have the master bedroom and bathroom, and the third floor will have 2 kids' rooms and a book nook in the middle.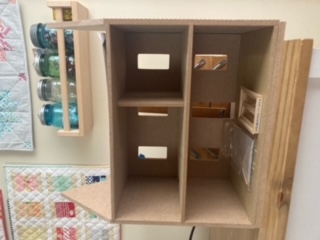 _________________________________________
From Jene Bondi:
My year long project is a cactus boot. It was given to me 10 years ago. My fellow club member bought it in April of 1999. I have never done anything with it as nothing really ever appealed to me as I don't like to do "normal" in an unusual container. I was talking to another mini friend and she gave me some great ideas. It will be decorated inside and landscaped as well.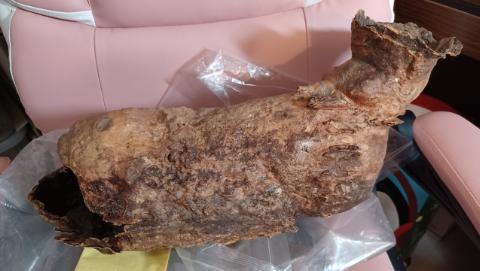 I got the inhabitants of my stump house, coming up with ideas of how I want to dress the cockroaches and what they are doing in their lives and ideas for the nuisance creatures (fairys), manage to drop the stump house after the picture and break it.🙁 And trying to find a container to fit it in and realized I'm going to have to have one special made unless I stick it in a glass fish tank. That might work now since it's broken.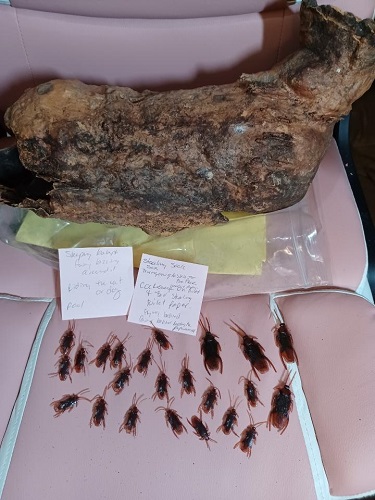 _________________________________________
From Cindy Bottasso:
I'd like to attempt to finish something each deadline. I like to build houses and never finish them/decorate them.
Betterley's Pedalstone -- it's missing pieces so I need to laser cut the sunroom and finish furniture.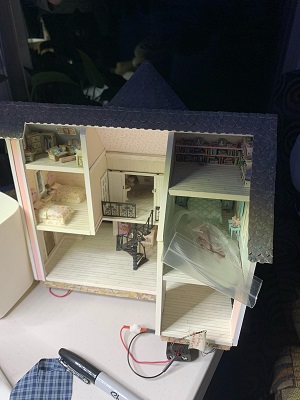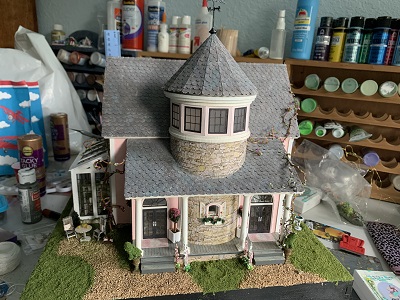 - Debbie Young's Cape Cod beach house, all the furniture and landscaping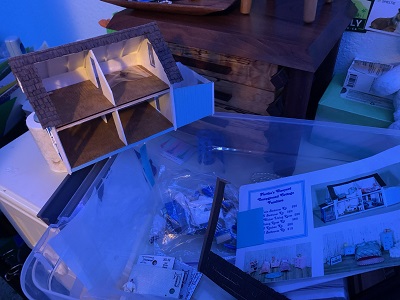 -Debbie Young's Aurora, all furniture and finish porch and landscaping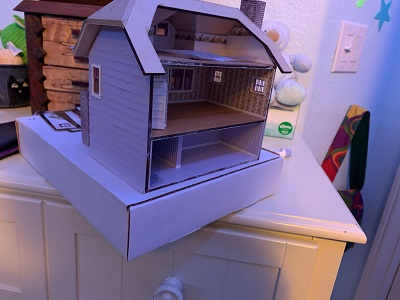 - Michelle Miller's steampunk train, fix lighting and all the furniture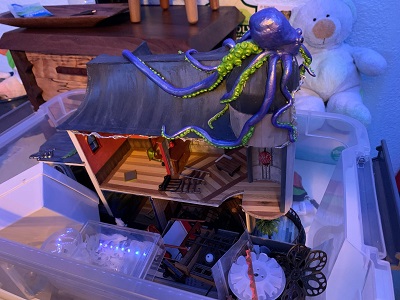 If I could finish these I'd be so proud and feel good about starting one of the many other kits I've already bought.
_________________________________________
From Barbara Bower:
Bramble Wood from Indy Houseparty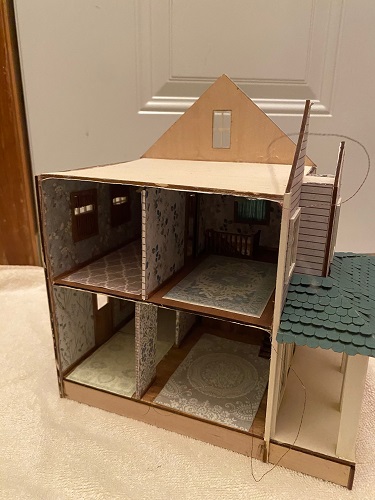 March Update:
I need to add more accessories and then I will glue the appliances into the kitchen. I am also working on one bedroom and the dining room. I have been having trouble with the roof. Hope to get it on by June.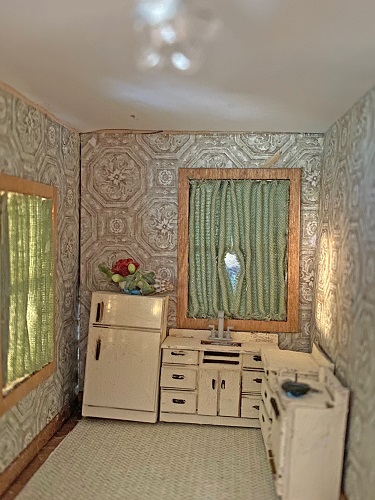 _________________________________________
From Quinn Bronson:
For the year-long challenge, I plan to continue with my current 1:24 roombox project, building and furnishing a total of three floors with full landscaping. The current progress photo is showing a front view of the 2nd floor and attic exteriors.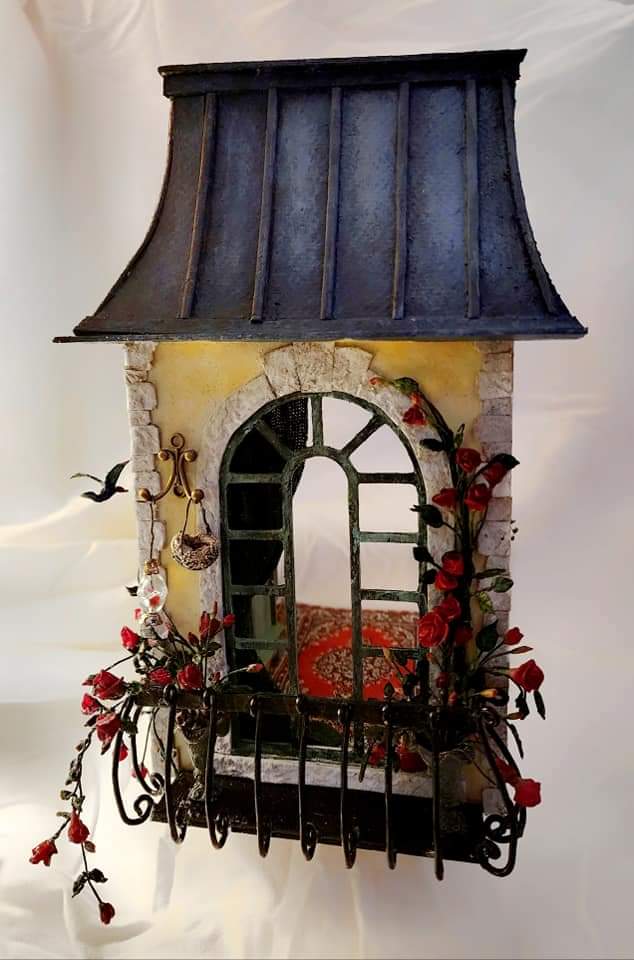 March Update:
- Ground floor and attic interior and exterior structure complete
- More touches on the 2nd floor interior
- Started on filling the attic
- Made a tree for the garden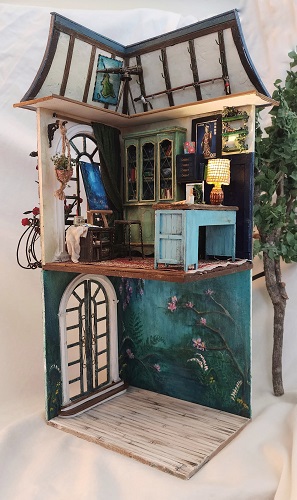 _________________________________________
From Jackie Browder:
My husband's family once owned a house of some small fame. Built in 1872, the outside of the house was the filming location for a movie in the 1970s, and was the subject of a painting by a distant cousin of some artistic renown. All we have left of the house is an artist's print hanging on our wall, a commemorative plate illustrating the house, a mantle clock that once lived inside the house, and clips from the movie. The house is now gone, and so are the memories of its interior. I have drawn a rough interior floorplan in a manner that will function as a dollhouse with fifteen rooms. I have NO kit, and NO cut pattern for this house. My goal for this year to to draw a dollhouse pattern, hire someone to laser cut the pieces (or cut them myself), and assemble the house (no furnishings, out buildings, or landscaping).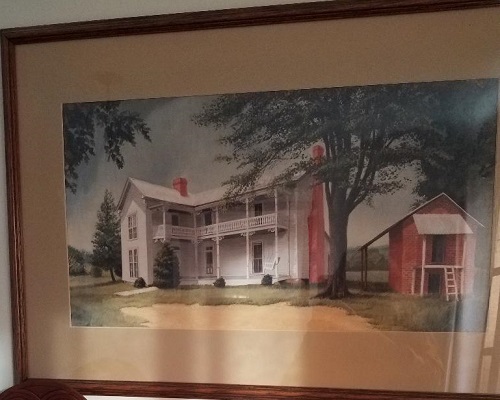 March Update:
I started by doing some research and gathering all the old photos and movie clips that I could find of the house. None of the historic photos had the chimney that was shown prominently in the painting. Since the finished dollhouse would be displayed near the framed print, and the second chimney would be useful for wiring, I decided to add it. I got a few small hints from family members, like "I remember rain on the roof being very loud" (It had a tin roof!). I measured all the scanned photos, to get dimension estimates. I was surprised to discover that the first floor had ten foot tall ceilings, but the second floor ceilings were less than eight feet! I made a computer drawing of the entire house's floorplan, taking a few small liberties to make it work as a dollhouse, or guessing when my research left gaps. I assembled all three floor bases, printed wallpaper and fabric rugs, and started collecting furniture (love the peacock chaise lounge!). The floorplan is complete, and the first floor only lacks the staircase. Next quarter I plan to do the second floor interior walls, and wiring the first floor lights; third quarter the attic, second floor lighting, roof, windows, exterior doors, and wall bases; fourth quarter the ornate front porch, siding, and foundation (it actually has a big stone as the house's cornerstone).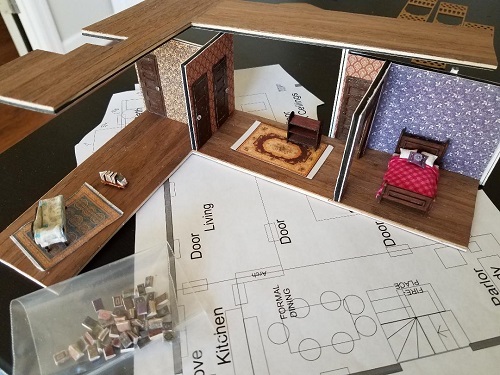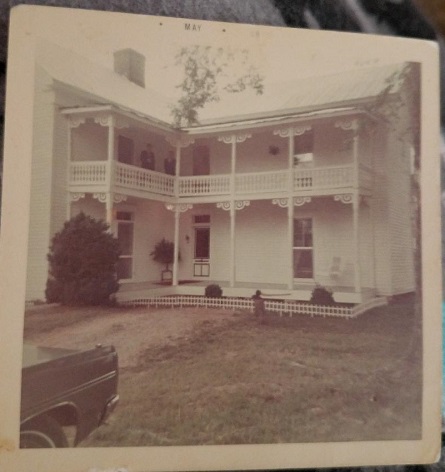 _________________________________________
From Amanda Burt:
I picked this up at an IGMA auction and have been intimidated ever since. It's time to take it out of the closet and work on it!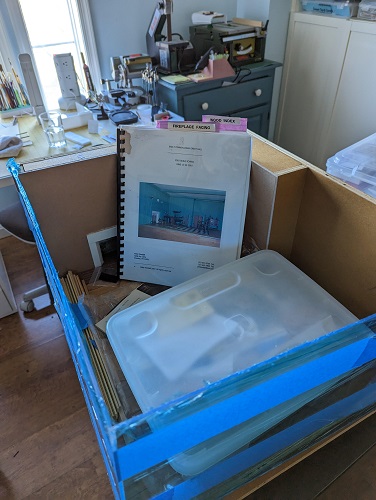 March Update:
I confess, so far I have sorted out the parts. I keep trying to read the novella of instructions and promptly my mind melts. I then try to match the done parts with what I think I am reading and I get lost as a turkey. If you have ever seen turkeys fly you know of whence I speak. I thought the stairs were upside down from where they actually are 3 weeks ago when I tried to figure them out by the banister picture.  
I hope to do better this coming quarter.  (Editorial: Novella of instructions is RIGHT! Good luck.)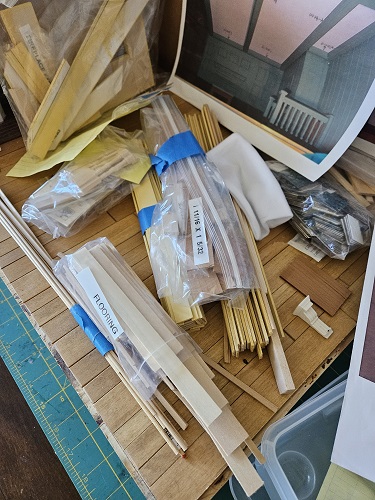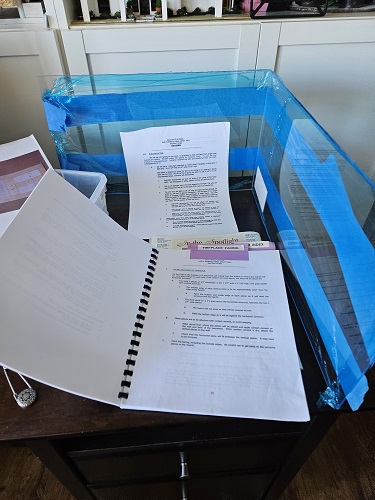 _________________________________________
From Pam Carroll:
This was a garage sale find in Indy Winter Wonderland. I am hoping to finish the structure and furnish with my already made furniture.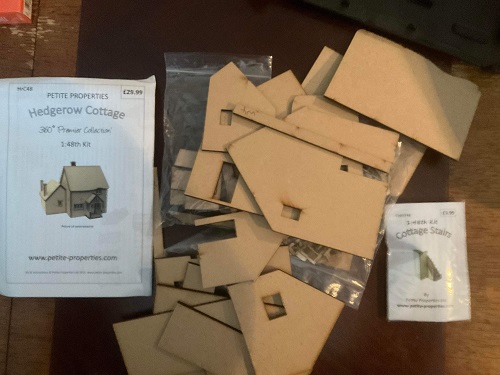 March Update:
Being that this was a garage sale item I have sorted and labeled all the parts first. It looks like they're all here so now I'm ready for the build.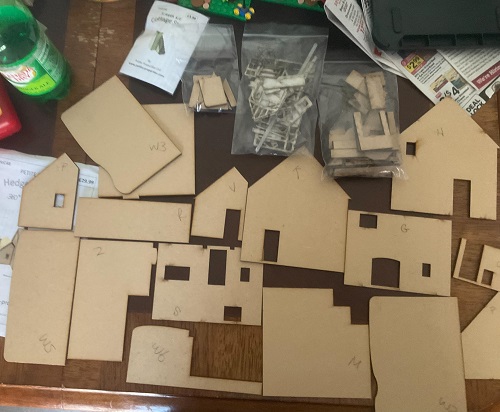 _________________________________________
From Nancye Claypool: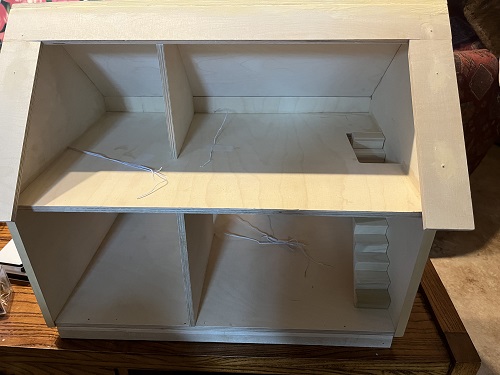 March Update:
Making progress!!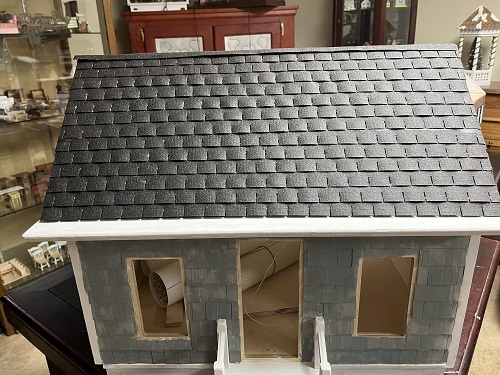 _________________________________________
From Brenda Colby:
A miniaturist friend gave me a half scale unfinished house that she no longer wanted. Because I love this scale, I was happy to give it a home. Thank you Pat! I disassembled the original structure and will add a floor or so to what will be a Charleston style house. I hope to finish it (mostly) during this challenge!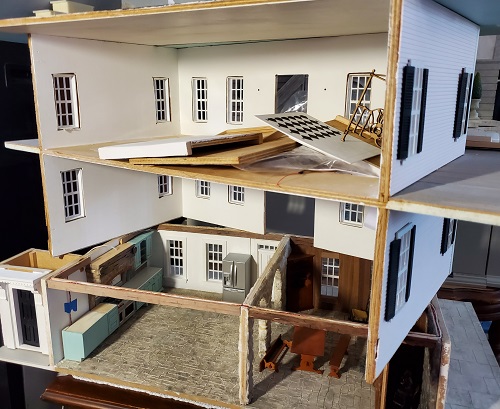 March Update:
Order is beginning to emerge out of chaos. The architectural details of the lowest floor of this half scale house is generally finished, and the wiring is in place for the other floors. There is a lot of work yet to do, but I am hoping to have the next floor completed by June.
_________________________________________
From Debbie Colombo:
I have been working on this together with Alician Pearce, on and off for 2 years!!!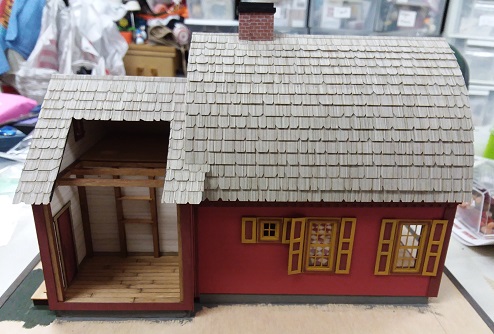 March Update:
These are the kits I got done for Cranberry cottage this first quarter.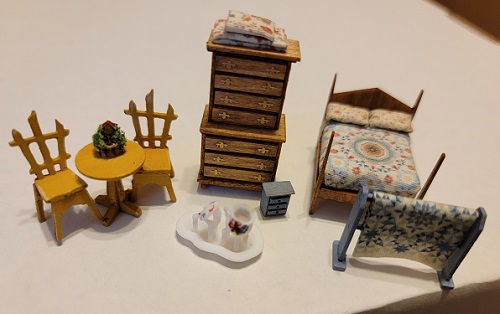 _________________________________________
Tai Corraggio:
I'm attempting to build a 1:24 scale model of the Popular Mechanic's Famous Concrete Block House, using as many real materials as possible, including real concrete. It isn't very far along yet, since I just started making blocks at the beginning of the year, and it takes about 24 hours to make one batch.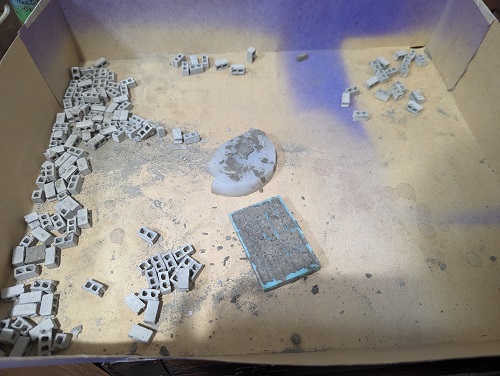 March Update:
Since January, I've made 940 concrete blocks out of the 2024 I'll need. I also laid footings and drainage pipes, and started building up the foundations and air ducts. (Editorial: Love the people sitting on the concrete blocks!)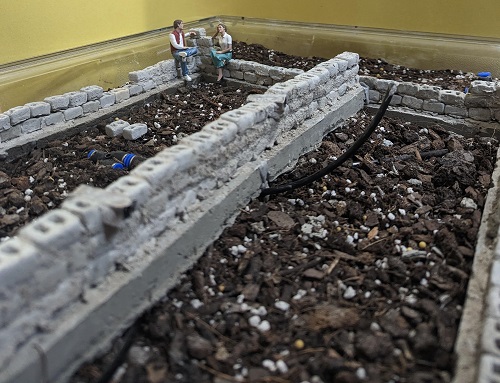 _________________________________________
From Pat Creagh:
I have been putting this 1" scale project off for a long time. It is the Twin Shops designed by Connie Reagan. I need to build it, choose all design elements and fill it. Here is a picture of my newly opened kit.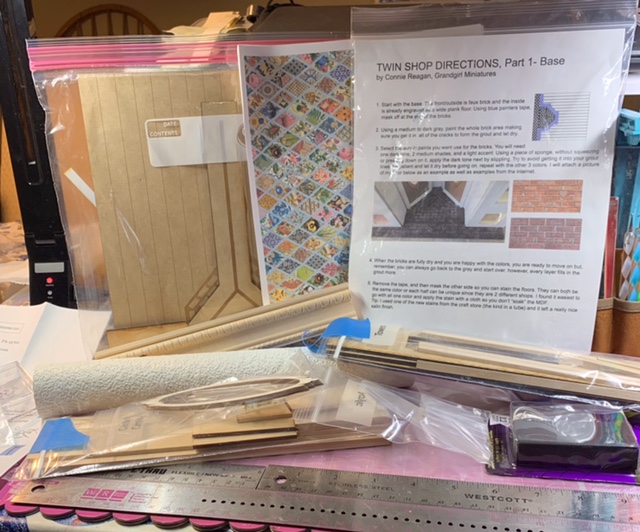 March update: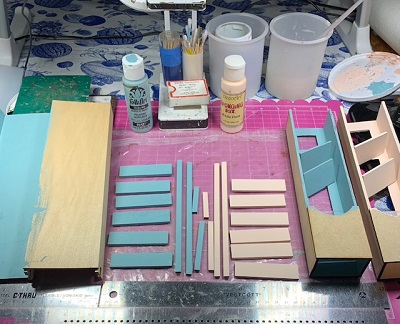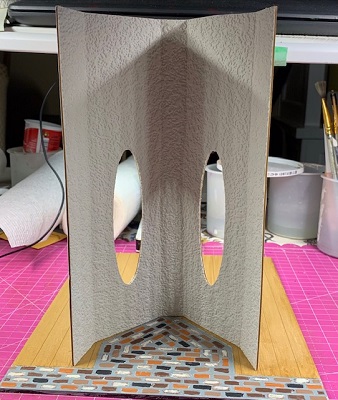 _________________________________________
From Adele Crowe:
I bought Debbie Young's Lakeside Cabin 5 years ago in Charleston with the best of intentions. So far, I've completed dozens of furniture kits, but the structure, not so much.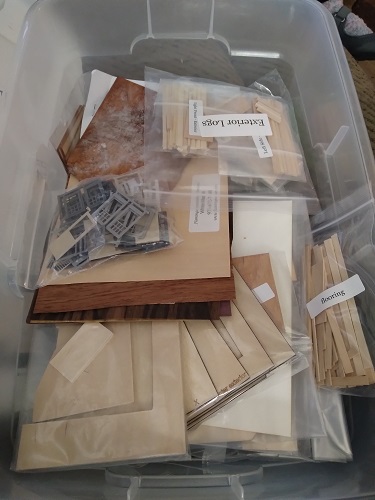 March Update:
Boy, am I ever glad you organized this challenge. This fantastic Debbie Young Lakeside Cabin has been languishing in its box since the Charleston convention and is finally coming to life. Attached is what I've accomplished so far. Right now I'm painting the fieldstone foundation & fireplaces. Will be sooo happy when that part's done.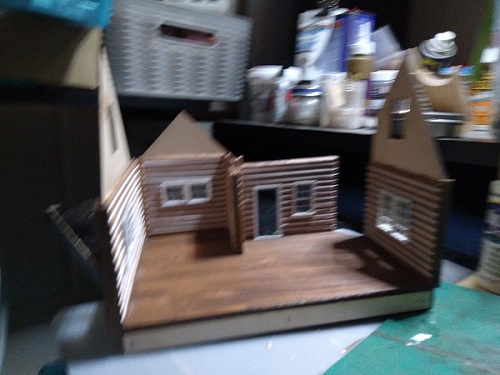 _________________________________________
From JoAnne Cutting:
A friend picked this house up at a yard sale for me a couple of years ago. I got as far as stripping out the interior (there was purple fake fur glued as carpet on the top floor and all the wallpaper was mildewed and stained). The shingles on the mansard roof had been hot-glued on; the glue had dried out and the shingles fell off in clumps at first touch.  
My goal is to finish the house with a nod to "Frozen" -- the colors of blue, silver, and lavender mainly, with wintery decor -- and then donate it to my church Harvest/Christmas Fair as a raffle. I have just about everything I expect to need on hand already. I just need the boot in the backside to get it done. Having regular progress deadlines to meet may be just what I need to work on it regularly instead of stalling until the two weeks before the Fair and rushing to get it done.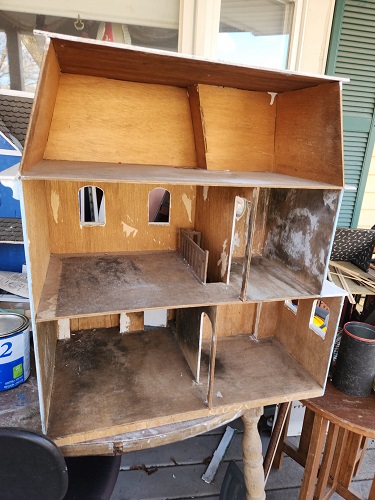 March Update:
There is not much visible progress to report. The interior has been stripped sanded and primed but more sanding is needed. (Editorial: Maybe not much "fun" progress, but that was a lot of effort that went into it!) Sudden renovations to my full-size house have gotten in the way of the mini stuff. Now that spring is coming and the days are getting longer I'll be able to put in more time on my hobby.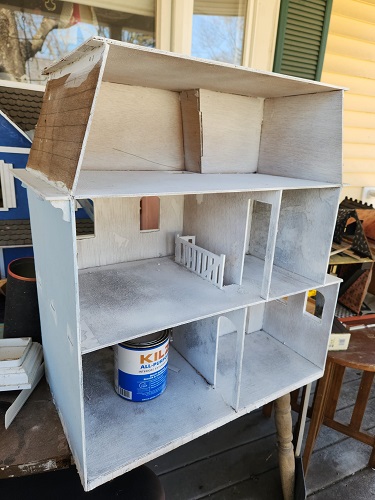 _________________________________________
From Judy Doe:
I plan to build, furnish and hopefully landscape the Hart's Desire Miniatures St. Beckham Gothic Victorian house kit. It is still in the box. Having just been in Galveston Texas at Christmas, and seen the beautiful Victorian homes there I plan to make it a Galveston Seaside Mansion from the late 1800's.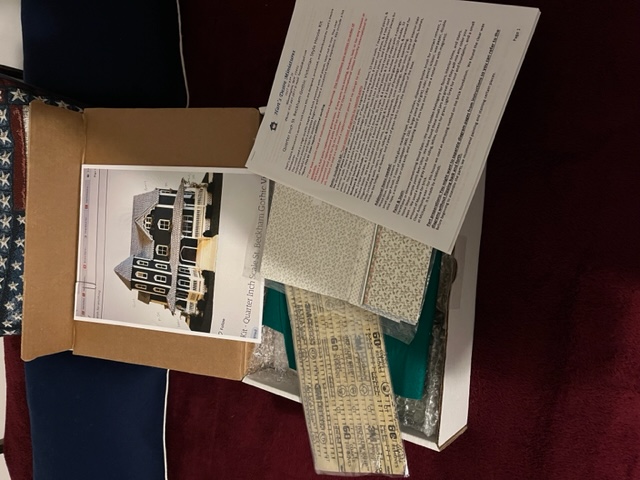 March Update:
Here is my house - coming along, but at a standstill now because the next step involves contact cement. And because that has to be used in a well ventilated space, I am waiting for the weather to improve so that I can do it outside.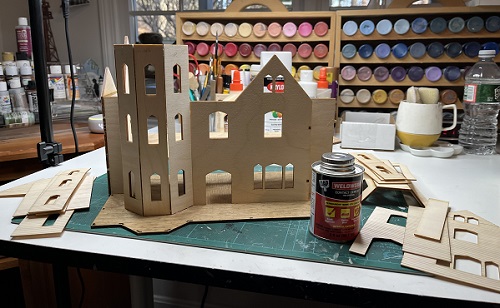 _________________________________________
From Pam Doran:
I would like to complete this roombox inside and out as a bookstore. I started with making some bookshelves a few years ago and then stalled from there. This challenge (and especially the quarterly "reports") is the push I need to continue to work on it throughout the year and finish it.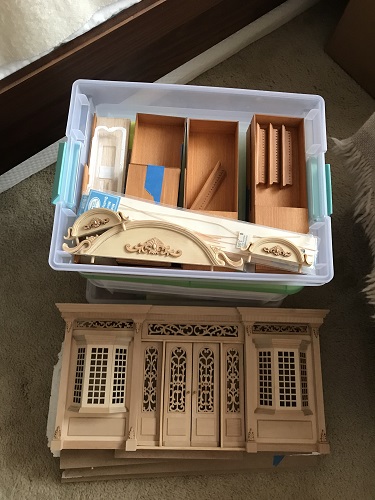 March Update:
I'm finishing up the bookcase to put in the roombox. I started out small, but the bookcase started to evolve and grow. I now have to add 2" to the wall height and 4" to the wall length just to get the bookcase to fit in the roombox. You can see the "now too small" roombox just behind the bookcase. I've now put myself on a schedule so that this project will get completed by the end of the year. Next up - complete the bookcase, enlarge the roombox, decide/install flooring, and install the bookcase.  June is going to come very fast!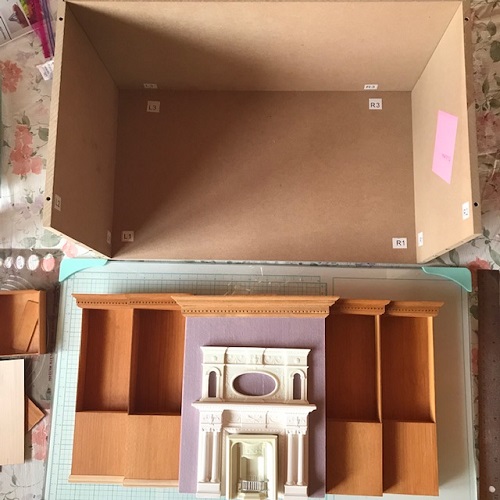 _________________________________________
From Vicki Dukes:
Here is my project that I have been working on for 2 years. As you can see it is still in several pieces. I am hoping this challenge will inspire me to get it finished.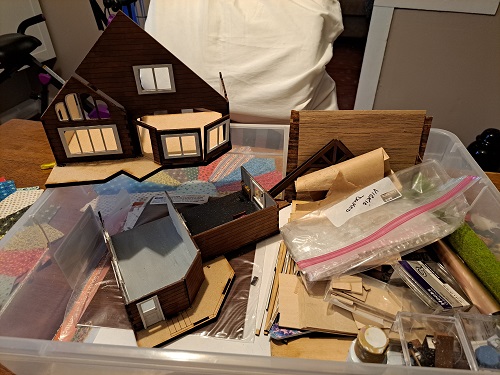 March Update:
In the past 3 months I have painted the inside walls, ceilings, truss, and window trims. I stained the flooring and have cut it to fit. I'm in the process of installing the bay window. Next step will be to decide on where lights will go and do some wiring. I got side tracked with the project several times. In the last 3 months, I put lights in my first NAME project and then I completed a second NAME project. I also bought a 1938 table top radio that I gutted and will make it into a room box.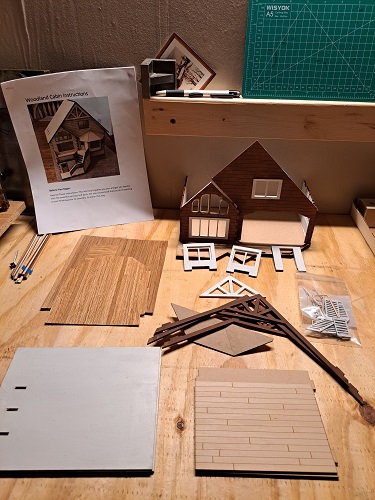 _________________________________________
From Susana R. Eaton:
This is my wonderful find at the Winter Wonderland convention garage sale. Half scale Houseworks house partially completed. I hope to electrify and complete it this year.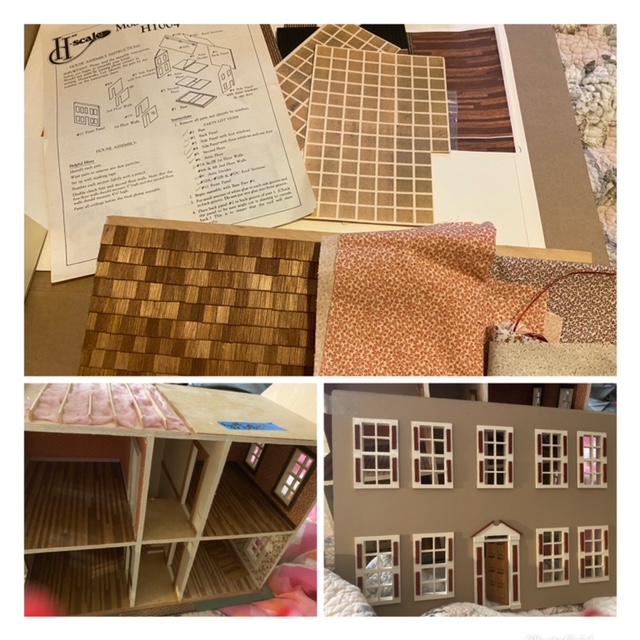 March Update:
I decided that the original owner had done a great job using fabrics as wallpaper. Unfortunately a lot of it was coming of the walls. I managed to re-glue all the wallpaper and trim with minor imperfections showing. It was a trial and error using several glues since wallpaper paste stained the fabric. I ordered some furniture and lights which are not here yet. Unfortunately because of a death in the family I missed the opportunity to attend the first miniature show here in Atlanta since the pandemic where I was planning to shop for the items for the house. 
Picture of the completed door of the house and pictures of the living room set and 2 chandeliers that I ordered.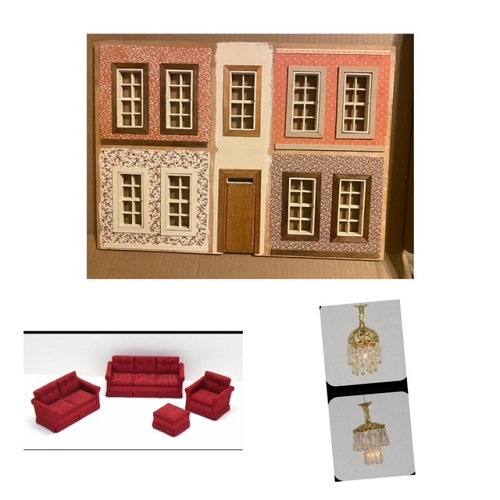 _________________________________________
From Carolyn Eiche:
I'm going to work on my Debbie Young Lemonade and Lace house. I started it last year and stalled out when I had a problem with the bathroom walls. It needs all the furniture, accessories and possibly landscaping.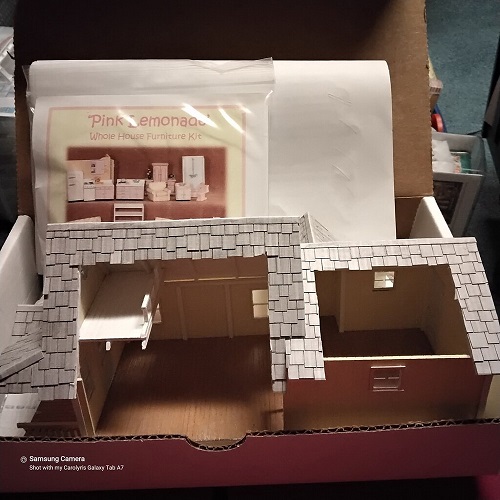 March Update:
I added the bed loft to the house and painted installed the kitchen pieces (sink, frig, stove and cabinet) and the bath fixtures.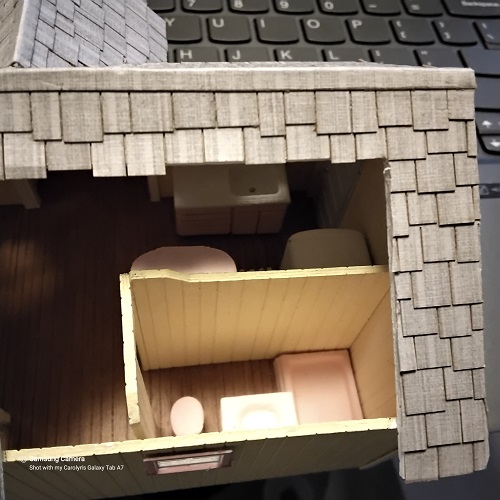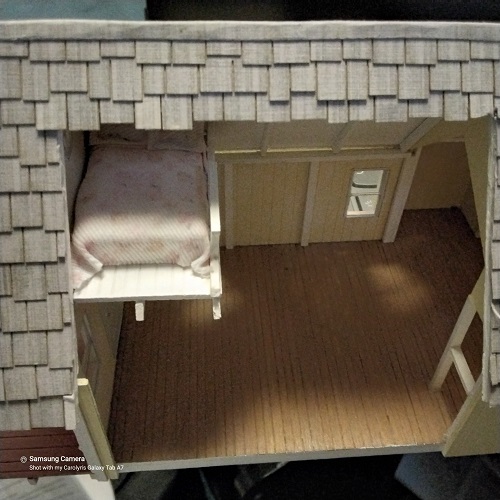 _________________________________________
From Kellie Ellison:
I will be assembling a witch's cottage in 1/4 scale.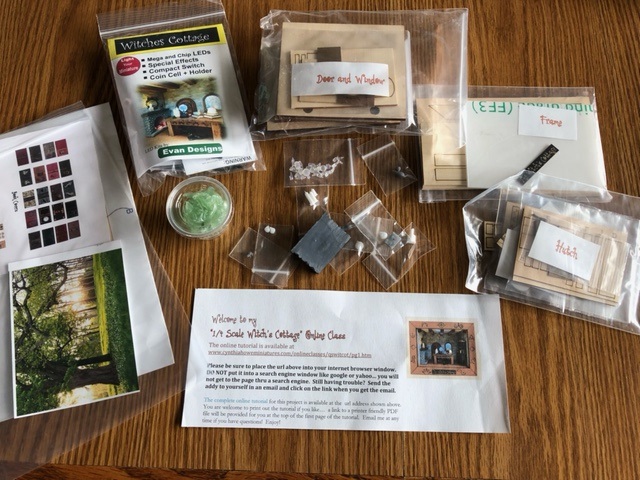 March Update:
This is the progress of my Witch's Cottage. Slow going but I am determined to get it done.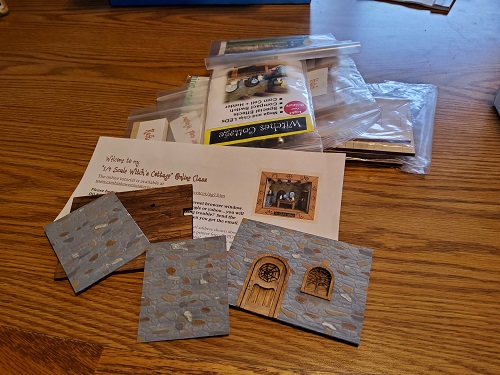 _________________________________________
From Jean Ellsworth:
My project is a 1:12 scale replica of the Dollhouse/Miniature Shop I owned from 1976 - 1982 in Madeira, Ohio. It was called Manor House Miniatures. Two local men made the room boxes I sold in the shop. They made me a replica of my shop. I kept the unfinished shop box safely put away for 40-45 years. In the spring of 2021, before my move, I got it out and painted the outside. It is time to get it finished. Hopefully the challenge will encourage me to accomplish that goal.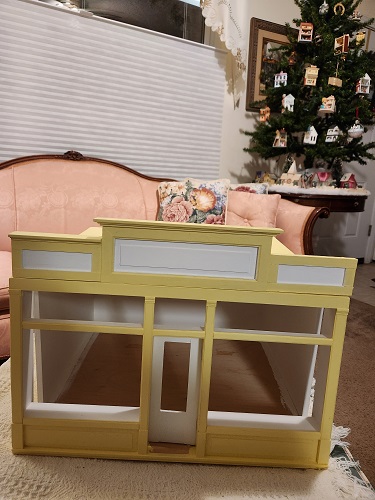 March Update:
I have found all the kits I have been collecting, for 40+ years, for my dollhouse shop. They are finally all together. I have not counted them, but it is obvious that I cannot use all of these in my shop. Guess I will have to pick and choose. Hope I can get a few of them put together in the next 3 months. This is beginning to feel like a 5 yr project!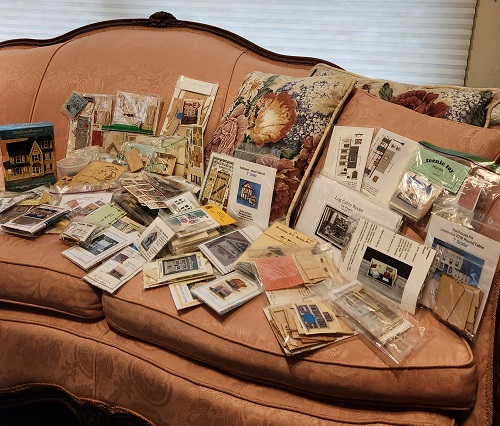 _________________________________________
From Barb Engel:
I just inherited this kit from a dear friend. She envisioned it as an elegant home, not haunted or enchanted. During the year there will be much kit bashing to get to my vision and her vision for the project.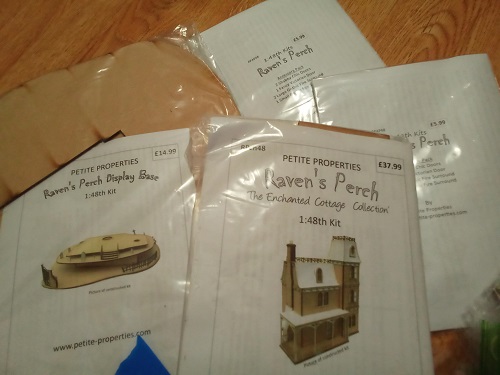 March Update:
The build continues and now has a theme. This is now The Pines B&B. Five bedrooms and a guest parlour are in planning stages.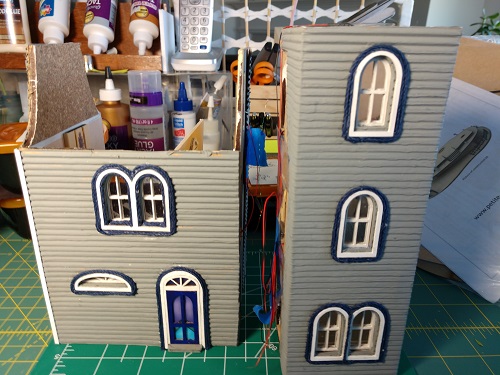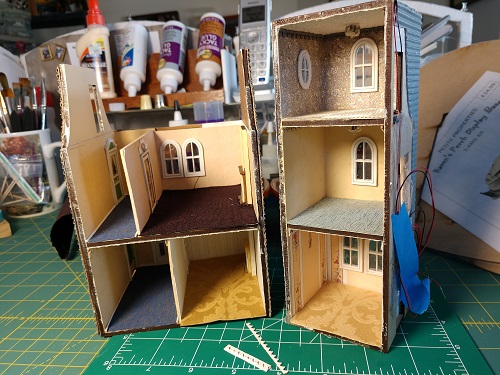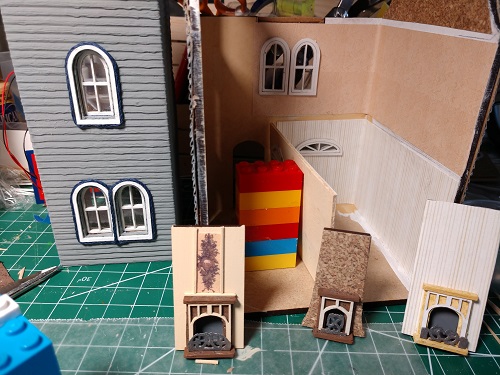 _________________________________________
From Kirsten Enzinger:
1. Remake 3 horses plus English tack for one. One will be a replica of my daughter's horse, another a replica of a friend's horse, and then to try to remake the 1/4 scale horse (its so tiny!}.
2. My other big project for the year will be to finish my tiki bar. Will it be on a base, or in a room box? I don't know yet. I will have to dress and wig two dolls representing me and my husband on our diving vacations. Needs a thatched roof table, lounge chairs, drinks – lots of drinks! Lots of plants need to be made – palm tree, hibiscus, etc. I have lots of ideas, now just need the time!
3. The contemporary furniture set was bought many years ago, waiting to go in a doll house. I still don't have a dollhouse and I've been in miniatures for over 30 years!! So, I've decided to make room boxes instead. I hope to make a roombox for this furniture set but will not plan to complete the scene this year. Next year's project!
4. And Heather wants her room finished too! This is the other roombox I want to make this year, and again I'm not sure I can manage anything besides getting the box made. Decisions still need to be made about electrifying or not, plexiglass lid or wood lid, etc. before the design of the boxes can be made.
Whew! It's going to be a busy year!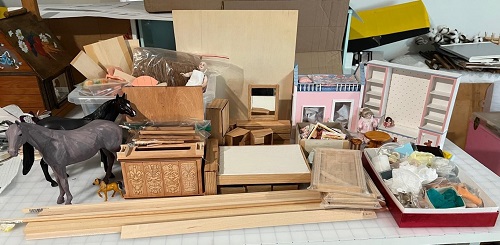 March Update:
I haven't made much progress on my goals for this year yet ... too many side tracks! I have started working on one of the horses but waiting for better pictures of the real horse before I can continue. A little work has been done on the tiki bar-- roof supports have been installed and the roof cut and stained. Cabinet door installed. Made a cocktail shaker, blender, drink umbrellas, cut and punched leaves and petals for hibiscus, finished the cooler. Still trying to decide if this will go in a room box or on a platform. Most of the year has been focused on designing and making a patio which is being taught to my local club. Prototypes made, 18 kits made by Suzanne Spooner Munch and me, and first part taught at last meeting.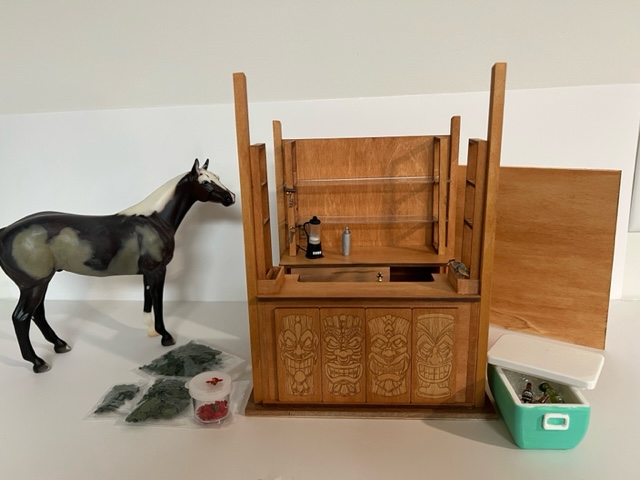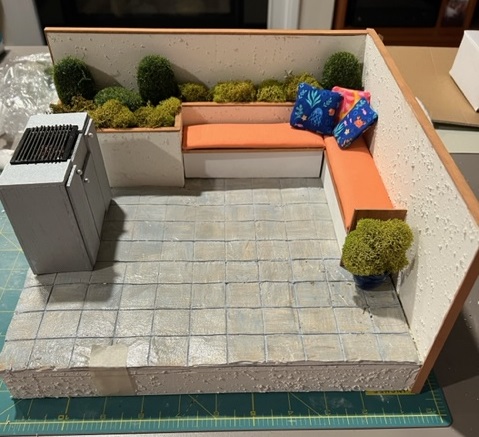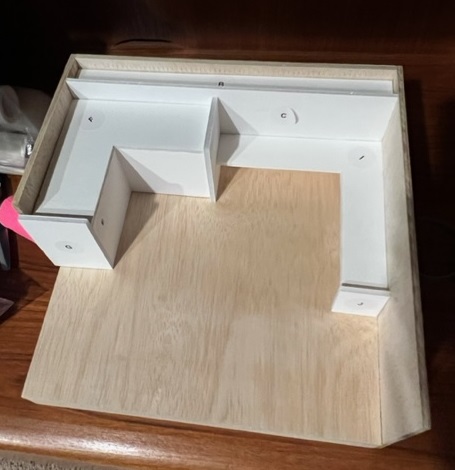 _________________________________________
From Diane Fisher:
I rarely do challenges, but this one sounds engaging. I just started Petite Properties Turrim Castle. This is what my project looks like at the beginning.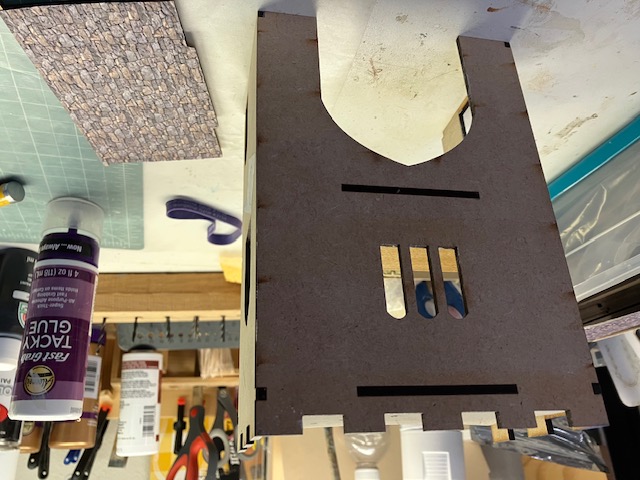 March Update:
This castle is a delight. I have created the five towers and the dungeon level. Furnishing has begun. Next is to complete furnishing and assembly, then landscaping and hiring a staff!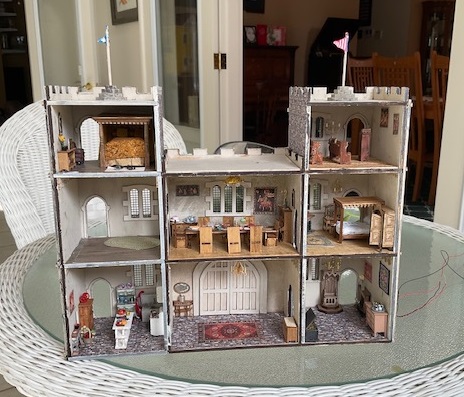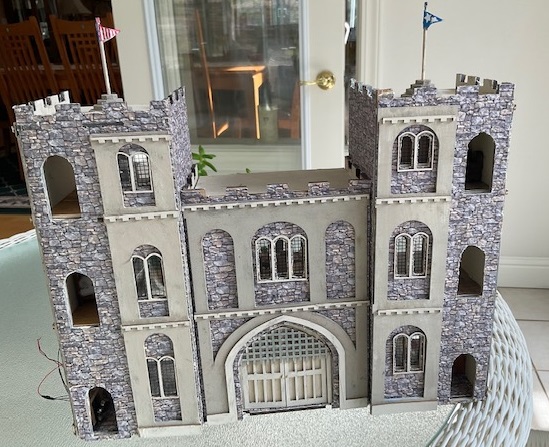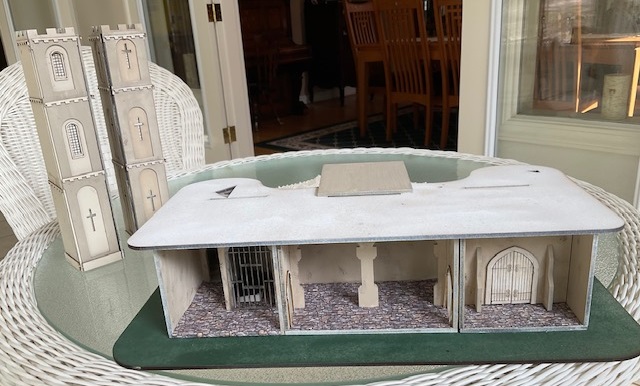 _________________________________________
From Bev Fleming:
I want to finish my unfinished kits from the 2022 calendar club. Here is what I have left to do -- the last six buildings and the first four months furnishings only The first four buildings are done.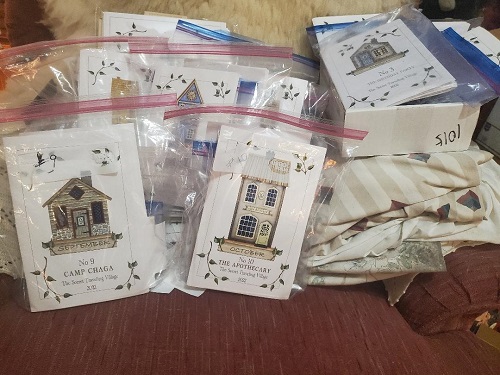 March Update:
Here's my progress on Robin's traveling village. I've finished #5 & # 6.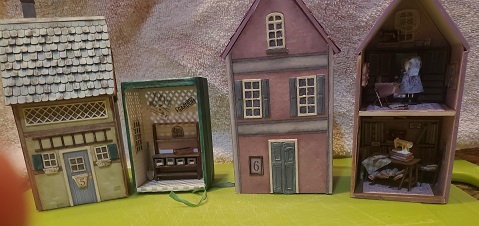 _________________________________________
From Paula Francis:
Thirty-two years ago at a local flea market, I noticed the saddest of sad dollhouses sitting in the back of a truck. Since I can never pass by a once loved dollhouse, I instantly bought it. It has been silently sitting in my basement all these many years, waiting to be loved again. This challenge is the perfect time to bring it back to life.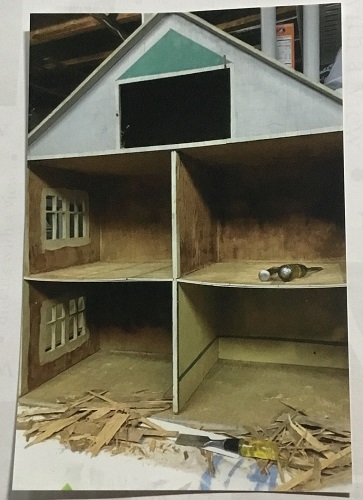 So challenging and rewarding … seeing a discarded dollhouse start to come back to life. Rotted, warped wood, rooms that are not square, screws, and nails sticking out everywhere. I refuse to be discouraged. New roof, reinforced sides and base, and one room finished (the kitchen). See you in 3 months with more updates.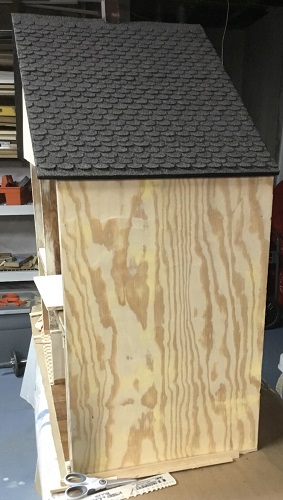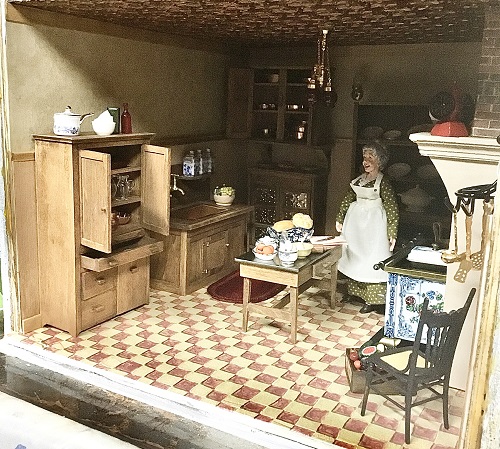 _________________________________________
From Julie French:
I want to finish my unfinished kits from the 2022 calendar club. Here is what I have left to do and I can't find November and haven't received December yet so I can't include them in the picture.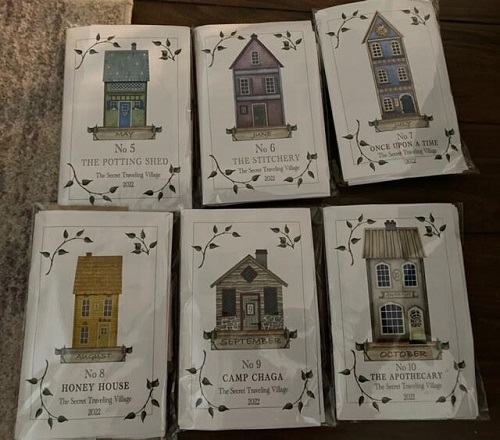 March Update:
I finished April!! I made progress lol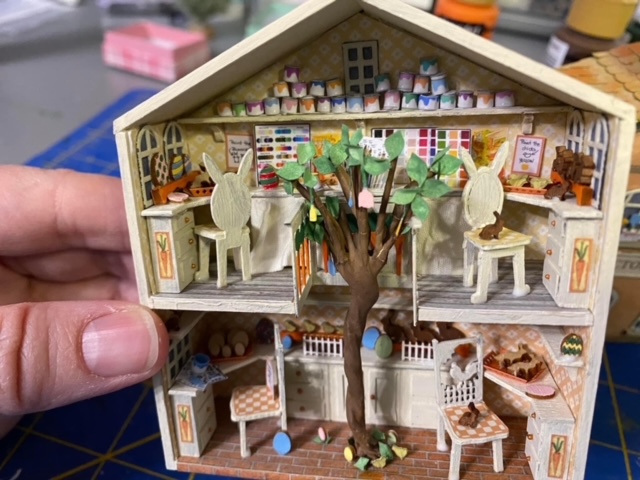 June Update:
Here is my proof I made progress again.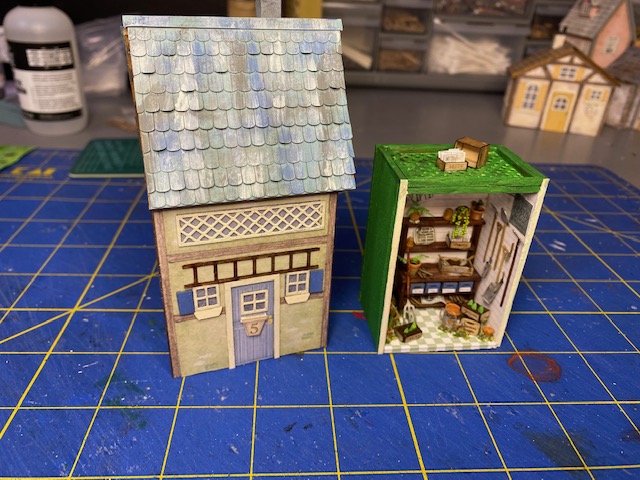 _________________________________________
From Carol Gambrill:
My big project for 2023 is to construct and furnish my Pickett Pond kit. Attached is a picture of the furniture and accessory kits in their pristine packages. It will take me a few days to unearth my kit for the Pickett Pond structure, also still in a box, so I'm just sending the one picture.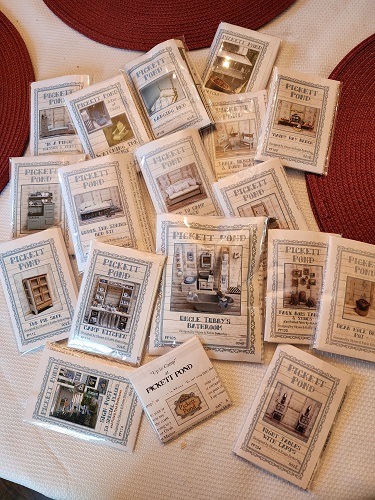 March Update:
February 3, 2023 I opened the large parcel post box from Betterley Miniatures. The postmark date was January 6, 2014! I reviewed the instructions and ordered, again, paints for the Pickett Pond structure and for all the furniture kits. To get back in the swing of quarter scale I decided to start with the furniture kits. So far I've done the bathroom and the stove. Moving onward!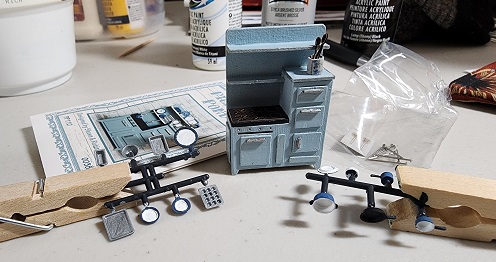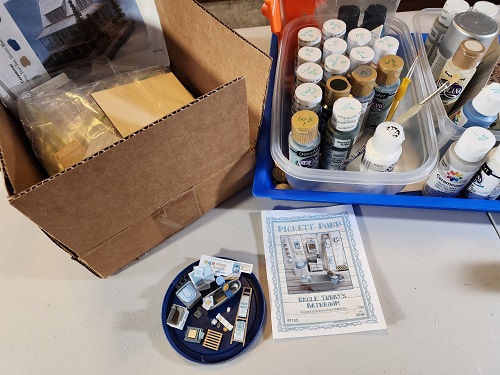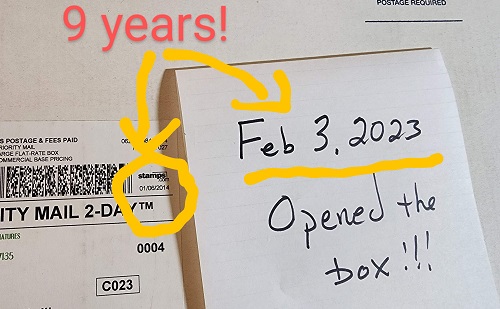 _________________________________________
From Jean Gibson:
These are two complete house kits that I have been meaning to do but the process is a long one and I haven't taken the time. Now I have to! One is the Veranda house including a garden, and the other is the Pocket babyhouse.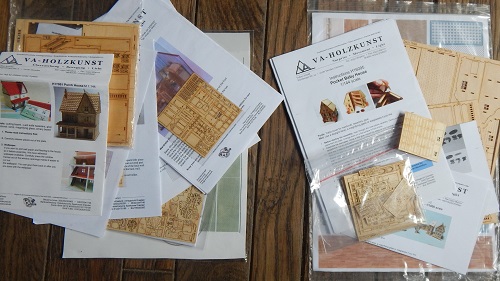 March Update:
I started with the 144th Baby House by Volker Arnold. There were 6 rooms of furniture and all the extra toys that needed to be painted. There is still quite a bit of work that needs to be done on the furniture before moving into the house and I am curious to see how much is going to fit. Then the plan is to decorate the interior and fill the window boxes outside for the next time.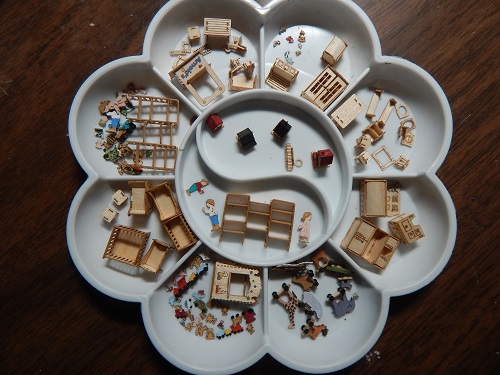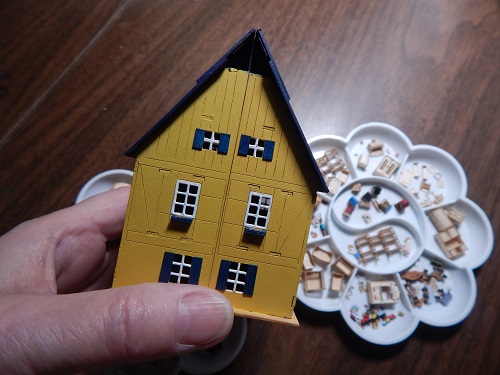 _________________________________________
From Ruth Goodger:
I've had the kit since before pandemic and then could not find the paint I wanted. I have it now so it is time to move on it.
March Update:
Waiting on furniture to add the roof on Creekside Studio project.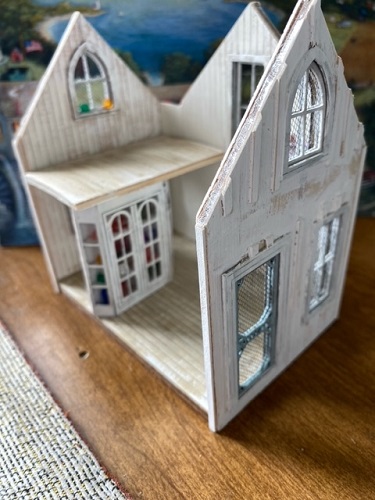 _________________________________________
From Sherry Graf:
When my grandmother was a young woman, in the early 1920's, she made beautiful ladies' hats and was always very proper with gloves, purses and shoes to match. I plan on making a lady's shoppe with items from the last 100 years to showcase her wonderful 50+ year old hat box.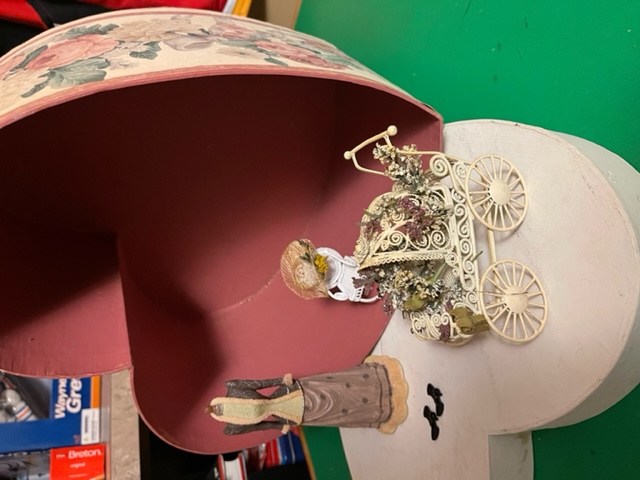 March Update:
I've laid out my base and side walls, have my lights, and have been collecting items for the ladies' shop. I also took Ginger Landon-Siegel's Annabelle Goes to Paris darling luggage and hat course which will be one of the main displays in the shop! So elegant and fun!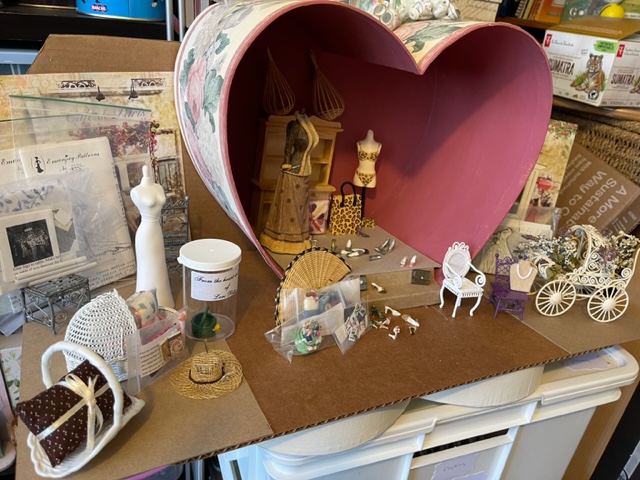 _________________________________________
From Evelyn Gumina:
The Pickett Hill House Kit is my goal for the Year Long Challenge. I purchased the kit a few months ago.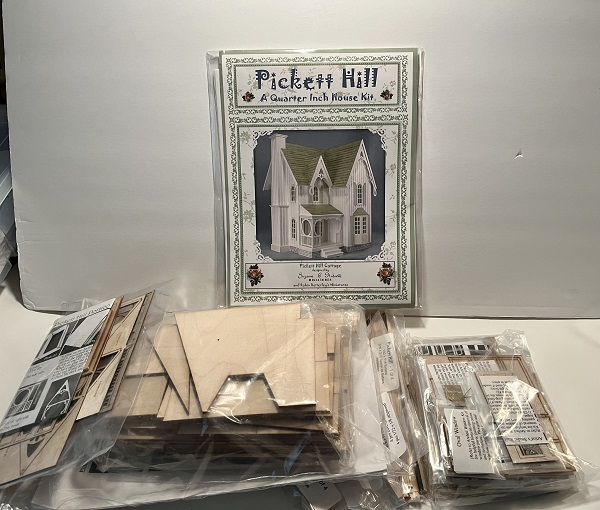 March Update:
I am working on the electrical part of house. House with one coat of gesso. Not so appealing right now.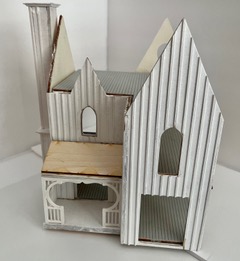 _________________________________________
From Sandra Hambley:
 I have my childhood dollhouse made by my dad (55 years ago). Thought I'd aim for renovating the whole house but it was daunting to think about. I think I will aim for just redoing the living room. It needs it!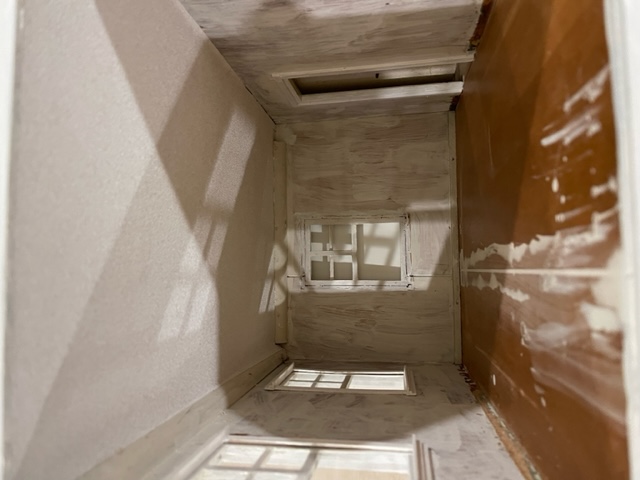 March Update:
I keep thinking I'll make a wee bit more progress before sending my update photo in, but the time has come. Added flooring, wallpaper, and wainscoting. Next up baseboard, chair rail, and fireplace! Great idea for a challenge. It keeps me going!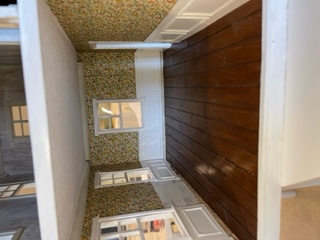 -_________________________________________
From Pat Hartman:
Well, nothing like a deadline for motivation so, I'm up for the challenge. I've been planning to do one more large project and this is the perfect opportunity.
I've been collecting (for a long time) to make a Santa's workshop based on a picture I saw of a Christmas window display in Toronto, Canada. Primarily it is in a very large box in its current condition🤪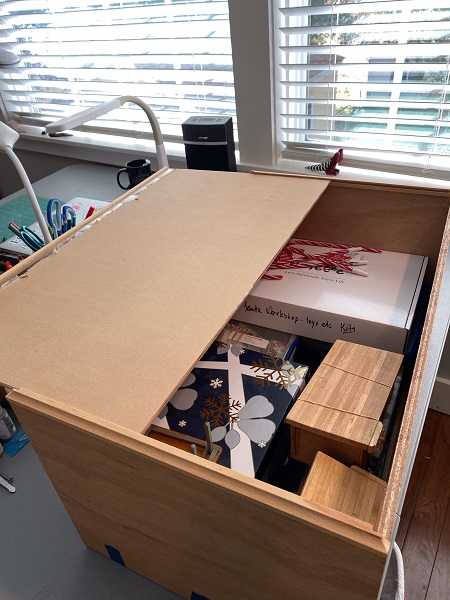 March Update:
I've been building the main furniture pieces.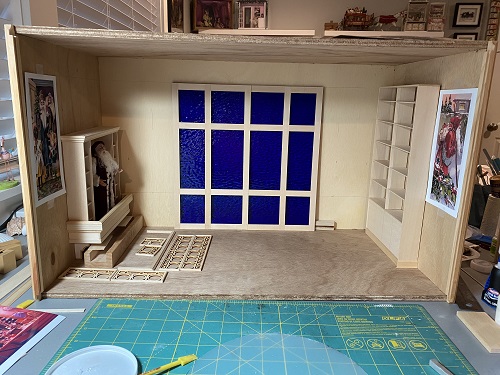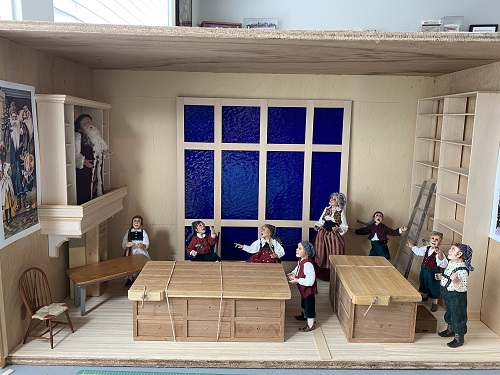 _________________________________________
From Bonnie Helterhoff:
I am hoping that since this is sort of a competition and I happen to be extremely competitive that this will spur me on to do this project. I found this Real Good Toys house for $40 at a miniature flea market. It has some but not all of the floors, no wallpaper, and the outside is just primed. My goal is to redo it as a Mary Engelbreit themed house. I would love to see this happen but I just keep putting off starting ... We all know how that goes…lol. I'm hoping that by committing now I'll get it done!
March Update:
I have gotten the exterior painted white; the trim painted black, and the roof shingled with black paint wash and a wash of red over that (may need to add more red later). I've decided which rooms will be what; bought wall paper, and found some furniture that I can redo in the Mary Engelbreit style. Real life has taken much of my time and will also dominate the second quarter so most of my progress will be the last half of the year. I'll do what I can the next quarter and then one room each month along with unfinished bits for the balance of the year.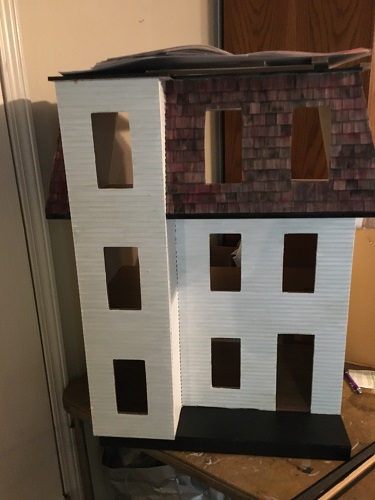 _________________________________________
From Eileen Herrstrom:
I started this Jamestown dollhouse from the Real Good Toys New England collection in 2021. Its current state: the exterior is done; some rooms are nearly complete, one is barely started, and most are somewhere in between. I plan to complete the interior this year, although I suspect the house will never be "finished", and landscaping will be added later.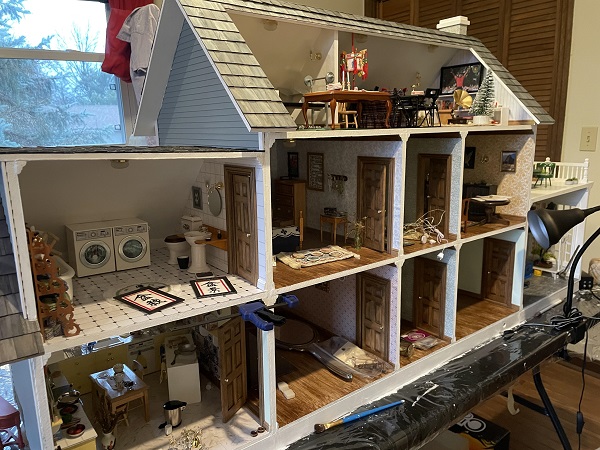 March/April Update:
I had intended to work on completing my big dollhouse for the Year-Long Challenge. However, we had a house fire three weeks ago. I haven't been able to inspect my dollhouse closely and in good light, but it's definitely damaged. My husband and I are living in a small apartment temporarily, where there is no space for the 1" scale dollhouse.
All of this is a long way of asking, may I switch my focus for the challenge? I've started working on a 1/2" scale Japanese dollhouse kit and will continue with that for the remainder of the year. (Editorial note: Special circumstances are ALWAYS considered!)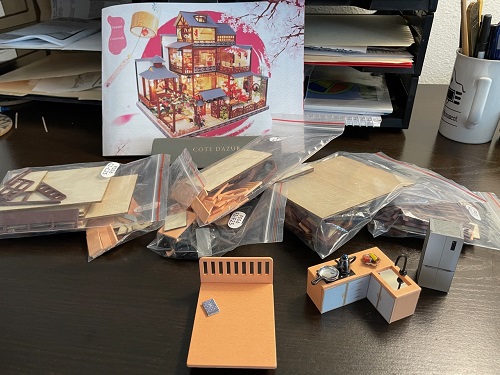 _________________________________________
From Kimberly Hood:
I have packed this through the last 3-4 moves. Every time some helpful person tries to toss it in the bin, I explain that I have plans for it. Well this challenge is just what I need. My hope is to convert this radio into a living space with a grand library and huge stained glass windows. All with a steampunk vibe. We'll see....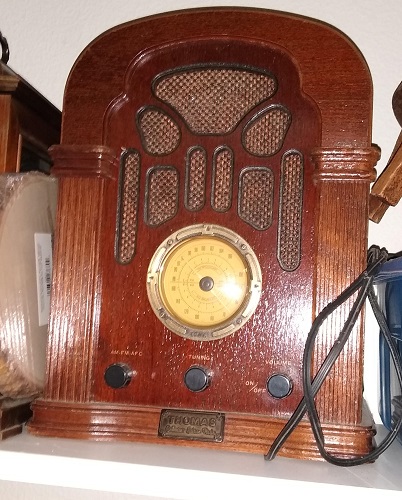 March Update:
I finally dug the radio out of the closet, had cleaned it up, and was just about to start taking it apart. When my son came in and said "What are you doing with my radio?" After several minutes of "no this is mine" going back and forth like toddlers, he reminded me that his works and he's been looking for it and mine is in the greenhouse. Oh ya 🤔 Which happens to look like a before picture from Hoarders after I stuffed everything in it when my dad moved in with me while we waited for his shop to be built. (Which is delayed as my contractor is currently in the hospital recovering from brain surgery. You can't make this stuff up.)  So back to the closet and pick another project. That's right I have a closet full of untapped potential. 😁. I will now be turning this curio cabinet into a 3 level Alice in Wonderland multi scale thing. It's going to be great.... really. So far I've dug it out of the closet cleaned it up, glued it all back together, and replaced one of the shelf brackets that was missing with the stained top of a fancy toothpick. I'm excited to get going on this.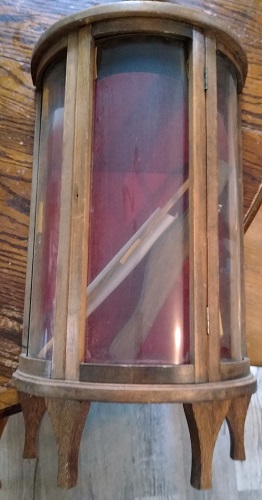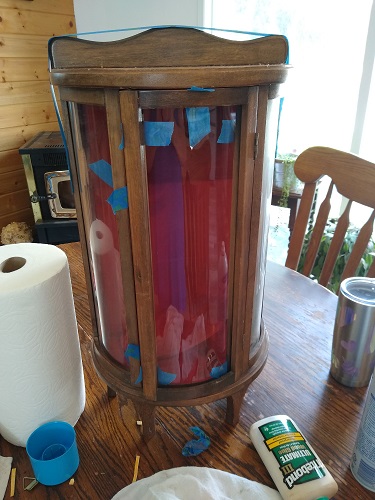 _________________________________________
From Kristie Horrell:
I am going to complete Carpathian Cottage. I want to have it completed by the end of this year. It is still in the package. 
March Update: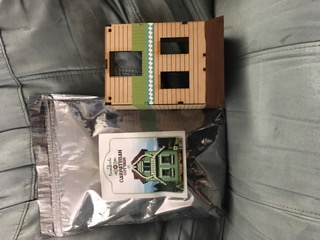 _________________________________________
From Carol Johnson:
My goal is to complete the Picket Hill house and all its furnishings. My kits finally arrived and here they all are.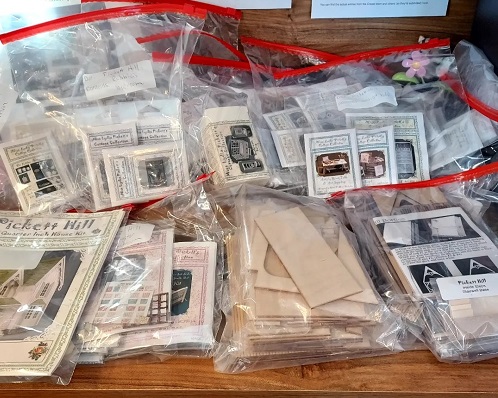 March Update:
I have attached a couple of photos of my progress on my Pickett Hill house. I have completed most of the interior accessories and am about to install the second story in the Picket Hill house. I am enjoying every moment of this challenge. 😊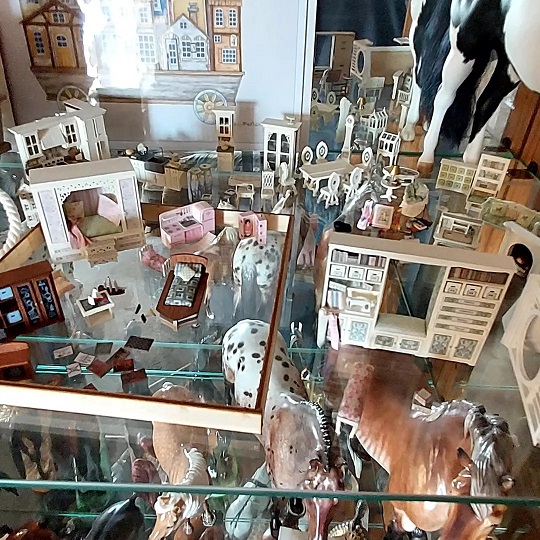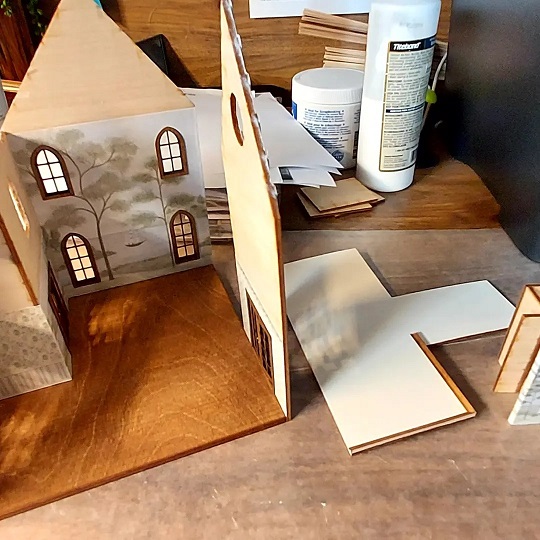 _________________________________________
From Julie Johnson:
This beauty is a Joseph Angel house signed by Clell Boyce, #10. I purchased this at the NAME convention in Alexandria. I had to dismantle it to get it home. A year later I put it mostly back together and did some work on it. It has now sat for two years. It survived a move, but the electrics didn't fare so well. I have spent last year trying to wedge my minis in a small garage space. Everything I unpack needs fixing, so that's what I do. Unpack, fix, and try to find a spot for them. Here are pictures of my storage house.🤣😂 it became the repository for everything I didn't know what to do with!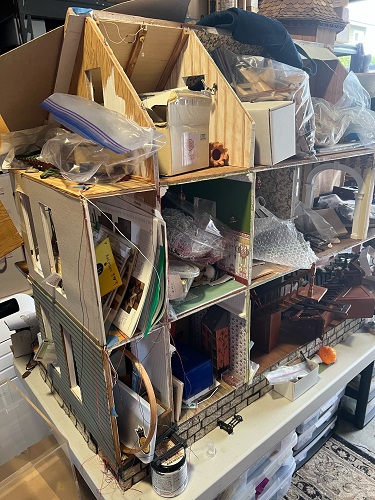 March Update:
Thanks for doing this.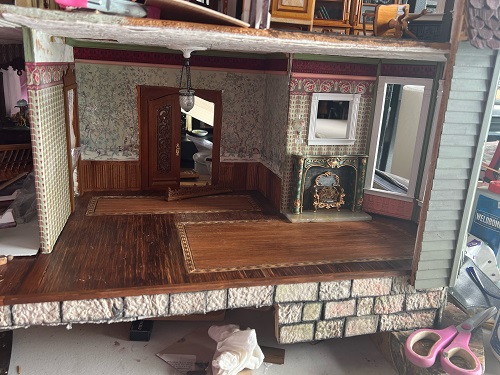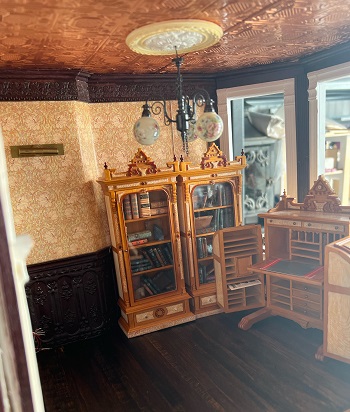 _________________________________________
From Laura Johnson:
I intend to finish a bridal accessory shop.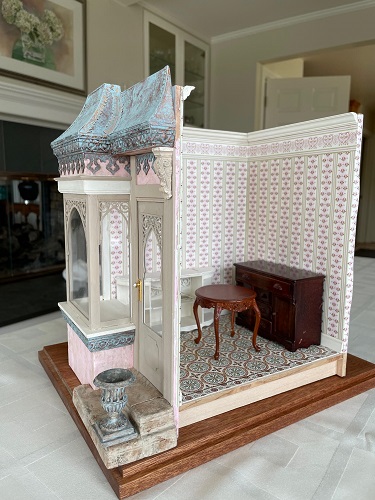 March Update:
My latest photo. The challenge was a great idea!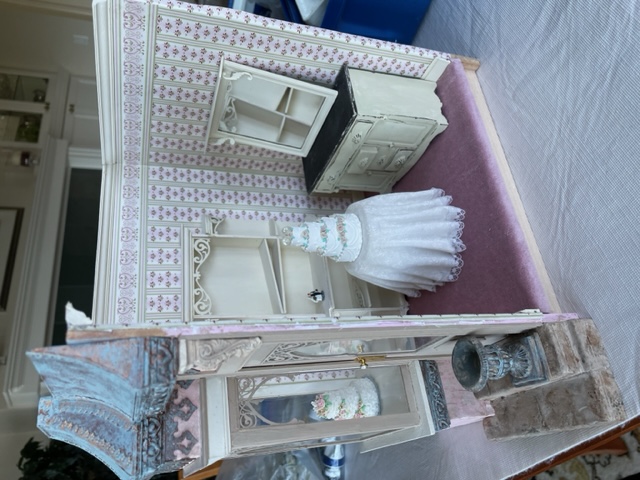 _________________________________________
From Sharon Johnson:
I want to sign up for the challenge with this project. Its going to be a half scale cabinet house. The first quarter, I want to wire it. Then I'll build a floor a quarter. I'm hoping to use the Hansen method to wire so I can leave the mirror on the back but we'll see.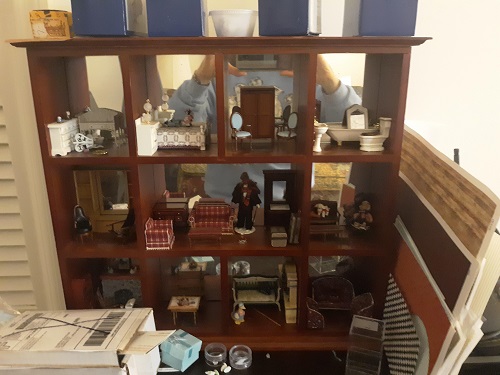 March Update:
So I have my wiring plan, new windows and doors ordered, wiring items ordered, magnets ordered, and most of the boxes cut for the rooms. I also ordered some new kitchen furniture and a beautiful Jim Coates fireplace mantel. Other than that, the weather here has been beautiful and I have a real life house full of growing seedlings, built 2 new trellises for the outside garden and have generally enjoyed the outdoor weather. I expect to send more time on minis once the summer heats up and its too hot to play outside.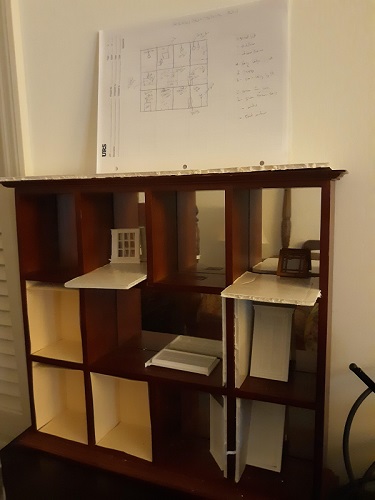 _________________________________________
From Tina Kase:
I spent a lot of time last year thinking about this project. I'm hoping this challenge and just knowing other people are waiting to see what I can finish, will provide the additional incentive I need to let me finish the first part of it. (The whole project should take me and my grandkids years. 😂) The first part of the project is to create the base of a tree that will contain living quarters for my grandkids Sylvanian family (calico critters) dolls. Aside from building and decorating the tree house it will also involve creating a lot of the furniture. There will be the additional challenge of making it playable and safe and engaging for toddlers and up. It would be nice, but unlikely, if I could start on some of the structure for the rest of the tree, which will include spaces for me to create rooms and houses thereby satisfying my miniature hobby (perhaps with the help of my grandkids as they grow up if they become inspired to join me in my hobby.) I will consider this year's project project complete if the toddler section of the tree is completed this year. I have no photos. I've not started. Everything is in my head.
March Update:
I have tested materials, methods and "playability" by making a set of chairs and a table for the (Sylvanian Family) tree dollhouse and squirrel drey -- which ultimately will sit on the tree. I discovered a few things that really will work, and quite a lot that won't. Also discovered that it's a very time consuming project. 🤗 Looking forward to getting rid of the huge pile of cardboard boxes that I've collected for the tree.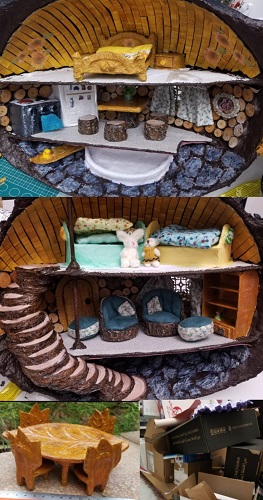 _________________________________________
From Kim Kehoe:
I want to build the living room and kitchen from the TV show Home Improvement. All I have done is take a picture of my wood and making a list of ideas and sketching it out.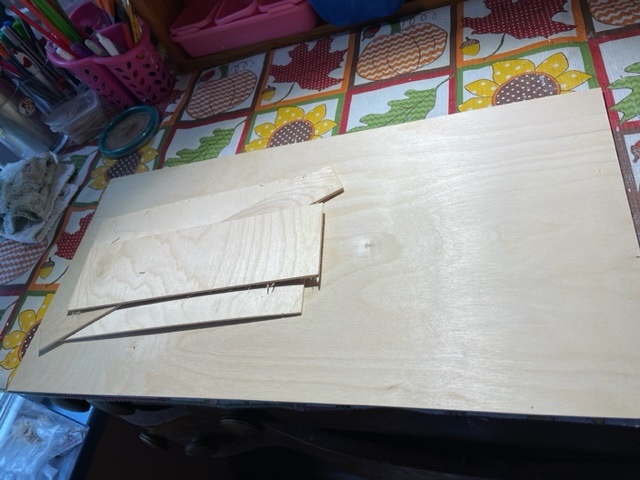 March Update:
I am working on the Home Improvement TV show house. This is the stairs and the desk area that is behind the kitchen in the show.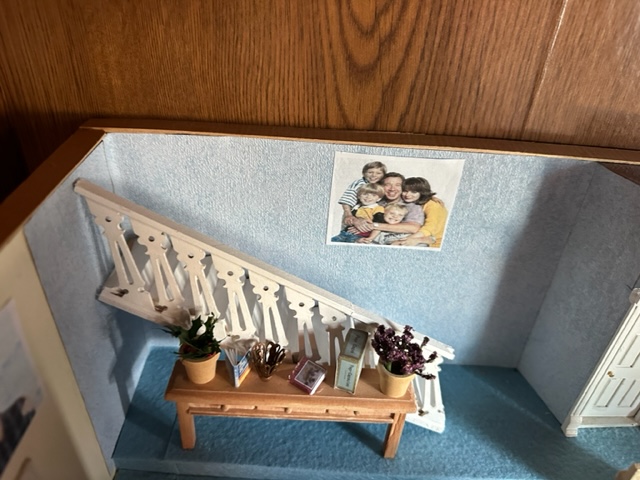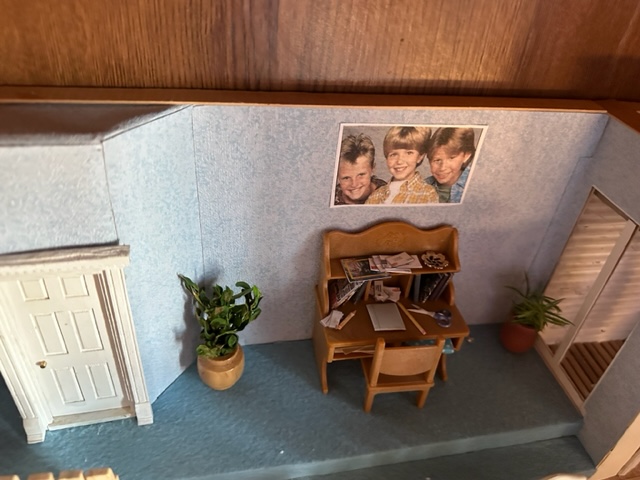 _________________________________________
From Shirley Kerasiotis:
I have attached a picture of a half scale house and furniture I wish to make. The goal is to build, electrify, decorate, and furnish the house.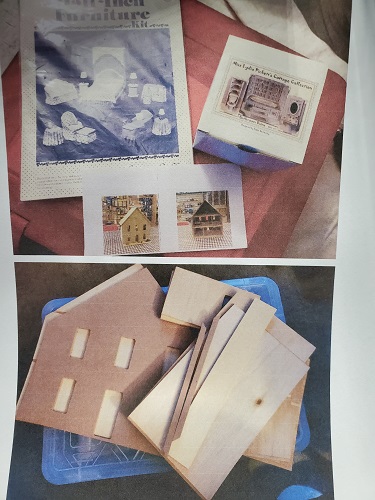 March Update:
Its been a slow start but I do have the shell built and have picked out my wallpaper and finishes for the outside. Hopefully I will get more done in quarter 2.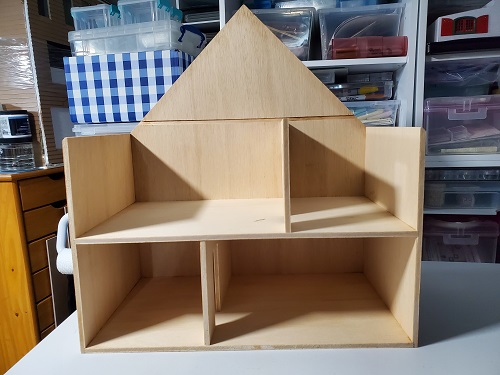 _________________________________________
From Sue Ann Ketchum:
I am hoping to get back to work on the half-scale replica of the house where my Mom grew up in Georgetown (Washington, DC). Here is its present state. Lots of blue tape holding the windows in place, LOL!!!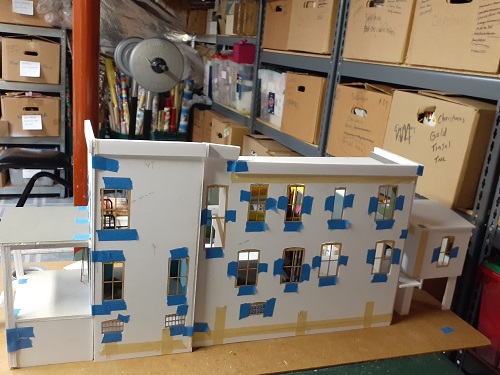 March Update:
For the "O Street" replica of my grandparents house in Georgetown, I worked a bit on some furniture and their placement.
_________________________________________
From Carol Kira:
This is a department store window which I started a couple of years ago. This is a great opportunity to get me started on it!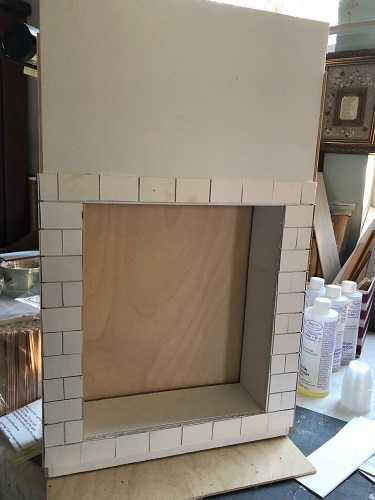 March Update:
I completed the class offered by Ginger Landon Siegel "Annabelle Goes to Paris" luggage which will be an integral focus of my project.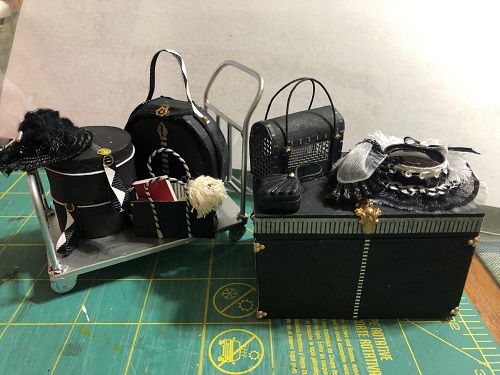 _________________________________________
From Katie Kirby:
In 1976 I became involved in two lifetime pastimes - miniatures and genealogy. For the past 15 years I have been planning (in my head) a way to combine these two pursuits. I will be kit-bashing Laser Dollhouse Designs' Craftsman Garage into my dream genealogy space with an office/workroom downstairs and a sitting/reading room upstairs. I expect to make 90% or more of the furniture and accessories. Time to get started!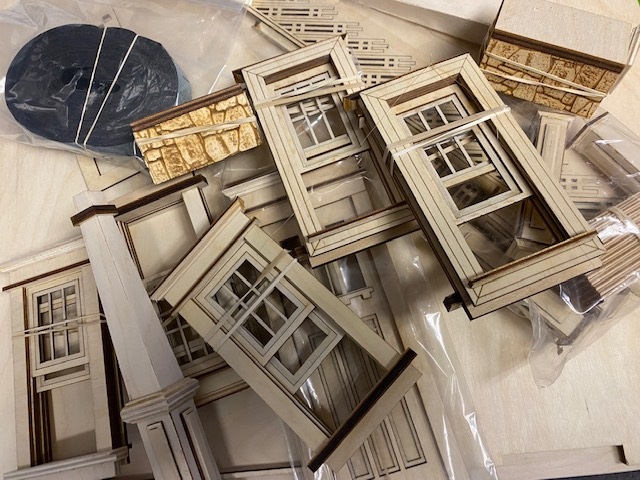 March Update:
It doesn't look like much, but I scanned, printed and assembled copies of 150 books in my "real" genealogy collection, cut, sanded, and stained all the furniture and started assembling some of it, scanned, printed and framed family photos, artwork, and painted the marvelous Esther Marker Tiffany lamps.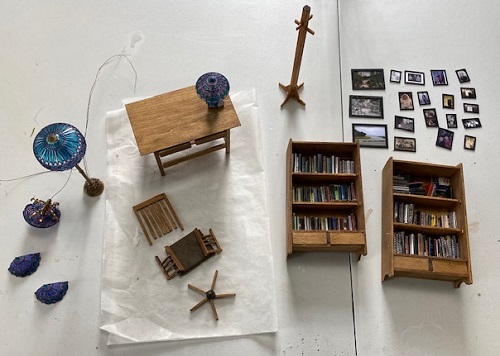 _________________________________________
From Kathy Koons:
In 2021, I was fortunate enough to get one of Petite Properties' 1:48 scale Advent calendars. I faithfully built them until the middle of December, when I realized that I did not know what color to paint these pieces of furniture because I didn't know what I was going to put them in. I got the 2022 Advent calendar, too. During 2022, I got their June Cottage, as that is my birth month. My resolution is to build the June Cottage and all the rest of the Advent calendar kits and fill the cottage with as many as will fit. Some are exterior items and I hope to get landscaping done to include them.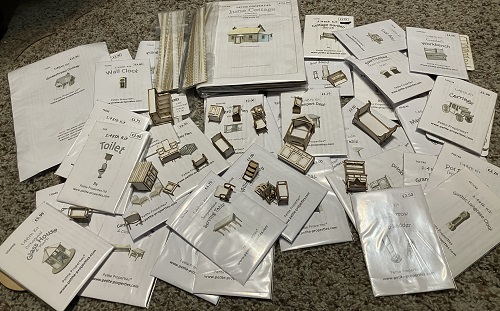 March Update:
I've made my Petite Properties' bathroom fixtures, most of the kitchen ones, and the dining table and chairs. I discovered that I have no stove, so I ordered one from PP. I've decided that this June cottage will be "Rose Cottage" for me -- my favorite flower and the birth month flower for June. Planning the actual construction and look of the cottage has been exciting!
[I work on this project as a palate cleanser after working on my backlog of Robin Betterley's Secret Traveling Village from last year. I have 3 more of those to go!]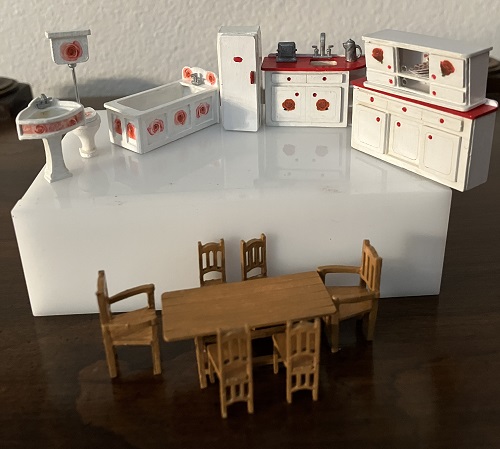 _________________________________________
From Debra Kuckuck:
I'm so excited for this challenge to give me the push I need to finally open some of my many, many kits! If I can get these finished this year I will be a happy camper. Of the three dozen unopened kits I chose for this year, 29 are 1:12 scale. Six Cat's Paw trunks, two Mini Cousins kits, and a bunch of miscellaneous. The final 7 will be my first attempts at 1:48 scale! (gulp!)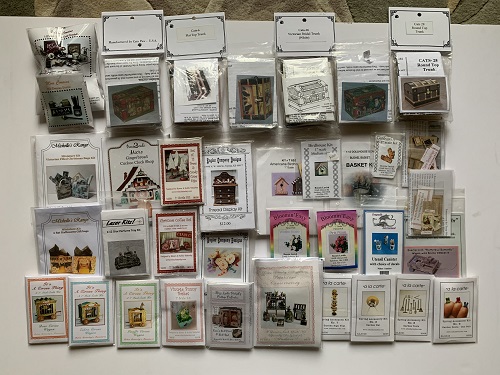 March Update:
I still have a ton of kits to finish for my challenge, but here are a few I got accomplished so far!
_________________________________________
From Sherri Lackey:
I have decided to do the Elegance Book Nook by Petworth Miniatures. It was a Christmas present from my husband.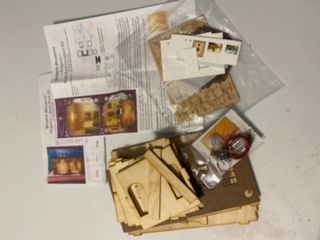 March Update:
I had the inside and outside walls prepared. I wanted the outside walls maroon and used Rustolium 2 in 1 on them. I felt the maroon was too red so I gave them another coat of Expresso Rustolium and I am happier with it. I really like the details on the inside walls.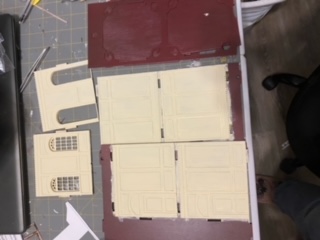 _________________________________________
From Lisa Lehr:
My year-long challenge is to complete my Tiki Bar. It was started, but now all the pieces patiently sit inside a container waiting for completion. The goal is to finish the structure pieces, place it on a suitable base, and add accessories along with landscaping.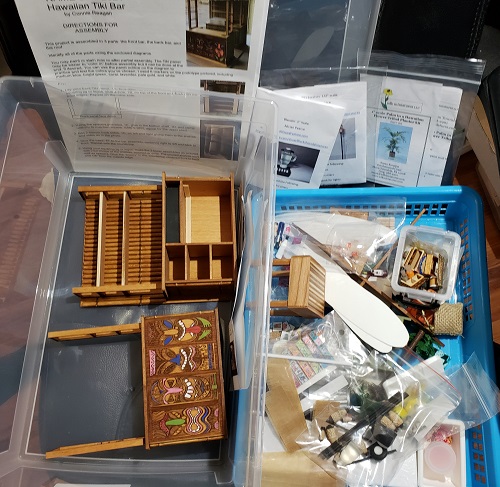 March Update:
-chose a base
- decided on placement of Tiki Bar components 
- laid wooden floor 
- removed barbeque from Tiki bar structure and made it freestanding (with hot dogs grilling!)
Still very much a work in progress!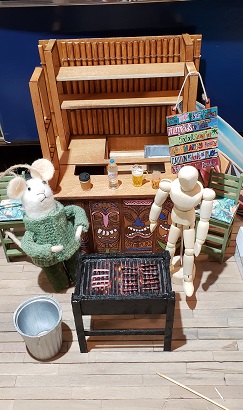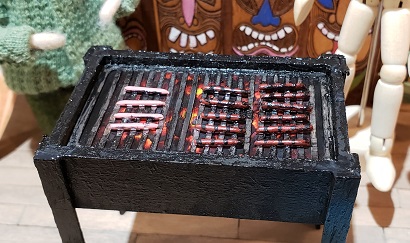 _________________________________________
From Lesia Lennex:
I've agonized over which of my projects should be tackled for 2023. While this won't be the only project, it's a large one and has never been out of its mailing box: The Pickett Pond and furnishings. I have several of the interior and exterior furnishings kits and subbed others that I thought might look good. None of them have been started. I felt awful when I looked at the box mailing label -- June 2017. It's time to work on it and hopefully finish it this year.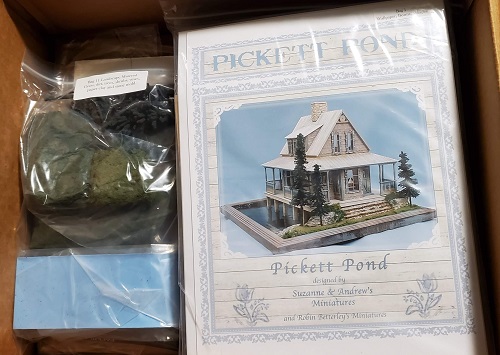 March Update:
My photo doesn't show this but I've also glued together the house frame. I'm happy with the progress!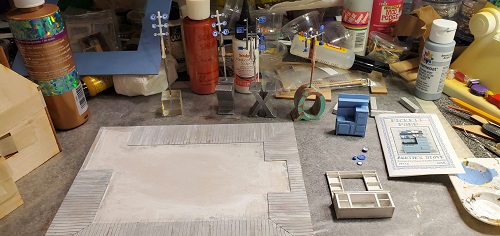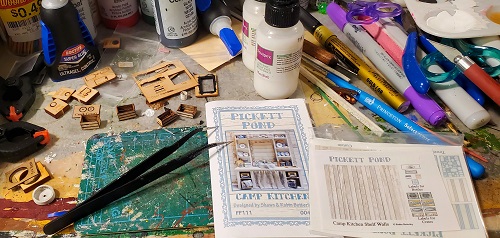 _________________________________________
From Doreen Lindsay:
I have decided to enter the year long challenge with two kits - the Summer Cottage by Debbie Young and the Rivendell Cottage by BJ Miniatures. Hopefully this will get me back to doing miniatures again after the loss of Pat.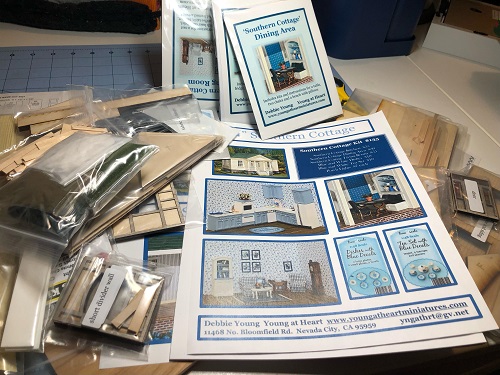 March Update:
I have built the first house and am working on the interior kits.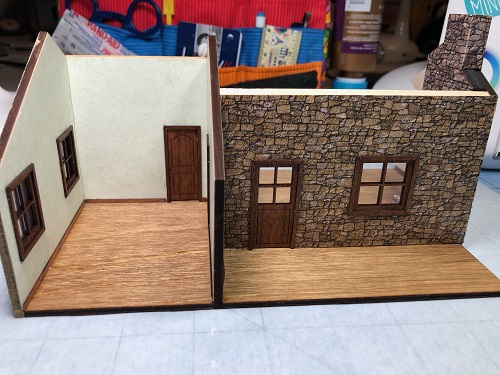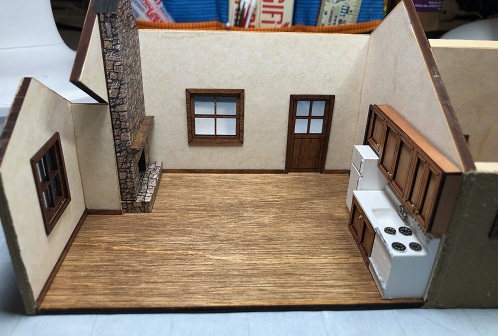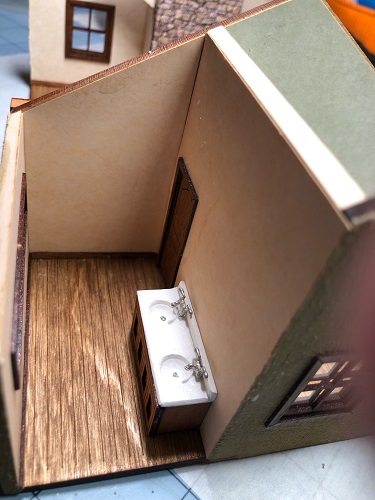 _________________________________________
From Cindy Loman:
I am so excited by the year long challenge. After all the holiday madness, it is just the kick in the pants I needed to work on my mini projects. I bought the Emily Flower Shop kit recently and it has a zillion pieces. It will certainly take a year to finish what with all my other hobbies and sewing projects.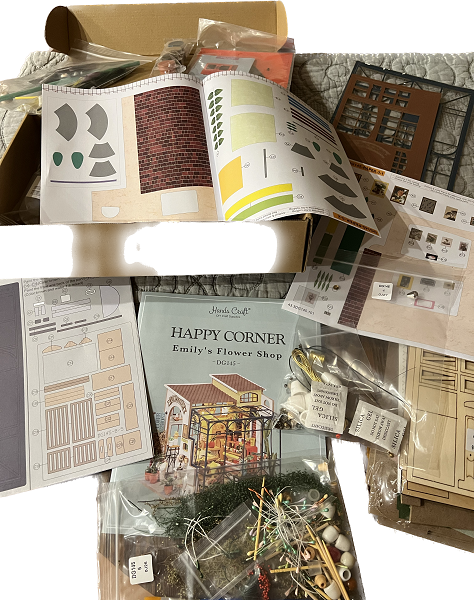 March Update:
I was so intimidated by my kit that I kept putting it off until I knew that I had a quarterly deadline coming soon. In the beginning of March I started laying out all the pieces and parts. It was confusing at first, but now that I've got it figured out, I am so addicted and having so much fun! Thanks for organizing the challenge. Working on it has been such a joy that I've barely noticed the dreary weather outdoors.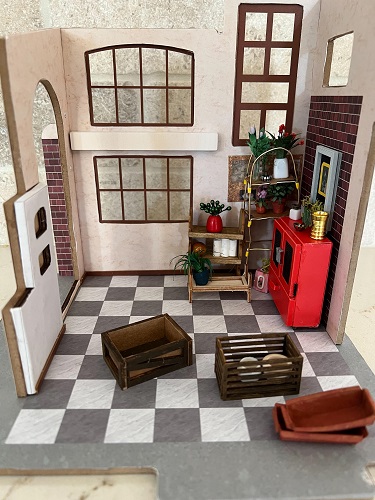 _________________________________________
From Sally Lonn:
I've put this off long enough ... this is a home for my many, many dolls that I have collected around the world, made, and had kits for. The dolls got finished during Covid, now they really need to be displayed.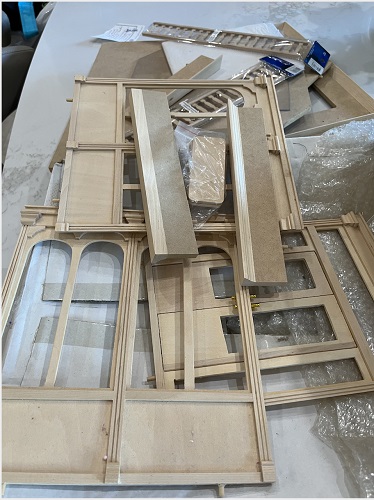 March Update:
 No progress update from me for one reason, I am working on the centerpiece for the convention, and if you haven't seen it it is a complicated piece with many, many little cubbies to fill on two sides. It can't be done haphazardly , so my project is sitting there yelling at me! 
_________________________________________