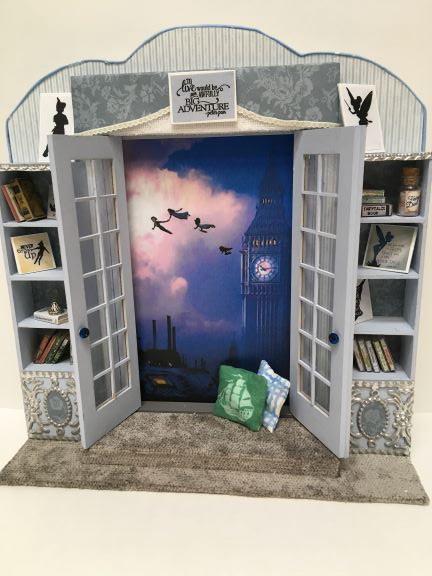 Come fly to Neverland with me!  This is easy, basic construction and you can go home with a perfect scene for some of your favorite toys.  We'll add metallic trim, carpet, wallpaper, create outer trim from fabric and paper.  You'll also get 7 Peter Pan sayings to mount, 20 books we'll assemble, 2 pillows and of course a "Hook" and fairy dust.  Michaels carries a shadowbox that will enclose this, but it is not included. 
Scale: 1" scale   
Minimum Skill Level: Beginner
Price:
Non-NAME Member Price:  $100.00
NAME Member Price:  $89.00
Shipping:
US $16.10
Canada: $45.25
International:  $56.80 (Cannot be shipped to the UK)  
When you add this item to your cart, you will be charged the cost of the workshop plus US shipping.  If you live outside of the US, we will contact you about how to pay the additional postage required after your registration is received.  If you are a NAME member and logged in, the NAME member discount will be applied to your shopping cart. 
Registration will be open for this workshop through May 22.
THERE WILL BE NO LIVE ZOOM SESSION FOR THIS CLASS.  Registrants will receive the kit with instructions.  

 
Fly to Neverland, Bonnie Helterhoff, CFWM REGULAR REGISTRATION